Bali is known as an island in Indonesia that has numerous tourism attractions. From its unique culture and tradition to magnificent natural scenery, Bali has everything that you ever wish to see when visiting a place.
Bali's beaches are ones that attract many with their view and great wave. Kuta beach, Seminyak beach, Nusa Dua beach, Jimbaran beach, Pandawa beach, Sanur beach, you name it. There are countless beautiful beaches that are prominent with their beauty.
All of this fame makes all of those beaches usually crowded, especially when it comes to high season. When you come to Bali for a mind-relaxing and calming purpose, going to these beaches with the typical tourist crowd might not be a good idea.
But hey, Bali has limitless things to offer. There are other beaches in Bali that are less-known that they become hidden paradise in Bali.
If you wish to escape from the typical tourist crowd and enjoy the beauty of Bali in a calmer ambience, check these 5 best Bali's less-known beaches.
1. Bias Tugel Beach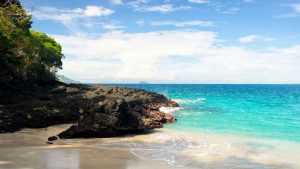 Bias Tugel Beach is located in Padangbai village, Manggis sub-district, Karangasem regency, Bali. It is on the Eastern side of Bali, 57 kilometers from Ngurah Rai International Airport with a travel time of 1.5 hour.
You can also access it from Ubud for around an hour with scooter that you can rent for about IDR 60,000 per day.
There is no entrance fee that you need to pay to enter this beautiful beach. There is only a parking fee of IDR 5,000-10,000. You will need to go down a hill for about 10 minutes in order to arrive at the beach. It's not a big problem if you are fit.
As soon as you see the beach, you will see clear, calm water and beautiful golden sand with rugged black rocks. The beautiful scenery that invite you to visit it.
The beach is a perfect snorkeling spot where its eastern side is decorated with beautiful rock pools and coral reefs.
There is also a small lagoon on the left side of the beach where you can go soaking in yourself there. The best time to go to Bias Tugel beach is when the weather is nice so you can fully enjoy the beauty of the beach.
Bias Tugel beach is one of the whitest sand beaches in Bali. Its name comes from Balinese language, which are bias that means sand and tugel that means cut. You can find some local food stalls called warung along side the bay but the beach is over all still quiet. A perfect spot for you to just chill and enjoy the view.
2. Green Bowl Beach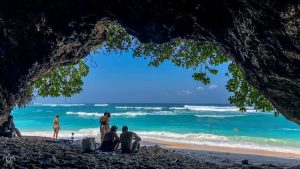 Located in Ungasan village, South Kuta district, Badung regency, Bali, Green Bowl beach is definately one of the best less-known beaches in Bali. It is a must-visit beach if you are heading to the south of Bali.
Green Bowl beach is actually not very far from Pandawa beach and Garuda Wisnu Kencana (GWK) where you only need to go for about 4 kilometers from GWK. To enter this beach, you will be charged a retribution of IDR 10,000 which will be used as a fund for the temple near the beach.
To arrive at the beach, you will need to go through hundreds of stairs, so you need to make sure that you are in a good condition before going to this beach, considering that you also need to go through the same stairs to get back. On your way, you will see that the area is still natural and green with monkeys hanging around.
Crystal clear and crisp sand will welcome you as soon as you arrive there. The beach is less-known and as a proof, you can see that there is no cafe or local stalls along the beach.
It is only the clean white sand beach, clear water, and 3 big caves that offer you a cover from the sun heat, a perfect escape from the typical Bali's tourist crowd. Since there isn't any food stalls on the beach, make sure to bring your own drink and refreshments.
3. Crystal Bay Beach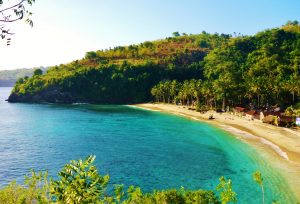 Crystal Bay Beach is in Sakti village, Nusa Penida, Klungkung regency, Bali. Only by hearing the name, you can immediately know that this beach has crystal clear water that can be one of the clearest in Bali.
Crystal Bay beach is the perfect spot where you can just chill and enjoy the sunset after your all-day adventure to other famous beaches in Nusa Penida.
The beach is really quiet as if it was your private beach with a stretch 200 meters sand and a small island in front of the beach. Besides enjoying the sunset, you can also go for a snorkeling and diving since it has wonderful underwater scenery with exotic corals and sea creatures.
If you want to take Crystal Bay beach as your first destination, you will need to reach Nusa Penida first by taking a 40 minutes boat from Sanur for IDR 150,000.
Then, after arriving at Nusa Penida, you can go to Crystal Bay beach by renting a scooter for IDR 80,000 per day. Enjoying the sun that sets behind the small island is a must view to watch when you are in Crystal Bay beach.
No entry ticket is required to enter the beach, but you will need to pay for IDR 2,000-5,000 for parking. It is quite an inexpensive amount of money to enjoy the beautiful less-known beach in Bali.
4. Nyang Nyang Beach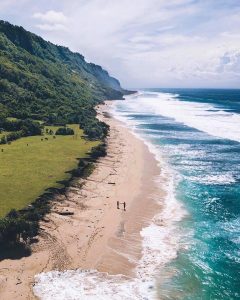 Nyang Nyang Beach is located at Uluwatu street, Pecatu village, Kuta district, Badung regency, Bali. This is one of the cleanest beaches in Bali with white sand beach and turquoise water that is located near Uluwatu in the southern part of Bali.
If you are heading from Kuta, Canggu, or Seminyak, you can head to the beach by renting a scooter for IDR 50,000 per day with travel time of approximately an hour to 1.5 hour. Arriving at the beach, you will be charged IDR 2,000-5,000 for parking only as there is no entrance fee.
Nyang Nyang beach is located below a cliff and you will need to go down the cliff. At the top of the cliff, before heading down, you will find many local warungs that sell snacks, cool drink and young coconuts which will be a help when you are tired going down to and back from the beach.
When you arrive at the beach, you will be finding yourself gazing to the ocean and to the cliff that you just trekked before. A wonderful scenery just laying there pleasing your eyes. On the beach, a shipwreck is half-burried in the sand, creating a picturesque spot of artworks.
If you currently stay near Uluwatu temple or have planned to visit Uluwatu beach, make sure to include visiting Nyang Nyang beach on your to-do list of things near Uluwatu temple.
5. Balian Beach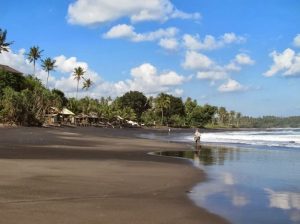 Balian Beach is located in Langgahlinggah village, West Selemadeg district, Tabanan regency, Bali. It is about 54 kilometers from the popular tourist destinations on the southern part of Bali, such as Kuta, Seminyak, and Canggu.
Even though Balian beach is located in the same island as Kuta, the ambience is clearly different. You will not find street vendors bombarded you with souvenirs of Bali since it is very calm and peaceful in this beach. It is one of the ultimate relaxing beach that you can find on the island.
The name Balian itself comes from Balinese language which means sacred person who heals others. The meaning actually refers to the Balian river that empties to the sea in front of the beach.
However, the philosophy of healing from this beach seems to be true as you can visit it as an escape from the typical tourist crowd in Bali.
The waves in Balian beach is quite great while there aren't many surfers coming there. So you can have a lot more waves for yourself. Besides surfing, you can walk along the black sand beach and see the local fisherman cast their nets, or just simply relax by the beach and absorb as much peaceful atmospehere as you can.
After relaxing your mind in these Bali's best 5 less-known beaches, you might want to visit Balinese temple for a spiritual experience. But always remember to follow the etiquettes while visiting temples in Bali. After that, you might want to visit other natural places such as caves in Bali and lakes in Bali.
If you feel like having enough calming air to breathe, you might also want to challenge yourself through extreme sports activities in Bali. Whatever your choice is, always remember that Bali always has something new to offer to you.