Almost everyone knows that Jakarta is the capital of Indonesia. Jakarta has a very high population, it's also the largest metropolitan cities in Southest Asia. Jakarta is Central to a wide range of activities ranging from politics, business and culture.
Jakarta is a city that can be reached from anywhere cause there are two airports namely Soekarno Hatta airport and Halim Perdanakusuma airport. In addition Jakarta is also close to the port of Tanjung Priok. Therefore, many people visit Jakarta from various parts of the city in Indonesia.
As well as being central to various activities, Jakarta also has many attractions that can become as a reference to take family and beloved baby for a vacation. If you want to visit Jakarta and look for a place for children, here is a recommendation of 44 children playground in Jakarta.
Check this out about things to do in Jakarta with kids!
1. Kidzania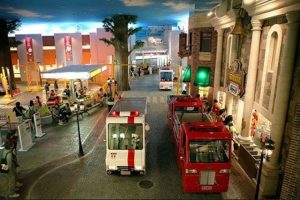 Kidzania is one of the best reference options for children's playground. Kidzania is located at General Sudirman Street No.52-53, precisely at Pacific Place Shopping Mall. This place is great for children playground because of its concept of edutainment, of course the children can get much knowledge and love to play in Kidzania.
The playground is indoor with concepts such as a replica of a city with various public facilities like hospital, industrial estates, supermarkets, higways, and other replicas of facilities such as in a real city.
Children are taught about various professions and directly practice 'em. Starting from being a doctor, pilots, police, construction, fire fighters, and other 100 professions. Children will be dirctly learn the professions they loved so they can be more active, creative and happy. Beside that, children can also learn about social interaction with other children who have different professions. Now in Kidzania the children are given special money named Kidzos so they can perform various transactions in Kidzania.
If you want to bring your children to play here, make sure to bring enough budget. Ticket price to enter in are Rp 50.000 for toddler, Rp 150.000 for children (aged 4-16 years old), Rp  100.000 for adults (aged 17-64 years old), and free for elderly people. Ticket prices is include all of children playing in Kidzania, security bracelets, boarding passes and Kidzos 50. Kidzania operates daily from 9 am to 8 pm and divided into two sessions. Let your children to play and study at Kidzania.
2. Taman Mini Indonesia Indah (TMII)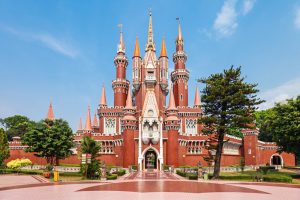 Taman Mini Indonesia Indah is a famous tourist place among various cities in Indonesia. It's located in East Jakarta and has a very wide land of approximately 150 hectares. This tourist place has its theme of cultural diversity, tribes and provinces in Indonesia.
An overview of the culture and provinces of Indonesia can be found on the Regional Pavilion. TMII is divided into six zones based on major island in Indonesia namely Sumatra, Java, Kalimantan, Sulawesi, Bali, Nusa Tenggara, Maluku and Papua. 33 provinces in Indonesia are clearly illustrated from its fashion, dance and various traditions in the Regional pavilion. In addition, there is a miniature of the archipelago in Indonesia.
TMII has many tourist attractions that you can visit with children, all of them are an educational tour. Some attractions in TMII that can be visited is a museum, there are about 13 museums in the area of Taman Mini Indonesia Indah. There are also a variety of flora and fauna parks, theater, and the most exciting for child is Istana Anak-Anak Indonesia. There are many rides to play such as rabbit trains, swimming pools, bumper cars, kiddy boats, dragon planes, and much more. TMII operates from 7 am to 10 pm, with entrance ticket only Rp 10.000 per person.
You must also see;
3. Planetarium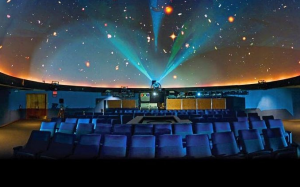 There are may educational things to do in Jakarta with kids. Planetarium is a suitable place to bring children to play. Planetarium is located at Cikini Raya Street No.73, Menteng, in Central Jakarta. Here, we can see the various nuances of stars, meteors, planets, constellations and various celestial things.
Children will be happy because it feels like being in the night sky. In this Planetarium, there is a star theater, the planetarium room, observatory room. We can also observe celestial bodies directly by using the telescope. There are 3 places to observe, ussualy observation is done at a certain time at night or when eclipse phenomenon happen.
Planetariuam operated every day except on Monday and national holidays. Usually for individual visits can only be done on Friday, Saturday and Sunday at 16.30.
For ticket price, it's Rp 500.000 per 100 students of group, and Rp 100.000 per 100 non student of group, while for adult is Rp 12.000 and children Rp 5.000. If You want to visit, you need to look for information by contact the office of Planetarium at phone 021-2305146 or 021-2305147. 
4. Miniapolis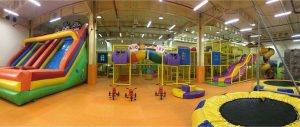 Miniapolis is a playground for children aged 0-12 years old. Miniapolis already has many branches in every major city in Indonesia.
In Jakarta, Miniapolis located on MH. Thamrin Street No.28-30 Menteng. It's a children's play area that designed like a child's world of playground with various fun play rides. Some of rides are available, such Fun Park, Art & Craft, Trampoline Park, Miniapolis Kids Club, and also baby spa. The ticket are divided by its play area;
Crick Station and Crick Caraousel- Rp 40.000 for member and Rp 60.000 for non member,
Hide Seek- Rp 100.000 for member and Rp 125.00 for non member
If you have not registered as a member, you can register by just paying Rp 150.000. So what are you waiting for? Take your kids to play here, cause it's a perfect place for your baby to play and learning.
5. Ocean Ecopark Ancol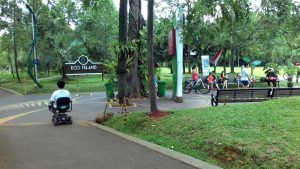 Ocean Ecopark Ancol is one of the children's playground that locate within Taman Impian Jaya Ancol Area. Ecopark is a children's playground with natural green shades and has a wide land area of 34 hectares.
Ecopark is an educational and adventure playground, so children can exploit nature's knowledge. Ecopark is divided into several areas, namely eco energy, eco care, eco nature and eco art.
One of rides and its facilities here is boat cruiser and learning farm. Boat Cruser is a boat that used by children and parents to sail to the small island. In the island children also can feed the deer, monkeys and birds. In addition, they can also learn how to plant, then cycle around Ecopark that provided the track for bike.
To increase your child's knowledge, we can also do the adventure with outbond games such as flying fox, paint ball, top tree walking, ets. It's starts operating from 6 am to 6 pm with some rides that only start operate at 4 pm. The entrance tickets is only Rp 25.000 per person.
Also visit:
Well, there are many more children playground which can be found in various place in Jakarta. Here is the next other places that must be visited to play and educate children. Make sure you bring your family to the destinations.
Here are the educational things to do in Jakarta with kids: 
Pinisi Science and Edutainment Park
The Playground
Taman Impian Jaya Ancol
Giggle Fun Factory
Bricks 4 Kids
Kidspace
World Fantasy & Atlantis Water Adventure
Taman Lalu Lintas Saka Bhayangkara
Gallery Indonesia Kaya
Taman Suropati
National Monument
Waterboom Jakarta
Sky Rink
Layangan Museum
Playtime
Wayang Museum
Atmosfear
Bank Indonesia Museum
Playparq
Rimba Baca Children's Library 
Ragunan Zoo
Cibubur Garden Dairy (Cibugary)
Bahari Museum
Sea World Ancol
The Cat Cabin
The Bunker Board Game Cafe
Laser Game Indonesia
Escape Game
Maritime Museum
Bounce Street Asia
Jakarta Aquarium
Buperta
Wiladatika Recreation Park
Taman Prasasti Museum
Indraloka Park
Museum of Fine Arts and Ceramics
Museum at Central Garden
Snow Bay Waterpark
Thus, there are may smart things to do in Jakarta with kids. It will be so wonderful for your best holiday!