West Papua Indonesia or internationally known as Western New Guinea is one of province in Indonesia where numerous traditional tribes live,  such as the Dani of the Baliem Valley. Originally, West Papua is known under the name of West Irian Jaya (Indonesian: Irian Jaya Barat) until the province received its current name under the Government Regulation Number 24 of 2007 dated April 18, 2007. Despite Sorong being the largest city, the capital of West Papua Indonesia is actually Manokwari. 
West Papua covers the two western peninsulas of the island of New Guinea and with a population of 877,437 in 2014. West Papua is a province that obtains special autonomy status.
Special autonomy, locally known as Otonomi Khusus for Papua Province is granted by the State of the Republic of Indonesia through Law Number 21 Year 2001 (State Gazette of 2001 No. 135 and Supplement to the State Gazette No. 4151) as amended by Government Regulation no. 1 of 2008 (LN of 2008 No. 57 and TLN No. 4843). Law 21/2001 consisting of 79 articles governs the authority of Papua Province in running special autonomy.
You may also visit:
1. Raja Ampat, West Papua 
The Raja Ampat Islands Indonesia are a series of four adjacent island clusters located in the western part of the Bird's Head (Vogelkoop) of Papua Island. The island is literally a heaven on earth for the divers all over the globe. Raja Ampat island is a home to around 75 percent of the world's species including 540 types of corals, more than 1,000 types of coral fish and 700 types of mollusks. It is said that so far only 400 new islands are explored. Moreover, the rest of the islands are still virgins.
Raja Ampat District has 610 islands. Four of them are Misool Island, Salawati, Batanta, Waigeo including large islands but only 35 islands are inhabited. This is the reason why Raja Ampat District able to compete in the world of international tourism. Administratively, this cluster is under Raja Ampat Regency, West Papua Province.
Also visit: Raja Ampat Islands
2. Wayag Island
Wayag island is a collection of hills and karst mountains located in the middle of this sea that became the icon of Raja Ampat and the farthest island of Raja Ampat. It is located in West Waigeo Village, Raja Ampat District, West Papua. The natural conditions of the Wayag islands are still very beautiful. The beauty and cleanliness of Wayag island is also well preserved.
You can dive for the beauty of underwater that Wayag island offers or simply climb into the hills and enjoy the full view of Raja Ampat. To reach Wayag island, it takes about 6 hours drive from Sorong by ship. Raja Ampat tour fee to rent this ship is set at six million rupiah.
3. Misool Island
Misool island is an area of 2,034 km² island located in West Papua. Formerly spelled as Mysol (Dutch: Misoöl), the island is one of the four major islands in the Raja Ampat Islands. Some of the islands are mostly uninhabited. Misool is directly adjacent to the Seram Sea (Indonesia: Laut Seram) and offshore waters which become a major cross-path of big animals such as whales.
In Misool island, there are some facilities that you can enjoy such as lodging, home-staying in the houses of the locals and even you can stay in a luxury and exclusive resorts who are the right holder of governance over these uninhabited islands. When it come to diving and snorkeling, there is no need to wonder. You can enjoy it all!
4. Pari Manta Washing Station
Pari Manta Washing Statiton (Indonesia: Stasiun Pencucian Pari Manta) is one of unique attraction in Raja Ampat. It's actually does not have official name and the name only come from what can be seen in this spot, the activity of Pari Manta.
Washing in here is referring to many Pari Manta you can find here that spent hours to clean themselves. In addition, Pari Manta didn't clean themselves but with the help of small fishes. Just like as if it was a washing car store. The 5 meter wide stingray hovers above your head as you go dive to wait in the queue to be cleared by small fish like angelfish troops, the relentless and selfless fishes to perform their duties. This kind of activity is a rare sight for you to meet, the things to do in West Papua Indonesia.
You may also read: Diving in Indonesia
5. Salawati Island
Salawati island is an 1,623 km² area located in between Batanta Island and the Papua Region of Nuguinea. Almost 3 per 4 part of the island is overgrown with sago trees. The sago trees here grow wild without any necessary planting.
Salawati Island is one of the witnesses of the greatness of the second world war. In the Raja Ampat region, in the ocean of Salawati to be exact, there are many spilled ships and aircraft that sank in its waters, such as Shinwa Maru, P40 aircraft, machine victims of World War II, and many more that continues to land on the seabed even now.
The discovery of a new species of Salawati rainbow fish is also happened in Salawati island. This species was discovered by a joint research team of Indonesia and France. With the name Melanotaenia Salawati in Latin, Salawati rainbow fish is the 19th species found by exploring the biodiversity of the Bird's Head eco-region area. The rainbow of Salawati is found in the Doctor River, right on the island's western kornel position or about 64 km west of Sorong, West Papua. This is the best spot for you who wish to see the Salawati rainbow fish with your own eyes by diving.
you may also visit: Lombok Attractions
6. Sawinggrai Village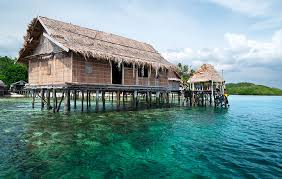 Sawinggrai village is best known as the home of Cendrawasih, the birds of paradise that became the icon of animal beauty. Birds of paradise in this village live freely in the open and so you can see their daily life closely from this village.
There are four species of Cenderawasih that are preserved here, namely red cenderawasih (Paradisaea Rubra), rattan-cut cenderawasih (Cicinnurus Magnificus), small cenderawasih (Paradisaea Minor) and large cenderawasih (Paradisaea Apoda). One of the four species of red cenderawasih above is the icon of Sawinggrai village.
If you want to see the dancing attraction of this bird of paradise, you can see in the morning and evening around 07.00 – 09.00 WIT and at 16.00 – 17.30 WIT. If you want to see the attractions of Cendrawasih birds dance, come at the time of breeding season. If you come at the spawning season, then you can not see the attraction.
7. Cenderawasih Bay National Park
Cenderawasih Bay National Park is the largest marine national park in Indonesia, that located in Cenderawasih Bay, West Papua province. Cenderawasih Bay National Park covers the islands of Mioswaar, Nusrowi, Roon, Rumberpon and Yoop. Cenderawasih Bay National Park is consist of land and coastal areas (0.9%), mainland islands (3.8%), coral reef (5.5%), and ocean waters (89.8%).
Cendrawasih Bay is on the edge of the Pacific Ocean and also is a continental slab area which is why the spot is rich for its collection of flora and fauna. This national park has 14 species of protected flora and most of it is dominated by kasuarina tree species.
Cendrawasih Bay becomes a haven for many plants and animals both on land and under the sea. One of the most anticipated things in the Bay of Cendrawasih is the encounter and interaction with the underwater giant yet friendly, the whale shark.
You may also visit:
8. Tapurarang Archaeological Site
Tapurarang archaeological site, also known as Kokas archaeological site is one of the famous ancient sites in Kokas, Fakfak, West Papua. Inside this archaeological site, there are paintings which are the relics of prehistoric times. District of Kokas is wealth with relics since prehistoric times, it can be found in Andamata, Fior, Forir, Darembang, and Goras.
Despite already thousand years back, the painting in Tapurarang archaeological site is remains intact. The red color on this cliff painting also resembles the color of human blood. Therefore, local people also often refer to the painting as a blood hand painting.
For the local community, the location of this cliff painting is a sacred place. They believe this painting is the form of those who were cursed by the spirit of a grandmother who turned into a ghoul or ghost devil that believed to be the most terrifying sea ruler.
Beside the painting in Tapurarang archaeological site, there are also skull bone on a cliff in Andamata, Kokas District, Fak-Fak, West Papua. Skeletons of human bones, to be exact. This skeleton is believed to be the ancestral framework of the Kokas community. In ancient times people here have a habit of putting the bodies of ancestors who died on the rock cliffs, caves, headlands or under a large tree that is considered sacred.
9. Taman Wisata Alam Gunung Meja
Taman Wisata Alam Gunung Meja, shortened as TWA Gunung Meja is one of the few TWA locations of the existing plains of Indonesia. TWA Gunung Meja is set by Decree of the Minister of Agriculture No. 19 / Kpts / UM / I / 1980, dated 12 January with a total area of 500 ha. Then, in 1990 obtained a definitive area of 460.25 ha by Sub Manokwari Forest Inventory and Management Center.
Geographically, the TWA Gunug Meja forest lies between the coordinates of 1340 04 '30 "-1340 05′ 32" East Longitude and 00 50'25 "- 00 51 '55" South Latitude. Geologic formations in this region are mediteran with neogenous sedimentary rocks. Layers of shallow and rocky soil between hard limestone rocks. With a height of 175 m above sea level, this area has a varied topography. Hiking is the best way to discover the beauty of TWA Gunung Meja.
10. Mansinam Island
Mansinam island is famous as religious tourism islands of Protestant Christians. It is located about 6 kilometers from Manokwari. It only takes 10 to 15 minutes to reach Mansinam island using a ship engine.
Two man from German arrived on Mansinam Island carrying mission of spreading the gospel and Christianity. These man is Ottow and Geissler, apostles of Papua.
About few kilometers before harboring on the island of Mansinam, you can see a cross-shaped monument from a far. It is an inscription intended for Ottow and Geissler services and merits. At the bottom of the inscription, it is written: Soli deo Gloria De Eerste Zendelingen van Nederlandsch Nieuw Guinee C.W. Ottow En J.G. Geissler Zyn Hier Geland op 5-2-1855 which is means "the first zending for Papua Ottow-Geissler arrived here February 5, 1855". Every year on February 5, thousands of people from Papua come to this place to celebrate the coming of Ottow and Geissler.
You may also visit:
11. Sausapor Beach
Sausapor beach is one of natural beauty that exists in West Papua, Indonesia. It is located in Sausapor District, Kab.Tambrauw, which is the new Regency of the division of Kab. Sorong. Not only the local, the residents of Manado, Buton, Makassar, Java, and Medan are the immigrant tribes who took part in the development in this new district.
This is why Sausapor beach is famous for its portrait of plurality in the island. From 14.00 to 18.00 WIT, this beautiful sandy beach is crammed with children playing in the ocean.
Every  houses of its people always has boats leaning in front of it. You can only stay at the resident's houses because in this location there is no hotel like the one on the beach generally. When first arriving on this beach, you should go to the local Adat Chief and ask for his help to find the house where you can stay.
This beach is also a nature reserve where some species of turtles lay eggs, such as, green turtles, hawksbill, and leatherback turtles. You can see directly the process of laying eggs of turtles. As a reminder, if you want to see this nature process, you must come here in March to June because those months is a month for productive lay of eggs.
12. Buaya Island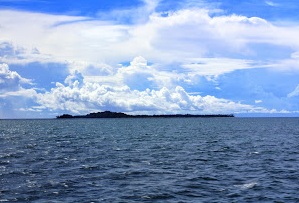 Just like its name, Buaya in here means crocodile in English. The island was named Buaya because of the shape of it that almost look like a crocodile from a far. To reach Buaya Island, you can take a boat or water taxi from harbor of Sorong.
Tourists do not need to go to the sea in order to see the sea fish because at the edge of the beach, there are already many small fish that can be seen. In addition, there are also many cranes that looking for food. Even though not always happen, if you're lucky, you can also see starfish decorating the beach. Even though most of people in Buaya island is a fisherman, you have to take your own equipment if you want to fish here.
13. Karang Bolong Beach

West Papua Indonesia attractions, Karang Bolong beach is a beach with a fine gray sand-grain sourced from the rock around it. Karang Bolong is a fairly wide sandy sloped beach, bordered by hills. These hills is composed by clastic rocks of origin-volcano.
There are also Karangbolong Cave, located on the east side. A long corridor is formed in the stretched lumbar breccia layer. Karangbolong Cave is 30 m long, 10 m wide and about 5 m high. The breccias, known as the Gabon Formation, were Oligo-Miocene or between 30-15 million years ago, exposed together with sandstone inserts and clay.
Karangbolong Beach has the potential to form a strong backflow, so it is a dangerous area for swimming but tourists are encouraged to fish because some types of reef fish is quite abundant in this beach.
14. Triton Bay
Triton Bay is one of the bays that exist in the water area of Kaimana, West Papua. Lot of people say that this bay is much more beautiful than Raja Ampat.
There are total 959 species of reef fish and 471 species of corals in which 16 of them are new species. You can easily find Bryde's whale looking for food in this bay too. In addition, the corals in Triton Bay are soft corals or better known as soft corals.
On the colorful cliffs around the Maimai mountains, there are ancient prehistoric paintings which thought to be made in the days of Mesolithic. Ermun Beach is one of the outposts in Triton Bay. After passing the coral cluster of coral islands, then you will be taken to the white sandy beach Ermun. There, you can swim as much as you want.
15. Tanjung Kasuari Beach
Things to do in West Papua Indonesia, Tanjung Kasuari beach is a beautiful white sandy beach located in the city of Sorong, West Papua. Tanjung Kasuari Beach is in the outskirts of Sorong and is about 7 km from the city center. To be able enjoy the beauty of Tanjung Kasuari Beach, you can reach the spot by using a four wheel vehicle or two wheel vehicle and if you do not have a vehicle you can rent a vehicle in the city of Sorong.
Tanjung Kasuari Beach has a still clean white sand you can lay yourself down to get tan or simply building a sand castle. On the shores, there are many tall trees that can be used to hide from the sun, especially if you come during the day. At daytime, Tanjung Kasuari Beach is hotter than usual because it's located in the equator.
Meanwhile, West Papua Indonesia is an untouchable island that hides the most beauty nature in the world. Some people said, "That's Heaven!" Well, they might be right as there are many West Papua attractions like the islands, the beaches, the hills, the airs, and everything. Indeed, there are many things to do in West Papua Indonesia for your best holiday trip.
You may also visit: