Not only blessed with beautiful natural attractions and diversed culture which solidate its title as one of the must-visit countries in the world, Indonesia also offers a series of events where you can learn more about its culture and beauty.
One of the events that has been known worldwide is Jember Fashion Carnaval, which is commonly shortened as JFC. As the name, Jember Fashion Carnaval is held in the city of Jember, a regency in East Java, and has become an annual event where thousands of people gather to witness the showcase of Indonesia's culture.
The popularity and the great showcase of the carnival is one of the reasons why you need to list this event on your bucket list of things to do in Jember, East Java.
If you want to know more about JFC, keep reading as we have provided you with the list of all you need to know about Jember Fashion Carnaval.
What is Jember Fashion Carnaval?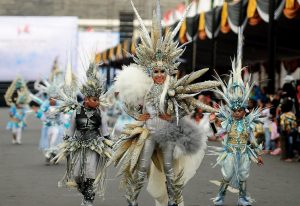 Jember Fashion Carnaval is an annual carnival held in Jember, East Java, which showcases dancers in extravagant costumes who walk on a long runway of 4 kilometers. The emphasis of the costumes is on the motives which adopting the traditional motives of Indonesia that come from all over the nation.
Even though the event generally uses Indonesia traditional motives, it also presents world-themed fashion and nature-inspire themes. The carnival event is officially calles as Jember Fashion Carnaval, even though you might find some articles referring it as Jember Fashion Carnival.
The carnival involves around thousands of local artists in the event with months of preparations and attract thousands of people from all over the world to come and enjoy the lively carnival. It is usually held in the beginning of August for 4 to 5 days, taking place at the main road of the city of Jember.
The president of Jember Fashion Carnaval, Dynand Fariz, announced in 2016 that JFC has successfully won the third position of world level carnivals in Carnaval International de Victoria that was held in Seychelles. T
his achievement is surely not easy to be achieved and as an appreciation JFC becomes a nation pride for Indonesia, where the opening ceremony is even attended by the President of Indonesia and the Minister of Tourism of Indonesia.
No wonder this event has become the most awaited event in Jember which also adds another reason for you to come attending this carnival and enjoy the lively event.
The origin of Jember Fashion Carnaval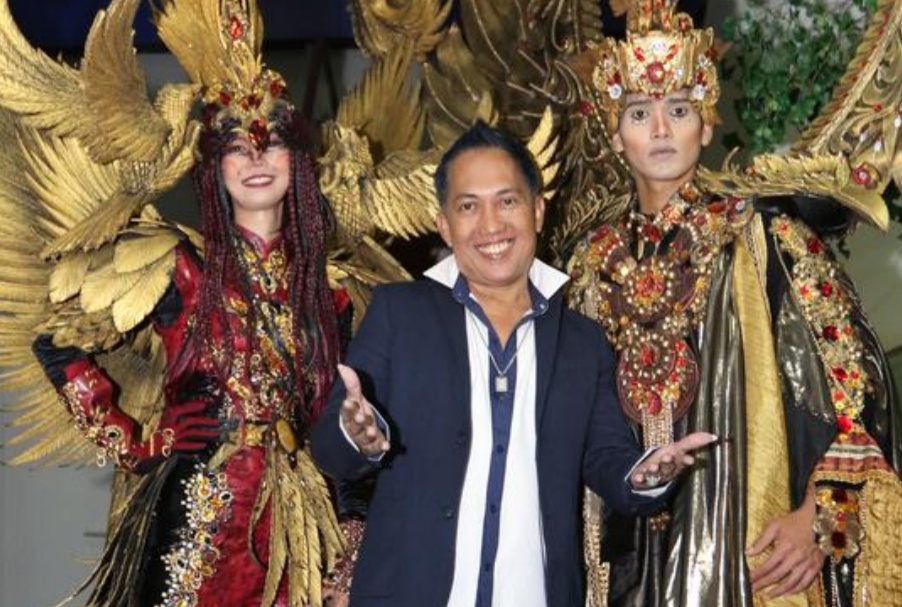 Jember Fashion Carnaval was initiated by its president, Dynand Fariz, who was a local designer and fashion educator in Jember that held a fashion week called Pekan Mode Dynand Fariz in 2001 that was continued in 2002. His idea of Jember Fashion Carnaval was inspired by an annual event of Reog Ponorogo cultural pageantry as a part of Jember anniversary.
The Reog Ponorogo pageantry was successful in attracting many people and created crowds on the main road of Jember city. With his excellent experience in the field, Dynand Fariz then innitiated the held of the first Jember Fashion Carnaval on 1 January 2003, the same day as the anniversary of the city. It was then held again in August2003, which started the annual event of Jember Fashion Carnaval.
Jember Fashion Carnaval was only held in a day named Grand Carnaval JFC. Now, it is held in 4 to 5 days with different interesting themes every year with not only involving adults as the participants, but also children, local artists and the national artists.
Series of events in Jember Fashion Carnaval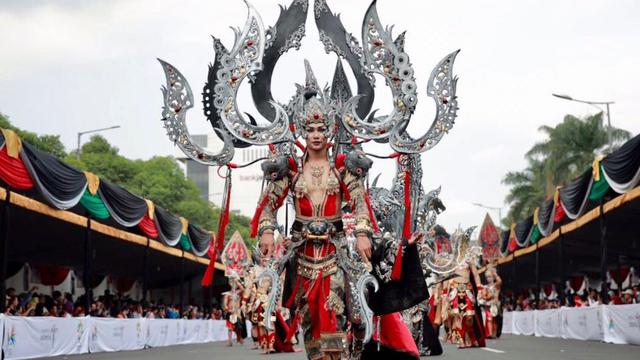 Each day of Jember Fashion Carnaval is filled with different and interesting events. This series of events in Jember Fashion Carnaval includes:
Opening Ceremony as a starter event to open the series of Jember Fashion Carnaval. It is held in front of the Regional Government office and is attended by important guests and reporters to introduce the theme of the carnival as the main agenda. The runway is only 100 meters since its goal is only as an introduction.
Pet Carnival where many cute pets are having a runway. It involves many pets community in Jember and Indonesia. You can see reptiles, dogs, cats, exotic birds, and many more.
JFC International Conference as another introduction of the main theme of the carnival but it is attended by important multinational guests and is held indoor.
JFC Kids Carnival which gives the kids a great time to showcase and improve their modeling capability. You can see a cute scene where kids are being so happy and proud of themselves to be able to contribute in this event as extravagant fashion models.
JFC Rythm Artwear Carnival which showcases the theme of the carnival where the participants are wearing the extravagant costumes that reflect the theme with Indonesia's traditional motives.
Wonderful Archipelago Carnival Indonesia (WACI) which is a result of collaboration between the government of Jember and the Ministry of Tourism of Indonesia, which tries to introduce the culture of Indonesia through the traditional costumes from all over Indonesia.
Since the event is held for 4-5 days, you can add other activities to fill your days in Jember, East Java. You can check other East Java, Indonesia attractions, or visit other regencies like Ngawi and Probolinggo and organize things to do in Ngawi and things to do in Probolinggo.
Themes of Jember Fashion Carnaval from Time to Time
Since it was firstly held in 2003, Jember Fashion Carnaval always has something new to offer to the world with new, interesting, and meaningful theme each year. Here are some of the themes of Jember Fashion Carnaval from time to time, starting from 2017.
1. Victory-Unity in Diversity (2017)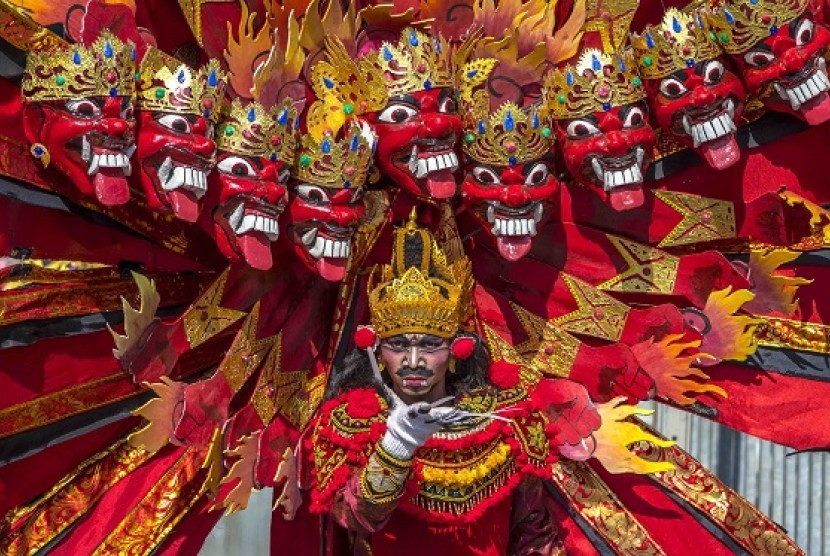 This theme is used as a celebration for Jember Fashion Carnaval victory in international contest, where it has successfully won the third position as the best National Costume.
It is also used to show how diversed Indonesia is, which can be reflected by the traditional costumes from all over Indonesia, and how Indonesia could still manage its unity in the diversed culture.
2. Asialight (2018)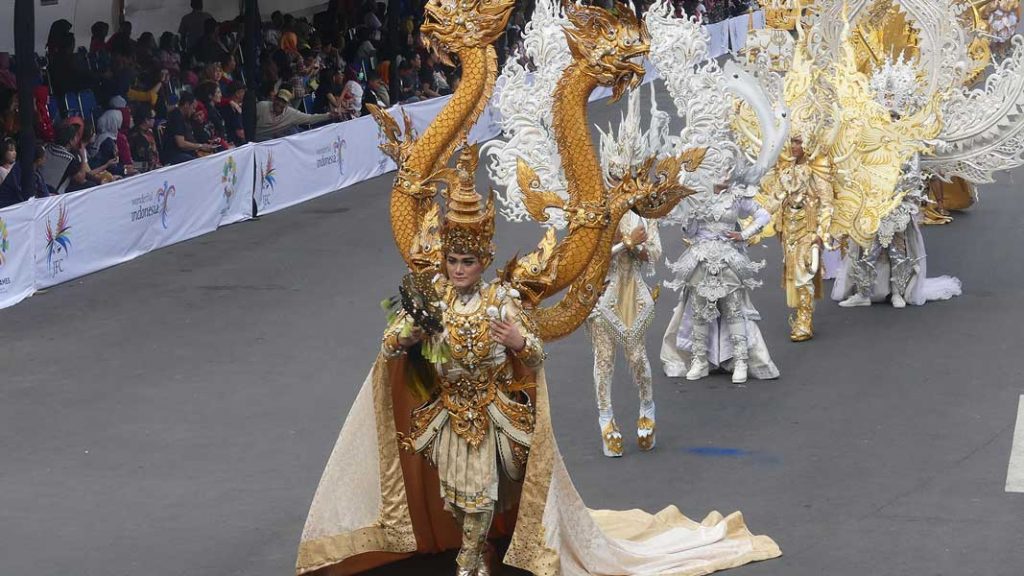 The theme was chosen to tone up and promote the event of Asian Games 2018 which was held in Indonesia. It tried to introduce the cultures and costumes from the countries participated in Asian Games 2018 as the energy of Asia.
3. Tribal Grandeur (2019)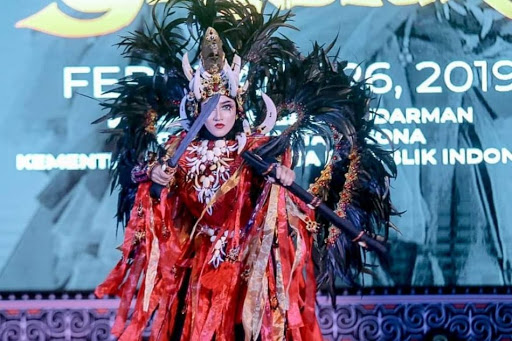 The initiator of Jember Fashion Carnaval, Dynand Fariz, passed away in April 2019. But his legacy still live up to this day and the carnival in August 2019 was held as a part of commemorating his merit.
The theme Tribal Gandeur refers to the grandeur of the the tribes in Indonesia. It was a spectacular event with over 6,000 participants being involved.
4. Virtue Fantasy (2020)
This theme is supposed to be brought up in Jember Fashion Carnaval that is supposed to be held on 6 to 9 August 2020. However, due to the saddening pandemic of COVID-19, the event is postponed until unknown date since the process of preparing the big event spends over 6 months starting from January 2020.
However, keep your hope high since you can still look forward for the big event that will involves around 1,100 participants and watched by over 200 thousands people.
Facilities and Tickets of Jember Fashion Carnaval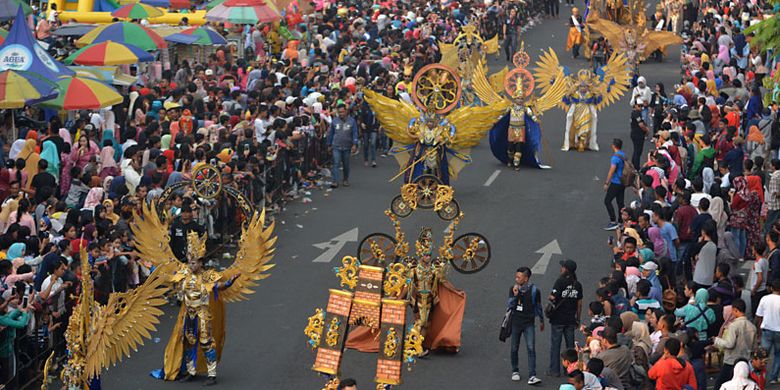 Actually, there is no entrance ticket in order to enjoy the lively ambience of Jember Fashion Carnaval. It is free and everyone could enter the area behind a baricade on the right and left side of the road that is used as the runway.
However, if you want to enjoy the carnival by comfortably sitting and is safe from the burning sun of Indonesia in the afternoon, than you can buy a seat ticket where you will have a seat in a tend that is already prepared. The seat ticket ranges from IDR25,000 to IDR75,000.
Attending Jember Fashion Carnaval will be a lively, delightful, and pleasing experience and another way to enjoy the diversed culture of Indonesia. If you are planning to visit Indonesia on August, make sure to include this event on your bucket list.
For another round of cultural tour, you can also visit Yogyakarta Palace and check the things to do in Yogyakarta Palace for a guideline. Have a lively holiday!