If you're looking for a place with diversity, Indonesia is one of them. The country is pretty much blessed with so many different and colorful things, ranging from the culture, the people, to the local cuisines. Each area has their own unique delicacies, and it's unbearable to not try all of them.
Even each city has their own specialties. Surabaya has the Lontong Balap, Malang has Bakso Malang, Jakarta has its memorable Kerak Telor, and many others.
When you're visiting different islands in the country, you may have a chance to meet their unique traditional dishes as well. Like in the Sumatra island for example, where you can meet an area named Aceh.
Not only filled with the National Parks in Sumatra, Sumatra also has several special areas like Aceh. They also have what they call as the special edibles, ready to spoil the tongue of interested souls. Are you ready to go through the culinary journey in Aceh? If you do, hop in and enjoy the ride.
The Local Cuisines of Aceh
1. Martabak Aceh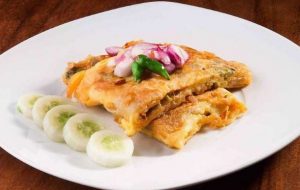 Martabak is one of the Indonesian traditional cakes, usually sold at the traditional markets. The savory Martabak is actually typical in Aceh. It has the usual martabak-like shape and at a glance similar to an omelette.
However, the making is a little different from ordinary martabak. This is mainly because the scrambled eggs are used to wrap the Martabak Aceh skin.
2. Kuah Sie Itek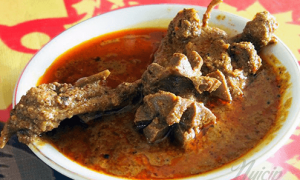 Aceh's special cuisines are always famous for their delicious sauce and spices. Including this one dish, Kie sie Itek. The dish is mainly made from duck meat, and it has become the one that is highly idolized by the people of Aceh.
With its special seasoning and cooking methods, making the duck meat less fishy. This curry dish that originated from the Bireuen area is always loved by culinary lovers when visiting Aceh.

3. Mie Aceh (Aceh Noodle)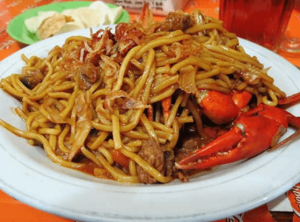 One of the famous delicious Indonesian noodles is the Mie Aceh. A true gem of Aceh. The thick yellow noodles with sliced ​​beef, mutton, and seafood (shrimp or squid) that served in a spicy and savory curry soup.
Aceh noodle or Mie Aceh is available in two types, The Fried/Goreng (dried) and Kuah (with soup). It is usually sprinkled with fried onions and served with chips, pieces of shallots, cucumbers, and lime.
4. Sie Reuboh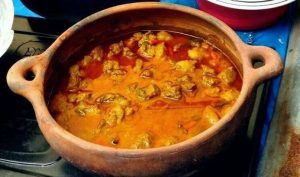 The culinary heritage of Aceh Besar regency is named Sie Reuboh or basically means "the boiled meat". However, this dish is not just boiled meat, because Sie Ruboh has been passed down for generations and actually lasts up to one month.
Sie Reuboh is made from lumps of meat along with spices, salt, red chili, dried chili, cayenne pepper, and turmeric. The ingredients are then boiled after the water dries and then left for one night in the pot.
5. Eungkot Paya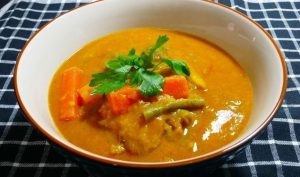 Acehnese cuisine which is also made from fish is Eungkot Paya. The name comes from the Acehnese language which means brackish fish. The fishes that used are those that usually live in rivers or freshwater swamps, generally namely cork fish.
Eeungkot Paya has a sour and spice-rich flavor, especially if it's cooked with original spices derived from Indatu and added with the fresh concentrated coconut milk.
6. Sate Matang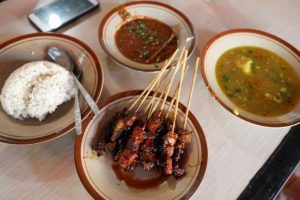 The name was taken from a place in Aceh, namely Matang Geuleumpang Dua City, Bireuen Regency. It is said that Sate Matang was originally introduced by the seller. After that since the 90's, Sate Matang became famous not only in Aceh, but the outside regencies as well.
The uniqueness of Sate Matang lies in the presentation, which is served with peanut sauce, warm rice and soto soup. In the soup, you can find potatoes and meat. The taste is indeed delicious and tasty.
7. Ayam Tangkap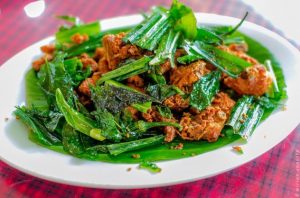 This Acehnese cuisine is named Ayam Tangkap, made from chicken and special spices. The Ayam Tangkap has long been a part of the culinary culture of the people of Aceh.
Chicken Capture is indeed served with leaves covering the chicken so that it appears that the chicken was deliberately placed under the leaves. It can be bought in some restaurants spreaded on Aceh, with the price starting from Rp60.000,-
8. Kuah Pliek U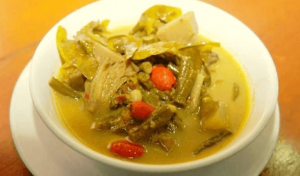 Another special dish of the North Sumatran foods you have to try is Kuah Pliek U. Kuah Pliek U is a traditional food with rich coconut milk that is typical of the Aceh region. At a glance it is almost similar to curry. It's just that the contents are vegetables and the sauce is made from selected spices.
Kuah Pliek U is quite well known in the Aceh region, especially in the east coast of Aceh. Besides being consumed daily, Kuah Pliek U is also often served at certain events and is one of the special menus favored by the locals.
9. Gulee Si Kameng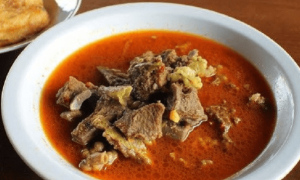 Not much different from Kuah Pliek U, Gulee Sie Kameng is often found on religious traditional events, although now it can also be found in restaurants in Aceh. It's another soupy food, with rich spices and savory taste.
It's usually known with its close partner, the Beulangong Soup. The two are like unseparable. The ingredients used are the goat meat, slices of banana, jackfruits, and special species from Aceh.
10. Eungkot Keumamah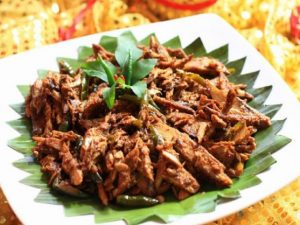 And the last one is surely one the tasty Indonesian foods you need to try. This dish may sound new to most people, but not to the people of Aceh. Eungkot Keumamah, this tuna-based dish is indeed very popular in Aceh.
Eungkot Keumamah means wooden fish in Acehnese. This is because the texture of the fish that's very hard just like wood. The texture is produced from the processing of tuna which is boiled and dried and then sliced ​​into wood-like shapes. Then it will be cooked with coconut milk, potatoes, chili, and spices.