In this modern area, we need so many kind of things. Beside trying the beautful attractions like beaches in Kuta, we need to buy something to support out life. Starting from the essential equipments like the electronics, or maybe kitchen set, then up to something more like needed by our hobby like action figures, clothings, or gaming consoles. All the things in our life must be achieved in ourder to get the happiness and less stress.
We can't afford much time for seeking them one by one, right? So there's  a mall that has everything for us. You can find what you want in here with ease, completed with the comfortable environment around that kept in a full security. With so many benefits you can get from a mall, it's not so bad to find one of the largest malls in Indonesian on our list. Let see more complete of them below :
1. Hartono Lifestyle Mall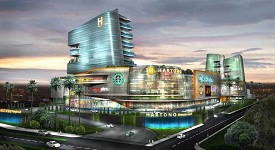 The first big mall you can see in Indonesia is the Hartono Lifestyle Mall in the city of Yogyakarta, which is one of the things to do in Yogyakarta. This one located exactly in the Special Region of Yogyakarta. Hartono Lifestyle has everything for you here to fulfill the needs of the people.
The mall is mainly used for shopping, but certain events there are some meet and greet about movies and interesting events that you can join in here like the Fashion Trend, Midnght Shopping. This can be a great option to spend nightlife in Yogyakarta Indonesia. You can also join the newest Wonderful Mallprize 2017-2018 that still going on right now. Ask more information and checit directly in Sleman, Yogyakarta.
Opening Hours : Everyday at 10.00 – 22.00
Location of the mall (City) : Yogyakarta City, Special Region of Yogyakarta
2. Trans Studio Mall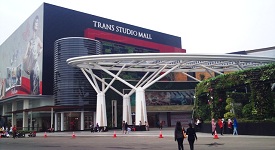 Maybe some of you already know about the Trans Studio, the famous atractions located in Bandung with fun things to do in Bandung with family and Makassar. But this is the shopping mallf Trans Studio where you can find so many good things within. There you should try hundreds food stands available.
Also, beside the foods, you can also have unlimited fun by shopping at Metro Department Store that has the International standards. Find your best things in here, where many stores are available to choose. Pick one to be your favorite.
Opening Hours : Everyday at 09.00 – 22.00
Location of the mall (City) : Bandung City, West Java Province
3. Summarecon Mall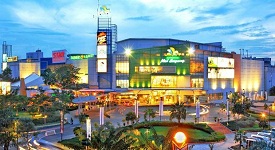 The next one is the Summarecon Mal Serpong, people usually call it by its middle and last name, Mal Serpong. Built around the elite district in Bekasi, the place is a favorite to be a spot for hang out or just hanging around in Saturday night.
The place is, of course, filled with teenagers as usual, and some family who want to go there for some shopping sessions. But, the best thing from this mall is its food court. It's filled with hundreds of traditional foods that you can choose. It's good though, remembering that the mall is located just near the Bekasi station, so the tourists who just arrived can eat for a while in that very mall.
Opening Hours : Everyday at 10.00 – 22.00
Location of the mall (City) : Bekasi, West Java Province
4. Supermal Karawaci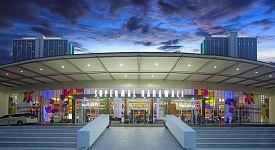 The next mall is the Supermal Karawaci. The place really fulfilled its motto, " Explore your dream, shopping, and entertainment", and all of that cna be found in this mall. AS you can see on its website, the mall has really specific targets of margketing, like for the executives, mom n kids, and also for the youth space.
Because of its coziness, many people love it to this day. The mall was built in 1992, but in 1998 there was a chaos that making this building vandalized. But, after going through several renovations, the mall is finally great again.
Opening Hours : Everyday at 10.00 – 22.00
Location of the mall (City) : Tangerang City, Banten Province
5. Taman Anggrek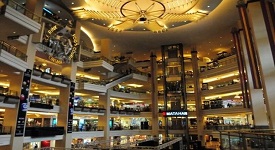 After reading about the previous article things to do in Kemang, maybe you feel interestedo know more about the life style in Jakarta. You can find the perfect example ithe Taman Anggrek mall. The mall itself looks beautiful in the night, because of the illuminating wall lights.
It has several buildings that included in one mall, you can visit them all if you want. Like the mall of Hartono, in here you can also join the Absotely Yours Rewards once in a while. Maybe you can get something amazing on at.
Opening Hours : Everyday at 09.00 – 22.00
Location of the mall (City) : Jakarta City, Special Capital Region of Jakarta 
We can't keep the secret of the other largest malls in Indonesia for you the readers of AllIndonesiaTourism.com, so here's another small list for you :
Tunjungan Plaza, located in the Surabaya, biggest city in East Java, surely you will get what you seek here
Java Paragon, a good place to spend some money for something in Semarang
Meda Centre Point, wouldn't be a bad idea to visit one of the largest malls in Medan
Kuta Beach Walk, favorite hunting place in Bali for all of those "hungry" tourists.
City of Tomorrow, located in the border between Surabaya and Sidoarjo.
That's our humble list of the largest malls in Indonesia. As you can notice, the largest malls always located in the big cities, because they have more advanced onomy han the other small cities. But, if you living in a not so big city as the capital, maybe you can find tother alternative malls for you, surely there wil be at as one in your area. For example, there's MOG in Malang, and also Kediri Town Square in Kediri, East Java. Find the best one that really suit you.