Bali is not only popular for having white sand beaches, gorgeous waterfalls, natural parks and historical attractions, but also several famous hot springs.
There are several hot springs that offer wellness retreats with their mineral-rich waters. Some of the springs are even sources of holy water, just like Tirta Empul Temple.
If you come to Bali and wish to have wellness retreat, then here they are the 6 recommended hot springs you can find in Bali.
Located in Jalan Banjar Banjar, Buleleng Regency. The locals call this hot spring as Air Panas Banjar. This hot spring will provide a recreational experience because of its high sulphuric content in the water.
This hot spring is also located around 5 km southwest from the famous Lovina coast in North Bali. There are 4 main pool sections in the hot spring complex.
This hot spring is a perfect place for people who are looking for a relaxing vacation and different experience altogether. If you wish to bring souvenirs, you can visit some souvenir shops on the way to the hot springs.
There are some items you can buy, such as framed art, Bintang shirts, handicrafts, batiks, and dyed clothes.
These things to do in Buleleng Bali will surely give you the idea on how to spend your day here.
Toya Devasya Hot Spring is a fully-fledge resort. Located close to Batur Natural Hot Spring, this resort makes good use of a hot spring. You can surely enjoy a relaxing dip after an adventurous day. You can also just simply visit a simple getaway.
After finish dipping yourself in the hot spring, you can also have a meal in a lakeside restaurant and bar. There are some refreshments and a spa there. However, it is a bit expensive to have a spa there because it provides additional amenities.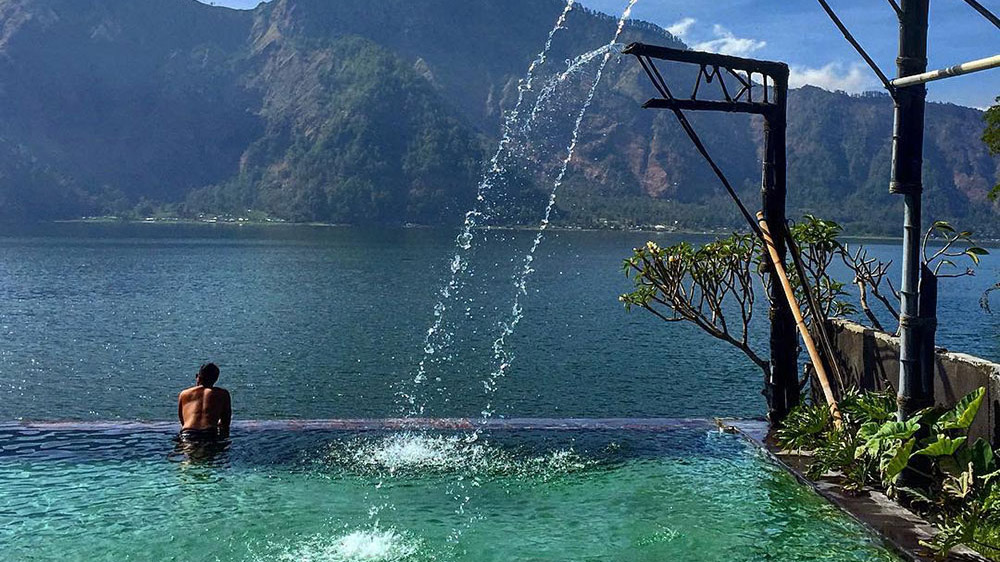 Visiting Toya Bungkah is a must when you come to Bali. Toya Bungkah is located beside Bali's largest lake, the Mount Batur caldera. The Batur Natural Hot Spring is managed by the local community and it offers you mountain treks and adventure tours.
If you're still in this area, you can consider spending your time with these pleasant things to do in Lake Batur Bali.
After you finish the adventure, you can simply visit the famous restaurant here, Resto Desa Sari Ulam. It serves grilled freshwater fish and the delicious local dish. The entrance fee to this site includes showers, lockers, drinks, unlimited use of the pools, and towel.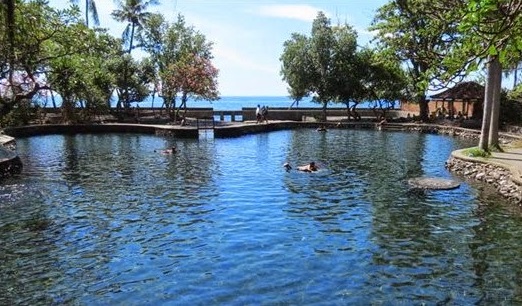 Air Sanih Hot Water Bath is located in Singaraja Regency, in north of Bali. This is surely the right place to visit after you visit the dolphins at Lovina Beach.
The hot water here is therapeutic and is useful for fading fatigue skin deses and many more. Besides the therapeutic water, you can also enjoy the scenery at Yeh Sanih which is very beautiful.
If you bring luggage here, then you can rent locker facility. You don't have to be worried about the luggage.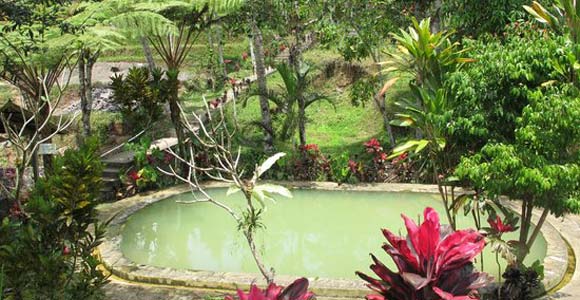 If you wish to have a private soak in hot spring? Then, you can go to Angseri Hot Springs. They offer private baths which are surrounded by luminous rice paddies. No wonder, it is considered as one of the best hot springs in Bali. It is located around 5 km northeast of Batukaru Temple.
To reach this place, you will need to walk up and down hundred stairs. However, all the hard work will be paid off. These hot springs have purpose-built pools, changing rooms, parking spaces, and canteen.
You can also find a small waterfall next to the pool, so you can sit and enjoy while you soak yourself in the hot spring.
The temperature of the water is about 35 degrees and it is perfect for you to relax!
Yeh Panes or known as Air Panas Penatahan, is a part of a group of hot springs around the village of Penebel. It is located 13 km from the main town of Tabanan. The water in these hot springs is high in mineral and sulphuric content.
There are 3 public pools in Penataan. The first is close to the banks of the river, and it is the smallest pool with cold water and surrounded by boulders.
The second one is a pool of hot water with a bamboo shower and the last one is located at the top. It has the largest area with warm water.
If you're traveling through central highlands, especially to Batukaru Temple, then you shouldn't miss this hot spring.
Besides hot spring, you can also consider visiting these surfing spots in Bali for beginners and waterfalls in Singaraja, Bali.