Bali is really popular for its outstanding beaches. That's why it got a nickname, "the Island of the Gods". Besides having incredible beaches, Bali also offers countless surfing spots as it is also a home to a surfing culture.
If you love surfing, then Bali should be your next destination. Check all the amazing beaches in Karangasem Bali and white sand beaches in Bali
Are you a beginner in surfing? Don't worry! As a beginner, you naturally would like to test some surfing spots that are safe even when you're out on the waves. Bali also has several surfing spots for beginners. Let's see the top 6 surfing spots in Bali for beginners.
Indonesia is also heaven for surfers as it has the best surfing spots Indonesia you must try especially if you love surfing!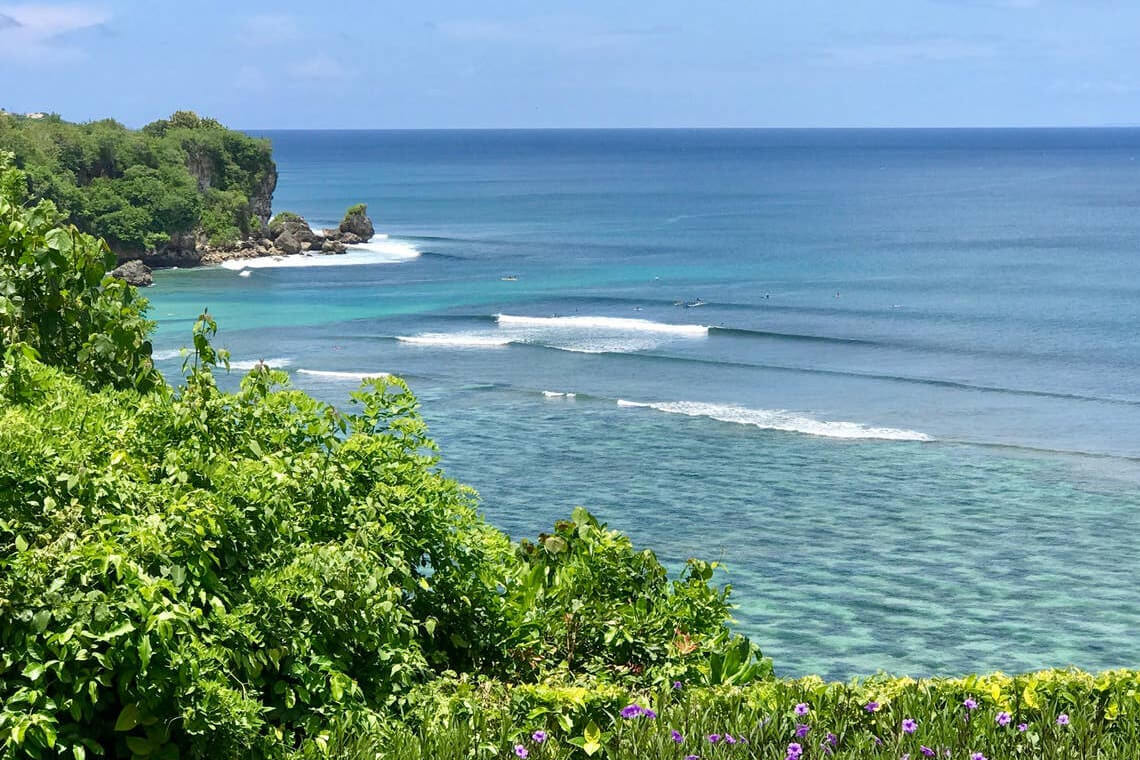 The majority of beginner surfers decide to learn to surf with Padang Padang Surf Camp here. Padang Padang Rights has a soft reef break that breaks both left and right and it is suitable for a range of surfing abilities (from total beginners to the novice-intermediate surfers). If you visit Padang Padang Beach, make sure you join this reggae beach party Padang Padang.
During the high tide, this spot provides an ideal spot with its unbroken wave. It allows beginner surfers to practice the technique and taking the step from surfing white water to the unbroken waves.
This surfing spot is located around 3 km north of the temple at Uluwatu. The beach at Padang Padang is also popular among tourists, specifically swimmers, sunbathers, and other water sports lovers.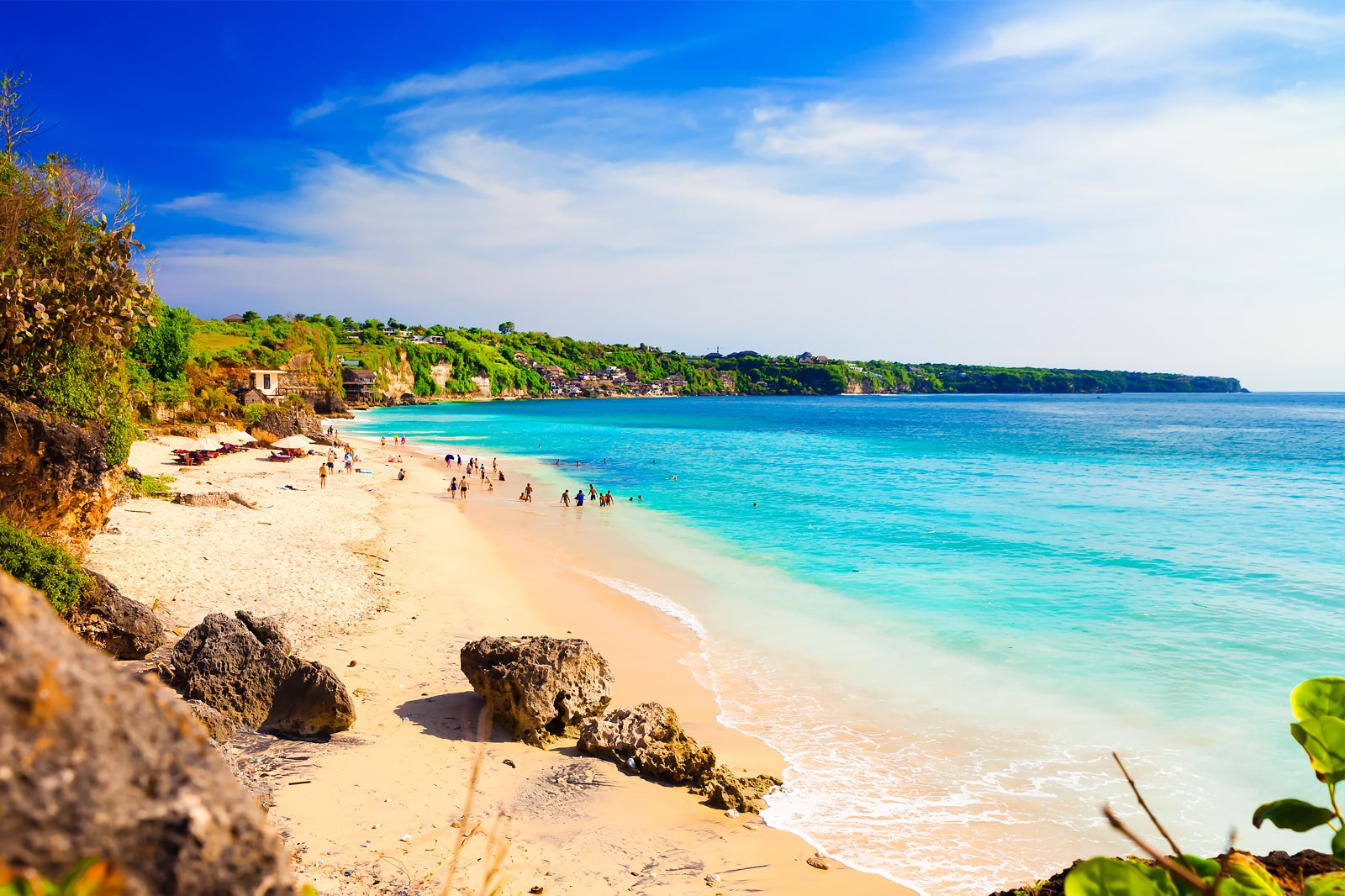 This is one of the breathtakingly beautiful beaches in Bali. It is called "Dreamland" as it does not only become the source of great waves, but also serves a thriving social scene. No wonder, this place is a must-visit spot for anyone travelling to Bali.
Dreamland has several spots that work well depending on the tide. For beginners, you should be aware of the shore break wave. When the swell is approaching 6 feet or more, then you should leave it. Make sure to know what to do in Dreamland Beach Bali.
Who doesn't know Kuta Beach? Kuta Beach is just like the icon of Bali Island. Kuta Beach is considered as an ideal place for learning to surf on unbroken white waves.
It is because Kuta Beach has gentle gradient which allows the white water to run for a considerable distance, even in shallow water. In other words, you will get a lot of ride time as you practice and make progress.
However, Kuta Beach can be very busy as it is the most popular location. If you wish to have a surfing practice on a quiet and tranquil place, then Kuta may not be an option for you.
Canggu is located on Bali's southwest coast to the north of Kuta. Canggu has waves for all levels of surfers, from beginner to advanced surfers.
Canggu is also known for being a more relaxed and rural area, no wonder it is home to some of Bali's best views and most fun waves.
One of the most trustworthy breaks in Canggu is Old Man's. It is popular amongst many longboarders and stand-up paddle surfers.
The wave on the southern end of Canggu on Batu Bolong Beach is long and mellow right-hander. It is also slow, fat and user-friendly, especially for beginner surfers.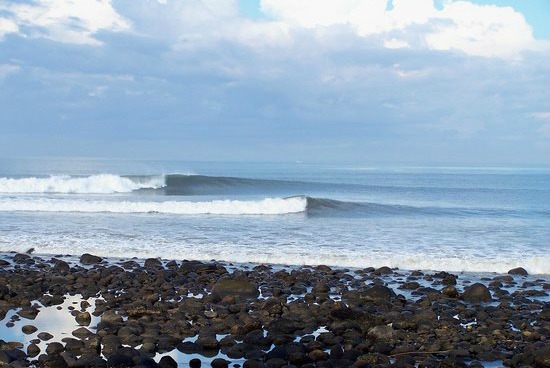 Medewi Beach is another surfing spot that is suitable for beginners. It is located on Bali's southwest coast, around 2 to 3 hours north of Kuta.
Though this tiny beach is one of the least visited areas of Bali, it has become known for its premier surfing in recent years.
The waves at Medewi are sloping, left-hand point break that break down a sand and smooth cobblestone point. The left at Medewi could be the longest ride in all of Bali during the right south/southwest well.
Bingin Beach is really popular with its crystal-clear water along with a stunning view over the Indian Ocean. Besides, it is also heaven for many surfers.
It is located along the western coastline on the Bukit Peninsula, which is very close to Uluwatu. No wonder, it offers one of the most picturesque waves in Bali.
Before heading to this surfing spot, make sure you communicate with the locals as the surfing conditions are heavily affected by the tide.