Who doesn't know Bali? Bali is one of the most favorite destinations in the world for beach holidays. You can start reading these tourist destinations in Semarapura, Bali. It has everything you want and wish for your vacation! From the coolest shopping spots, exotic Balinese temples, super night clubs to the most beautiful beaches.
There are many white sand beaches that are recommended to visit, such as Seminyak Beach, Sanur Beach and Pasir Putih Beach. If you wish to relax, chill and have some incredible water sports, such as snorkeling, scuba diving and surfing, then it is a must to visit these white sand beaches!
Let's see the list of Bali's top white-sand beaches from the popular ones to the hidden gems. If you like sunbathing or doing water sports, make sure to visit one of these 5 best and breathtaking beaches in Bali.
Double Six Beach, Seminyak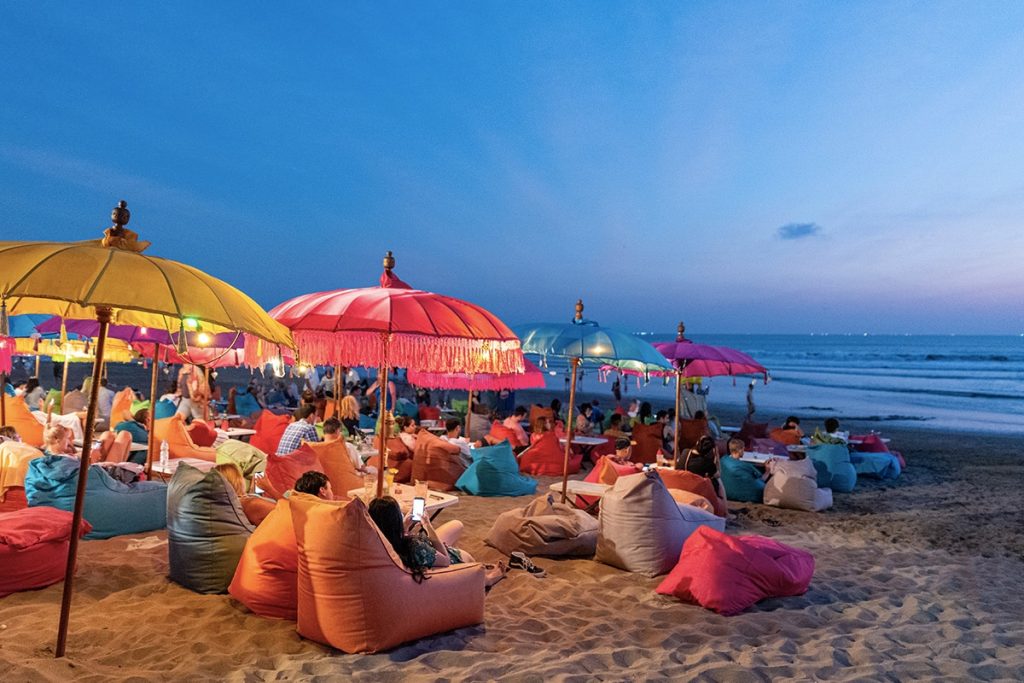 This beach is suitable for you who love luxury getaway in Bali. The place is filled with the beachside resorts, fancy restaurants that will serve you both local and international dish. It also has some world-class pubs where you can party all night.
Double Six Beach is located on the stretch between Jayakarta Hotel and Double Six Club. The best time to head over to Double Six Beach is around 4 p.m., so you will be able to enjoy the sunset while lounging around the multi-rounded bean bags and umbrellas.
You can also enjoy listening to eclectic trance beats in the background. Avoid visiting this beach during the rainy season as the waters will become murky from waves carrying in seaweed from the ocean.
There's a restaurant you can try while visiting this beach, named La Pancha. La Pancha offers delicious drinks and a jaw-dropping view. You can try the sunset cocktail and seafood platter in this restaurant.
The beaches at Kuta are the dreams of every surfer. Balangan Beach is one of the top white sand beaches you should visit in Bali. Balangan Beach will serve you with the white sand, azure water and the view of the ocean as far as your eyes can see. That makes the beach look magical and beautiful.
If you wish to enjoy the view of the sunset in this beach, you can come between 2 p.m. to 5 p.m. If you're not a non-surf enthusiast, don't worry, you can also swim around the ocean and enjoy the stunning sunset view instead.
This beach is located in Kuta, so if you start from Kuta, you cn head south from Kuta Beach Badung regency for about an hour. Then, head uphill to Pecatu where you will meet an intersection to the Balangan beach stretch.
While you're in Balangan Beach, you can enjoy the best coffee and delicious South American dishes in the famous restaurant called Café La Pasion. Balangan Beach is also listed as one of the wonderful white sand beaches in Indonesia .
Pasir Putih Beach, Candidasa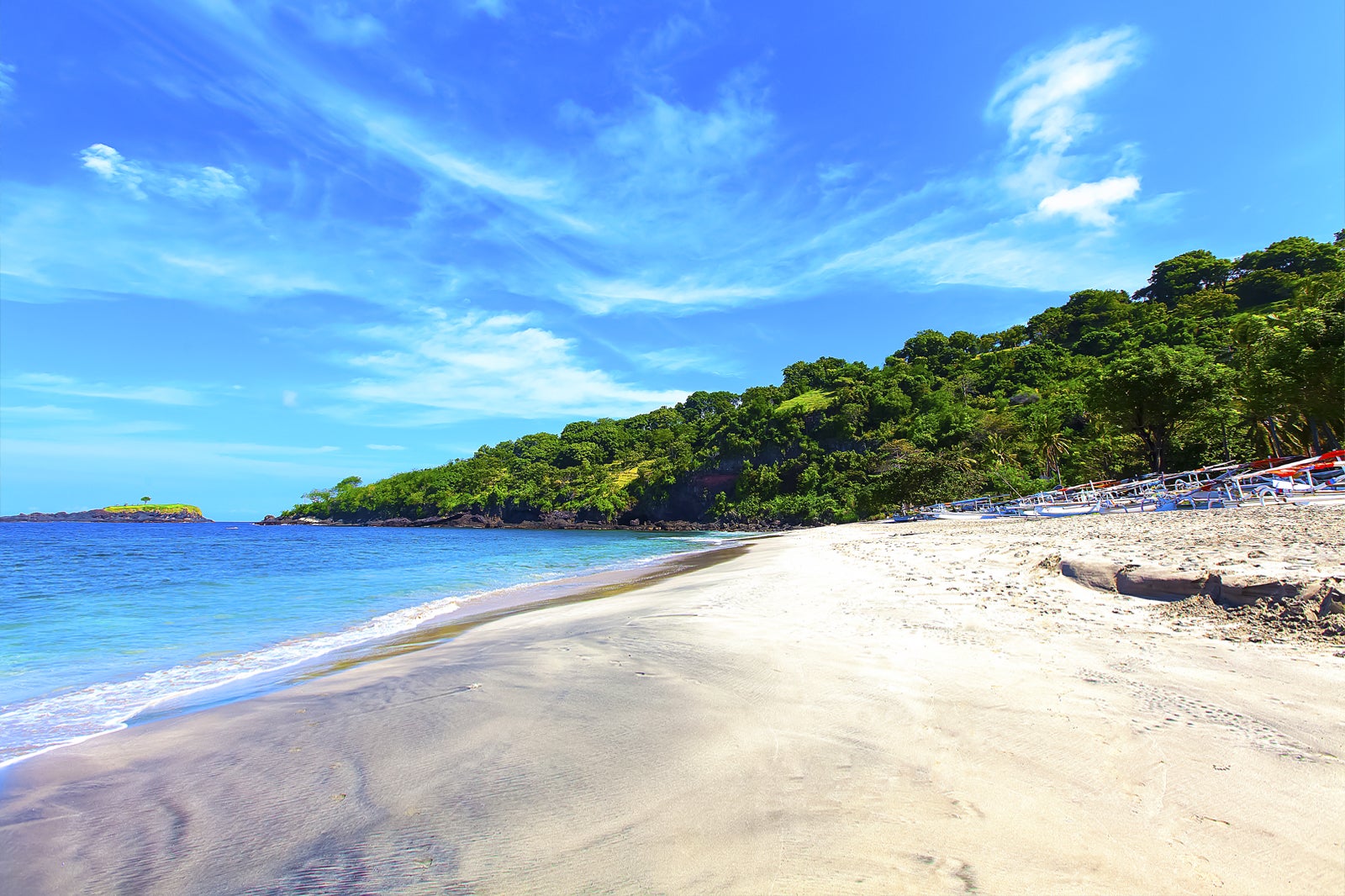 Another recommended white sand beach in Bali is Pasir Putih Beach. This beach is located between Bugbug village and Perasi. This beach is also known as "Virgin Beach".
This beach is an ideal location for the people who look for some space from the crowded pace of Kuta and Seminyak. You can also find some other virgin beaches in Bali. Read beaches in Karangasem, Bali!. Karangasem is also full of amazing beaches.
Pasir Putih Beach is perfect for you who love water sports and sunbathe. You can try snorkeling in this beach. The beach is not crowded at all, so you can enjoy the beach by your own. However, it is not suggested to go to this beach at night due to its remote location.
Along this beach, you will find some warung and street stalls, which serve both international, local and seafood grills.
Bingin Beach is located in the South of Bali, in Pecatu village. Bingin Beach serves you azure waters and crystal-clear sand overlooking the Indian Ocean also the biggest and most challenging waves. Get more time in Bingin Beach? Make sure you give time to things to do near Bingin Beach Bali.
If you're here, don't forget to try the wide range of eateries nearby. You can grab a bite at Kelly's Warung to try some filling meals, such as wraps and a delicious Pitaya bowl.
You will take a 16-minute drive from Uluwatu Temple. Just drive along Jl. Labuan Sait north towards Bingin Beach. To reach this beach, you will need to climb up 188 stairs as this beach is off the main road. While you're nearby, make sure to consider these things to do near Uluwatu Temple, Bali, Indonesia.
Karma Beach spells a positive karma for everyone. This beach has the soft, cloud-like coastal sand and emerald waters along with the limestone cliffs. Its location is near a high cliff so you will need to climb a bit, but don't worry, the view from top is surely worth the climb!
Karma Beach is technically a part of Bali's exclusive Karma Kandara hotel. However, this beach is open to public with the daily passes including cable car ride to the beach and credit to purchase food and drinks. If you are seeking for a beach for picnics and calm water sports, such as snorkeling, you must visit this beach!
Despite the fact that this beach is open for public every day, but it is suggested to make reservations. You can also enjoy movie nights here under the starry night sky.