So, after telling you the pieces of wonderful things to do inside Pandawa beach in snorkeling in Pandawa beach, which is also the fun thing activity there, now we want to introduce you to lesser mainstream location. But still, the theme is just the same, which is the beach location. One and only, Dreamland Beach.
 Now, of course, there are many reasons to tell that this beach is included inside things to do in Pecatu Bali. But above all else, are you familiar with the name of Dreamland Beach? Or this is the first time you ever heard that very name? This beach is also a good one for sure, for all the greatness it has that will be mentioned shortly in this article of what to do in Dreamland Beach Bali. Let's move straight away.
1- The Dreamland Beach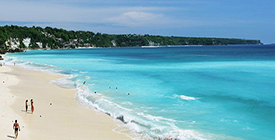 Of course beside talking about the other things that included inside the what to do in Dreamland Beach Bali, we want to explain all abou this very beach first. This beach is always included inside Bali Top White Sand Beaches list, along with Kuta, Pandawa, and many other famous beaches.
Back in 2016, this beach was still in early development. But we can enjoy the full form of it in late 2018. It looks simpler than Kuta or Pandawa. Most people are coming in here in hope of having greater waves for surfing activity. Sometimes, the tourists are also enjoying their time by swimming around the beach lip.
Location: Pecatu Bukit Jimbaran street, Bukit Peninsula, Kuta
Tips: You should need to bring your own board for surfing.
2 – Bingin Beach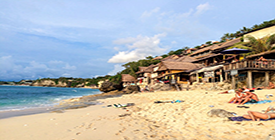 The next beach that may included inside the where to go for single woman in Bali is Bingin Beach. Do you know anything about this beach yet? Most people will fell confused for finding this very beach. Aside from the popularity that still not booming out, the way to reach the beach is actually not quite easy.
But, that doesn's stop some tourists for finding and exploring it when they finally found it. The road access is still a bit difficult to pass. Especially because of you need the extra stamina for the Bingin Beach. After arriving, you can fell the white sand, which is not quite soft, plus the sea environment that still very virgin. Looks so refreshing and mesmerizing at the same time.
Location: Pecatu, Bali
Tips: It's better to visit the beach in a group
3 – Greenbowl Beach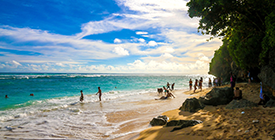 Now it's everyone's favorite, the Greenbowl Beach. When visiting the area of Ungasan Bali, make sure that you don't skip it entirely. If you still don't know about this beach yet, you may wonder, why this beach is named Greenbowl? Why it's green? And why it's a bowl? We're gonna answer it in a sec.
The name Greenbowl was actually given because of the beach condition itself. The beach has a giant coral, colored naturally in green. And when the water's gone, you can see that the coral actually looks like a bowl. A big green bowl. Even though the way to get here is slightly hard, many people still want to visit it.
Location: Ungasan, Bali, Indonesia
Tips: Be sure to explore the cave too!
4 – Suluban Beach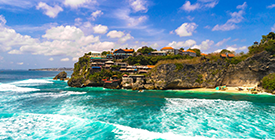 Next one on the list is Suluban beach, a place that may included inside the things to do in Bali with a 4 years old. The beach is located about 3 kilometers from Uluwatu Temple. Even though the locals or Indonesian tourists call it as Suluban Beach, many other tourists around the globe are calling it with the different name, the Blue Point Beach.
They use the name Blue Point Beach simply becasue of the beach location, which is under a hotel with the same name, Blue Point Hotel. But the beach actually has no relation at all with that hotel. However, the beach is most suitable for people who love doing kinds of watersport, especially surfing.
Location: Pantai Suluban Street, Pecatu, Bali
Tips: You can also book a room at the hotel for easier access to the beach
5 – Nyang Nyang Beach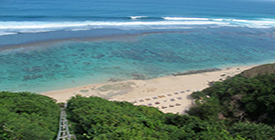 The fifth beach inside what to do in Dreamland Beach Bali is Nyang-Nyang Beach. This beach is more like calmer and shooting beach. Suitable for people who want to relax their life a bit. It's also included inside the list of hidden beaches in Bali. So you may expect something beautiful from it for sure.
The panorama is still nice and very comfortable to enjoy, especially when you're just with yourself on this beach. It's like visiting a private beach that owned by your and yourself alone. The location is just right behind some hills facing the ocean. It's a bir hard actually just for visiting the beach lips, but it's worth it.
Location: Pecatu, Bali
Tips: Be sure not to bring so many stuff
6 – Tegal Wangi Beach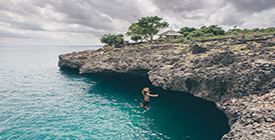 Then the sixth beach that can also be included inside the romantic things to do in Bali Tegal Wangi Beach. Tegal Wangi is more like beach lips with some solid rock cliffs around it. You need to go down a ladder to be able to reach it. It's not that tiring, but surely adrenaline pumping. The waves are not that big also.
People are usually want to just stay inside some pools on this beach. Pools? Yes, the beach has these natural pools purely made from holed-corals from the abration process. So it's like taking a bath with the natural salt watel, like in jacuzzi, but with the best view you can get, not a wallpaper, but the actual view of the ocean.
Location: Jimbaran, South Kuta, Bali
Tips: Be careful when stepping on the stairs, they can be very slippy sometimes.
Like usual, aside from giving you the six top locations in what to do in Dreamland Beach Bali, we also provide smaller version of the list that is also containing the rest of beautiful locations that haven't mentioned above. So let's see what we can explore around the area of Dreamland.
1. Single Fin Bar
2. Jimbaran Bay
3. Luhur Uluwatu Temple
4. Labuan Sait Beach
5. Padang-Padang Beach
6. Garuda Wisnu Kencana Statue
7. Ayana Resort
8. Balangan Beach
9. The Rock Bar
So that's it everyone, the things that included in what to do in Dreamland Beach Bali that you may or even should visit. Like you may see, most of the places mentioned above are the beach attractions. But of course, if you look closely, you can visit the bars, the well-known ones, like Rock Bar and also Single Fin. So don't think twice when exploring the Dreamland Beach.