Hello everyone. Back here in All Indonesia Tourism.com to talk some more about Indonesian best attractions. Now, we want to explore Bali island again, to someplace that may familiar to you. A special beach called Pandawa Beach. After telling you about kinds of beautiful locations around it in things to do in Pandawa Beach Bali Indonesia, now we want to go more specific.
You do know that in Pandawa beach you can enjoy several watersports, right? Just like in the things to do in Tanjung Benoa But, do you know that you can snorkel in this beach too? Yep, it's possible to do this activity on this very beach. We prepared some useful information that contained inside this article of snorkeling in Pandawa Beach above. So let's dive right in.
The Location of Pandawa Beach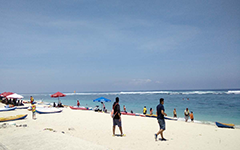 So, before talking about snorkeling in Pandawa Beach, we want to share another information about Pandawa beach. Of course not everyone knows about this beach. That's why, we want to give this information specifically to the people who still have zero information about Pandawa beach.
The location of Pandawa beach, which is also considered as one things to do in Bali with a 4 years old because of its friendly environment, is in the Nusa Dua Selatan Street on Kutuh, South Kuta, Badung, Bali. It's a well-known location so there must be some road signs that put in order to inform visitors to reach the location.
How to Get There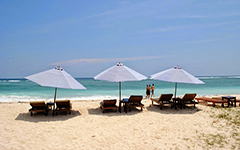 The area of Badung also not famous for the best party hostels in Kuta Bali only, but also for the natural attractions located around it, like this Pandawa beach for example. Reaching it should be an easy job. The location of it is basically only an hour from Ngurah Rai Airport.
From the Airport, you need to find your way to Pandawa beach via the main roads. But, usually those roads are pretty crowded, especially the area around GWK, you'll arrive here anyway.
If you're having a hard time to find a way to Kutuh, you can just rent a driver right away from the start. He'll take you from the airport to Pandawa with ease. He's certainly needed because the roads to Pandawa beach are actually quite tricky, especially because of the fact that the location is hidden behind the limestone cliffs.
Years ago, the roads are still very "natural". It was a hard job just for reaching the beach. But now, all the roads have been asphalted, so any vehicle can drive on them with ease.
Watersports in Pandawa Beach
You can do so many things at Pandawa beach. The activities here are mainly related to watersports. Even though the number of watersports at Pandawa beach is lesser than Tanjung Benoa, but surely they'll give you the same exact exciting experience.
So, those watersports that you can do here are :
1. Surfing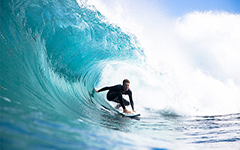 Using the surfing board to explore the wild waves in Pandawa beach can also be a great thing. Even though this is surely a fun activity to do here, not so many people do this in Pandawa beach because of so many things.
Unlike the surfers in Sanur, which is so many, you can rarely find that crowd of surfers in Pandawa beach. One of the reason is the waves that are always being "stay still", and don't go wild, which is not very usual for surfing. They may come in not the right time because there are special times that can be used specifically for surfing.
The special time is starting from October to April. The waves can be pretty big during these times. The best area to do surfing is the east side, which is a little bit far from the beach center.
2. Canoeing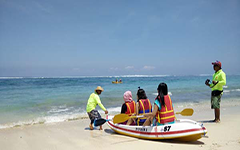 Ah, the most popular watersport in Pandawa beach. Rather than surfing, you can people are doing this instead. Usually they canoeing in groups, do a little race you know. But there's also people who also want to explore the beach a bit by canoeing alone.
The canoe boat can fit up to three adults, so a family of father, mother, and one kid can fit in there enough. Each one of the person will be equipped with the pedal to manually control the boat. The price for this sport is starting from Rp20.000,- for single boat and Rp50.000,- for double boat.
3. Banana Boat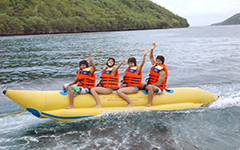 An activity that can be fun to do when you're going to Pandawa beach in a group. The Banana boat usually starts after 4 to 6 people are ready to hop on the big yellow banana. Using the floatable banana, you can the other people will have this adrenaline to the top when the boat starts to pull of the banana.
You'll be exploring the beach with the fast speed. You can see some of the beach spots pretty clear, if you notice it. Otherwise, you'll be screaming because of how fast you go. And the trip ends with a sharp turn from the boat that pulling you, making you fall down from the banana.
4. Snorkeling and Diving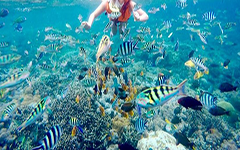 As one of the best place that included inside things to do in Bali for backpacker, you also do the other thing. Aside from the Banana Boat and Flying Fish attractions, you can also enjoy diving or snorkeling in Pandawa beach. And thanks to the natural habitat that still kept in one piece, this can be a great activity to do here.You can pick whether to do the snorkeling or diving Of course based on your experience and likeness.
If you want to explore the surface only, then snorkeling should be the best one for you. Dicing is more like exploring deeper, to see the sea ecosystem that seems to be unseen from above the water surface. For snorkeling, you need to pay for about Rp125.000,- per person, and for diving, the price is more expensive, which is Rp290.000,- because of the equipments that more complex.
The Difference Between Snorkeling and Diving
Many people still considering Snorkeling and Diving as the same sport. But that ain' true. Snorkeling in Pandawa beach and basically everywhere means that you only watch the surface of the sea. While when diving, you can see the whole ecosystem by exploring deeper into the ocean.
Snorkeling can be done by everyone. You only need the skill to swim for doing snorkeling honestly. But eve though you can't swim, it's still okay because you can use floatable things to cover you up. But diving requires more seriousness and skills. That's why people who are allowed to do diving should have a diving certificate as a guarantee of their skills and capabilities. Diving is way more risky than snorkeling.
You can get several dangerous scenarios like decompression, blurry vision, narcosis nitrogen, and even oxygen toxication. They are way more devastating, so you need to be extra careful when diving.