After talking about the traveling tips as mentioned in the previous article solo trip to Bali from India, we want to back to Bali island again to discover some more about it. Not about the attractions, today we want to tell you about all the best party hostels in Kuta Bali. You do know the area named Kuta, right? It's one crowd area on the island.
There, you can find these things called hostels. So what's the difference from this party hostel to any other hostels out there? Basically, these party hostels are the places that aimed for the backpackers who are exploring the locations in Bali like things to do near Besakih temple, with the wants to enjoy the nightlife as well. Usually, the places are formed like dorms, with affordable prices. That's why, many people usually wanted to stay there, because it's cheap, fun, and enjoyable.
So, without further ado, let's start with the first one in the best party hostels in Kuta Bali.
1 – Nau Here Hostel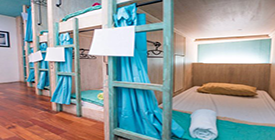 Let's start with the first one on the list. Aside from looking at the best places you can go to like things to do in Seminyak Bali, you should do a small research for the locations that you want to stay. For example, this Nau Here Hostel. The hostel can be said to be the most affordable one of all the hostels in such a crowd area like Kuta.
With the cheapest price you can get, what else you can find in here? Can the travelers expect something more? Of course there are. In fact, this hostel is never empty of visitors. The strategic location and environment are the two main points of this hotel. Aside from those aspects, Nau Here Hostel has homey design to make everyone comfortable staying in.
Location: Patih Jelantik street, Istana Kuta Galeria, Kuta Central Park
Starting Price per Room: Rp167.685,-
2 – Rumah Kayu Bali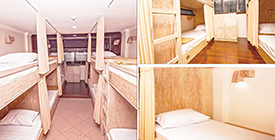 Included inside the best party hostels in Kuta, we should mention a location in Tegal Wangi street number 20 of Kuta Squre called Rumah Kayu Bali. The hostel basically means The Wooden House, so you can already expect what to find there. The price for a room is considered really affordable.
But of course with that level of price, the owner is not leaving the quality behind. Interesting thing abou this hotel is the style of each room. They use this kind of bunk bed system with wooden interior in almost anything. Bed, floor, and even the small stairs, all using wood materials. The facilities here are also quite nice.
Location: Tegal Wangi street number 20 of Kuta Squre
Starting Price per Room: Rp115.000,-
3 – Pro Surf Camp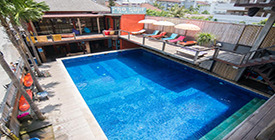 So, if you like surfing, you should visit the beaches like things to do in Pandawa Beach Bali Indonesia, and also staying in a location for all the surfers, the Pro Surf Camp. This place is also not a resting area for all the surfing enthusiast. But, people who love the seaside atmosphere and the pool side party are always recommended to stay in here for some nights.
From the exterior, we can see some beach thingies already like the umbrellas. The building does look better with its chocolate ton and coconut trees around it. So, like mentioned before, this place is not suitable for surfers only, where they can meet and talk about their hobby as a community, but also for the pool party.
Location: Kuta Beach street, Legian, Kuta
Starting Price per Room: Rp165.000,-
4 – The Farm Hostel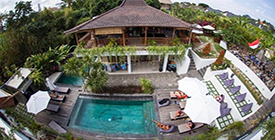 There's one famous hostel, known by all backpackers in the world who aiming specifically for Kuta Bali. The name is Farm Hostel, looks nothing like a farm, but it's a crowded place indeed. By the Hostel World, the Farm Hostel was granted the best hostel in the world. Is it a real life or just a fantasy?
In the Farm Hostel, most people there can do anything together, from the Yoga in the morning, to the sun bathing on the pool side during the day. With the affordable price, you can get much security with private locker and bunk beds. The environment around, which is the view of rice fields is surly great.
Location: Pantai Batu Bolong, Canggu, North Kuta
Starting Price per Room: Rp170.000,-
5 – M Boutique Hostel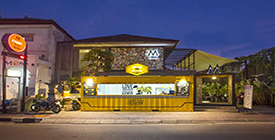 Aside from the things to do in Sanur Bali, we're gonna tell you about the most affordable hostel in all Kuta. This ine is the cheap of the cheapest hostel that you can get, without sacrifying quality and cozyness. This hostel has capsule rooms. So if you want to try those modern, simple form of room, surely you can get one here.
The privacy also secured, because all of them are separated from each other. Each one of them is equipped with the private locker for further saving, it's a digital one. The other facilities you can get are the pools, sun bathing area, and many games that you can played with friends and others.
Location: Petingetet street number 8M, Kerobokan, North Kuta
Starting Price per Room: Rp83.334,-
6 – Bread and Jam Hostel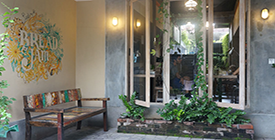 Many backpackers are talking about this hostel. Some even gave a great reviews just for the special Bread and Jam Hostel. People are in love with this location because of the instagrammable spots that present in the area. The rooms are white clean, really cozy for staying for a day or more.
In here, there's a kitchen that can be used together with other people. Sometimes, there are some people who also serving their freshly made foods for all the people inside the hostel, if you'r e lucky. There's also a home made jam, that you can use with bread for a nice breakfast. There are two main flavors you can choose, lime and papaya.
Location: Sadasari number 11, Kubu Anyar, Kuta
Starting Price per Room: Rp160.000,-
Aside from the party hostels mentioned above, we also have several more that will be mentioned on another list that located below, as usual. So here's the rest of our recommended best party hostels in Kuta Bali as alternatives for you :
1. Kosta Hostel
2. Jukung Hostel
3. Bali Bee House Kerobokan
4. Kayun Hostel Downtown
5. Puri Rama Hostel
6. Lagas Hostel
7. Bali Caps
8. Echoland Bed
9. The Bounty
So that's the total fiteen best party hostels that you can find in Kuta and surrounding areas. Before actually hoping in one, make sure that you're visiting the right place for you. The place is always merry, so you can't expect quiteness except during the morning. Other than that, the night will be more lifely and remembered. You're gonna meet a lot of people to share any information about Bali island. Sometimes, a group is made from an event in the hostels. Wouln't that be fun?