It's a great and good time when you finally started a family. With two of you, the third member of your family is coming soon. And when your child finally entering the world for the first time, it was a gracious moment in your life. You want to spend more time with them, protect them, and make them happy with all you have.
There's a way to make your family happier, taking them to vacation. In Indonesia, beside things to do in Lombok with family, Bali might be a great choice for you because it has like hundreds of attraction available for you. With your kid starting to grow up, sure it must be a great experience to take him/her visiting new place like this island. So, we already prepare some of the best attractions as things to do in Bali with 4 years old with the information in the paragraphs below :
1. Waterbom Bali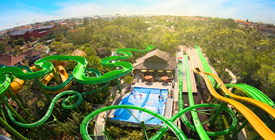 The first location that included in our list of the things to do in Bali with 4 years old, or kids age, is the Waterbom Bali. It's located in Kuta area, to be specific, you can check it in the Kartika Plaza, Tuban area of the Kuta. In this Asia's number one waterpark by TripAdvisor, the Waterbom Bali has so many things to offer like the rides, great facilities and services, and food and shopping spots.
You can your little kid can enjoy the safe rides in here such as Funtastic pool, Lazy River, Water Blaster, or Euro Bungy. For more extreme experience, you can check Green Vipers, Pipeline, Climax, Flow Rider, Double Twist, racing in Fast N Fierce also Twin Racers, and having fun with Python. The ticket is starting from Rp300.000,0- up to Rp500.000,- per person depending on the days you're in (you can order ticket for one or two days). Also, for the family there's some packages starting from Rp961.000,- to Rp1.395.000,- for the whole family (two adults, two kids). Surely a place you should visit besides things to do in Kuta Bali.
Location : Kartika Plaza, Tuban, Kuta, Badung
Tips : The suitable time for swimming for kids is about 1 to 2 hours
2. Bali Safari and Marine Park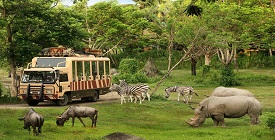 Well, as parents, you and your partner should give the kids information about many things in life. In this world, we're living with animals and plants. In order to give them the graphical information, you need to take them somewhere safe and reliable to do that. One of the best places is the Bali Safari and Marine Park that located in the area of Serongga, Gianyar.
In this park, you can choose several safari packages offered such as Jungle Hopper, Elephant Back Safari, Night Safari, Breakfast with Lions, The Agung Show, and also 4 x 4 Safari. There are so many animals to see here, starting from Tigers, Elephants, and many more. If you want to spend a day in here, make sure that you order a stay in Mara River Safari Lodge with its great options of room like Twiga Deluxe room, Tembo Family Bungalow, and more. For the ticket, it's Rp135.000,- for Safari Explorer package, and Rp250.000,- for Safari Legend package. To see the full info, please see things to do in Bali Safari and Marine Park.
Location : Prof. Ida Bagus Mantra street, Serongga, Gianyar
Tips : Always tell your kids to be careful with animals
3. The Turtle Island of Tanjung Benoa
Tanjung Benoa is not only famous for having the best place for doing any forms of watersport like flying fish, water jetpack, surfing, and many other else. In the area of this tourism spot, you can also take your family to a small island where there are many turtles live in.
By renting a boat and going several minutes from the beach, you can finally arrive to an island filled with the cute turtles. It's surprisingly crowded, especially by the kids who look really interested to interact with those turtles. It's advisable to prepare some money for donation. You can donate from Rp10.000,- donation to an infinite number you want.
Location : Tanjung Benoa, South Kuta, Badung
Tips : For the greater improvement of the area, you can donate some more. It's very optional
4. Bali Treetop Adventure Park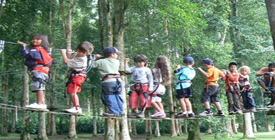 Beside improving empathy and emotional intellectual, the kids also need to improve their motoric skills in order to get more healthy and active. So, the best place in Bali that is really suitable for that is the Bali Top Tree Adventure Park.
As one of the best places in things to do in Tabanan Bali, with an entrance ticket of Rp178.500,-, can enjoy open-air activities consist of 7 adventure circuits, 72 challenges for basically all ages, and then 12 flying foxes that can take them for about 160m.
Location : Candikuning, Baturiti, Tabanan, Bali
Tips : Don't worry about safety here because the tools, equipments and materials used in the process have European Standards.
5. Dreamland Waterpark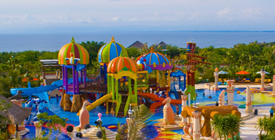 You can find this place in the list of things to do in Abiansemal Badung. If not, here's some information about the Dreamland Waterpark that located exclusively in Pecatu of South Kuta area of Badung, Bali. Dreamland waterpark looks very magical with its unusual colorful structures.
With the entrance ticket of Rp70.000,- per person, you and your family can enjoy some things offered like Water Slide, Lazy River, Paint Ball, and also Wave Pool. Even your 4 years old can join in the wave pool, as long as you always with him/her. There are also some nice events for kids such as school programs, birthdays, and family gathering. 
Location : New Kuta Raya street, Pecatu, South Kuta, Badung
Tips : You can also look at the virtual tour first before actually visiting the Dreamland Waterpark
6. Bali Fun World Gianyar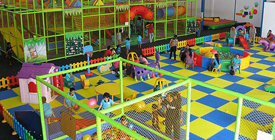 What a place for actions. Bali Fun World is 2000 square meter indoor fun spot, with all the types of equipment that offered for all ages, including the adults. For your 4 years old, he or she can try doing the 0-6 activities, like playing with mini climbing, mini sliders, ball pool, jumping balls, mini cars, mini bikes, etc.
If you want to join, you can enter the adult section, with air hockey, giant slide, giant climb, rodeo bull ride, giant boxing, and many more. All of them is only for just Rp45.000,-, and you're done. There are also competitions held, with free gifts to the winners starting from a bike for the 1st place, to the ten tour card to Balifunworld for the third one till the tenth. The second one gets an access to Balifunworld free for a month.
Location : Lettu I Wayan Sutha II Banjar Paninjoan Batuan Sukawati, Gianyar, Batuan, Sukawati
Tips : Always do stretching, it's very important
Aside from the seven locations below, we also have a small list consisting of numbers of great things to do in Bali with a 4 years old that may be great ones for your family.
Bali Bird Park
Bali Zoo Park
Alas Kedaton
Circus Waterpark
Upside Down World Bali
Nusa Park
Ubud Monkey Forest
Miniapolis Bali
Pirate Dinner Cruise
Devdan Show
So that's the end of the things to do in Bali with 4 years old. With that age, your kids can learn about so many things on this island, grasping all the difference and put them as additional information in their head. They can even tell their friends about the island and it can be the greatest experience of their life.
Kids Playing at Bali Fun World
https://www.youtube.com/watch?v=Lmd7oDTWGos