Hello again, now meeting with us to talk about the wonderful attractions that Indonesia has. Now, we're going to the area of Lombok, that is known for its amazing natural attractions that almost can't be found in another area. Lombok is surprisingly good, not only for the swimmer or surfer, but also for the whole family. You can see the perfect example at sunset viewing points in Kuta Lombok.
In Lombok, you can't expect something like Dufan, or some malls that you easily find in your city. But, it can give you something amazing in exchange for them. Mostly, they are consist of the beaches and conservations. But other than that, like things to do in North Lombok, you can also find something like Narmada or Mayudara Park. So, withouth further do, this is the things to do in Lombok with family.
1. Narmada Park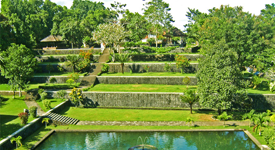 The first location is the Narmada Park, which is the beautiful yet educational park in Lombok. To be specifi, this park is located around the area of Lembuak Village, in West Lombok. Well, the place is not something that you can find easily in your city.
Built graciously hundred years before, the Narmada park still has its good look. This park beside used for attraction, is also used as a proof of Mataram Kingdom Dynasty in 1727 ago. You can enter this park freely after paying the entrance ticket for about Rp6.000,-
Location : Narmada street, Lembuak
Tips : Don't put your trash everywhere
2. Mayura Park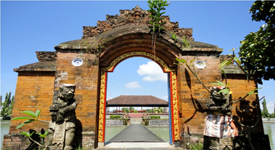 Next one is also a park, named Mayura Park. Interestingly great, the park is also has the functions like the park above, for relaxing attraction and also a place that can increase our knowledge about the ancient life of Lombok.
Mayura is actually came from Sanskrit, means a Peacock. Beside it looks so beautiful, in the ancient times, many people in Lombok used a Peacock to neautralize the environment from snakes. To enter the place, you can pay about Rp5.000,-.
Location : Purbasari stree, Mayura
Tips : Visit it in the morning would be great
3. Batu Bolong Temple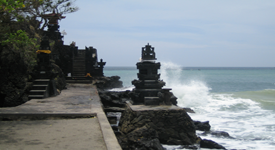 Not only Bali island that has some temples, the unique ones like things to do in Balinese temples, but a place like Lombok also has one of them. The example is this Batu Bolong temple, that located just beside the sea in the tip of West Lombok.
Sometimes, if the sky is clear enough, you can even see the great Mount Agung in Bali, clearly visible. The temples was named Batu Bolong, or Holed Stone, because in the middle of it, there's a hole that caused by sea abration. You only need to pay the administration ticket for about Rp20.000,-
Location : Senggigi highway, batu, layar
Tips : Be careful when there's tide
4. Sade Village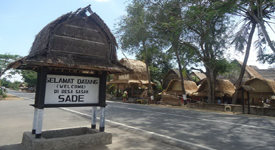 From here, we want to introduce you something new in Lombok. If you only know Lombok for its natural beach locations, then you must visit this one location in the Central Lombok called Sade Village. It's as beautiful as things to do in Bangsal Lombok .
This village is the proof that Sasak Tribe still exists until now. Thanks to that, you can come there and look at their culture directly before your eyer. You can even try the making of accesories and clothes that is very unique
Location : Rembitan, Pujut
Tips : Always respect the culture and the people
5. Sukarara Village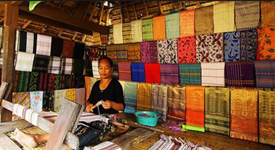 The next village is called Sukarara Village. Many people know this village because of it's actually a center of weavery. The locals there always produce the best quality of woven cloths that you can also buy for yourself.
The kids can also learn about the culture of Lombok in here, especially for its woven cloth making. The parents can also choose some of the best cloths and then buy them, and maybe process them into shirt or something at home.
Location : Sukarara
Tips : Always respect the culture and the people
6. Gili Trawangan Turtle Convervation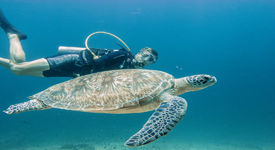 One of the best places in Lombok, also in things to do in Lombok Gili Trawangan is  of course the Gili Trawangan itself. Here's the place good for everybody. Beside providing the best natural view in Lombok, family can also introduce themself to the turtles in there.
Of course this will be a great opportunity for the kids. By visiting this conservation area, the kids can learn something about the conservation itself and also the life of turtle, which haven't been told in their class. To enter, you need to pay for about Rp10.000 + Rp250.000,- for snorkeling. 
Location : Gili Trawangan
Tips : Taking pictures with the turtles would be very cute
7. Sire Beach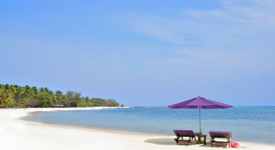 If you looking for a safe beach for kids, this can be a great option. The reason is, because the waves in here are pretty calm, so your kids can play safely in the beach lips. Forming sand castles and playing football are some things that you can do in here.
Also, if you come here by night, and then deciding to make a camp for a day, that would be great. Why? Because this beach is one of the perfect locations to see the sun rise. But remember, you should be careful during the night.
Location : Sire, Sigar Penjalin
Tips : Bring salt to prevent soeme dangerous animals like snakes
Other Things to Do in Lombok with Family
Aside from those seven locations mentioned above, we also have the other list of another top locations in Lombok that can be used as things to do in Lombok with family. They are about nine of them, so pay attention.
Tanjung Aan Beach
Sembalun
Mount Rinjani
Senggigi Beach
Batu Layar
Batu Layar Beach
Sekotong Beach
Sendang Gile Waterfall
Segara Lake
So our list of things to do in Lombok with family ends here. As you can see there, Lombok is basically a heaven for natural attractions. An exotic location filled with so many gems that are beautiful and being one of many reasons why you should visit Lombok.
Beside good for the parents, Lombok is also very safe for children. It's a good thing to teach or tell the kids about the nature sometimes. So with that, they can know, what is the sea park looks like, they  will know what is Mount Rinjani looks like, and many other informations.
Attractions in Lombok
https://www.youtube.com/watch?v=d6dW6TuQw-g