Bali is famous for the nickname of the Island of the Gods. The majority of Bali's population is Hindu. No wonder there are many temples in Bali. Balinese people built temples with high artistic taste. Apart from being a place of worship, temple is also a popular tourist attraction. What's in the temple? Let's see the unique things to do in Balinese temples ..!
1. Sightseeing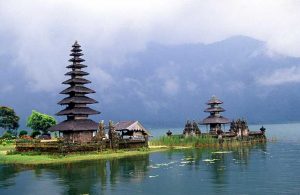 Temple is a mandatory destination for anyone visiting Bali. Balinese temples are famous for its beautiful architecture and wonderful environment. Temple is a center of religious activity for Balinese Hindus. Usually inside the temple area there is not only one temple. For example Besakih Temple, inside the complex of Besakih Temple there are 46 temples.
You can see temples in every corner of Bali, ranging from mountains, forests, lakes to beaches. Many temples are hundreds of years old. Even so, those temples are still firmly standing. Temple is the identity and pride of Bali. Some of the temples that must be visited are Besakih Temple, Ulun Danu Beratan Temple, and Tanah Lot Temple.
How to Get There
Besakih Temple is located in Besakih Village, Rendang, Karangasem Regency – Ulun Danu Beratan Temple is located in Candikuning Village, Bedugul, Tabanan Regency – Tanah Lot Temple is located in Beraban, Kediri, Tabanan Regency. Anyway Bedugul is such a beautiful place. You should stop by. There are lots of things to do in Bedugul.
2. Watching Traditional Dance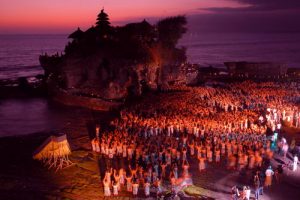 For most Balinese, traditional dance is the breath of their lives. Dance is closely related to the religious life of Balinese people, especially Hinduism. In every ceremony relating to religious or celebration, Balinese dance is always staged. Now the Balinese dance is not only performed during religious ceremonies. Every day you can watch a Balinese dance show that is deliberately staged for tourists. There are dances performed every day, some are based on certain days and some are staged only at full moon.
The most famous is Kecak Dance show at Tanah Lot Temple which is performed as the sun sets. Kecak Dance tells the legend of Ramayana and is presented with many interesting attractions. The attraction of fire and Hanoman who interacts with the audience make the Kecak Dance show very memorable. Kecak Dance show at Tanah Lot Temple can also be watched by children.
How to Get There
Tanah Lot Temple is located at Tanah Lot Street, Beraban, Kediri, Tabanan Regency. The admission for local tourist is Rp 20,000 for adults and Rp 15,000 for children while for foreign tourist is Rp 60,000 for adults and Rp Rp 30,000 for children. The admission to the temple does not include Kecak Dance show. If you want to watch the show, you are required to buy additional tickets for Rp. 60,000. The show starts at 5.30 pm. In addition to Tanah Lot Temple, Kecak Dance is also performed at Uluwatu Temple and Ubud Temple. FYI, Uluwatu Temple still has many attractions. Come and you will see many things to do near Uluwatu Temple.
3. Purifying yourself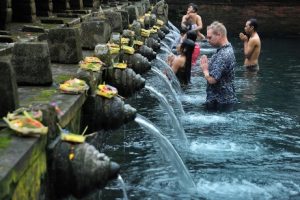 In general, the purification is done to purify the body and spiritual for certain purposes such as healing illness and good fortune. Tirta Empul Temple is always crowded with people who want to purify themselves. The springs in the temple are believed to purify all bad influences on human beings. People also believe that bathing and praying at Tirta Empul Temple regularly can minimize non-medical diseases.
Being in the upstream of the river makes Tirta Empul Temple have abundant water. There are three springs in this temple, namely Tirta Surya, Tirta Bintang, and Tirta Bulan. Of the three, clear water flows to the 33 showers all the time. Hindus believe that the flowing water is holy water. Every visitor who wants to purify themselves should follow the rules written on the board. They should wear a Balinese sarong and are not allowed to use soap and shampoo.
How to Get There
Tirta Empul Temple is located at Tirta Street, Manukaya, Tampaksiring, Gianyar Regency. The admission is Rp 15,000. Opening hours is 8 am – 5 pm. Visiting Tirta Empul Temple is just one of many things to do in Gianyar.
4. Watching Galungan Celebration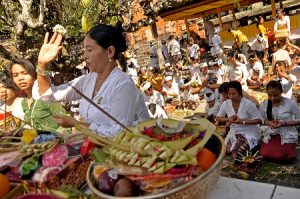 Hindus in Bali interpret the Day of Galungan as the victory of truth (Dharma) for evil (Adharma) which is celebrated with prayer in each temple. Galungan is only celebrated by Hindu-Balinese because it is a Balinese tradition. Hinduism in India does not recognize Galungan. Many people say that the Balinese tradition is imbued with Hindu teachings, but in practice Hinduism comes in conformity with existing traditions and culture.
Galungan is celebrated every 210 days based on the calculation of Saka Bali calendar, namely Budli Kliwon Dungulan. The feast is synonymous with yellow penjor placed in front of the home a few days earlier. Galungan is celebrated by way of praying together at the family temple. After the prayers they will gather with the family, especially members of the wandering family.
How to Get There
Every temple becomes a place of Galungan celebration. You will have no trouble witnessing the festivities of Galungan celebrations in Bali.
5. Watching Kuningan Celebration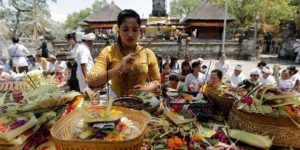 The Day of Kuningan which falls on 10 days after Galungan is part of Galungan celebration. Kuningan has the meaning of "kauningan" which means to achieve spiritual improvement by way of introspection to avoid dangerous things. Through the celebration of Kuningan people are reminded to always build social solidarity, care the environment, and be grateful to God.
To celebrate Kuningan, Hindu-Balinese people give offerings to the temple and merajan, the holy place belongs to the family. Offerings in each village are not necessarily the same because there are many versions of offering. They also wear Balinese custom dominated by white. In big temples, such as Sakenan Temple in Serangan Village, prayer generally takes place from morning to evening and is even held for four days.
How to Get There
Every temple becomes a place of Kuningan celebration. You can easily find temples in every corner of Bali.
6. Watching Mass Trance in Kesiman Village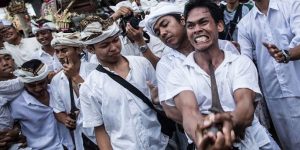 Pengerebongan ceremony is held a week after The Day of Kuningan. The ceremony begins by sowing chicken blood to neutralize the negative power. The magical atmosphere is felt when the event takes place. Many participants of ceremonies trance. They become powerful and immune to sharp weapons. Although daggers are thrust into the chest, they are not even slightly injured.
After the ceremony is over, participants who trance are awakened by religious leaders with a splash of holy water. The presence of trance is a sign that the Pengerebongan ceremony has been well executed. This ceremony aims to remind Hindus to keep harmony between human, nature and God.
How to Get There
Pengerebongan Ceremony can be seen in Petilan Temple, Kesiman Village, Denpasar. Obviously you have many things to do in Denpasar.
7. Watching Jempana War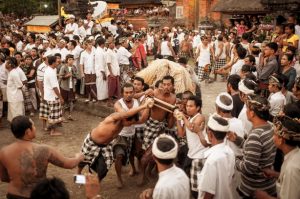 The tradition of the Jempana War is held every six months which coincides with the Day of Kuningan. This tradition is estimated to have existed since the year 1500. Like most ceremonies in Bali, participants also give offerings in this event. The smell of incense in the air makes the atmosphere become mystical.
The center of attention is the Jempana, a stretcher-shaped instrument that is shouldered by two or more people as a symbol of god's palace. There are seven Jempanas used. In the courtyard of the temple, Jempana bearers spin several times while screaming so that collisions with other bearers are inevitable.
How to Get There
Jempana War can be seen in Panti Temple, Paksebali Village, Dawan, Klungkung Regency.
More unique things to do in Balinese Temples
8. Watching Purnama Kapat Ceremony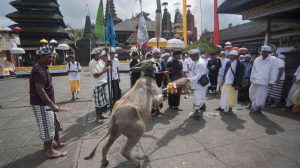 In the Balinese calendar, there is a special day when the sun is right above the equator. The day is called Purnama Kapat and is believed to be a good day. That day, which is also the time for the flowers to bloom, becomes the perfect moment for the Hindu-Balinese people to hold a religious ritual.
Purnama Kapat ceremony aims to purify the human nature and build the divine nature to grow like a flower. Purnama Kapat is celebrated festively, not inferior to Galungan. The ceremony also features dance, puppet and mask performances. One of the best places to watch Purnama Kapat ceremony is Besakih Temple.
How to Get There
Besakih Temple is located in Besakih Village, Rendang, Karangasem Regency. Besides visiting Besakih Temple there are other things to do in Karangasem.
9. Watching Eka Dasa Rudra Ceremony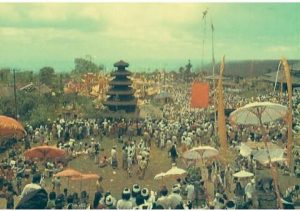 Eka Dasa Rudra ceremony is held every 100 years at Besakih Temple located on the slopes of Mount Agung. The last ceremony took place in March 1979. This ceremony, which lasted for 27 days, aims to invoke the salvation and divine guidance for Balinese Hindus.
Eka Dasa Rudra ceremony is the biggest ceremony for Balinese Hindus. The ceremony is organized by the Balinese ruler who in this case is the governor of Bali. One month before the ceremony, the whole Bali should purify and keep away from bad deeds.
How to Get There
Besakih Temple is located in Besakih Village, Rendang, Karangasem Regency.
10. Watching Odalan Celebration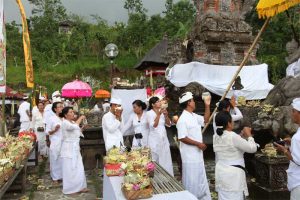 Odalan is the birthday celebration (anniversary) of a temple. A temple is considered to be born at the "ngenteg linggih," i.e. when the temple is given the life, soul and spirit by God, Ida Sang Hyang Widhi. Before that the temple was nothing more than a pile of bricks, cement, sand, and concrete. After the birth, the temple becomes the center of ritual and spiritual life for Balinese Hindus.
Odalan is determined based on Balinese calendar calculations. Odalan becomes a rutn event in Bali as it is celebrated every 210 days. The Odalan celebration usually lasts three days to a week. Because each village has at least three main temples, then a year there are at least two Odalan in the village.
How to Get There
Every temple in Bali has its own Odalan. So you will have no trouble seeing the festivities of the Odalan.
Well guys, now you know the unique things to do in Balinese temples. You will definitely get unforgettable moments. Set your camera, charge the battery and bring extra memory card. Let's visit Balinese temples…