Alright, after having some informations from the article about romantic things to do in Bali with boyfriend, we want to show you something beautiful for you newly married husband and wife. In this most romantic time of life, you can have your beautiful journey with your soul mate to the great island of Bali again, of course, complete with our little guide for you two.
There are so many romantic places, you can take a look at them inside the romantic things to do in Bali for example. Well, usually the newly married couple want to look after a calm and peace through their journey as well, of course, for the moments of two. Anyway, those calm places also exist in our own list of things to do in Bali for honeymooners below :
1. Jatiluwih Rice Fields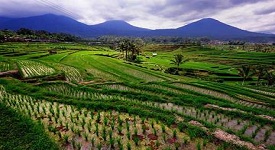 Let's start with this one shall we? This rice field is not the ordinary rice fields you could see around the place in Indonesia country, but there's something magical inside them. These beautiful spots in things to do in Jatiluwih are of course worth mentioning because of its fame and great environment.
This is the sight you can't see in your busy days of working. So, in this time with your partner, do a visit to this location. You'll be blown up for sure, for just looking at its grace and wonderful scenery around. This peacefullness is not the thing you can get everyday.
Opening Hours : Always opens
Entry Ticket : No entry ticket
2. Campuahan Hill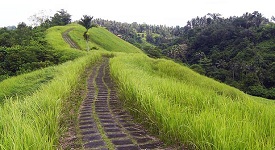 Then, we go to the Campuahan Hill in Ubud as one of the things to do in Bali for honeymooners. This is the first hill we're gonna talk about, to see how beautiful this island is. This Campuahan Hill located in the high ground of Ubud area. As one of the best things to do in Ubud, you'll be spoiled with its beauty.
The things you can do here with your partner in crime, are the  best. You can do much stuff with your love one, like taking pictures for two, waling around the hill and feel the breeze, or maybe do some camping. Well, anything you could do in here can make you more happy than ever. The best things to do in Bali for honeymooners.
Opening Hours : Always opens
Entry Ticket : No entry ticket, free of charge
3. Kintamani Restaurant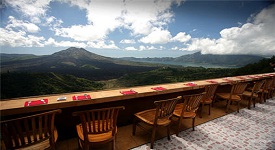 After the hill, we have this very exotic and romantic restaurant for you two. You must book them in the first place, because the place is always crowded with people. You also can order the "romantic spot" for you and your wife. This can be a great gift for her.
Inside, you can find the wonderful view of a restaurant you can never imagine. Candles here and there, plus the addition of the moon that sometimes comes down to say hello to everyone. It's the experience you and your partner couldn't ever forget.
Opening Hours : Opens from 9 am – 11 pm
Entry Ticket : Parking ticket only
4. Ujung Park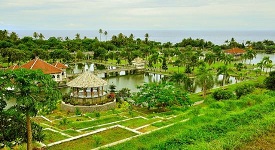 In the next place, we'll go to the Karangasem area. It's known for the beautiful things to do in Karangasem, and the one we're gonna talk about is the Ujung Park. This is another watery park beside the famous Tirta Gerangga. But, this place is also beautiful, even better.
The difference between those two is, this Ujung Park is a lot smaller then the Tirta. Of course, people always come and go in this area, but the number is not as many as the people in the area of Torta Gerangga. Usually the visitors will take so much selfies in this location, of course you can do it too.
Opening Hours : Opens from 7 am – 6 pm
Entry Ticket : Rp8.000,-
5 . Tirta Gerangga Karangasem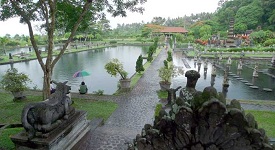 The fifth place we have in things to do in Bali for honeymooners is the Tirta Gerangga Karangasem, the place we have talked about in the previous session.  Like it was described above, this place has ore larger space then the first one, making it more able to contain many people.
Well, the view is really worth the price, even non comparable than the actual entry ticket price. It's great to visit this place or a while, especially this time you have someone always right beside you for your whole life. You should pay a visit.
Opening Hours :Opens everyday from 7 am – 7 pm
Entry Ticket : Rp10.000,- 
6. Gunung Payung Beach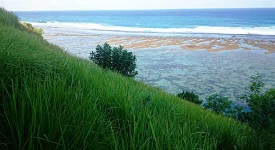 You looking for a calm and quiet place, then this Gunung Payung is really perfect for you two. In this location, basically everything in here is comparable to the thing at the Pandawa Beach. Both of them even look the same, but not much.
But the point is, if the Pandawa Beach is always crowded with people, in this Gunung Payung, there are not so many people. Maybe it's just you and your partner that come in here. It will be a great thing to visit the exclusive beach in Bali, only for you two.
Opening Hours : Parking ticket only
Entry Ticket : Rp2.000,-
Another Attractions in Bali for Honeymooners
Don't worry good couples, we still have many locations for you to discover, here they are :
Jimbaran Beach, very romantic beach in Jimbaran area.
Twilight Dinner, the best place for dinner in Ubud.
Kamuela Villa, heavenly.
Tamblingan Lake, find the pleasure time with the quiet lake.
Pod Chocolate Factory, make your honeymoon more sweet and memorable.
Green Bowl Beach, an exciting beach located in Badung
That's it, our list of things to do in Bali for honeymooners, like you both. Maybe some of you can find more exotic places than the places in our list. Be free to visit them all, because this time you can enjoy all your time with your love one without worrying about anything. You are married couple now, you can do anything. Plus, don't forget to capture all of those beautiful and exciting memories of your trip together. It'll be so much fun to do.