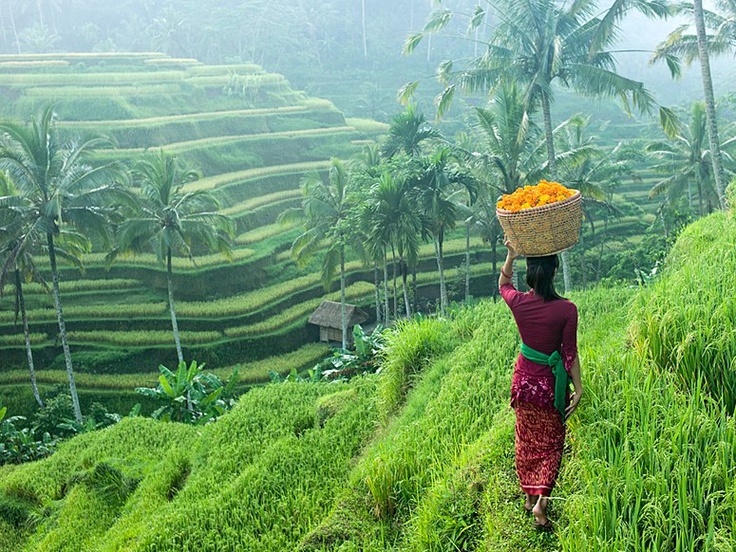 The island of Bali is known in Indonesian as "Pulau Dewata" or translated literally the island of Gods, one is for the abundance of temples that dotted the island's landscape. Secondly, it poses an astounding landscape. Generally, when we are talking about Bali, we would immediately imagine the long stretch of white sands on the beaches, the sunshine and the waves. However, Bali is not simply just the beaches. Bali has plentiful of picturesque landscape, especially if you are moving away from the south Bali area and into the mountainous inland region in the middle of the island.
Heading northwards, you will find the township of Ubud, which itself is located in the district of Ubud. It is surrounded by paddy fields, dense forest and steep ravines at the foothills of the Gianyar regency. Ubud is well known as the arts and cultural center and nowadays has developed into a large tourist area. Ubud local population is about 30,000, with much parts of the town and nearby villages hosting artists' workshops and galleries. Ubud is situated quite high from the sea level, making the climate in the region quite pleasant.
Ubud history has dated back to the eighth century when Rsi Marhandya came from Java and meditated at the western part of the modern town of Ubud. He also established, called Pura Gunung Lebah, which remains to become a destination for pilgrims. It was later expanded by Niratha, the Javanese priest who is regarded as the founder of todays Bali's religious and rituals. The name of Ubud originated from the word ubad, which is ancient Balinese word for medicine because this place was known as a center for natural medicinal herbs and plants as well as healing.
Although Ubud and its surroundings have seen much development throughout the years, but it still remains a  center for cultural and artistic pursuit in Bali. Therefore, a visit in Ubud will certainly stimulate your artistic sense with the many attractions. I highly recommend you to spend at least a week of your visit to Bali in Ubud to explore it properly. I find many tourists coming into Ubud for just two or three days during their Bali holiday, which is barely enough to go around and visit the best sites Ubud has to offer.
You may also search:
1. Goa Gajah (Elephant Cave)
The first things to do in Ubud Bali Indonesia is visiting Elephant cave. Goa Gajah is literally translated to mean Elephant Cave. Unlike how the name suggested, you will not find any elephants roaming around or inside the cave. The centerpiece at this site is a cave which history dates back to the ninth century. The exterior of the cave is decorated an ornately carved demon's face with its mouth is where the cave entrance is located. Once you get to the inside of the cave, you will find some lingam and yoni statues, as well as a statue of Ganesha. Going back to the outside, you will find carved large statues stand guards around pools near the entrance.
Beyond the statues, there is a little path leads to a waterfall, rice fields, and some Buddhist stupa fragments. Before the 1950s, some parts of the Goa Gajah complex were not excavated. Goa Gajah is open daily from 8 A.M. to 6 P.M. The entrance to the cave is very affordable, which cost you IDR15,000, including sarong rental, so if you did not bring sarong, don't buy one because it's included.
2. Pura Gunung Kawi
Situated about 18 km northeast from Ubud, this temple is presumed to be the burial complex of King Anak Wungsu and his many wives. The temple was built in the eleventh century, the temple is located at the bottom of a steep valley. To reach the temple, you have to climb down 371 steps where the temple is lined by rice paddies, which is quite a stunning view. There are two temple complexes here. One is the larger complex located at the north which is presumed to have been built for the King himself and the smaller complex at the southern side which was built for the wives. Pura Gunung Kawi is one of Bali's oldest and largest ancient monuments simply for the reason that the structures are carved into the side of the steep river valley.
About 1 kilometer downstream from the river that is lined with trees and vines you will find some tomb clusters. You must take off your footwear before entering the central temple complex. As you climb back up, you may want to stop and take a rest at Cafe Kawi which serves cold drinks with price starts from IDR 10,000. Entrance to this Pura complex will cost you a mere IDR 15,000, which includes sarong and sash rental. It is open from 7 A.M. until 5 P.M. Usually an organized tour to Batur volcano that returned in the same day would also include a visit to Pura Gunung Kawi. You can also get a taxi from Ubud to this place and if you bargained, you can pay a maximum of  IDR 150,000 for a round trip with the taxi driver waiting while you make your visit.
3. Tirta Empul
Tirta Empul in Tampaksiring is about 20 kilometers northeast of Ubud. This is one of the holiest temples in Bali. The temple was built around hot springs that still remain active to this day in the temple's central courtyard. Tirta Empul is usually visited by local Balinese to bathe and physically and spiritually cleanse themselves. During Galungan, the sacred barong masks are also bathed in the water of the hot springs.
The complex dated back to year 960, but the buildings are are mostly modern reconstructions. The water from the hot spring is clean and believed that to have magical powers. If you want to take a bath in the hot spring you should bring extra clothes. Inside you can rent a sarong for IDR 10,000 which you can take for bathing as the sarong included in the entrance cannot be returned in wet condition. A locker to store your things while you bathe is another IDR 10,000. Tirta Empul is open from 8 A.M. to 6 A.M. The entrance ticket is IDR 15,000, which include sarong and sash rental that has to be returned in dry condition.
You may also search:
4. Yeh Pulu
Yeh Pulu hosts rock carvings and is located nearby to the Goa Gajah complex. However, it is not very well known. The rock carvings here dated back as far as the fourteenth century and is attractively set in a rice field. You can simply walk here during your visit to Goa Gajah. All you have to do is about 45 minutes walk through the rice fields. However, you will definitely need a guide as there is no path. Alternatively, you can also walk through the town, although there are some points where you have to walk on the road as there is no sidewalk. 
In yeh Pulu you will find a beautiful stone carving which is about twenty-five meters in length. Here you can also get a blessing from the resident priest with the water taken from the holy well. I highly recommend you to make a visit to this site as it is quiet and peaceful. Please wear a nice and polite clothes as this considered a holy site. The entrance to the site will cost you IDR 15,000. Yeh Pulu is open daily from 7 A.M. to 6 P.M.
5. Puseh Batuan Temple 
Pura Puseh Batuan is located in the village of Batuan, about 5 kilometers to the south ofSouth Ubud town. The landmark of the village is the temple which is known as Pura Puseh. It is an ancient temple structure which was built in the eleventh century. The temple is decorated with intricate stone carvings. Inside the temple you can also find an inscription that recorded the founding of Batuan village in 1022 AD.
Pura Puseh underwent restoration in 1992. Here you will find a five-tiered gateway tower, which signifies Indian religious architecture influence. However, the icons and decorations of the temple are distinctly Balinese styles. One of such decoration notably is a Bhoma head which overlooks the main gateway. Admission ticket to the temple is only IDR 10,000.
You may also search:
6. Pura Kehen
Located in the northeast of Ubud and north from the town of Bangli, you can reach Pura Kehen by 30 minutes drive. Pura Kehen was built in 1206 and is adorned by the magnificent 11-tiered meru, which located inside the inner courtyard. If you happen to come and visit this temple, you should take some time to visit Bangli which is a charming small market town. Pura Kehen is open daily from 8 A.M. until 5 P.M. The entrance ticket including the sarong and sash rental is IDR 30,000.
You may also search:
7. Puri Saren Agung
This is also one of the best Bali attractions. Puri Saren Agung is more popularly known as Ubud Palace. This was the royal palace of the kings of Ubud until the 1940s. Nowadays, some royal descendants still live there. Hence, some parts of the complex are off limits to the public. Puri Saren is open for public daily from 9 A.M. to 5 P.M. Admission to the palace is free. This is also Ubud's best setting for dance performances.
You may also search:
8. Chapel of Mother Goddess Rajarajeshwari Tripura Sundari
This is a modern chapel which is located about 3 kilometers north of the Ubud main street. The chapel is dedicated to the feminine aspect of divinity. Unlike other chapels where you can only see the cross and Mother Mary, here you can see many female divine characters from other religions, such as Saraswati, Gayatri, Durga, Kuan Shi Yin, Kali, Mary Magdalene, Lakshmi and other. Entrance is free, but a donation is highly appreciated.
You may also search:
9. Campuhan Ridge Walk
This is the best place for those of you who wants to experience the trekking activity. Going through its path you will not only experience hiking, but also the amazing natural beauty of Ubud. Entering the ridge will give you a peaceful atmosphere and as you go along the trek you will see the beautiful and romantic landscape that fills your imagination. This activity will cost you USD 40 for adults and USD 25 for children. There are two sessions of the walk that you can do. The first one starts in the morning at 8 A.M. If you are not an early riser, then you should go for the afternoon walk which starts on 2 P.M. Thus, that is one of the greatest things to do in Ubud Bali Indonesia.
You may also search: Top 20 Mountains in Indonesia
10. Bali Bird Park
Bali Bird Park covers an area of two hectares is an aviary that houses more than 250 species of birds. The birds are displayed in attractive and well-designed enclosures. The exhibits are divided into regions which simulate the natural habitats of its birds, complete with indigenous plant life.
This aviary is equipped with 4-D cinema where you can watch films about birds that is exhibited in Bali Bird Park. Aside from birds, you can also see the most advanced collection of reptiles in Southeast Asia at the Reptile Park located right next door. Here you can see various reptiles, including the huge prehistoric reptile that is distinctly Indonesian, the Komodo Dragon. Bali Bird Park is open daily from 9:30 A.M. and closes at 5:30 P.M.
11. Monkey Forest
The Ubud Monkey Forest covers an area of 12.5 hectares that primarily consisted of rainforest, located near the village of Padangtegal. Inside the forest are around 700 wild monkeys that call it home. Here you also can see 186 species of trees which ensure supply of fresh unpolluted air in the region.
The forest is considered as sacred by the local villagers. Inside the forest, you have to be wary of the monkeys. They can be ravenous and aggressive if you bring food. Should you get bitten by the monkey, there is a first aid clinic near the entrance of the Monkey Forest. Additionally, the monkeys are also expert in stealing your personal belongings like glasses, cameras and even handbags.
You can often see the monkeys grooming each other. The young monkeys are cute, playful and most of the time friendly. They may tug on your shirt or even climb on your shoulders or head. However, you should be cautious of the larger males. Do not make a direct eye contact or reach out to them as they may consider it as a challenge and be aggressive, things to do in Ubud Bali Indonesia.
You may also search:
12. Temples inside The Monkey Forest
Besides the monkeys, here you can also make a visit to the temples in the forest. The temples were built around the middle of the fourteenth century or around the beginning of the Gelgel Dynasty. Here you can find three temples.
At the southwest corner, you will find the main temple or Pura Dalem Agung. This temple is dedicated to Hyang Widhi or God in the personification of Shiva. Heading to the northwest, you will come upon Pura Beji, where Hyang Widhi is worshiped in the personification of the goddess Gangga. This temple is also a purification place before holding a ceremony. It is often used as a place for spiritual and physical cleansing. The third temple is also located at the northwest. It is called Pura Prajapati and located right next to the cemetery. In this temple, Hyang Widhi is worshiped as the personification of Prajapati. This temple is used as a temporary burial while waiting for the mass cremation which is held every five years.
The Monkey forest is open daily starting from 8 A.M. until 5:30 P.M. Tickets for adults will cost you IDR 50,000 per person, while children tickets cost IDR 40,000 per person.
13. The White Herons of Petulu
The village of Petulu, about ten minutes drive towards the north from the town of Ubud is the place where every evening the cattle egrets or also known as white herons number in up to 20,000 would take nest. It is quite an amazing view as these large and elegant white birds arrive in big groups and slowly settle at their nests. Every morning these birds will fly away in flocks to their feeding grounds all across the island. To watch the birds in the evening you have to get to the village by 5:30 P.M. Ticket will cost you IDR 20,000 per person.
You may also visit: Things to Do in Papua
Tips and Guide in Ubud Bali
Here are some tips you want to heed as you are heading for your holiday in Ubud.
1. Hire a guide
Although you will certainly enjoy the beauty of the historic places in Ubud, but without a guide, you may not truly understand the cultural and significance of those places. If you are visiting places like Goa Gajah, Tirta Empul or Pura Kehen without joining a tour, then you may want to find a knowledgeable guide in the area.
2. Beware of the monkeys in Monkey Forest
As mentioned above, monkeys in the monkey forest can be aggressive. Always keep your belongings close to you and never let down your guard. Do not feed the monkeys! No matter how cute or friendly they are, if you feed one of them, the others will come and it will get chaotic very quickly.
3. Thread carefully
Overall, Ubud is a safe town. However, you must be careful as you walk. Ubud sidewalks are usually covered with concrete plates, which beneath are the gutters. Some of the concrete plates are randomly destroyed and can be quite easy to fall into especially during the evening. This may cause serious injury.
4. Stay healthy
Ubud does not have a hospital by itself. The nearest hospital is 20 kilometers to the south in Denpasar, which means it is wise that you keep your health during your stay in Ubud.
We hope that this article will help you in deciding your next holiday destination. If you have not made up your plan, then fly to Bali and head to Ubud for a pleasantly relaxing holiday. It will surely recharge you and get you ready once you got back. As a result, what to see in Ubud Bali Indonesia is nature and beauty.
You may also visit: