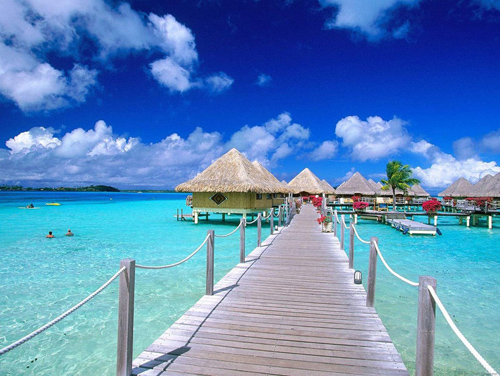 Seminyak is originally a separate township which located on west coast of Bali island, just north of Kuta and Legian. Presently, due to the rapid growth of Kuta, Seminyak has become just another suburb of Kuta with a mixed tourist and residential area. Seminyak is particularly popular with resident expatriates, which pushed the price of land and accommodation in the area to be one of the highest in Bali. The area in Seminyak is adorned with many luxury spas and hotel, making it the spa capital of Bali. Seminyak is one of the most well-known tourist areas and one of the best Places To Visit in Bali. This is mainly contributed by the number of high-end shopping and the fine dining restaurants established in the district. Seminyak offers a much more laid back environment than Kuta with quieter beaches during the day.
Ten years ago, Seminyak was a separate township that was much less developed. However, as the rapid development sets in it have taken away all the greeneries that previously divided Legian from Seminyak. As a result, the district has become very congested. Additionally, it is now impossible to distinguish between Seminyak and the neighboring districts of Petitenget, Umalas and Kerobokan.
Although lacking the distinctly significant local attractions that usually is the main feature in Bali's other popular tourist destinations, Seminyak has been able to evolve into Bali's most upscale beach resort area. There is only a single landmark that is worth mentioning in Seminyak which is Petitenget Temple, which is not as popularly visited by tourists as the designer boutiques, trendy restaurants, and clubs that lines Jalan Raya Seminyak. Nevertheless, Seminyak also holds many interesting places to visit. Most of them are within walking distance away.
You may also visit:
1. Seminyak Beach
Seminyak Beach is unlike its neighboring beach resorts to the South like Kuta and Legian, in its visitors. Bali was a tourist destination for backpackers and adventurous surfers. These tourists are attracted to Bali's amazing waves that are endless all year round, with Seminyak Beach amongst the many beaches in Bali offering one of the best landscape. However, as it evolves throughout the year, Seminyak has become a popular place for resident expats and as a result, it has developed a sense of refined to it.
Seminyak Beach is lined with a rich selection of world-class hotels. Here you can find the Oberoi, one of the oldest hotel and landmark the area that was built in the seventies. Name of the Oberoi hotel has been made into the name on the north western side of Seminyak. Additionally, besides the luxurious hotels and the five-star villas in the area, Seminyak is also known for the upscale restaurants. The area around Jalan Laksamana particularly has been renamed by expatriates as "eat street" due to the numbers of fine dining amenities along the street.
Seminyak Beach boasts a large expanse of gray sand which stretches as the eye can see. Towards the south, the beach becomes Legian Beach and further south it becomes Kuta Beach. The sunsets in Seminyak Beach are monumental. The beach is easily accessible from the entrance at the end of Jalan Dhyana Pura, or from the large public car park located between Petitenget Temple and La Luciola restaurant.
2. Petitenget Temple 
Pura Petitenget or literally translated as Petitenget Temple is located at the beachside beside Jalan Petitenget. It is a small but beautiful Balinese temple. Pura Petitenget is particularly known for lavish beach-side ceremonies. This temple has a long history that dates back to at least the 16th century.
Although this temple is not one of the key nine directional temples of Bali, Pura Petitenget is an important link in the series of west coast temples that stretches between Pura Uluwatu and Pura Tanah Lot. Pura Petitenget, according to the local belief is one of the sea temples that spiritually guard the Bali's perimeters. This was initiated by the legendary Hindu priest who comes from Java in the 16th century, Dang Hyang Nirartha.
It was built with red bricks and sandstone, which gives it an antique feel. The front yard of the temple has some large old trees which age perhaps equal to the age of the temple itself. At the outside, there is a dragon staircase that leads up to the temple's courtyard. Inside we can see a dozen different shrines and small pavilions that are draped in traditional Balinese chequered cloths
If you happen to visit the temple during its anniversary celebrations, which is on a "Merakih" Wednesday that happens every 210 days on Balinese Pakuwon calendar, you can see that the temple is adorned with colorful banners and parasols. The temple is usually flocked by pilgrims, who are offering prayers in their best temple attire. This would certainly make a great opportunity to take photos.
If your visit does not coincide with the temple's anniversary, you may want to come to the temple during the weekends for photo hunting. During the weekends, the grand Bale Agung pavilion which is located across the temple usually hold dance rehearsals. At this moment, young Balinese girls usually practice their dance moves and articulate gestures. Right beside Pura Petitenget is the smaller Pura Masceti Ulun Tanjung where the locals pray for protection against famine and disease.
3. Double Six Beach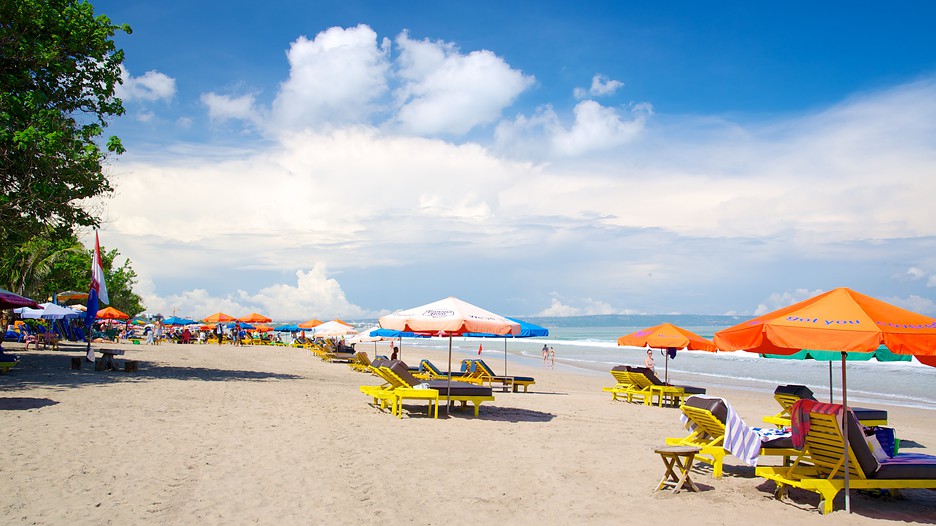 This beach is a 500 meters stretch of white sand which form part of Seminyak Beach. It is also known as "Blue Ocean Beach", connecting the southernmost beachfront of Oberoi Bali Resort with northernmost part of Legian, which is also called "Blue Ocean Beach". Many bars and restaurants dotted the street that runs parallel to the beach.
You can simply walk down to the beach if you are staying in the many hotels nearby, namely Hotel Kumala Pantai, Ananta Legian, The Jayakarta Bali as well as the hotel which name is being used as the namesake of the beach, Double Six Luxury Hotel. It is noteworthy that although there is no exclusively gay beaches in Bali, but Double Six Beach is a popular beach for gay tourists.
Generally, Double Six Beach would not be too crowded. If you come here in the morning you will find moderately good waves suitable for surfing. Here you can find some surfboard rentals and surf schools as well. For those of you who would like to be more adventurous, you will find that horse riding along the beach with a bottle of ice cold Bintang highly appealing as you can find a stable in the nearby Mesari Beach Inn.
Should you be one of those who desires fine dining, you can head to Double Six Luxury Hotel to enjoy their rooftop dining or at the restaurant called the Plantation Grill.
You may also visit:
4. Echo Beach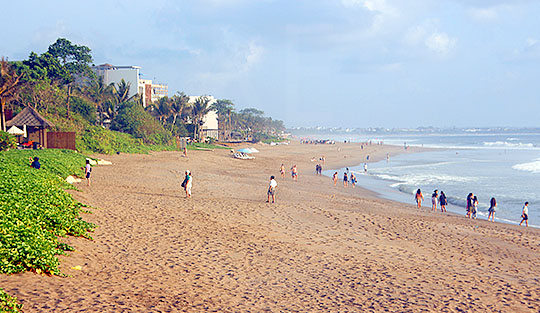 Bali has been known for the many beaches that are suitable for surfing. Adding to the long list of Bali surf spots is Echo Beach which is located in Canggu, about 35 kilometers northwest from Seminyak and 14 kilometers west from Denpasar, the provincial capital of Bali. It is also about 45 minutes away from Ngurah Rai International Airport. Locally, it is called "Pantai Batu Mejan" after an important Balinese Hindu sea temple located nearby.
Your journey from Seminyak to Echo Beach will take you towards the west through the green pastures of paddy field in Canggu region. The paddy fields are beautifully well kept and tended by local Balinese villagers.
Echo Beach has become more popular because it features advanced reef breaks, wide open view of the sea, sunsets view as well as a wide variety of seafood cafes nestled on the heights to enjoy all the view. Overall, Echo Beach offers an azure clear water with a beach that is much cleaner compared to Kuta and Seminyak. The beach is clean as a result of joint effort from various surf schools and clubs along the beach who carried out routine cleanups along the one kilometer stretch of beach.
5. Totem Escape Room
Totem Escape Room is the first reality escape room that was established in 2014 in Jakarta. It is a physical adventure game, where players are given a certain time to use the elements inside the room as clues to solve the puzzle and escape from the room. There are four rooms with different themes and difficulties that will surely tantalize your logic and challenge your ability to work together in a team.
The room with an easier theme is "Locked in Darkland" where you try to escape from a bizarre and wonderful world similar to the Wonderland in "Alice in Wonderland" story. Meanwhile, room with the most difficult theme being "Mission Impossible" where you are mentally and physically challenged to act out the mission carried out by professional thieves. You and your team of family or friends will then have 60 minutes of time to escape from the room.
In order to begin your adventure in Totem Escape Room, you have to form a team which consists of 2 to 6 persons and makes a reservation for the room you want. The entrance fee for Totem Escape Room is IDR 250,000 per person. Totem Escape Room is open every day of the week from 10 A.M. to 10 P.M.
6. Nyaman Gallery
This art gallery that is located on Jalan Basamgkasa provides a cozy and intimate environment. Here you'll find a wide variety of contemporary artworks created by local Balinese and Indonesian emerging artists. Nyaman Gallery's collections also include some of the works from meticulously curated international talents. Inside you will find a place that is ambiently lit and bare brick walls covered in paintings and photographs. Meanwhile, some of the corners also show 'wearable art' items.
The gallery is a spin-off of Nyaman Villa which is located on Jalan Kayu Aya in Seminyak. Nyaman gallery showcases the founder's passion on arts and architecture. It houses a wide variety of artworks from so many creative minds. We understand of course that art is very subjective. However if you are looking for something that will suits your living room, you can give it a shot as you may find something that is suitable for you.
7. Biasa ArtSpace
Visiting Biasa Artspot is one of the great things to do in Seminyak Bali. Another contemporary art gallery in Seminyak is Biasa ArtSpace. Biasa in Indonesian is literally translated as ordinary. It is just a few steps away from Biasa fashion store. First opened in 2005, Biasa ArtSpace has played an important role in developing Indonesian contemporary art. It houses various forms of arts from figurines, sculptures to paintings. The art gallery is also dedicated to preservation and development of art by featuring a studio dedicated to art restoration and conservation. This studio is located on Biasa ArtSpace's upper level and is established with renowned Italian art restorer.
The restoration studio was included as an answer to the challenging climate of the tropics. This climate can be hazardous to delicate art pieces. Biasa ArtSpace endeavors to provide durability to works of art while increasing their quality. Although without a schedule for newer exhibitions and events, a casual visit to this gallery from Monday to Friday will definitely add your fascination and insights in the local contemporary art scene.
8. Buddha Gallery Bali
Buddha Gallery Bali is yet another art gallery that is located in Seminyak, but with quite unusual collection. Located on Jl. Raya Basangkasa, Seminyak, Bali, this unique gallery houses various Buddha statues and sculptures. Here you can find an extraordinary collection of authentic Buddha statues and sculptures, ritual implements and other items related to Buddhism from various origins such as Thailand, Burma, Laos, China, and Japan. Price start from $100.
You may visit:
9. Deus Ex Machina
Deus Ex Machina is located on Jalan Laksamana or more popularly known as food street where the many restaurants are. However, DXM is not just another restaurant. It blends the concept of a motorcycle shop, cafe, and bar as well as a tattoo parlor. DXM is locally recognized as a legend for the food it serves as well as the custom bikes they have built. If tattoo is your thing then you surely have to come on Tuesday as you can get a tattoo with your taco. This unique proposition makes DMX a restaurant you would want to visit just for the experience.
You may also search:
10. Vin+ Seminyak
The first thing you will notice as you enter Vin+ Seminyak is the towering bamboo enclave. Once inside you are taken into the world of premier wines, which collection is equal to vineyards in Tuscany. Here you can sample all the expertly curated labels available here. The decoration of this wine house and restaurant is stunning and it offers price that suits every budget. This has made Vin+ Seminyak a big hit in the nightlife scene. Not only the wines, Vin+ is also known for its signature cocktails like Marmalade Martini and Jinn Geisha. Vin+ Seminyak is open every day from 10 A.M. to 11 P.M. with price ranging from around US$ 60 per person until up to US$ 400 per person.
11. La Laguna
Another eatery that is located near Seminyak, La Laguna is a unique restaurant and cafe that offers many places to take pictures. It is right on the beach and is equipped with plenty of colorful caravans in gypsy style. Here you can spend hours taking pictures in your favorite poses. The cafe also has some peacocks that is roaming around the ground. La Laguna is open from 11 A.M. until 12 A.M. The price range here is quite affordable, from IDR 150,000 to IDR 300,000 per person.
You may also visit:
12. Nook Bali
If you want to have a relaxing time, head down to Nook Bali. Nook Bali is sporting a simple and rustic design. The cafe is located between rice fields. It offers you the rare experience of dining while surrounded by gorgeous greenery. The food here is incredibly affordable as it start from IDR 35,000 per person. Nook Bali is open from 8 A.M. to 10 P.M. Well, having breakfast here would be your one of favorite things to do in Seminyak Bali.
You may also visit:
13. La Favela
Are you into wild parties? Well, you can attend one in Seminyak, literally. La Favella is a restaurant with a tropical theme during the day which transforms into a bar with a lively part at night. La Favela have unique themes that being shifted on daily basis as well
With its unique themes that change daily and supported by a wide variety of food and drinks, La Favela is a great place to hang out and have fun with your friends. La Favela is open from 12 P.M. to 2 A.M. and the price of food and drinks here start from IDR 50,000 per person to IDR 160,000 per person. Thus, you can ask your lovers to come here, having a romantic dinner, and get lost in the midnight air.
14. Seminyak Spa Spots 
This list will not be complete without mentioning what Seminyak is famous for, the abundance of spa. The price of a luxury spa treatment in Seminyak is quite affordable compared to what you have to pay in a western country. It can be up to 50% cheaper than anywhere else. Here are some of the spas which you may want to give a try during your visit to Seminyak
[accordion]
[toggle title="15. Amo Beauty & Spa" state="closed"]
Located on Jalan Petitenget , right opposite Bali Catering Company and Kayana. This spa is open daily with operating hours from 10 A.M. until 8 P.M. It is noteworthy that this spa is owned by former model Navia Nguyen. Price for spa treatment starts from US$18.
[/toggle]
[toggle title="16. Glo"]
Glo is a spa that offers various kind of treatments and cater especially to younger visitors, which is something that is not widely offered by other spa establishments in Bali. This spa is located in Kunti Plaza on Jl Kunti no. 119. It is opened at 10 A.M.  and closes at 7 P.M.Price for a treatment starts rom about Rp 100,000.
[/toggle]
[toggle title="17. LLuvia Spa"]
LLuvia Spa provides a wide range of treatment such as Pearl Body Spa, Romantic Red wine spa, LLuvia special massage and much more. The massage room is uniquely designed and combined with the relaxing atmosphere, makes LLuvia Spa one of the best spa you certainly have to try. The service is also magnificent as they will provide free transportation for minimum of two persons. LLuvia Spa is open from 9 A.M. until 10 P.M. Price of treatment starts from US$ 30 per person. 
[/toggle]
[/accordion]
Thus, there are many beautiful magical things to do in Seminyak Bali, for God sake! Now, let's explore more in Seminyak Bali great attractions.
Wild Things Not to be Missed in Seminyak
Now that you have known about places to visit in Seminyak, we will share a couple of other things we believe you should not miss in Seminyak, Bali. Here it goes:
[accordion]
[toggle title="18. Surfing" state="closed"]
Surfing is one of the thing Bali best known for. Therefore, when you are in Seminyak it is a good opportunity to rent a surfboard and head off the beach to see what the fuzz is all about.
[/toggle]
[toggle title="19. Visit the Temples"]
Pura Petitenget maybe not as big as Pura Tanah Lot, but it is a temple that is rich with history.
[/toggle]
[toggle title="20. Horseback ride along Seminyak Beach"]
A unique experience that will surely enhance your visit to Seminyak is a horseback ride along the beach.
[/toggle]
[toggle title="21. Shopping on Jalan Laksmana"]
The designer boutique shops along Jalan Laksamana will surely offer a great experience for the shoppers in you.
[/toggle]
[/accordion]
Needless to say, Seminyak as with the rest of Bali has a unique charm that will always be a memorable place for vacation. What do you think will be your first thing to do after reading this article on Seminyak? Well, book your ticket of course and hopefully, we will see you here in the sunshine filled Bali.