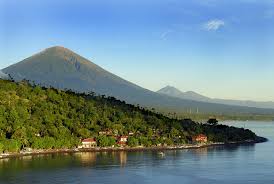 Candidasa is a part of east Bali, around 2 hours drive from Ngurah Rai International Airport. This place is suitable for your relaxing time to get away from a crowded and busy work life. The ambience that this place offers is slightly different that Kuta, Nusa Dua, or other Bali spots. There, you will do more of a social night life activities. But here, in Candidasa, you will get a true mind refreshments. This place could be one alternative among other tourist attraction from all Places To Visit in Bali.
A long time ago, precisely in 12th century, this village was built as a village with many fishers. Or we can call it a "fisher's village". Before famous as Candidasa previously the local residents called this village as Cilidasa or Kehen Bay.  Kehen Bay was also mentioned as "Bay of Fire". While, a sculpture of the fertility Goddess, Hariti, is one signature scaffolding here after the Cilidasa name. This sculpture is surrounded by a group of children. That's why people called it Cilidasa that stands for "Ten Children". And people especially ones who want to have a child believe that come visiting this place can make their wish come true. However it might be in the end, the myth is still out there and few of them still believe it.
You may also visit:
Since 1970s, this place is already famous among divers. Its underwater breathtaking scenery makes everyone that has the opportunity to dive here amazed. There are 3 talked-about spots that worth to visit: Gili Tepekong, Gili Mampang, and Gili Biaha that are heaven for macro photography lovers.
Aside from the past stories above, we can look on the other side of Candidasa which is the tourism attractions! Candidasa offers so many activities and outstanding spots to travel to. Unlike Kuta, the atmosphere in Candidasa still relatively quiet so it is suitable for you who want a quiet holiday atmosphere. The hotels here were also varied in terms of price and amenities.
The choice of food was an assortment ranging from food stalls and a meatball soup, which was held along the beach to the cafes and restaurants serving delicious seafood menu, there are in this region. The price of food here was also relatively inexpensive when compared with in Kuta.
Candidasa Water Spots Activities
If you are more into beaches than mountains, then Bali island surely is a right place for you to explore. We have listed some of the water related activities that you might want to do during your stay in Bali. Here are few of it:
1. Candidasa Beach
A lot of activities can be done here in Candidasa Beach. It holds out several cluster of small islands to explore. They are famous to be called as Gili Tepekong, Gili Mampang, and Gili Biaha. Local residents will then bid you some service to take you go around this group of small islands. You can take a great shots if you like photography, or even just strolling around looking for a beautiful sceneries for your eyes. For that, they will offer you a price about $50 per 10 person. Pretty good deal to try, right? As an additional activity, especially for you who like to go for a fishing, they also have an equipment for that. A lot of tourists enjoy their leisure me time when they go fishing here.This beach has a blue crystal clear water with a wavelet that allow you to go swimming. While swimming, you can see and interact with lots of fish underwater. They have a nice and colorful skin variations that might please your eyes too. But be careful when you decide to go swimming. When you are tired and want to stand up, make sure to place your feet between the sand. Rests among the coral reefs in addition can make skin abrasions, also can make coral reefs are damaged slowly.And after tired swimming, tourists also like to sunbath to get that brownish exotic skin colors in the sea shore. A beautiful view of the beach can be enjoyed at sunrise or sunset, all equally beautiful.
2. Gili Underwater Adventure
For those of you who want to snorkel or diving, there is also leasing the tools along with the boat that will take you to some small islands off the coast of Candidasa that are visible also from the beach. Even if you are lucky, you will see a large turtle when you are diving in these small islands.
It will take you 30 minutes by boat before arriving at Gili Tepekong. A transfer boat will bring you out to the snorkeling site to swim next to schools of fish, and other lovely water creatures. But if you feel tired on snorkeling, you could also float on your back to the rhythm of the ocean.
Or, when you are looking for an adventurous and new experience to do, consider to go further to  Gili Biaha for a cave diving with sharks! Be sure to spend your precious holiday with a worth to tell stories afterward. Start deciding which one suits you best!
3. Submarine Oddysey Experience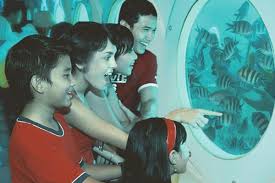 When you're not a diver yourself but still want to know how it feels like to be 90 feet under the sea, this might be the best option! By riding submarine Oddysey, you can still take a look at a magical underwater kingdom without having to even touch the water. You can come along together with your children and spouse to watch the professional divers dive effortlessly outside the submarine you're taking. This underwater adventure begins at Amuk village, 6 km from Candidasa. Passengers will be transferred to the submarine via small boat from Amuk Bay.
Only by paying around $80 dollars per pax, you will be able to watch underwater world with its colorful and pretty fishes. In 45 minutes you will also have a chance to see how the pilot operates this submarine. What a unique bonding experience with you family, right?
4. Virgin Beach
The name "Virgin beach" indeed describes the geographical conditions and the beauty of this beach. The name fits this beach very well because the atmosphere is still quiet, safe, comfortable, and not been touched by humans.
It lies between two cliffs making the beach Virgin somewhat hard to find. Situated between two cliffs to the coast is quite hidden, which is located behind the Mount Bugbug and Perasi. The atmosphere are unspoiled with moderate waves. This beach has clear water so it is suitable for swimming or snorkeling and of course sunbathing is often done by tourists.
To reach this beach, visitors must travel a distance for about 100 meters of asphalt road 2 hours from Denpasar. The road conditions are not really good and often create challenges for a visitor to come here. Around this beach there are stores, restaurants, inns or hotels, because this beach has not been touched by investors, so only a small cafes, hawkers constituting the majority of local communities around the coast. If tourists want to enjoy a longer stay in Karangasem region, we can stay in hotels around the beach area of ​​Candidasa. So, for those of you who visit Karangasem and bored with a bustling atmosphere, don't miss to enjoy Virgin Beach.
Cultural Journey
Most part of Bali, probably all local residents of Bali, are still doing their cultural habits. There are exactly lots of various type of celebration and cultural activities happen here. We make short lists of what cultural thingy we can find in Candidasa. You should try to experience at least one of these options:
5. Teganan Pegringsingan Traditional Fabric Weaving
Tenganan a traditional village in Bali and one of the favorite tourist spots in Bali tourists. This traditional village located in the district of Manggis, Karangasem regency in the eastern part of the island of Bali.
This village, became one of the 4 villages entered the village Ecotourism Network (JED) in Bali. Three other indigenous villages are Karangasem Sibetan Hamlet, Kiadan Pelaga in Badung, and Ceningan in Nusa Penida.
And also, be one of 3 villages in Bali, including in "Bali Aga" category. Two of them are: Trunyan in Kintamani, Bangli regency and village in the district Sembiran Tejakule, Buleleng. Meaning of Bali Aga village is the community's lifestyle, still guided by the rules and customs of ancestral heritage, from the era before the Majapahit kingdom. It means they are not just selling locations village as a venue for seeking sustenance from tourism.
Livelihood of the local residents in Tenganan village generally as rice farmers. There is also a small part as craftsmen. Handicrafts typical of the villagers among others are its woven bamboo, carving, painting on palm leaves and woven fabrics. The woven fabric made by villagers called Gringsing fabric. From the very first residents of this village, renowned for its expertise in weaving ability. The fabric Gringsing done by double knot technique. This technique is the only one found so that this fabric as the work of local people are very well known throughout the world.
6. Makare-kare Festival
This festival usually happens in June for a month long duration. If you are planning a trip to Bali on this month, you definitely should try to come here. This festival mostly haunted by photographers around the world as they are trying to take a great shots of this unique annual event.
Makarekare also known as Pandan Fight. This theatrical fight literally using Pandan, a green aromatic herbs, to fight with one another. They dress up in Tenganan clothing and gather in a huge arenas to actually fight until they draw blood from the opponent as to honor the God of War. The fight usually lasts only for a minutes. All the wounds will be treated with traditional medicine consist of turmeric, ginger, coconut oils, and other herbs to help reduce the pain and stop the bleeding. Boys, if you're feeling up for it, you can also participate. Otherwise, sitting amongst the villagers and cheering is also quite the experience!
7. Handmade Ferris Wheel
D
uring the Makarekare Festival, local residents also provide you a ferris wheel as an option to try. This handmade ferris wheel made entirely from wooden materials and you can experience sitting on it and go for a circle for an exciting feelings. If you're eagerly want to try this unique vehicle, please plan a visit to Tenganan on June. You'll get plentiful of new and peculiar experiences that you won't get elsewhere, things to do in Candidasa Bali Indonesia.
You may also visit:
Shopping Spots
After being away for a long time for a holiday trips, our friends, family, or even co-workers usually can not wait for us to get back home. We can try to spread our happiness and positive vibes after taking a holiday to them by bringing up some souvenirs. We might want to buy ourselves a gift to remind us about our trip in Candidasa Bali, here are the shops you can take a look at:
8. Local Souvenir Shops
Well, one of the greatest things to do in Candidasa Bali Indonesia is you need to check out some traditional souvenirs. Thus, they have such as beautiful, unique, and rare stuff for you. Candidasa has few choices to choose if you are confused on what to bring to the ones you love at home. You can try buying some of it here.
You may also visit:
[accordion]
[toggle title="9. Gubuk Kita Souvenirs" state="closed"]
After being away for a long time for a holiday trips, our friends, family, or even co-workers usually can't wait for us to get back home. We can try to spread our happiness and positive vibes after taking a holiday to them by bringing up some souvenirs.
[/toggle]
[toggle title="10. Segara Wangi Artshop & Gallery"]
Here you can find a full range of Balinese souvenirs comprising mini paintings depicting Balinese rural life and rice fields, handicraft items such as woven baskets and Garuda statuettes, together with functional household décor items such as mosaic-plates, batik liners, and ornamental ashtrays.
[/toggle]
[toggle title="11. Nusantara Archipelago Handicrafts"]
Antique ceramics and pots, tabletop displays and exotic jewellery pieces are among its petite collection.
[/toggle]
[toggle title="12. Family Shop Candidasa"]
A source among locals for their temple ceremonial needs, which includes traditional Balinese clothes, ornate offering boxes and sarongs
[/toggle]
[toggle title="13. Gogo's Silver Gallery"]
They sell a lot forms of silver range from a small size silver jewelry to a bigger size of silver home decorations. You can also see the making process of the silver ornaments.
[/toggle]
[toggle title="14. Organic and Natural Soap Gallery"]
When you are bored using a convenient store soaps, you can start refreshing your body with your own organic and natural soap. In Candidasa, there is this one soap Gallery named "Alam Zempol" that has a various ingredients such as nut oil, cinnamon, vanilla, basil, even paprika for a specific benefits using certain type of soap.
[/toggle]
[toggle title="15. Pengalon Bamboo House"]
Bamboo House Pengalon is located on an area of ​​16 hectares, in the split by a river that crosses the area attractions and connected by two bridges bamboo, there are at least four pieces of bamboo house, there is a stage where festival, restaurant, special building for VIP guests, yoga and the room for rest. Utilizing moor and river locations, the nuance this bamboo house bring is so natural, environmentally friendly and integrated with nature. Moreover, its location on the waterfront of Bethel, can be a promising natural scenery of ocean with peace and quiet feelings.
[/toggle]
[/accordion]
Natural ocean view, plantation house residents and the existence of unique and artistic Bamboo will provide a new experience in Bali travel time with family, especially children. If you are planning a tour to the region, a number of attractions closest Pengalon Bamboo House is Goa Lawah, Padangbai beach including docks fast boat from Bali to Gili Trawangan and beach Labuhan Amuk Submarine Odyssey recreation and watersport center in Karangasem.
16. Candidasa Lotus Lagoon
In Lotus Lagoon you'll get to see how buildings looked like a long time ago in Bali. There's a strong ancient feeling when you step into this site. It is known as one of the central landmarks of Candidasa. This place is located across the Candidasa Temple in Jalan Raya Candidasa. Same as the name, Candidasa Lotus Lagoon has a pretty big pond with pink and fuschia lotus flower. It is nice taking a picture here. Even when you are broke already after spending money on hotels and foods, you can still enjoy this site because it's free!
You may also visit:
17. Charly's Choco Factory
15 minutes away from Candidasa, this cluster of wacky bamboo houses situated at the end of Jasri beach look a little out of place. In fact, some visitors even compare the quirky infrastructure to a smurf's hut! Here, they sell healthy raw dark chocolate made from cocoa beans grown on the island. Be prepared for some chocolate tasting as the staff brings you around on a sampling tour. There is also a small soap studio where you can purchase delicious smelling handmade soaps. Best of all, there even is a giant swing outside, where you can have fun with your little ones. Swing yourself towards the ocean, or take an instagram photo to end this scintillating tour that engages all your senses!
You may also visit:
Now you know that Candidasa, Bali not only has enchanting beaches but also another tourism attractions to try. Also, many things to do in Candidasa Bali Indonesia will bring you happiness. Besides relax feelings and refreshments you get after your visits here, you can also have a unique cultural experiences to tell! What a nice places to plan a holiday trip to, right?