Bali is located in Indonesia, Southeast Asia. It is a large beautiful island with 5.636,66 km2  total area. Bali is well-known as paradise island of the earth as it has various attractive tourism destinations. From its natural beauty, people come to Bali to enjoy nature and get relaxed. Even Hollywood stars such as Paris Hilton and Julia Roberts love Bali too. Well, if you wonder about the beauty of Bali, you may spend your days in Bali by going to these places.
You may also search:
Beautiful Bali Beaches
It is no doubt that Bali beaches is naturally beautiful. It has natural clear blue water, white sand, gentle wind, and all packet of beauty nature. Indeed, Bali beaches is also one of the most visited beach in the world. Also, it is a surfing island destination. So, if you spend a day in one of Bali beach, then you would not go home for all the things to do in Bali Indonesia.
1. Tanah Lot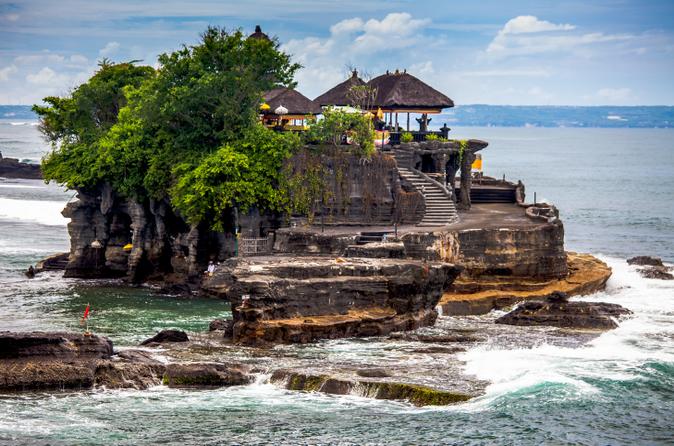 Things to do in Bali Indonesia? Here is it. Located in Beraban Village, Tabanan area, Tanah Lot is an ancient Hindu shrine perch on top of a rock. Surrounded by beautiful scenery of oceans and beaches. A famous must visit places if you're in The Island of the Gods. Best to visit this places during the evening, you can watch a gorgeous sunset scenery, that is both magical and mystical. Upon walking to the shrine site, you'll be treated with local market selling various things. From homemade bag, to shirt and hats. Do not forget to bargain whenever you want to buy something. Meanwhile, Tanah Lot is the best spot to take picture, whether for professional or amateur photography, or for personal collection. It sure is the most beautiful beach you have ever seen in your entire life.
2. Seminyak Beach
This is one of the best places to visit in Bali Indonesia. Beside Kuta Beach and Legian Beach, Seminyak Beach is the third faourite beaches in Bali. The area right next door to the beach is full of fantastic restaurant. From local stall, to high class five star restaurant serves international food. Seminyak is located in Badung region, around 15 minutes ride from nearest beach Kuta. Seminyak is also knows as Dyanapura Beach. A perfect place for those who search for peace and hip atmosphere. Don't worry for accommodation, Seminyak has a line up of hotels and villas that has a comfortable and clean room for your stay. Meanwhile, you can enjoy the natural beauty of Seminyak beach or you can go shopping, fine dining, SPA, tasting food in international restaurant. In this place, you can do whatever you want as it provides you the best relaxation features ever. So, anything you ever wanted about beauty and relaxation is exist in Seminyak beach.
3. Sanur Beach 
For more subtle beach area, Sanur could be your perfect choice. The place is known as the heaven for surfers and also a great place to get that sun tan you always crave about. Many cafe and restaurant here has an outdoor relaxing area. Order a table right on the beach, and enjoy a great sunset atmosphere. Sanur itself is located in the east part of Denpasar. This is the place to enjoy a perfect sunrise, and also a place for you to do a morning run. Sanur has a great trekking route for beach goers. Meanwhile, it is a super beautiful beach with its natural clear blue water, perfect blue sky, coconut trees, warm winds, and the perfect combination of beauty. Indeed, Sanur beach is absolutely heaven for life. Yes, this is one of the best places to in Bali Indonesia.
4. Pura Luhur Uluwatu
Bali attractions this destination is quite unique, Pura Luhur Uluwatu is located in a 70 meter tall rock. Surrounded by sea water and reef. Visit this place you can enjoy the beauty of Hindia Ocean and also the sunset process. It is a very sacred temple for the Balinese. Usually they held a Kecak dance near the complex, that you can watch. This temple is built by Dang Hyang Niratha. A little bit of fact, this monkey is filled with monkeys, that if you didn't careful, they can snatch your accessories. Pura Luhur Uluwatu is one of the sacred and most important temple in the Island of the Gods. Thus, you can see beach view by the window. As a result, who can deny its beauty? While you can pray to God in the island of God. In the end, Pura Luhur Uluwatu is a beautiful place to visit. It is so warm, lovely, and will make you feel enchanted to watch the view.
5. Kuta Beach 
Where to go in Bali? The place to be if it is your first time visiting Bali. The most popular beach and tourist destination in Bali. Due to the many visitor who come to this place, you will get to meet lots of traffic. But everything is worthed when you relax on top of it's beach. Here, you can enjoy the best sunset in the island. You also can do surfing due to it's magnificent waves. This beach is perfect for sunbathing and walking around also. You also get to meet beautiful people from anywhere in the world. Lot's of restaurant also serves a great place to hangout. And a decent selection of international food. Meanwhile, Kuta beach is the most popular beach in Bali, even in the world. That is why, all along the sand you can see people from different place and nation. Indeed, it is always be a beautiful place to visit whether if you love beach or not.
6. Nusa Dua Beach 
Nusa Dua area is just located an hour ride from the airport. You can access it using the new highway. The beach located just the south east part of Bali. Nusa Dua host many of five star hotels. Ranging from huge resort room to exclusively out of this world villa. Luxury is the keyword in this area. But if you want to visit its beaches. Nusa Dua beach is completely free and can be accessible by many visitor. The sand is white and water is blue, a perfect place for the family. They also have many water activity that you can enjoy, from banana boat, surfing, to body boarding. Nusa Dua is very neat and has a pretty much a good view. As a result, you will absolutely fall in love with every single thing in Nusa Dua beach. Somehow, people wish if Nusa Dua, Bali was their home.
7. Tanjung Benoa Beach 
The reason why Tanjong Benoa is quite popular for to the tourist is that they have so many water sports that tourist can try. Ranging from Jet Ski, to parasailing and diving. If you want to do some kinds of water sport, this is the place to be. Tanjong Benoa located in the South of Kuta in the Badung Region. The activity start from nine in the morning, better come here early if you want to try all the activity. Each activity the charge a different fee. From Rp50.000 to Rp.350.000. Tanjong Benoa is the place for family and friends. Meanwhile, the water sports you can enjoy are fly board, sea walker, jet sky, banana boat, scuba diving, snorkeling, parasailing, and glassbottom. So, everything you need to have fun is all served in Tanjung Benoa beach. Well, don not forget that you can also visit Penyu Island and Flying fish near by Tanjung Benoa Beach. Thus, that's all the places to visit in Tanjung Benoa Bali.
8. Legian Beach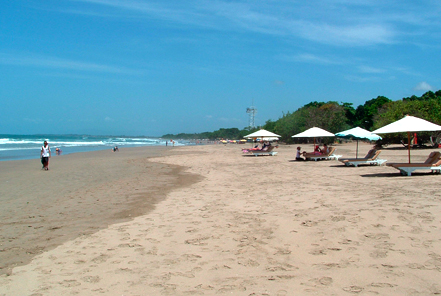 Just like Kuta Beach, Legian is where you must go if this is your first time visiting Bali. You can access this beach just by walking on the Kuta Beach. Many restaurants line up on the side where they serve a fantastic array of food. Enjoy a visit here in the afternoon, you can watch a great sunset atmosphere. The place is really laid back that is suitable for tourist who wants a relaxing holiday. The are also a small villas that you can rent with quite a reasonable price. Very comfortable and neat. You can also do a morning run that is a must not miss activity. Thus, the sky, the wind, the sand, the water, and friendly Balinese will make you feel like paradise does really exist. By visiting Legian Beach, you will absolutely feel charged, relaxed, and warm. Also, you will always go back to Bali because it is so beautiful. No words can describe. Meanwhile, this is one of the many Bali points of interests.
9. Jimbaran Beach 
Things to do in Bali island, Jimbaran Beach is known as the ideal place to enjoy your afternoon in Bali. In this strecth of beach, you can find the best seafood restaurant in Bali. All serves fresh seafood, from fish, lobster, and shrimp. The dining place is located just on top of the beach. Where you can watch music performance also while waiting for the sunset process. This beach is very close to Ngurah Rai International Airport. The view is quite fascinating, you can watch the sea and also the planes that is coming in to Bali. One of the favourite restaurant here is Menega, which has been here for more than 15 years. Try also the sambal mantah and plecing kangkung.
You may also search:
10. Dreamland Beach 
As the name is, this the kind of beach that people have been dreaming in entire life. It has clear blue water mixed with white pure sand. Then, the whole panorama is likely you are in a dreamland. Well, it is almost like a fairytale. Dreamland is coast area that is very secluded and exclusive. To get there you first must pass the Pecatu area. Took 30 minutes of driving from Kuta and Jimbaran. The beach is bordered with high cliff and full of white sands. The must go to places if you searching for that holiday sun tan. Price of admission quite expensive, but the price is worthed for the location. Dreamland beach doesn't have street vendor, all the food or drinks you want can be obtain at Klapa Resort. If you want to spend days here in Dreamland beach, you can book a room in one of the resort in the Dreamland area. Well, most of the visitor love to walk around the beach, play with the white sand, or just laying there with the sun on, also the best spot to read a novel. What a perfection!
11. Lovina Beach 
Lovina is located quite far from the airport. You need to have a ride for five hours. It is located near the Singaraja area in the west side of Bali. Just about 10 kilometers from the city center. Lovina is a famous place for Kalibukbuk tourism. Here you can sail to the middle of the sea using local boat or catamaran and also watch dolphins swim in it's natural habitat. The water is warm and worth coming here in April. Better spend three days here if you want to truly enjoy the west side of Bali. A sight that is still out of reach of the tourist. Thus, the best spot about Lovina beach is that you can whale-watching with your eyes wide open. Indeed, the dolphins are usually swimming, I mean, appear on the sea before sunrise. So, you better schedule it about at five to six pm to get a perfect scene of the beauty Lovina Beach. So, where to stay in Bali? Stay here.
12. Karma Kandara Beach
Karma Kandara Beach is a private beach located inside the area of Karma Kandara Resorts. This beach, which is located in Tuban region, is very perfect for sunbathing due to the great privacy one can have. You have to down for 20 meter to access this beach area. Previously known as Nammos, now here sits the Karma Beach Club, a club right on the coast that serves great selection of cocktail and tapas. Better come here during the sunset process, a one of a kind places. Many tourists visit here is to find peace and exotic view. Many international superstar love to spend time here. Very exclusive and one of a kind.
13. Candi Dasa Beach
Candi Dasa Beach is located just 12 kilometer from Amlapura on the southwest, the main town of Karangasem. It is a perfect beach for relaxing due to the small number of tourist flocking this area. It is formerly known as Kehen Bay, before tourism blooms on the area. Now this place holds some villas that can be rented for tourist, from basic hotel to five star resort. The accommodation is neat and comfortable. It is also the perfect point if you are interested in exploring the east Bali. A side that boast cultural and history as the highlights. They also got some well around restaurants in the area.
14. Padang Bai Beach 
Here is Padang Bai Beach you will be mesmerized with the beauty of the white sands and blue water. The beach is located not far from Karangasem area. In this tourist destination, you can ride a boat and enjoy the sea breeze. Also do snorkeling or diving if you have dive license. Padang Bai is cleverly hidden and not known by many outsiders. You can have a relaxing and private time with love ones. The sands on this beach is the highlight of the place. The sands feel like powder and probably the whitest beach you will ever get to see on the island. The palm tree that line up near the coast give you that breezy feeling. Indeed, another paradise of Bali beach is exist in Padang Bai beach. So, Padang Bai beach is totally awesome, enchanting, and unforgettable. Especially, if you come over here with your lovers.
15. Pandawa Kutuh Beach 
To get to Pandawa, you must first drive in a road that strictly built piercing a cliff area. You will feel like Moses walking down the sea that has been cut to half. After the gorgeous white cliff view, you will be treated to a contrast of blue ocean view. Pandawa has also a magnificent beach. Full of restaurants and sun bed and also one of the bluest water in Bali. It is around three hours ride from Denpasar. A previously unknown place, but now quite full of tourist. This beach is located in Kutuh Village, in Badung Regency. One of the stunning view of Pandawa beach is the cliff that has been carved with statue. The beach is very suitable for swimming because of the calm water and less waves. Meanwhile, Pandawa Kutub beach is enchanting. Whoever visit the beach will absolutely feel loved. The natural view is perfect, perfectly beautiful.
16. Padang-Padang Beach 
This is the beach where Julia Roberts and Javier Bardem taking a stroll on the beach. A famous spot for Eat, Pray, Love movie. Another great beach to visit in Bali. The beach is also known as Labuan Sait Beach. It is located in Badung region. Just an hour ride from the airport. To visit Padang-Padang you must first head down to a stair way, walk down between two gigantic rocks and squeeze to a small way of stairs. But the experience is worthed. Here you can relax without being bothered by the sound of the road. The wave is also great for surfing. Not many restaurant available in this place. Best is you bring food and have picnic on top of its beach. Indeed, Padang-Padang beach is not so popular like Kuta or Legian beach. It is almost a hidden beach yet it is so beautiful. Well, remember the Eat Pray Love movie? That was filmed in Padang-Padang Beach. So, you are sure about its beauty now.
17. Yeh Leh Beach
Unless you talk to a fisherman, you never found where Yeh Leh Beach is. This is a hidden beach located in Jembarna, just near Denpasar to Gilimanuk road. Yeh Leh is one of a kind beach. Ideal for place to relax and sunbathing. In it shore lies a thousands of little boulders of rock, covered in algae and washed clean by the waves.
However, the rock has been here for hundreds of years. Making it more magical and beautiful place to visit. It is easily accessible you also can see many of marine animals that caught in the rocks of pools. Come here every sunset to watch the light light up the shinning rock in the shore. Meanwhile, Yeh Leh Beach is the best spot for fishing with its under see beauty. Also, you can step the stones and get the happiness.
18. Tegal Wangi Beach
Tegal Wangi is not just another beach. I mean, another hidden beach you need to visit in Bali. This is the beach where you can enjoy having a natural Jacuzzi. Tegal Wangi is located in Badung area near south of Kuta. Foreigner called this the hidden beach of Jimbaran. Just walk on its shore you can find a unique pool like Jacuzzi. Instead of metal, this one is surrounded by natural element like coral and seaweed. Take a dip inside and enjoy the breathtaking beach scenery. Come here before sunset if you want an unforgettable experience. Tegal Wangi is still not well known so you'll get the time of your life. There is no fee charge to enter its pool. Also, the natural color of the beach water is greenish and bluish. So, it is a perfect combination of beauty. Meanwhile, there are many local celebrities and international tourist that ever visit this lovely beach.
19. Suluban Beach 
Suluban is located at the Bukit Peninsula, just around 34 minutes drive from Denpasar. Suluban Beach is a hidden beach. Located underneath a rock. Here also you can see the Suluban Cave, a truly majestic object of tourism that take you into another world. Inside the cave are a temple for praying. Not much to do in the suluban cave, you just watch the beautiful rock formation and have a great time with loved ones. Also, Suluban Beach is likely a painting, a masterpiece creature that is really exist. Meanwhile, it is a great spot for photography, or wedding's background. Mostly, the evening vies is more beautiful that you can see calm wave, fresh wind, and also the moon shining so bright. What else can you get? You can watch the stars in the edge of the beach with your naked eyes. It so is beautiful.
20. Melasti Beach 
Beach is everywhere in Bali. Melasti Beach is a new object of tourism near Ungasan Village. It is a beach with the background of high cliff. Just like Pandawa it is one of the most dramatic and captivating beach in Bali. To get here you first must drive a half an hour ride from Kuta area. Located in a southern coast it is basically still out of reach from tourist. Many photographer come here to catch the magnificent cliff formation and stunning view. Sometime after big rain, you can see a waterfall cascading from the side of the cliff and into the ocean.
Also, you can climb the cliff to see the beach view from the top. It feels double beautiful. You can lay there and let the beauty filling in your heart. Most people even said that Melasti beach is more beautiful than Pandawa beach. Yet, all beaches in Bali is all beautiful. No other words can be said to explain how beautiful Melasti beach is. Indeed, white sand beach surrounding with high tall cliff, it must be in paradise. Yes for Melasti beach.
21. Canggu Beach 
Unlike many beaches in Bali full of white sand. Here is where you can enjoy a coastal area filled with black sandy beach. This is the kind of colour that Canggu is well known as. This is also the place, where you can enjoy many great café and bars that located in the Canggu area. And also they have many selection of beach club that is a must try. One is La Plancha with its famous bean bag chair, that is being spread on top of the black sand. You can have an array of special cocktail that is to die for. Done by award winning mixologist. They also have great selection of resort in the area. Canggu is still not known by many tourist so you can only find a private villa turn into a resort. Which is quite stunning and doesn't disappoint at all. Because all the villas has private swimming pool and a secluded location.
22. Balian Beach 
Another black sand beach that is quite making name in Bali is Balian. Located in the West side of Bali. This is the beach well suited for experience surfers and beginners. It has a great line up of waves every week of the month. The sand looks rugged and neat. Mind you that this beach is not very swimmer friendly. Here you can relax by the sound of the ocean. Still a serene and tranquil destination worth to visit if you are a beach goers. There are also many yoga retreats located along the beach. You also can ride a motorbike and explore the side road near Balian, where you can see many rice paddies tumble down to meet the sea. The price in this area is a mix of cheap and expensive. Eventhough many places to stay cater for surfers. You can also find many family friendly resort worth to stay.
Indeed, now you see how beautiful Bali beaches are. Bali beaches will make you feel like you are in heaven when you are actually not. It's nature, beauty, lovely view is the best ever seen. Further, hold a breath because this beauty is not yet finish. Meanwhile, here are list of beautiful islands and lakes worth to visit in Bali.
Beautiful Bali Lakes and Islands
Meanwhile, there are many hidden lakes and islands in Bali. They are all so beautiful.
23. Batur Lake
Batur Lake is located in Batur area, in Kintamani district of Bangli Region. This is the first Geo-Park area in Indonesia. Here you can enjoy a beautiful and peaceful atmostphere. And alos interact with local people who works as a fisherman and farmers. The lake is located in Batur Tengah Village. About 25 minutes ride from the area of Kintamani. Visit also the Mount Batur where you can do trekking and watch sunrise ceremony that is just gorgeous and magical. They also have many restaurant with specialty in fish and Sambal Mantah. Meanwhile, the scenery of lake, cliff, and trees are blended with multiple perfection.
You may also search:
24. Ubud 
Ubud, the center of peace and tranquility, where the restaurants and hotels serves a green healthy living for the tourist. This is also the center of arts. You can visit many painters and scultupres artist in the area. This also the place where they held the famous yoga and book festival every March and October. Ubud is located around 40 kilometers from Denpasar. The place could be a little bit hectic in the holiday season, but truly is a must visit. A must try culinary here is Bebek Tepi Sawah, a fried duck with local sambal. If you ever need a place for living in Bali, this is the most suitable one due to the quietness and the green atmosphere.
25. Kintamani 
Kintamani has the same charateristic of area like Bedugul. A place of natural beauty with mountains and lake. Here in Kintamani you can enjoy the view of Mount Batur from a far. A natural Geo-Park, that is a first in Indonesia. The air surrounds this area is usually cool, with temperature can drop in the middle of the night due to its high ground. The air is fresh and clean. A place with tranquility, that is perfect for couple. Kintamani is located in Kintamani Village, right in the center of Bangli region. Visit this place during lunch time, many restaurants here served a fantastic view of Mount Batur area. Also, you can taste traditional culinary from Bali. You will feel like in a land above the clouds. Indeed, Kintamani is most visited for couples to celebrate their honeymoon.
26. Menjangan Island 
Menjangan is an unhabited island. Located in the west side of Bali. You need to ride a car for almost five hours to visit this place. And ride a boat for 10 minutes. One must first stay in Menjangan area resorts where you can find two luxury accomodation. It is sitting inside the National Park of West Bali. Snorkeling and diving are the two favourite things to do in this area. As it has a perfect under sea scenery with natural view there. The blue water is so perfectly clear so you can see the under sea life. Many fish species and coral reef with bright colour is in this area. If you do not want so much heat. Come to this place in the morning and enjoy the ray of light piercing though the blue water of Bali. As a result, the scenery is perfectly beautiful. The view of the clear blue water mixed with the clear blue sky.
27. Penyu Island 
Just like the name Penyu Island is a place of turtle sanctuary. This island is located in Tanjung Benoa. Here, you can directly interact with turtles. See the rehabilitation process and have a chance to release the baby turtles in the wild. You can also observe the daily life a turtle. Penyu island is very famous for family. Children too can take part in the releasing of the baby turtle. Beside turtle there is also a collection of animals like hedgehogs, eagle hawks, falcons, iguana, bats, and snakes. Also a cute animal like rabbit and squirrels.
Meanwhile, Penyu Island is the concern to save and protect Penyu from that mean bad hunt out there. Also, in this island you can learn about Penyu life, the beauty, and how Penyu hold the important role for the balancing sea life. Meanwhile, Penyu, also known as turtle, is protected animals that the numbers is decreasing day by day. Hopefully, by this Penyu Island can improve people's cares about animal, especially turtle.
You may also search:
28. Bali Odyssey Submarine
If you want to experience underwater life, but don't have a diving license. Then you should try this different kind of experience. Bali Odyssey Submarine will take you to the ocean floor and let you enjoy underwater life in a submerge environment. This submarine is located in Labuan Amuk in Antiga village, Karangasem region. Using a submarine you will be taken deep into the ocean floor and explore the marine life. You can see fish and turtles swim from inside a safe fully air condition submarine. A place to be if you go with the family.
29. Tulamben 
Located in Karangasem area, you have to visit Tulamben, especially if diving is your thing. A great diving spot in Bali, Tulamben is famous for its underwater life. Full of marine life and a collection of coral reefs. If you're lucky enough, when you are on a dive you can spot unique creature like Mola-Mola, Hammerhead Shark and any other predator shark in the see. Diving has been the most favorite activity here, while snorkeling is on the second. If you're interested in diving this place also have a diving school with certificate from PADI any other diving licenses. The price various starting from Rp.3.000.000.
30. Tamblingan Lake 
Only a handful of tour operator do tours in North of Bali, if this is the place you want for holiday then head to Tamblingan lake. It is locatred in the center of the area. Just two hour drive from Bedugul and three hours from Kuta. Better come here by your own rent vehicle. For budget travelers, you can go here by riding a bemo from Bedugul or Batubulan terminal in Denpasar. Visiting this lake you will be treated by a scenery of gorgeours mountain with a rice terrace view located near by. Lot's of warung that sells local food that you must try. All in reasonable and affordable price.
31. Pasih Uwug 
Well, Pasih Uwug is another option to visit if you think beaches is too mainstream in Bali. Actually, Pasih Uwug is all drought, dry, arid, and heat area yet it is so beautiful. However, Pasir Uwug is still rare to visit by tourism. Pasih Uwug is located on the Nusa Penida island. It is one of unique geological phenomenon. It used to be a cliff, time after time due to the corrosion because of the water waves, the rock is broken. Creating a magnificent hole and arch shape like object. It is like the masterpiece of nature.
Indeed, the hole on the cliff let the ocean water pours in creating a natural pool of beauty on the other side. You can do walking tour on top of the arch, but it is forbidden to jump from the arch of rock. The height and waves underneath can be dangerous. So, you may better to be careful. By the cliff, you can watch the fish swimming. So, it is also the best place of Bali.
You may also visit: Komodo Island- Raja Ampat Islands
32. Nusa Ceningan 
This island is located just south of Nusa Lembongan, an island paradise for you who wants adventure in nature. A boat to here is available and regulary depart from Sanur Beach to Lembongan. From there you can hire a private boat from local people and then head to Nusa Ceningan. Nature untouched is the things you will find at this island. Here you should go to Blue Lagoon, a natural lagoon with blue sea water which tourist can jump in and enjoy the warm water. The lagoon has a cliff of 12 meters height, where you can do the jumping. There are no hotel available in the area, so you have to do a one day trip if you want to visit this place.
33. Amed 
Amed has long been on the map for people who wants a elude Bali's crazy south side. This is the place of peace and quite from hustle and bustle of the south side beach. Amed is perfect for snorkeling and diving in several spot of the bay. Here you can enjoy a wreck dive seeing a Japanese sunken ship from World War in Banyuning area.
Indeed, the combination of perfect mountain, clear lake, the lines of tree and perfect air will make you fall in love with Amed. If you want to enjoy Amed, you can just relax on the beach or hire a jukung, a traditional wooden boat usually use by the fisherman. If you paddle to the center of the ocean you can see Lombok's highest peak the mount Rinjani, which boast a magical view for anyone who adores nature.
34. Nusa Penida 
Bali is not just one island, but consist of many tiny island still untouched today. One that has been attacting tourist is Nusa Penida about 20 kilometer in the east side of Bali. Nusa Penida is a cluster of three island, each has a unique object of tourism worth the visit. You can reach here by using public boat via Nusa Lembongan. The site has unique landscape like Bali's Bukit Peninsula. This island was used an a prison in the 18th century. Diving around this island is a must. You can see excellent marine life, from Manta Ray to Mola-Mola. Not many high class resort to stay here. Because no hotel chain have built accommodation here. If you want to go here best by doing a camping. You can set up camp on the cliff or on the beach and enjoy what nature has to offer. Nusa Penida has beautiful site for nature lovers. Enjoy camping here with only the stars light up your night. If you want to stay, do brings some food with you as there are no restaurant yet in the area. It is still strelize from tourism.
Those are the most beautiful island exists in Bali. Indeed, those islands and lakes are so incredibly amazing.
Bali Temples
Indeed, Bali has many temples built since a thousand years ago. Thus, these temples are evidences of Indonesia heritages and Bali's religions history.
35. Besakih Temple 
Located on the slope of Mount Agung, Besakih Temple is the biggest and holiest Hindu temple in Bali. Located 1.000 meter to the side of Mount Agung, this is the site that is famous among tourist and also local people. There are 23 temple with steep terraces and stairs leading to wide courtyard. The main sanctuary is Pura Penataran Agung, which is the holiest place in the temple complex. Besakih Temple is located in Besakih Village, Rendang district in Karangasem region. Every once in awhile you will be treated to see Balinese people doing prayers here.
36. Garuda Wisnu Kencana 
The most ambitious project ever in Bali. Garuda Wisnu Kencana is often called GWK, a complex that sits one of the biggest statue ever constructed if it were to finish. It is a statue of a Wisnu God. Located on top of Unggasan hill. The huge statue height is around 20 meters. All made from stones. And hand made. A visit to this place is a must. You will be treated to a complex of magnificent courtyard and on the middle sits the gigantic structure. Although it is not finish. It is still one of the biggest tourism object for foreigners. Many concert are being held here to the sheer size of the courtyard. You should go here early in the morning to watch sunrise, and also a good place for watching the sunset too. It is a two hour ride from the airport in the Pecatu area.
37. Goa Gajah Temple
When you are in Ubud, then you should go to Goa Gajah. It is actually an artificial cave that has been made especially for praying. The temple complex is very popular because there are many hundred of years age trees in the location. Goa Gajah is open from eight in the mornig to five in the afternoon. The facade of the caves is one of the interesting aspect of the place. It has a relief of creatures and demons carved right on the entrance of the caves. They built it to ward off the evil spirit. So people can have a peaceful praying area. You also can have a bathing ceremony which is just located inside the complex. This is a site that has been called a UNESCO World Heritage in 1996.
38. Tampak Siring Palace 
This sacred palace is located in Tampak Siring village, in the Gianyar Region. Here tourist can watch a historic architecture of the old Balinese tribe. It is a presidential palace. According to legend, the town that stands on the slope of the mountain was created by a footsteps of a King named Mayadenawa. Tampaksiring is also location of one of the six presidential palaces in Indonesia. One that is intended for President Soekarno. The area is 19 hectare wide full of greenery. This complex is well known for its history and architectural design. And also a place for family who wants an historical holiday adventure.
39. Bedugul
Bedugul sits on the centre north of Bali. A visit here and you will be mesmerized of its natural beauty. A picturesque landscape of mountain and lakes, creating subtle and tranquil holiday place. Here is where you can find Bedugul Park that is located in Baturiti Village. To go here, you need to ride a car with more than 60 kilometers drive from Ngurah Rai international airport. Here you can also go to see Munduk Waterfall. For just Rp5.000 entrance fee this one of the most impresive waterfalls in Bali and Indonesia. A dip into its pool is also a recommended activity that worth to try.
40. Pura Yeh Pulu 
Just 26 kilometer Yeh Pulu temple is another sacred temple in Bali. This temple is located in Ubud. A visit here one can learn historic stories of the 14th centuries of Bali just by seeing the reliefs that has been carved into the whole body of the temple.
However, the temple is perfect for exploring Hindu culture for tourist that is curious with this place. So, you can learn about its history and culture. To visit here you must first go to the Village of Bedahulu. If you are looking a spot where traditional way of live still linger in the air, then this is the spot. Yeh Pulu temple is full a locak heritage site. As a result, this is a perfect vintage Pura where you can enjoy both its beautiful view and unique ornament.
You may also search:
41. Bajra Sandhi Monument
With the entrance fee just Rp.10.000 for adults and Rp.5.000 for children, you can see the history of Balinese people. Located in Denpasar, right near the Governor office, Bajra Sandhi is a monument to admire Balinese people spirit time to time. The monument is equipped with 33 dioramas and all depicted the effort of Balinese from pre-historic era to the Independence Day.
Meanwhile, the complex is divided into three area. You will need half a day to explore all it's monument. It has unique and classic interior. Utama Mandala is the main building and Nista Mandala located in a large courtyard. The diorama inside is similiar to the in Jakarta, in the National Museum.
42. Tirta Gangga 
A formal royal palace located on the east of Bali. Where the area is still calm and charming with all its traditional architecture. It is located around 5 kilometers from Karangasem. Now Tirta Gangga is a place developed for museum. Where tourist can enjoy the Balinese heritage history. Tirta Gangga is a water palace, famous for it's pool, fountains and also the stone carving. Built in 1946 by the King of Karangasem, but had some part destroyed in 1963, due to the eruption of Mount Agung. Beside sacred Tirta Gangga is one of the most romantic garden ever built in Bali. A perfect place to do pre-wedding photoshoot.
43. Alas Kedaton 
Alas Kedaton is a small monkey forest located just near Tabanan region. Here you will get up close and personal with monkeys in the wild. It is 12 hectares wide located in the middle of rice field. Inside the forest also lies the Alas Kedaton Temple. The temple compelx has three huge courtyard filled with lush greeneries. In Alas Kedaton, interaction with monkeys is the popular things to do. The monkeys are very friendly and has different age from old one to young one. Indeed, it has also beautiful nature and feels so Bali. Not far from this place is also a souvenirs shop and playground for kids.
44. Kerta Gosa Klunkung

Kerta Gosa is located in Klungkung Palace, in the east part of Bali. Built in the 18th century by Dewa Agung Gusti Sideman. Here you can learn the heritage and Balinese culture. From sculpture to paintings Done by great artist from all over Bali. Kerta Gosa is a famous tourism village. You also can visit a Balinese temple inside this place. The area is calm and very serene, perfect for those who wants to have a relaxing holiday. Kerta Gosa is in the east part of Bali, an area that is still full of Balinese heritage. One of the highlight of this place is the open paviliun that showcase the Klungkung architecture, which is a great sight to see if you love history.
Indeed, as a major Hindu and Budha population, Bali has many temples as the place of praying. Also, those temples are beautiful tourism visits to learn about religion, history, and society.
Beautiful Bali Waterfalls
Moreover, Bali has its natural waterfalls that we love to visit someday.
45. Gitgit Waterfall 
Gitgit Waterfall is one of the hidden secreat tourist destination in Bali. It is located near Bedugul, just around half and hour from Singaraja. It is a 35 meter high waterfall. Surrounded by lush landscape and clear water from the mountain. Visiting this place you can enjoy a dip on it's pool which is a quite an experience if you never try swimming in a natural laguna. To come here you first must do trekking along a forest pathway. You will also have the chance to see monkeys living in the wild. The nature are an amazing sight, for those who wants serenity environment. Upon coming here you will be treated to a charming sounds of waterfall which is echoes around the forest. The perfect spot to take some selfie.
46. Sekumpul Waterfall
Meanwhile, one more fresh beautiful waterfall is Sekumpul waterfall. This natural beauty located in the north of Bali, you need to ride for two hours from the central of the city. It is located inside Sekumpul Village, a local village that is still practice old way of the Balinese life. Visiting this place is quite a challenge as Sekumpul located in the center of the jungle. You have to walk down hundreds steps and cross a calm river. Sekumpul means group in Bahasa and come here during rainy season, you will be treated to a chain up to seven falls. All impressive and scattered upon high cliff. All the water cascading down with the background of highland greenery. Once you get there, you do not want to go home.
47. Blahmantung 
Blahmantung considered to be the highest waterfall in Bali. It's height is around 100 meter, with a beautiful backdrop of nature and cascading towards a natural laguna. Few visitor visit this place because it is very hidden from site. As to many hidden site, its serves one of the most beautiful scenic sight that is a truly magical experience.
However, Blahmantung is located in the farming village of Pupuan in the central of Bali area. Famous of its beautiful rice terraces. Savor the tranquility while dipping on its natural pool. Also, you can bath into the waterfall and let the natural water flow through your skin. Well, the water may be pretty cold but it is just so fine. It is one of the best off the beaten path destination.
48. Banah Cliff 
If you are searching for the most outstanding form of rock than Banah Cliff is the place you have to see to believe. The most dramatic coastal cliff in Bali. Banah Cliff is located in Nusa Penida island. It is a hundred of meters high and full of lush green vegetation. It is a beautiful sight to see combine with the blue sea water. There are no barriers on the edge of the cliff. So you have to be careful when you climb onto its top. From Banah Cliff edges, you can see an unusual rock formation in form of an arch. Tiny island in the middle of nowhere with unique shaped that is captivating and mysterious at the same time. Meanwhile, Banah Cliff is all good for photography whether a professional one or amateur. The scene is absolutely perfect. So, next time you go to Bali, you may include Banah Cliff to your list.
49. Green Cliff of Udisan 
Undisan is a unique place for nature lover. To get here is quite an adventure. You will pass rice paddies, ravines, and then forest. The walking session is quite an energy drawing activity but at the same time very peaceful meditiation because of its beautiful surroundings. First you must head to Undisan Village in Bangli regency, after walking pass the waterfall that can be find inside the lush jungle you will find the green cliff. Which basically are a cliff coveresd in moss. Making it a one of a kind site.
Indeed, the air in this place is so fresh and clean. Of course, it has no pollution, no free radical, you can breath the oxygen so well. Meanwhile, this place can be your best place to relaxation. It is also a great place if you love yoga. There's nothing beat the feeling of having a peaceful meditation surrounded of greenery. Meanwhile, there is nothing better than visiting Green Cliff to get a clear mind. However, green cliff is enchanting, beautiful, refreshing, and surperb creature of nature.
50. Peguyangan Waterfall 
Peguyangan is located in Nusa Penida island. It is a different take on waterfall. Instead of a vertical cliff that falls down below like any waterfall, this one is more of a cascading spring fountains. A series of short water flow that comes from the top of the cliff into the ocean.
Indeed, the natural flowing of water makes it a great place if you want to have a natural spa session, you can have a massage there without paying any extra fee. To head down this place there are stairs that lead you down easily. There 460 steps and very narrow. Yet, it will be just fine as the scenery that you will see can repay your tiredness of stepping 460 steps away. The cascading waterfall is truly a sight to see. After all, no words can explain how glad it would be to visit this waterfall before it gets exploded.
51. Sambangan 
Sambangan is a hidden getaway place far away to the north of Bali. Located in the village of Sambangan. Only a local of people and adventurous tourist have come and visited this place. It is a jungles full of lush greenery and waterfalls. Also a river like lagoon known as Secret Garden. Many visit this area with the help of a local guide. So tuck away from moderation you feel like living the primitive life. You can swim in the lagoon or having a yoga session into the top of a cliff. Indeed, you will like back to nature and also feel like in another paradise. Meanwhile, the scenery is so exotic.
52. Lawah Cave 
Lawah Cave offer you a different experience if you visit Bali. It is located in Klungkung. A one and a half hour ride from the airport. Here is the place for tourist who wants some adventurous holiday. You can do trekking inside this cave, where thousand of bats stay and live here. Opposite of this cave are a coastal area with black sandy beach. Lawah Cave is also a shrine for many Balinese people. A sacred and holy place. You can watch a special festival that is usually being held here. There are Piodalan Ceremony and Ngusaba Ceremony.
Meanwhile, those are beautiful waterfalls and cliffs that actually make you feel excited to visit. Indeed, you may also want to know about a wild beautiful forests and parks in Bali.
Forest and Park in Bali
53. Sangeh 
Located 20 kilometer to the north of Denpasar, in the Badung regency. Sangeh Monkey Forest is the place where you get to interact with monkeys. Like Ubud Monkey Forest, the monkeys is quite friendly and adorable. This small forest with an area of six hectare is full of monkeys in different sizes and ages. The monkey here is sacred and very respectable for the Balinese people.
However, you can walking, running, or jogging around while enjoying the air of Bali. The trees are high and lush. The forest area is open everyday. From 07:30 AM to 18:00 PM. Access to this place is quite easy. Here you can also do shopping with local art market and restaurant spread across the area. Indeed, may you get a good time while you are in Bali.
54. Tembeling Forest 
Indeed, Bali also have beautiful forest to visit. Famous for it's trekking tour Tembeling Forest is located in Nusa Penida Island area. Here you can enjoy what nature has to offer. Full of  lush scenery for the trekking route. After a one and a half hour walk you can get to the natural laguna that is located in the center of the jungle.
Meanwhile, take a dip in the natural pool with fresh water and cold water. The color is blue because of the clean environment it is located. Best to spend here a day to really enjoy all the scenery. However, trees are everywhere and it has vary types of tree. As a result, you can jogging around and catch the fresh air.
55. Bunut Bolong Tree 
Indeed, Bali seems having a hundred beautiful place that you must visit and that all places are enchanting. You may spend for your whole life to explore all Bali places. Meanwhile, there is a tree named Bunut Bolong in Bali. Many consider this as a mystical area to local people, located in the western part of Bali, Bunut Bolong is a huge tree renowned for its supernatural powers. The tree roots is located separately. Creating a beautiful natural arch of roots and vines which tourist can pass by car or bike. According to legend and folklore, bride and grooms are not allowed to pass this area. Those who manage to pass this hole will end up separated and have a broken down marriage. Despite from that story, the tree is mystically beautiful.
56. New Kuta Green Park 
This is the ideal place for your family, one of Bali best waterpark, here you can enjoy variety of water activity for children. The place is located in The Pecatu Indah Resort area, next to the new Kuta Beach Dreamland. This waterpark holds a massive five hectare of area and serve a fantastic beachfront view. It also has a functional recreational complex featuring thrilling water rides and tranquil, floating attraction and also a natural landscape and ocean breeze. The price admission is around Rp.130.000 for adults and Rp.110.000 for children. Best to come here on weekdays if you want to avoid hectic park. However, the water park is also fun and good if you want to challenge yourself in extreme track like that.
57. Bali Pulina Agro Tourism
Have you ever wondered where Luwak Coffee comes from? Or how the process of making a great coffee seed. Here is the place to open up your knowledge about coffee. Bali Pulina is located in the Gianyar area, a much calmer area with not that many tourist around. You can see how coffee luwak are being made. Seeing the animal that eat the coffee seed and turn it feses into a high grade Luwak Coffee worth hundreds and hundreds of dollars. Not many place to this kind of coffee making, only in Indonesia you can see this. You can also buy many fresh coffee beans, if you are a coffee holic. Come in the afternoon you can have a coffee tasting session where you can enjoy one of the best Luwak Coffee in this place.
58. West Bali National Park 
Bali National Park is located so far way on the west side of the island. You need to drive for five hours using rental car. Make sure to hire driver as well as the roads kind of difficult and confusing. Here you will be taken to a natural environment which is very unique and serene. Also a rare experience. There are only two hotel in the area. All is a luxury market one. A stay in one of the resort you can have breakfast while watching the famous Menjangan animal. An animal like deer that usually roams the land in Bali National Park. Make sure to wake up early in the morning as you will be treated to a spectacular view of the sunrise. After strolling in the jungle, head to the ocean and do some snorkeling or diving. Menjangan has one of the best underwater life in Bali. Truly a must try experience for you who likes nature.
59. Tegalalang Rice Paddies 
Bali is not just well known for its sea and beaches. In this island you can also see the famous rice paddies. One of the best one is Tegalalang. Located in Ubud just two hours ride from the Airport. Ubud is a serene and tranquil area. Certainly the place for you who wants a relaxing mind and rejuvenate the body. Tegalalang is famous for its cascading shape of rice paddies. You can enjoy one of the restaurant that located near the site and have great coffee session while facing the rice paddies from afar. If you want to get close and personal with the farmers, you can have a stroll to into the rice paddies. People here usually open and humble and will let you have an experience just like the local just by doing work like a farmer.
Bali Zoo
60. Bali Zoo
Bali Zoo is also one of the famous animal park in Bali. This is the place if you want children to interact with animal in the wild. It is also the place where you can stay in a hotel and have a great view of the animal roaming the natural landscape. It boast more than five hectare of land. Where they have more that 200 species of animals, from bird, snake, to elephant and lion. Bali Zoo is also the place where you can have dining experience while watching a lion in the wild through a thick glasses located just next to your table. Bali Zoo is open all day from Monday to Sunday. It is located in Gianyar, around two hour rides from Kuta hectic area. It is secluded by has a great accommodation as well.
61. Bali Safari and Marine Park
The most visit places for families is Bali Safari, one of the branch from Taman Safari in Jakarta. Bali Safari has tons of animals that they showcase. The park is located in Nusa Dua area, the entrance fee is around Rp.180.000 for adults and half a price for children. You can interact with many animals here, from monkeys to elephant and tiger. A must see show is the elephant show, where you can get upclose with the animal and touch its beauty. There are also a show called Bali Agung, telling the epic story of old Bali. This how is filled with dance and animal performance. Trying its Night Safari tour is also a must do for tourist who visit here. Well, this place is best if you visit with children so they will learn about animal. Especially, animal from Indonesia.
62. Bali Bird Park 
Bali Bird Park is the first park dedicated to the world of birds in Bali. This bird park is located in Singapadu, Gianyar region. It is the biggest bird park in Bali and one of the best in Indonesia. The collection of bird is various, consist of many species. From the common one to the rare one such as eagle.
However, you can interact with them, here them singing and living their life in the wild. You can also have picture taken with them, where they'll be standing on your shoulder and hands for the photo opportunity. Bali bird park is open from nine to five in the afternoon. The entrance fee for the whole day is Rp.430.000. Meanwhile,Bali Bird Park shows that Indonesia has many type of birds.
Bali Market
63. Sukawati Market 
Sukawati is one of the most distinguished market you can find in Bali. You should go here if you want to buy gifts from Bali for friends or family. The market provides tourist an tons of selection of accessories and local-made clothes. The market is also well knows as the arts center that sell a cheap price. A bargain is a must do thing if you want to buy some products. The market is located in the Gianyar region. Come here in the morning to see the locals setting up their things. You can spend a day just touring all the interesting stands. From painting to hand bag. Well, you can buy all traditional things from Bali here such as bags, shirt, sandals, hats, and fabric. Well, it will be awesome to have one.
64. Pod Chocolate Factory 
If you want to see how the best chocolate homemade is made in Bali. Then head to Pod Chocolate Factory in Badung Regency. This is one of Bali most famous chocolate producer and since everybody love chocolate. A visit to this place is surely a must. This is the place built by Australian Tobby Garritt. He first want to make the best chocolate in the world and slowly approaching his dream through his Pod chocolate. Here inside the complex is where you can enjoy a private tour of the chocolate making process. From how to find the perfect cocoa beans, harvest process and then making it into chocolate. A workshop is usually available during holiday season where you get to know many variety of chocolate beans from all over the world. It is is a great place to visit if you have little children and also friends who all enjoy a good sweet taste of chocolate.
Bali Monumental Museum
65. Bali Museum 
Everything you need to know about The Island of the Gods is in this place. This museum located right in the Denpasar area. It is in Mayor Wisnu street around an hour ride from the airport. Just right on the east of Puputan courtyard. Here you can find the history of Bali tribes and also the artifact of it's people. A rare collection that you can only find it here. There is a painting also and a sculpture done by many famous Balines artist.
However, Bali is also full of art. Dated hundreds of years. There three building inside this complex, all represent the architecture of North Bali. Truly a magnificent wonder to see the relief and also the rare collection inside this place. The museum stores the best masterpice of Bali and one of the best places to visit in Bali Indonesia.
66. Museum Pasifika
Museum Pasifika is located inside the BTDC area of Nusa Dua. Here you can find many Asian Pacific variety of cultural artifact, with over 600 permanent display can be found here. An important museum for the Asian region. Open in 2006, it has eleven pavilion housing important art from Indonesia, Italia, Dutch, Indo-European, Indochina, Polynesian, Pacific, Tapa and Asian. Its collection is enganging and insightful. A great place if you want to take you children for a historic ride of Asian culture. Each month they hold variety of exhibit. And has guest from school children to celebrity, to leaders of the world and important people from the travel industry sector.
67. Blanco Renaissance Museum
Blanco Museum is another gem in the heart of Ubud. One of the best museum in Bali. With entrance fee only Rp.20.000 you can watch one of Bali beautiful array of paintings, mainly the object is women all done by the great Don Antonio Blanco, a painter and well known artist. One of the most striking piece of art is the sculpture at the entrance of the museum. It is built from Italian marble, with 15 meters in height and symbolize his birth date and the number of stairs you need to pass to enter the museum halls. Inside the museum is also a five star gastronomic eatery created by Cheff Mandiff Warroka, famous chef in Bali. Serves a local food but done in avant garde style and presentation.
Thus, there are the most beautiful places to visit in Bali Indonesia. Indeed, let's go to Bali and get lost in this paradise.
Also read: