25 Things to Do in Padang, West Sumatra Indonesia – Islands – Landmarks – Food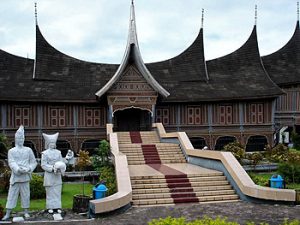 Known as a trade hub since the 16th century, Padang has grown to become the largest city on the west coast of Sumatra and act as a capital for the West Sumatra province, Indonesia. It is strategically located in the heart of West Sumatra and connected to a port, which makes it an excellent transit point for people who want to visit neighboring islands and regions. There are many backpackers passing through this city, therefore, the number of budget accommodations is quite high.
Padang is also known for its culinary delight, the local food in here is popularly known all over Indonesia for its unique spicy taste with amazing sauces and broths. In fact, almost every other major city in Indonesia have a Padang Restaurant. Padang is also known for the Minangkabau traditional house's distinctive architectural style, the Rumah Gadang. There are 3 main ethnic groups native to this area, the Minangkabau, Mentawai, and Nias. During the 20th century many transmigrants from Java, Batak, Madura, and other regions also come to this place to settle and coexists with the locale.
Due to its location between the two major intercontinental plates and also the Great Sumatran Fault, Padang is extremely prone to earthquake, as is the whole West Sumatra. Last recorded tremors were the 2010 Mentawai Earthquake which occurred with a magnitude of 7.7 Richter scale.
You may also search:
Here are all the things to do in Padang:
Top Tourist Attractions in Padang
There are many interesting spots to visit in Padang. From beautiful beaches to the impressive historical landmark, a trip to Padang will surely bring a whole new experience to every traveler. Here are some of them.
1. Mentawai Islands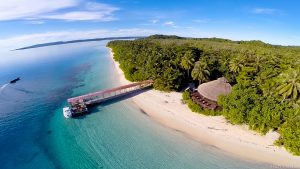 This archipelago off the coast of West Sumatra are famously known for their unpredictable currents and strong winds, hence they are very popular among surfers. Wave riding thrill-seekers from all around the globe flocked to Mentawai just to ride the waves and most of them acknowledged it as the ride of their life. The islands themselves are isolated from the outside world until the 20th century so most of the islands still retained its natural image, largely untouched by modern civilization. Since the 2004 Indian Ocean earthquake, the tsunami activity around this area has increased although not as devastating as 2004 one.
2. Air Manis Beach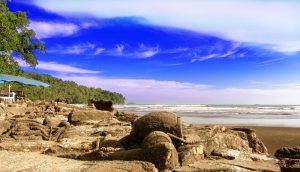 This beach garnered popularity as the place where Malin Kundang stone is located at. The statue itself is derived from the legend about an insubordinate boy who was so perfidious that he was cursed by his mother. According to the legend, Malin Kundang turned into a stone on this beach after his ship run aground due to his mother's curse.
You can find the so-called stone in here, resembling a man who was kneeling down and asking for forgiveness. The beach is located about 12 kilometers from Padang and it has an enjoyable natural view. As a result, it's a super beautiful beach that you ever visit.
3. Teluk Bayur Port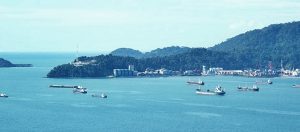 This bustling port was once made famous by a popular song of the same name, sung by Ernie Djohan in the 60's. Teluk Bayur is the reason Padang became an important transport hub, as the port is known as the largest and busiest port on the western coast of Sumatra. Many international and domestic cruise and cargo ships made their transit here, either heading to or from Indonesia. Here, visitors can enjoy the immersive experience of observing the docking activities of various ships in person.
4. Siti Nurbaya Bridge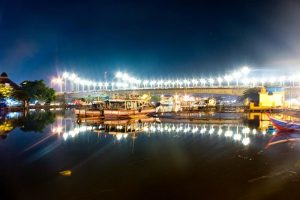 The bridge owes its name to the famous woman from Marah Rusli's novel, Siti Nurbaya. The story is about a modest girl who falls in love with a handsome man named Samsul Bahri and they are about to get married. But Siti's parents owed a huge debt to a powerful old man who has many wives, Datuk Maringgih. In lieu of payment, Datuk Maringgih planned to take Siti Nurbaya as his wife instead. Knowing this, Siti chose to end her life by drinking poison. Siti Nurbaya bridge presents a natural and wonderful place to do some sightseeing and enjoying the Indies ocean from the hill. There are also a lot of Japanese bunkers and cannon remnants around this area. Then, this bridge came from fiction to a real world.
5. Bung Hatta Nature Reserve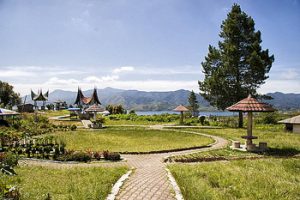 This tropical paradise serves as wildlife preservation and observation. A delight for every botanical enthusiast, visitors could observe 352 species of protected flora and 170 species of protected fauna in this reserve. Take a look at a variety of endemic plants and animals unique to West Sumatra, especially the notorious Rafflesia Arnoldi. Sir Thomas Stamford Raffles, governor of British administration, and the botanist Joseph Arnold find this extraordinary flora during their expedition around 1818. The flower's name is a combination between Raffles and Arnold's name, as they both found it together. Rafflesia Arnoldi is the biggest flower in the world that releases a putrid smell to attract nearby animals as its victim. The flower could measure up to 1 meter in diameter and usually have a bright red color with brownish or white dots. The foul stench emanating from the flower give rise to its nickname, the corpse flower.
6. Museum Adityawarman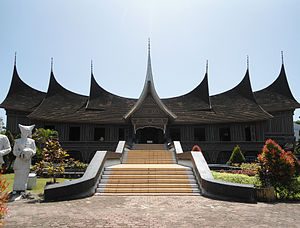 Things to do in Padang Indonesia, this West Sumatra's official museum of Indonesian culture is located in Padang. The name Adityawarman derives from the king of Malayapura (the kingdom that rules over Minangkabau area) during the 14th century. This historical museum features the Minangkabau cultural heritage and also some Indonesian heritage as well.
The main collection of this museum is categorized into 10 main categories. The main categories are Geology, Biology, Ethnography, Archaeology, History, Heraldry, Philology, Ceramology, Fine Arts, and Technology, and each has their own set of items. The museum building itself is a fine example of the Minangkabau traditional house, the Rumah Gadang. Visitors could learn a lot about the Minangkabau people history in this grand museum.
7. Pagaruyung Palace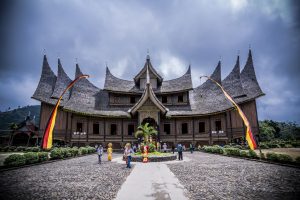 As the Royal Palace of the former Pagaruyung Kingdom, the Pagaruyung Palace is the place where royal families of Pagaruyung Kingdom lives until 1833. With a 3-story structure and vernacular architectural style, the palace resembles a larger version of Rumah Gadang. The Palace has been destroyed by fire and rebuilt several times. The original version was built using timber masonry, but now they use the concrete-based building to increase the durability. Visitors can see a lot of antique Minangkabau artifacts and furniture here. Since most of the artifacts have deteriorated through time, the government have restored it and put some replicas to keep the original look. The restoration costs 20 billion rupiahs (about 1,71 million in USD) and took six years to complete.
You may also search:
Padang Impressive Islands and Beaches
Then, things to do in Padang West Sumatra Indonesia is you must visit this heavenly beaches and islands:
Padang's Natural Spots
Here the natural destinations that you will love to visit in Padang:
Padang Amazing Landmarks
You don't want to miss these great places, tho.
The Awesome Padang Food
Finally, Don't Forget to try this great tasteful food everybody cannot live without, things to do in Padang Indonesia.
25. Nasi Padang Dishes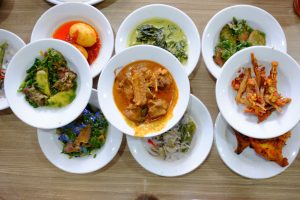 What to eat in Padang Indonesia? You should definitely try the local dishes when you visit Padang. The cuisine is renowned by everyone in Indonesia for its richness in taste and scrumptious curries. The absolute have-to-try here is the famed rendang beef, ayam pop, and satay. Meanwhile, Rendang is noted as the most tasty food in the world . Since Minang people has a deep Islamic root, almost every food served in Padang are halal. Don't be surprised if the waiter put all kinds of food on your table, even when you didn't order it. You only have to pay for what you eat, so just take what you want to eat, and leave the rest.
You may also search: What to Eat in Jakarta
How to Get to Padang
Getting into Padang is quite easy, there are several airlines servicing the flight in and out of here. You may need to transit in Jakarta first, then head to Padang. Also, you may find airlines from Batam, Medan, Bandung, or Nias with Padang flight destination. Then, don't worry that there also flight right to Padang from Kuala Lumpur.
The Minangkabau International Airport (BIM)is handling all of these flights as the main gateway to West Sumatra. So what are you waiting for? There are so many fun things to do in Padang Indonesia. Time to pack your bags and enjoy the very best of Padang right now!
You may also search:
indonesia place, Padang, West Sumatera