Bandung is one of the most favorite towns offering different types of tourism destination. People like to visit Bandung for spending holidays or weekends by considering various purposes they can meet in a single visit from shopping, culinary hunting, visiting natural and historical tourism spots and so on and so forth. In comparison to Jakarta, the capital city of Indonesia, Bandung has colder and fresher air due to its location. Therefore, Jakarta people like to visit Bandung both for formal and non-formal agendas.
Anyway, if your holiday is about to come and you are still confused in deciding which city/town you are going to visit, it is good for you to consider visiting Bandung due to various types of reason. One of them is about accessibility. Bandung is relatively reachable by private or public vehicle so you will not find any difficulties in your trip to and inside Bandung.
Meanwhile, as mentioned before, you will find various offers of tourism destination in your single visit to Bandung. Therefore, it would be better for you to consider Bandung as your chosen destination as you will not regret it. At least, tourism attraction at Bandung can be categorized into four types, which are historical, entertainment, natural and cultural (or religious) spots. Following is further and more detail explanation about each of them.
You may also search:
Historical Spots
Bandung is a historic town as it witnesses and preserves some 'trace' of the past and the events happened. Therefore, it would be good for you to visit Bandung for enjoying its richness including in the sense of historical spots. At least, here are some destination you can visit.
1. Landmark Braga
Landmark Braga is the symbolf of Bandung history, also this place keeps the deep historical and cultural of Bandung. Indeed, Landmark Braga has been there since the colonial period and it was built by arcade architecture. Thus, Landmark Braga is also well known as Bandoeng Tempo Doeloe (Old Version of Bandung). You can enjoy colonial touch in the building of Landmark Braga by visiting its spot at Jl. Braga 129. The old buildings steadily stands until today bringing visitors to come back to the old time. This spot is not too far different from Old City or Kota Tua as found at North Jakarta. Further, now Landmark Barga is used for some important events such as contemporary exhibition or cultural art events. Meanwhile, Landmark Barga received many old high quality books.
2. Gedung Sate
Gedung Sate is also an old building as it was built in 1920s. It was then when this building was used as the center of Dutch government and typically called as Gouvernements Bedrijven. At that time, Bandung was the capital city of Indonesia so that the existence of this building played an important role as well as symbol. Respecting the historical trace of this building and its location at the downtown, it is now used and functioned as the gouvernor office of West Java province. Meanwhile, Gedung Sate name based on Indonesia traditional name "satay" as its ornament shaped like satay. Indeed, Gedung Sate now is knows as The White House of Bandung. As a result, people now visit to Gedung Sate to see its history and culture, either domestic or foreign tourists love to visit Gedung Sate.
3. Geology Museum
Geology Museum is located closely to Gedung Sate. Particularly, at Diponegoro street. Geology Museum is a must-visited-spot in your trip to Bandung especially when you have an entertainment trip. Built as old as Gedung Sate at 1920s, this museum displays fossils of some old creatures ranging from Homo Erectus, replica fossil of Tyrannosaurus Rex Osborn and mineral rocks. By paying 10K IDR as the entrance ticket, you can visit this museum from 09.00 to 15.30. Indeed, so if you come to Bandung, please include Geology Museum in your list. Note, it's worth to visit.
Indeed, Geology Museum Bandung has two floors. The first floor has three main rooms, which are Information Center, Education and Research Service, and Animation of Geological and Museum Activities in widescreen. The second floor has miniature of volcano, skull, and another historical heritage.
4. Asia-Africa Conference Museum
Meanwhile, Asia-Africa Conference holds the evidence of World War II as we know between America and Uni Soviet. At this place, in 1995, was gathered leaders from the whole word to declared peaces between all nations. Thus, now Asia-Africa Conference Museum is so monumental and important to keep. Thus, your visit to Bandung would not be complete before going to Asia-Africa Monument Conference. It was next to a venue of a worldly event, Asia-Africa Conference, held at April 1955 resulting so called Dasa Sila Bandung. Built using the architectural Deco Art, this museum uses Italian marbles at its floor and lightened by crystal lamps along the whole part. The classic touch of this museum is clearly seen from its Cikenhout wood. Well, this museum is open on Mondays to Fridays at 8 am – 3 pm and it's free. So, everyone can visit and enjoy the history.
Entertainment and Shopping Spots
5. Paris Van Java
Well, Paris Van Java means Paris in Bandung as well as Paris Van Java is Bandung's Malioboro as what Yogyakarta has. Regional and international tourists like to visit this place for hunting souvenirs they will bring home. Not only souvenirs, visitors can also enjoy culinary and entertainment spots at Paris van Java. They can find culinary choices originally from archipelago, Europe, Asia and even America. Therefore, Paris Van Java always becomes the top of a list-to-visit for Bandung visitors. Make sure you visit this place at Jl. Sukajadi 137-139 Bandung in your trip to the lovely city. Indeed, Paris Van Java is actually a mall building, but it's an open door building where you can still feel fresh air and natural view of Bandung. For sure, it has beautiful scenes such as you can see flying dove everywhere, flowers, tress, and beautiful nightlight in evening. So, let's drive to Paris Van Java.
6. Bandung Electronic Center
Bandung Electronic Center, or typically shortened into BEC, is the biggest and largest electronic shopping center of West Java. Unsurprisingly, Bandung visitors as well as Bandung people like to visit this place for buying various types of electrical device. Shoppers can pick the best and the most suitable device to their need and budget by visiting BEC because they will find high numbers of electronica shops. Meanwhile, it sells complete gadget such as smartphone, camera, phone accessories, machines, and anything you need in technology. Also, Bandung Electronic Center has great facilities to please customers such as cafe, large parking lot, service center, and more. So, if you are looking for one stop teleology shop, Bandung Electronic Center is the right place.
7. Trans Studio
Trans Studio is a newly established tourism destination yet very popular. Several reasons make this spot favorite and preferable. Some of which are the strategic location and various choices of entertainment visitors can find inside. Located at the downtown, particularly at Jl. Gatot Subroto, Trans Studio Bandung attracts more visitors day by day. It is also supported by its surrounding where visitors can easily find hotels, restaurants and other public places. Visitors can also enjoy various types of internationally modernized games for having fun and enjoying entertainment during spending their holiday. Some of them are specially designed for children, teenagers and adults as well so having family holiday at this spot would be a very good choice. It would also be better if visitors come to Trans Studio since morning so that they could enjoy various games and choices. In addition to it, coming at the middle day will make the visitors deal with the crowd so they will not fully enjoy the charming of Trans Studio.
8. Cihampelas Walk (Ciwalk)
Usually shortened as Ciwalk, this shopping center is relatively different from other shopping centers. You will find some stores tidily managed in an outdoor area flourished with fresh and beautiful flowers in its park, in addition to old tress all around. Therefore, you can also enjoy the clean and fresh air inside which make you comfortable and feel at home. Moreover, it also offers some culinary spots so that you can enjoy various types of delicious food from different background. Some entertainment spots are also available such as karaoke center, movie, game center etc so you can invite your family all together in your visit to Ciwalk. This spot is located at Jl. Cihampelas 160 Bandung and open daily from 10.00-22.00.
9. Bandros City Tour
Bandros stands for Bandung Tour on Bus. As the implied, this is a good service for those who want to know and enjoy Bandung attractions including its situation and tourism spots at the downtown. You can find Bandros at Jl. Indramayu Antapani from 08.00 to 16.00 but make sure to do a reservation first. This sort of tourism bus is red-colored with two layers resembling London bus in a smaller size.
The interior is full of classical touch for bringing passengers come back to the past. This wooden floor bus enables passengers to enjoy Bandung nuance clearly from the bus as it is covered by clean and colorful glass. Once you pay an entrance ticket for this service, you will take 30 minutes on the bus and enjoy the beautiful Bandung, A tour guide will help you dig deeper information about Bandung and its beauty. Great places to visit in Bandung Indonesia.
10. Floating Market Lembang
Remember Venezuela? Floating Market Lembang brings the same sensation of entertaining on the boat. As the name implied, you can enjoy shopping experience at an extraordinary place by visiting this spot. It resembles and adapts the concept of floating market found in Kalimantan or Thailand so you will get the new experience of shopping without having to go too far away. Typically, you will find various products of traditional and international food from the snack to materials for your meals. For entering this spot, you need to pay 15k IDR but it would not be useless as you can also enjoy other facilities, although some of which require you to pay more such as riding ATV, riding water cycle, riding boat or feeding gooses and visiting cactus parks inside. Put in your mind that this place is also very reachable as it is located at Jl. Grand Hotel 33 E, Lembang, Bandung. So, we can enjoy new sensation of buying in market. It is so fun!
11. Laktasari Mini Farm
What to do in Bandung Indonesia? Laktasari mini farm offers a new concept of farm in the form of traditional farm simulation at the modern mall, PVJ or Paris Van Java mall. Generally, the main visitors of this spot are children because it gives education and entertainment on how a farming works. Parents and adults also like to invite childern visiting PVJ because as they go shopping or hanging out, children can play and at Laktasari Mini Fam while having fun and getting much lesson. Thus, there are four main areas where children can enjoy, which are goat, cow, sheep, and rabbit areas. Thus, they can play with those animals and feed them then learn to treat animals.
12. Traffic Park of Ade Irma Suryani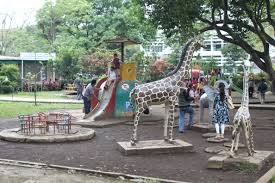 This edutainment tourism spot enables parents and teachers to teach children about traffic signs and riding ethics. Specially designed based on edutainment concept, all properties is safely set so that it will not endanger children while doing simulation on riding. As the best places to visit in Bandung Indonesia.
Therefore, they can learn how to ride properly using replica of street, vehicle and traffic signs. Inviting your children during holiday to this place would be a great choice. Thus, back in the old days, this place was the defense center of Hindia-Belanda through war. Yet, now this place is open for public and built as park. Meanwhile, the name "Traffic Park Ade Irma Suryani" came from the daughter name of A.H Nasution. Indeed, Traffic Park Ade Irma Suryani is only open on Mondays, Thursdays, Saturdays and Mondays with ticket price RP. 5000. Well, it is a fun, cheap, entertaining, and educated park for your holiday option.
Natural Spots
13. Maribaya Natural Tourism
Well, Maribay wasn't a good place to visit. It was dirty and used for nasty place. Meanwhile, Maribaya now is a super beautiful, amazing, and fresh place to visit. Thus, Maribaya Natural Tourism has a waterfall called Maribaya, which is its main feature, heightening about 25 meters. Usually called by Maribaya curuk, this spot becomes one of the most favorite natural tourism spots at Bandung since it also offers beautiful view, fresh air and great experience inside the small jungle.
Spending your holiday with family or friends would be more enjoyable by visiting this spot as it is also equipped with culinary center around. Reaching this place is also relatively easy because visitors can reach it through Rembang. Located at Jl. Maribaya, Lembang, visitors just have to pay 8k IDR for the entrance ticket. Another main feature of this spot is warm water pool which is also believed as effective medicine for varius diseases. Well, we can enjoy the waterfall now for sure. It is naturally beautiful.
14. Tangkuban Perahu Mountain
Indeed, you better now visit Tangkuban Perahu Mountain if you are in Bandung. Meanwhile, Tangkuban Perahu Mountain is a legendary tourism spot located at the north of Bandung downtown. A Legendary rumor said that this volcanic mountain was from a reversed ship at the old story of Sangkuriang. In addition to its legendary side, Tangkuban Perahu also offers good view, fresh air and great experience so that visitors like to visit it more and more.
The most popular feature of Tangkuban Perahu is its crater as it actively operates and emit sulfur. Thus, Tangkuban Perahu has a super beautiful view, it's natural, and it's so amazing. You can walk by and enjoy its mountain air. Also, it costs cheap if you want to come over. Despite its main mountain trip, you can also visit another beautiful views, there are Ratu Crater and Domas Crater. In the end, Tangkuban Perahu is seriously the best place to visit if you ever dream to walk through mountain in the big city. Bandung Attractions for you.
15. Kawah Putih
Indeed, Kawah putih brings you the sensation of New Zealand or somehow like in Europe countries in winter. Meanwhile, Kawah Putih or the White Crater is a popular tourism destination of Bandung. Local, regional and international tourists like to visit Kawah Putih as it offers special features they would not find them nowhere. It is actually a lake and/or volcanic crater with green water surrounded by white sand.
Therefore, the water looks like white because its surrounding is white colored. Seen from far, Kawah Putih looks like a spot surrounded by the rain of snow for its fresh air, clean water and white sand. Located about 50 km at the south of Bandung, visitors can easily reach this spot by public or private vehicles. It is also believed that the color of water of Kawah Putih regularly changes because of the sun light. So, Kawah Putih can be the best spot to visit whether with your best friends or your lovers. Surely, they are going to love you.
16. Situ Patenggang
Situ Patenggang offers natural tourism destination you will be sorry to miss visiting it. Located not quite far from Kawah Putih, particularly at Jl. Ciwidey-Rancabali, Patengan, Rancabali, Bandung. Situ Patenggang is a legendary spot in which people believe in a story related to it as well as like to visit and enjoy its charms. Situ Patenggang itself is a lake surrounded by a large tree garden and a few small waterfalls. If you would like to visit this place, you just have to pay a very affordable entrance ticket, which is 15K IDR.
Do not think that you will just enjoy a beuatiful scenery. You can also ride a small boat and become the happy passenger enjoying a very beautiful view of Situ Patenggang. In the center of lake, you will find a small beutiful island called Island of Love (Pulau Cinta) where local people believe it was a spot of meeting between two lovers.
17. Kampung Gajah Wonderland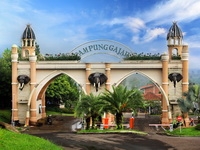 Kampung Gajah or the Village of Elephant is an integrated tourism center which can satisfy you and your family's fantacy. Located at North Bandung, visitors of this spot are increasing day by day as it is reachable and equipped by complete facilities. As the slogan of Kampung Gajah, one stop recreation, children can play and enjoy various games inside numbering about 20 main types.
Culinary spots are also available around as well as fashion outlets. Thus, there are twenty spots in Kampung Gajah Wonderland that you can enjoy such as waterboom, horse riding, futuristic train, buggy adventure, children playground, kiddy pool, biggy family, sky rider, octopus rider, wave pool, bungee trampoline, big tornado pool, aqua boat, elephant travel, and mini buggy. Thus, the most favorite spot is sky view with air balloon. Indeed, Kampung Gajah Wonderland is complete entertaining spot that belongs for family trip.
18. Sari Ater Hot Spring
Sari Ater Hot Spring is another natural tourism spot you will be sorry not to visit it. It would be a good choice to visit this place at Jl. Ciater, Subang, after having one day trip at other spots of Bandung. Having warm bathing from the natural spring of volcanic mountain, you will get your body and sould refreshed.
People also believe that the natural warm water can heal various diseases so this would also be good for your therapy. Generally, you can choose one or more among five public pools yet if you want to more private pool, you can pay more to get the facility. For the entrance ticket, you must pay 30k IDR but you can satisfy your self because various games are also available inside, from paintball, flying fox, high rope etc.
19. Ranca Upas
In your visit to Kawah Putih, it would be good for you to visit Ranca Upas, popularly known as camping area. Inside Ranca Upas, you will also find reservation center of deers so inviting your children to Ranca Upas would be a good idea. They can directly show and observe the deers while feeding them by giving carrots. Children can also enjoy various outdoor games and feature, including a beautiful wooden house.
Meanwhile, adult visitors can enjoy warm water pool inside Ranca Upas. Meanwhile, Ranca Upas has 215 hectares large and this is a protected forest of Bandung. Indeed, you will feel a very great experience camping in Ranca Upas as it has a super beautiful view with its fresh air, blue mountains scenes, natural trees, and blessed feeling. Moreover, Ranca Upas has temperature about 17 to 20 degree Celsius where it is cold enough for tropic country like Indonesia.
20. Strawberry Garden at Lembang and Ciwidey Hill
On the street to Lembang and Ciwidey, you will enjoy beautiful and natural panorama including strawberry garden spreading at the area. It would be ok for you to stop by and visit some spots allowing you to take strawberry directly from its trees.
Besides assuring the healthiness and the freshness of the fruit, you will also experience natural sensation being at the fresh and natural garden so your body and soul could also be refreshed. One spot you can consider is Natural Resto and Strawberry Land stretching about 1,5 hectare. Besides strawberry garden allowing you to take and ear originally planted strawberry, you can also find some restaurants offering various types of food made by strawberry such as strawberry frid gurame, liwet strawberry rice and so on and so forth.
Cultural and Religious Spots
21. Saung Angklung Mang Udjo
Saung Angklung Udjo is the center of traditional bamboo musical instrument center. It facilitates traditional music show, bamboo handicraft production center as well as educational laboratory for those who are interested in learning and preserving Sundanese traditional art and culture.Indeed, Angklung is the traditional music instrument of Indonesia and in Sanung Angklung Mang Udjo, you can learn how to play it.
Moreover, you can also learn about the history and the songs that will sound so beautiful with Angklung instrument. Also, Saung Angklung Mang Udjo is a one stop cultural where this place presents performance venue, bamboo handicraft centre, and bamboo instrument workshop. So, if you want to know more about West Java culture of Indonesia uniqueness, you can visit Saung Angklung Mang Udjo.
22. Masjid Agung Bandung
Masjid Agung Bandung (Bandung great mosque) is one of Bandung landmarks as it is a prestigious building with the twin tower available enabling visitors to reach its summit through the elevator inside the town.
When visitors arrive at the inside summit, they can enjoy Bandung scenery from the top. Located at the downtown, particularly at Jl. Dalem Kaum, Alun-Alun, Regol, Bandung, visitors like to visit this place as they are easy to reach the location. The underground floor is for parking area while at the front side of the mosque, found a beautiful natural park making visitors feel at home staying a while at the spot.
Indeed, Bandung is an alternative holiday destination that is also great. Bandung has many beautiful places that can make you feel fun and relaxed. As a result, Bandung attraction are worth to visit while there are many fun things to do in Bandung.