South Pesisir Regency is a shore area in the southern part of West Sumatera province. South Pesisir stretches from Padang to the southernmost parts of West Sumatera province.
This regency also borders with the other two provinces, Bengkulu and Jambi. Another famous city in West Sumatera is Solok. Get to know these tourist Attractions in Solok City.
This regency does not only have a long shoreline, but also a fertile land. You know it just by looking at the lush green forests and farms. Visiting South Pesisir will definitely satisfy your need for amazing attractions. Here are the 5 amazing tourist attractions in South Pesisir, West Sumatera.
Carocok Beach is one of the beaches located in South Pesisir, West Sumatera. This beach has a relaxing and comfortable atmosphere. From this beach, tourists will be able to enjoy the clear sky, the blowing wind and the sparkling white sand which is exposed to sunlight.
This beach is always full with tourists, especially on weekends and holidays. The access to this beach is easy and convenient too. The facilities on this beach are also complete so that tourists can spend their holidays comfortably.
There are some tourist attractions nearby the beach too. Just a few meters from the beach, you will find a cluster of coral islands. The coral islands are connected by a bridge to the tip of Bukit Langkisau. This hill also becomes one of the famous tourist spots in Painan.
Do you know that Carocok Beach is also listed in beaches in Sumatra, Indonesia.?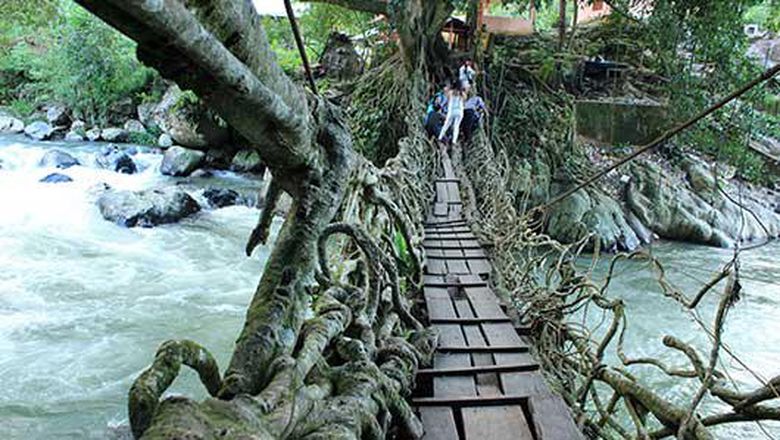 Akar Bayang Bridge is basically a bridge that is formed by the fabric of the two roots of the trees. These two roots grow across and extend over a stream in Bayang Utara Sub-District, South Pesisir Regency, West Sumatera.
This bridge is 25 meters long and 1.5 wide. This height is measured from the surface of the river. This bridge is also used for rafting activity.
Bayang Sani Waterfall is located in Kota Baru Village, Bayang Sub-District, South Pesisir. To reach this waterfall, tourists have to travel as far as 60 km from Padang City. This waterfall consists of several levels.
If you wish to visit more waterfalls, then these waterfalls in West Sumatra should be put on your list!
The first level of the waterfall is about 80 meters high. It consists of three branched waterfall flowing flicker on rocks. By having a width and height of more than 50 meters, it can be said that Bayang Sani Waterfall is the largest waterfall located in South Pesisir.
Just beyond the waterfall, tourists will be able to enjoy water play. There are also some rental tires recommended by tourists who cannot swim.
Bayang Sani Waterfall has five levels, according to the locals, however, it can only be visited up to the second level. Tourists have to climb the hill located next to the first level waterfall. It will take around 500 meters. There are only a few people who can reach the second level of this waterfall.
Kerinci Seblat National Park
Kerinci Seblat National Park is one of the largest national parks in Indonesia. It protects almost 14,000 square kilometers of tropical rain forests in western Sumatra. This national park is also considered as a UNESCO World Heritage Site.
Besides Kerinci Seblat National Park, Indonesia also has another famous national park called Gunung Palung National Park. Read about it in exploring Gunung Palung National Park,.
Barisan Mountains dominate this park. Tourists can enjoy the scenery of active and dormant volcanoes including Mount Kerinci. Mount Kerinci is listed as one of the mountains to hike in Jambi.
This national park also protects the headwaters of some of Sumatera's most important rivers flowing from springs and peat swamps. In terms of flora and fauna, Kerinci Seblat is famous among bird-watchers as it is the best place to see most of the highland Sumatran endeic bird species.
The species of birds you can watch are Schneider's Pitta, Sumatran Cochoa and even Salvadore's pheasant. Tourists can also find some wild Sumatran tiger, elephants, clouded leopards, sun bears, tapirs and seven species of primate. Besides being home for some fauna species, it is also home for some floras.
You can find the biggest and tallest flowers in the world, Rafflesia arnoldi, which can grow up to a meter in diameter. Numerous orchids can also be found here and they are mostly flowering during the months of September and October.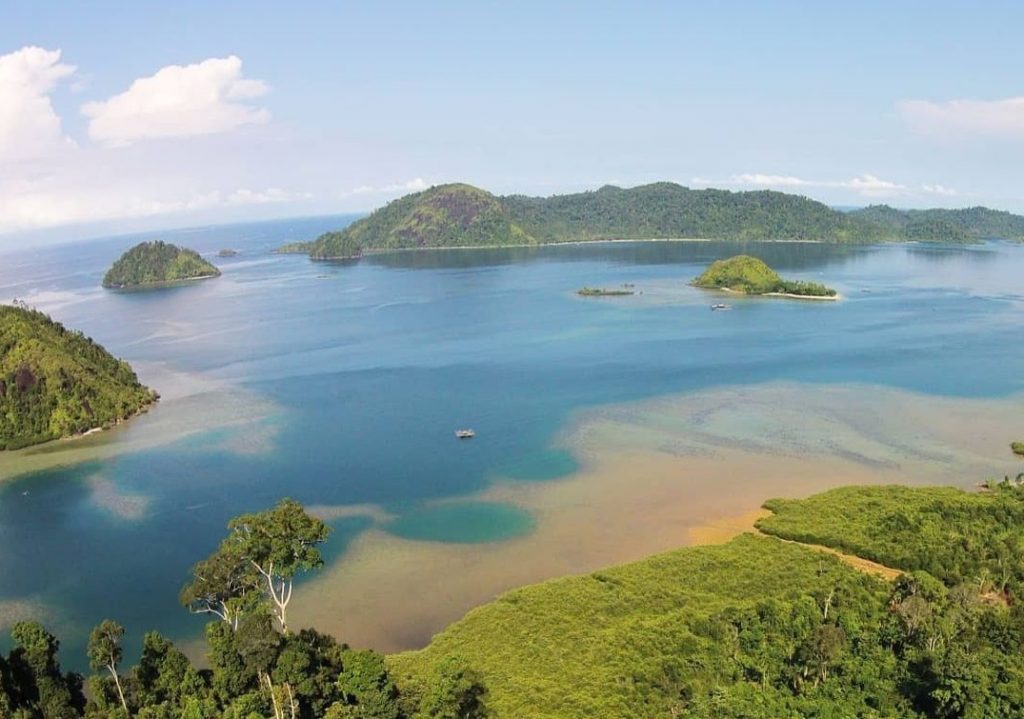 Mandeh Sea Park is located in the middle of Sumatra island facing the west side. It directly borders the Indian Ocean, however, it is known for having calm seas because of being surrounded by nine small islands.
As a result, this sea park looks like a blue lagoon. Due to its outstanding beauty, Mandeh Sea Park is often called as Raja Ampat of the West!
You can do some water activities here, such as diving and snorkeling. If you don't feel like you want to do it, then you can just enjoy the view of the islands, sea and sunset.