West Sumatra is one of province in Indonesia that have many attractive tourism potential. Its start from natural tourism like the beautiful ngarai sianok, culture and history as can be some thing to do in Padang, and also enjoying the delicious foods of west sumatra.
But, which is not less good than tourism in West Sumatra, is awesome natural tourism, that is waterfall. West Sumatra also have beautifull waterfall with its own uniqueness. So here they are!
1.Nyarai Waterfall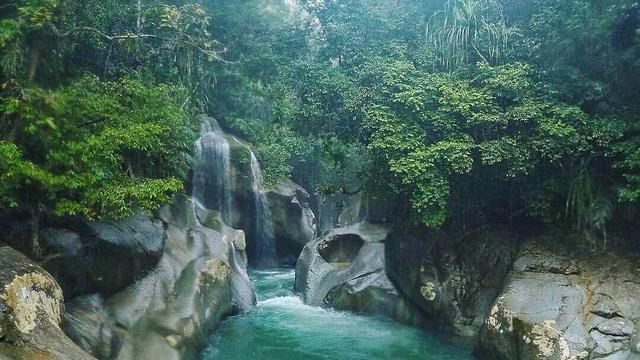 Located at Lubuk Alung, Padang Pariaman, Nyarai Waterfall is one of most favorite destination. Nyarai waterfall is around by big rocks with shady trees that is soothing. And the calm and clear water make this place are safe for swimming.
Although it took a struggle to get to this place because you must through forest and river, with just only Rp 20.000 you will not be disappointed when you see the awesome view of the waterfall.
2. Lembah Anai Waterfall
Yes you didn't see wrong, that Lembah Anai Waterfall is on the side of the road. Lembah Anai is located at side of the road to Bukittinggi, that is the flow of Singgalang gunung. Beside have beautifull and exotic view, the freshness and the clear of the water, make this waterfall being the icon of Padang city. And its free to see this waterfall.
Its free to visit Lembah Anai Waterfall. But you must pay attention and search the best time to visit this waterfall, because this waterfall once went berserk, that causing landslides.
3. Sarasah Ulu Gadut
Sarasah Ulu Gadut is a waterfall in Koto Baru, Padang, West Java. Although not too familiar like the other waterfall, and with all its limitations, this waterfall is also being one of the mainstay tourist destinations in Padang city. But this condition make the calm water so can enjoy the beautifullness of the water structure.
This waterfall give beautifull view from 7 levels of rock-like incline of a pyramid and this sight is rarely found in other places. You can pay just Rp 5.000 to enjoy this exotic place in Padang, and enjoy the cool breeze and the gurgling waterfall.
4. Lubuk Hitam
Next waterfall is Lubuk Hitam Waterfall that have levels like Sarasah Ulu Gadut, but just have 3 levels of rock. But this waterfall is one of queen of tourism in Padang.
Because the 3 levels have different altitude distances and that place is directly facing the Indian Ocean, so this place is very interesting to explore.
Its free to enjoy this view and when you are lucky, when there is sun refraction, it will present a natural phenomenon, namely the appearance of a rainbow.
5. Lubuak Tampuruang
Lubuak Tampuruang waterfall is located at Sarik mountain, Kuranji-Padang, that 20 kilometers away from city center, that city center is the best place to splash your cash in padang. Lubuak Tampuruang is one of most beautifull destination in Padang. This place have swimmingpool spot like coconut shell with 2-3 meters depth, and moss green water.
The entrance ticket to Lubuak Tampuruang is only Rp 3.000 and you can enjoy the view and swim at this place because of the calm water.
6. Sarasah Bunta / Harau Valley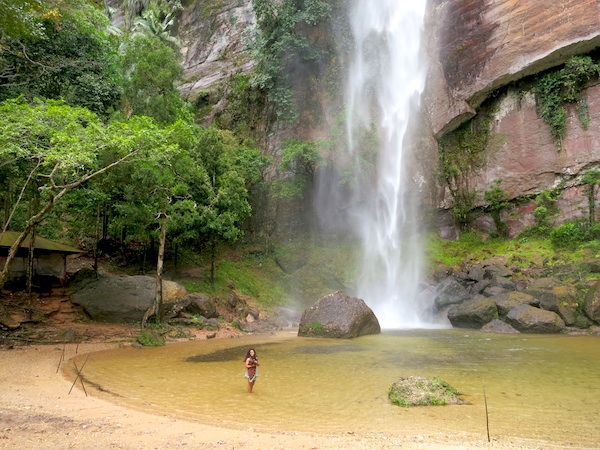 Sarasah Bunta waterfall is located at Tarantang, Lima Puluh Kota city, west Sumatra. This waterfall have awesome view because the water flowing through the stone wall and underneath there is a pool where you can bathe, you don't believe the local people if you wash your face there will look younger.
This waterfall is favourite destination for foreign tourists, and its free to enter this place.
7. Niagara Koto Pulai Dam Waterfall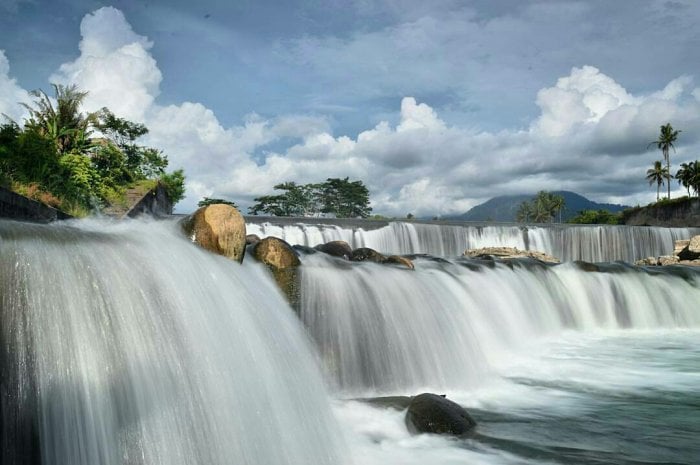 Just like the name, Niagara Koto Pulai Dam Waterfall is miniature of Niagara Waterfall. This waterfall topographies at first glance reminds us of the waterfall on the United States-Canada border. So thats the reason why visitors want to visit this place that located at Koto Panjang Ikua, Padang. And its free!
Initially, Niagara Koto Pulai was built to withstand the swift flow of the river leading to the estuary. Then, the popularity of this waterfall in West Sumatra increased when the photos were promoted on social media.
8. Baburai
Baburai Waterfall is located at Nagari Sikucur, Padang Pariaman. This waterfall recently operated at 2013 and being one of the complex nature vacation spots, because there are additional adequate facilities.
Baburai waterfall is similar with curug Anglo in Lampung that the place you can doing some things to do in Lampung. And its free to enjoy the Baburai view with gurgling and fresh water there. Beside that, there are mini Municipal Waterworks and hydro powered generator.
9. Lubuak Rantiang/Ngalauan
When west Java have Cikondang waterfall that was fascinating waterfalls in west java, west sumatra have Lubuak Rantiang Waterfall that located at Balai Gadang-Koto Tangah, Padang. This waterfall have awesome view with whitish rocks and bluish water. You just only pay for Rp 5.000 to have swimming, cliff jumping, or also enjoy this waterfall view.
10. Lubuk Batang
One of hidden paradise in west sumatra is Lubuk Batang Waterfall that located at Limapuluh kota city, west sumatra. This waterfall is very unique and beautifull, because its located between two flanking rock cliffs and there is sand in the middle of the waterfall. Interestingly, the sand is same as the beach sand. Its free to visit this place but visitors is must be keep the environment clean.