In Indonesia, you can find several islands that are visitable. It's not only limited to Komodo or Bali island which everyone knows already. You may as well visit the others like Kalimantan (Borneo), Java, or Sumatra island. Sumatra is an island, the big one, located in the far West of Indonesia.
There you can find several unique areas known for their amazing tourist spots like Medan , Palembang, or maybe a place rich in history like Bukittinggi. You may enjoy the beautiful things in Padang as well.
But, aside from the crowded cities, there's always quieter locations that might be unnoticed in the tourists radar. One of the places is Ngarai Sianok.
Ngarai is an Indonesian word which means Canyon.This Canyon is different from the Great Canyon in America. If it lacks vegetation, this Ngarai Sianok is a different picture on the mirror.
It still has a green environment, looks perfectly virgin despite the increasing number of tourists. It also works as a great popular attraction of West Sumatra. Want to know better about it? Here's all you need to know about the beautiful Ngarai Sianok.
What Is It?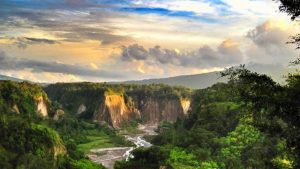 · Name of The Place : Ngarai Sianok (Sianok Canyon)
· Location : West Sumatra
· Opening Hours : Almost 24 hrs
· Entering Fee : Rp5.000,-
Ngarai Sianok or Sianok Canyon is a deep canyon located inside the Bukittinggi area in IV Koto sub-district. Because of its unmatched beauty, it became one of the top tourist attractions of West Sumatra.
The characteristics of this Canyon are almost similar to the other canyons around Indonesia. It has 100 meters of depth, 15 kilometers long, and 200 meters in width. All around the area is still a green-looking environment that is rich in vegetation and animals' lives. The canyon itself is a part of the Great Sumatran Fault.
This location will cost you no more than a Rp5.000,- rupiah money paper for entering. It's not that big of a deal, but what comes within will definitely surprise you.
What to Expect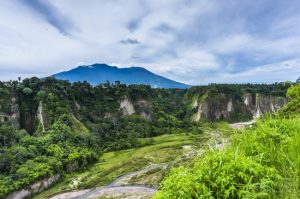 The place is not only limited to the beautiful scenery. But, it's also richened with the humble food restaurants located nearby. Realizing the potential customers from all over the place, some people decided to make some food places around it. This way, you can enjoy some of the best West Sumatran foods, including Itiak Lado Mudo. We won't talk about it here, try it for yourself.
After enjoying a Rp45.000 worth of meal (less than 50 dollars), you can finally enjoy some of the beautiful things here, like some of the most beautiful lakes in Sumatra or the man-made attractions. All is in here and completed.
Facts About Ngarai Sianok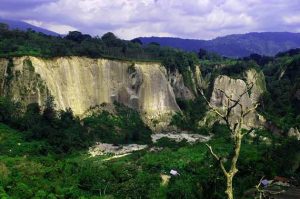 As mentioned above, Ngarai Sianok is actually a part of the Great Sumatran Fault. The Earth's plate movement made the islands divided into different big areas, creating these long deep grounds that grow into Canyons. Long time after that happened, some Canyons were born including Ngarai Sianok and slowly became a popular attraction for people.
In Ngarai Sianok, you won't find waterfalls or maybe lakes like the pretty Lake Maninjau of West Sumatra. Instead, you can find the Sianok River, or as people call it, Batang Sianok. The river doesn't have that dangerous level of water flow, and could be an interesting thing to enjoy.
This is what came in mind of Qurays, a sea-sport organization. This group created a new attraction inside Ngarai Sianok, which is the river tour using kayaks or small boats from Lambah to Palupuh
Other than the natural environment, you can find several places like markets or restaurants. Even though it seems to be a virgin location, because of how luring it is to tourists, many businesses were built around the Canyon.
You can buy several items made by locals in the market, or maybe some traditional snacks and candies. Sumatran accessories are top notch in terms of quality.
The foods are spoiling as well. Somehow the Indonesian traditional foods are the best for the tongue. In Ngarai Sianok, you may find some of them like the previously mentioned Itiak Lado Mundo or a traditional food in a Satay form like Sate Mak Aciak.
What You Can Do in Ngarai Sianok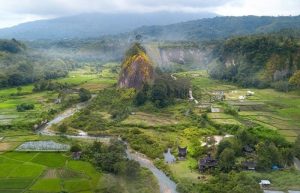 Well, with all that mentioned, there's so many things you can do. Other then enjoying the Canyon itself, there's some activities you should do too, like:
· Visiting the river. Even though you can't enjoy waterfalls like the best waterfalls in Sumatra here, it's best to take the full advantage of Batang Sianok. The river touring is also fun to do, especially with family or friends.
· Enjoying the culinary. From the instant noodles to the delicious traditional foods are always present. Pick the one you want.
· Visiting Rumah Pohon Inyiak (Inyiak Tree House). You may also visit the nearby tree house as well. It costs around Rp5.000 in weekdays and twice at weekend. Some houses are located within the area, but the popular one is the tree house, used as a place for sight-seeing.
· Buy Souvenirs! Great to have the original traditional hand-made products by the locals. You could buy some at Lereng Market located nearby. You may also buy the traditional clothing as well, great for display.
· Buy Snacks. Visiting Rumah Sanjai (Sanjai House), you are able to buy gifts, sweets, or snacks.
· Visiting The Great Wall. The Great Wall of Sianok of course, which is Koto Gadang walls.
Ngarai Sianok is possibly one of the best attractions you could visit not only in West Sumatra, but also generally in Indonesia.
It still looks the best despite the crowded population, giving you the features that are not limited to the natural environment only. Fully accommodating the tourists with restaurants and affordable hotels as well. It's a great pack for a great holiday.