Hello again, meeting you in this beautiful day on AllIndonesiaTourism.com to talk some more about Indonesian attractions. After we talked and explained about what kind of attractions you can find in the area of Canggu Bali, we want to tale you to the Sumatra island again, which filled with all the natural attractions you can find there, like things to do in Sibolga North Sumatra.
We want to go to an area in this island called Padang Panjang. It's a wide area that located in the western part of Sumatra island, with its things to do in Northern Sumatra. In here, you can also find different kinds of attraction, starting from down the ocean to top of the mountain. The culture in here also very thick, so it's the best place to learn about the Sumatran culture, especially Minangkabu. So, we already prepare the list of things to do in Padang Panjang which you can see right below :
1. Minangkabau Museum (Information and Documentation Culture Center)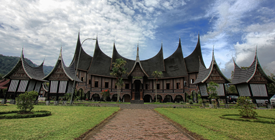 The first one, which also looks as great as things to do in Parapat is the Minangkabau Museum. It's a museum of Minangkabau culture, that's why coming in here with the purpose of learning the culture and history about Minangkabau is really perfect. Looking at the building, it has the form like traditional house of Minangkabau, which usually called as Rumah Panggung.
Inside this Minang house, you can witness all the things that have relation with Minangkabau. Art also included as part of the museum. They are displayed using both video and audio. So, upon entering the place you may heard the Sumatran traditional songs which can bring the atmosphere of the place neatly. The entrance fee is also very cheap though, only Rp3.000,-
Location : Silaing Bawah, West Padang Panjang
Tips : Don't do vandalism in the area of museum
2. Minang Fantasi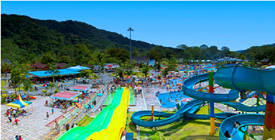 Next one is Minang Fantasi. It's time to splash some water inside this wonderul waterpark. Minang Fantasy is a perfect place for kids and family in general. It has so many kinds of ride, that suitable for basially all ages. The adults can try something extreme like pumping their adrenaline in a very high water slide, and for the kids, they can swim in a the pool that designed safely for them.
The location around is very green and comfortable. It's still inside the area of Padang though, but in the higher land. Because of the calming environment and weather, many people feel so relaxed when spending their time in Minang Fantasi. For the entrance ticket, it's Rp40.000,- from Monday – Friday, and Rp50.000,- for weekend.
Location : Sutan Syahrir Street, Silaing Bawah
Tips : To avoid the coolest condition of the weather, comming here on 9 am – 10 am is recommended.
3. Lembah Anai Waterfall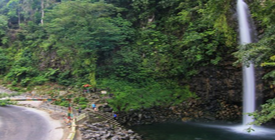 On the third place is Lembah Anai Waterfall. This waterfall is one of the greatest waterfalls in the area of Padang Panjang, which is known for having so many waterfalls in its area. It is a mascot of tourism in the West Sumatra though, so its popularity is kind of unbeatable by other attractions.  From the Padang city, it'll take about 2 hours because the distance inbetween is about 66,4 km.
But, the journey to the Lembah Anai Waterfall is very much likeable, because during yout trip, you can see how beautiful the nature in Padang Panjang. The view of green forest and mountains will spil your eyes. They are completed with variants of animal that also live in that area peacefully. It requires only Rp3.000,- to enter.
Location : Singgalang, Sepuluh Koto
Tips : Better bring your own stuff like slipper or jacket, because sometimes it's cold in here
4. Asasi Sigando Mosque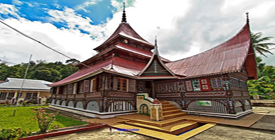 In The Veranda of Makkah, which is the nickname of Sumatra, there are a lot of mosques. As an island with the principal of Islam, it is a known fact. Some of those mosques have several unique history of course, like this Asasi Sigando Mosque, which also looks as great as things to do in North Sumatra.
Asasi Sigandi is actually the oldest mosque in the area of Padang Panjang. It has another nickname, Asasi Sigando Nagari Gunung. It also has a very authentic traditional architecture of Minangkabau culture. Many say that, this Asasi Sigando mosque is older than Padang Panjang itself, even being a standing proof of Padang Panjang establishment.
Location : Sigando, Padang Panjang
Tips : Taking a prayer in here in the day when you explore Padang Panjang is very much recommended.
5. Lubuk Mata Kucing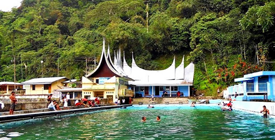 Next attraction is Lubuk Mata Kucing. Mata Kucing means Cat Eye in English. What does it mean? Let's find out the answer by knowing about the place first. This Lubuk Mata Kucing is actually a pool or bathing place, the famous one in Padang Panjang.
Lubuk Mata Kucing can also be said to be the first waterpark-like place in the area. But it's popularity keeps decreasing because of its competitor, Mifan. But, for the people who want to relax in a very nice bath surrounded by mountains, you can come to this Lubuk Mata Kucing, which its water is very clear, so even cats can see it (the origin of the name Mata Kucing). Its entrance ticket is also way cheaper, only Rp1.500,- per person.
Location : Pasar Usang, West Padang Panjang
Tips : Better bring a jacket because during the morning, it's like freezing in here
6. Seven Steps Waterfall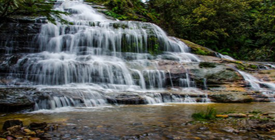 This attraction is always mentioned in our articles, especially the ones that have the relation with attraction in Sumatra island. Seven Steps Waterfall is already known by everybody. It's unique form is always hipnotizing everyone to come there.
Even though the trip to location is considered a little bit challenging, but the view of Seven Steps Waterfall is always worth the work. During your trip, you may notice some things amazing like the wooden bridge, mountains, hills, and the forest that surrounding the area. Also, it's free to enter the place. 
Location : Silaing Bawah, Padang Panjang
Tips : You must have a fit body to start your trip to this waterfall
7. Batu Batirai Cave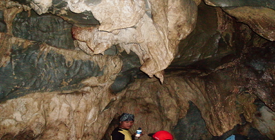 The next location is a cave that looks as wonderful as things to do in South Sumatra. In the area of Padang Panjang, there's one explorable cave called Batu Baturai. This cave is really good for nature lovers out there who want to look deep down inside it.
Reliefs inside the cave are also very interesting to see. The form of the cave is also very unique. Stones in there like forming a curtain. That's why it was named as Batu Batirai (Stone Curtain), because Tirai is actually means curtain.
Location : Padang Panjang, Sumatra (near Andok river)
Tips : Because the condition of the cave that sometime unpredictable, it's recommended to hire a guide who at least knows how to explore the Batu Batirai Cave.
Other Things to do In Padang Panjang
Like information we wrote everyday on the site, we also want to include the other options that also being a favorite one for you. They are included in the small list that we have below, a nine different places that you should visit in this part of West Sumatra area. So, here is it, the small list of things to do in Padang Panjang, Sumatra.
Harau Canyon
Taruko Cafe and Resto
Lawang Adventure Park
Lubuk Bulan Waterfall
Guguak Sirai Hill
Pagang Island
Alahan Panjang Tea Garden
Laut Tinggal Lake
Gadih Ranti Waterfall
So that's our topic for today, the things to do In Padang Panjang. Visiting this part of Sumatra island is a great fun, make sure you make full of it. See you !
A View at Lembah Anai Waterfall