As you can see in several islands of Indonesia, there are many choice of either attractions or maybe just the usual spots that have some kind of unique speciality. You can find them all spreading across the nation, and some of them are of course worth mentioning, like visiting the things to do in Mount Bromo for example. Other than mountains, there are several spectacular atural attractions like waterfalls, rivers, and lakes that so worth a visit.
You can find some references about where to find them, but, we just want to tell you that a lot them can be found within this big province of Sumatra, called North Sumatra, for example, you can see these things to do in Parapat. In this Northern Sumatra, there are some choices to be pick for the best attractions. You can see these options below :
1. Maimun Place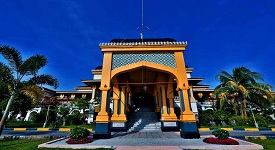 The first things to do in Northern Sumatra is to visit the legendary palace. To witness one of the greatest palace standng, you should go near Medan City to see directly the greatness of the Maimun Place. Walking to it, you can see e gigantic entrance hall and also the vast green grass that actually well maintained by the garden staff. That itself is pretty awesome to see.
Then it's time to the core, the inside of the Maimun Palace. The place is not very busy with people in the weekdays, so you can enjoy seeing the beautiful achictecture of it without anyone interupting you. Other than that, it will be a nice little tour to start your journey in Northern Sumatra,
Opening Hours : Opens everyday from 8 am – 5pm
Entry Ticket : Rp15.000,-
2. Medan Great Mosque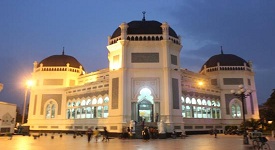 Here is the top things to do in Northern Sumatra Indonesia. As one of the best things to do in North Sumatra the name of Medan Great Mosque can not be missed. Thsone is a well respected mosque because of its beautiful building and the people that will use the mosque with peace in heart.
Like said in the paragraph above, the exterior and the interior are beautiful, because having the combination of architecture based some countries, like Spain, Middle East, and also India. Because of that, your comfort in here will be much guaranteed.
Opening Hours : Opens all day long from Monday to Sunday
Entry Ticket : No entry ticket
3. The Dolok Tinggi Raja's Hot Snow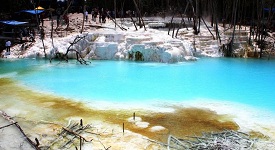 If you want to try the sulphur hot spring in Italy, in the feels at least, you can have the same feelings when you visiting ths Dolok Tinggi Raja's Hot Snow. You know what that meas, the hot snow is not a snow of course, rememberning Indonesia doesn't have Winter. But, the hot snow is another term for sulphur.
You can see the view around before you finally jump into the hot pool. The smell is not that bad, you can abandon it once you finally can get relaxeby the power of the hot spring itself. It can give some good benefits for your health though, try it.
Opening Hours : Opens every time
Entry Ticket : Rp10.000,-
4. Toba Lake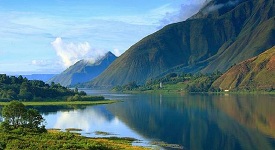 Just as the beautiful lakes in things to do in Bengkulu, this very famous lake is indeed really worth some visits, not only a visit. By looking at the lake only is mag every one's heart start to melt. It's so beautifula and somewhat peaceful even located in a bit busy area.
First thing first, you can take a trip to the capital city of Medan, and then you can continue your journey to the lake by taking a public transportation like bus or something. Then, after you arrive in the area of Toba Lake, you can re of the boats for taking yo to the center of the lake, orjust circlng around the area. It'll be fun to try one of the things to do in Northern Sumatra! Here is it Lake Toba Sumatra Indonesia
Opening Hours : Opens all day long from Monday to Sunday
Entry Ticket : No entry ticket
5. Linting Lake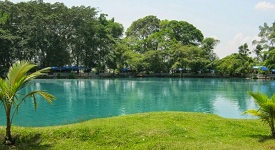 After visiting the well known, lake Toba Sumatra, you can also visit another lake that also has beautiful looking called Linting Lake. The Linting Lake is less famous than Toba lake, that's a fact, but its beauty covers all of its flaws.
The lake itself looks so lonely, even though it has such a wonderful water. A Blusih colour of water that considered rare to see in some lakes. You can also visit the lake with ease, without paying any entrance ticket to see it. Well, there are many top things to do in Northern Sumatra Indonesia.
Opening Hours : Opens all day long from Monday to Sunday
Entry Ticket : No entry ticket 
6. Mount Leuser National Park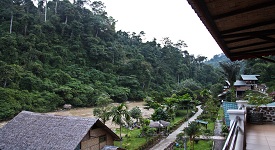 As the sixth place in things to do in Northern Sumatra, Mount Louser National Park with sere you with all of its advantages. Beside having some good places to rest, you can also visit one of the greatest mountains, Mount Leuser.
You can reach the top of it to witness the balanced environment of all areas in North Sumatra. There you can have the most peaceful feeling for your life. Then after that, you can go down to sip Sidikalang coffee. And that's good.
Opening Hours : Opens all day long from Monday to Sunday
Entry Ticket : Rp10.000,-
We also want to tell you aut the rest beautiful places of Northern Sumatra, all contained in this top things to do in Northern Sumatra Indonesia :
Tangkahan, a small spot within the area of Leuser National Park
Mount Sibayak, perfect spot to see the Medan city from above
Rahmat International Wildlife Museum dan Gallery, a little bit education wouldn't be bad
Madras Village, completely unique village you can find in the Medan city.
So that's our complete list of things to do in Northern Sumatra. Like said above, there you should find so many favorable places that you can pcik to spend the rest of your holiday. Even some of them is still unknown by many people, meaning that the place is still very exclusive and exotic, and of corse, still virgin. You can enjoy their true beauty for the next trip, but you can be prepared now. Have a great weekend!