South Nias is a regency located in North Sumatra. It is a part of Nias Island and is considered as the largest district on Nias Island. South Nias includes Batu Islands (the Telos), which is a group of island between Nias and Mentawai.
South Nias has become the most popular area of Nias as it has the world-class surf waves. There are also some of Indonesia's most spectacular cultural heritage site here. Get to know What You Should Know about Stone-Jumping in Nias, North Sumatra, Indonesia. Stone-Jumping is very famous!
There are so many places to explore in South Nias. The beaches are the main attractions in this island. Many surfers from other countries also love to visit the beaches here.
Also read the complete list of 25 Top Beaches in Sumatra, Indonesia #Heavenly Spots Ever! If you love surfing, then you should put these 4 outstanding beaches in South Nias into your list!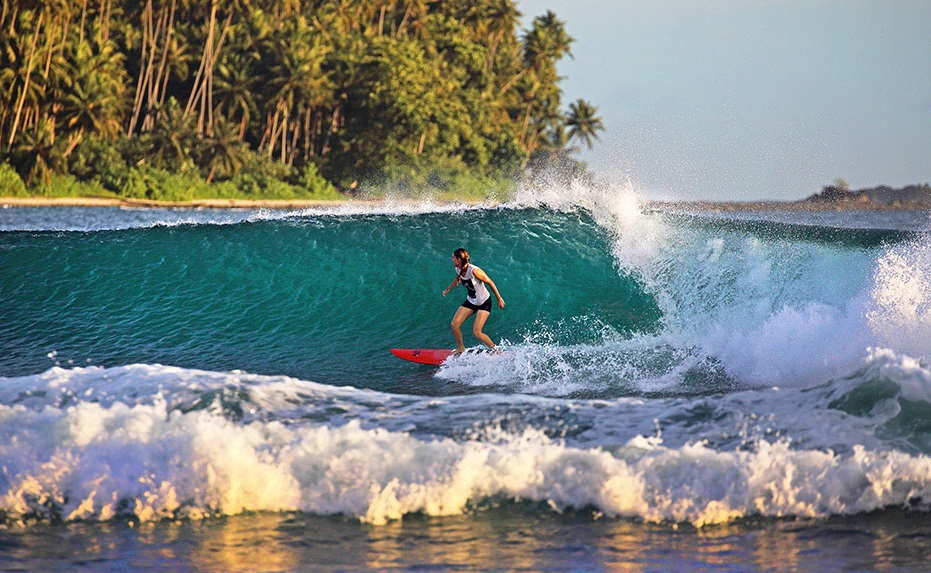 Becoming the most famous beach in South Nias, Lagundri Beach is located deep inside Lagundri Bay. If you start your trip from Sorake, it is about 20 minutes' walk. This beach is amazing as it has all the incredible things, from the nice white sand, turquoise water and swaying palm trees under which you can chill out in the hammocks.
However, this beach was ever washed away by tsunami in 2005 and the earthquake also knocked over what was still standing. For years, this beach was a mess, however, today, the beach has been cleaned up. The beach has not recovered completely. There is only one hotel and a surf school and you can still enjoy the west end of the beach.
Lagundri Beach is considered as the best and safest place for swimming in South Nias. During weekdays, the beach is deserted, but on Sundays, there will be hundreds of locals gather here.
If you wish to visit this beach, you can come here between June and July as the waves and the weather during these months are fine and surfing competitions are often held too.
Surfing lovers from all around the world visit this beach every year, especially between April to September. During that time, the weather is good so that they will be able to enjoy the waves that may reach seven to ten meters high. Besides, the push from the waves may also reach 200 meters.
If you love surfing, then take a look at these 13 Best Surfing Spots In Indonesia You Must Try.
This beach is a perfect spot not only for surfers but also for photographers. Photographers love to take pictures to capture the surfer's actions with the beautiful background of the beach.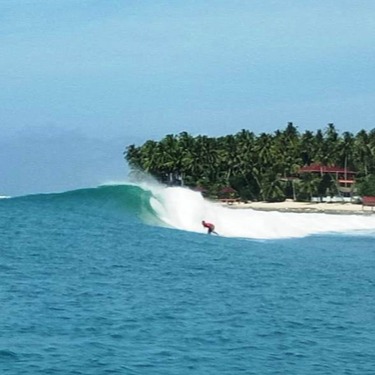 Sorake Beach is located in Teluk Dalam district, South Nias. This beach is adjacent to Lagundri Beach. Sorake Beach is also another popular beach in South Nias that has big and high waves. No wonder, it becomes a perfect spot for surfing.
There are some surfing competitions held in this beach. The participants are the locals and the surfers from all over the world. One of the surfing competitions held here is Nias Open. Hundreds of surfers from many countries participate in this competition.
There are three bays between Lagundri Bay and Teluk Dalam. The closest to Teluk Dalam is Baloho. This bay is very scenic and easy to access from the main road. You will find a resort which has a nice bar area next to the beach. You can spend your time eating and drinking while overlooking the bay.
This beach is always full with tourists, both the local and international. It is estimated that there are around 50 to 100 visitors coming to this beach during weekdays and it can be doubled during weekends.
You can also enjoy the seafood here. There are various dishes from seafood served in the restaurants nearby. The most famous dishes are grilled fish and lobsters.
While you're in Nias, make sure you consider these 30 Magical Things to Do in Nias Indonesia and put them on your list!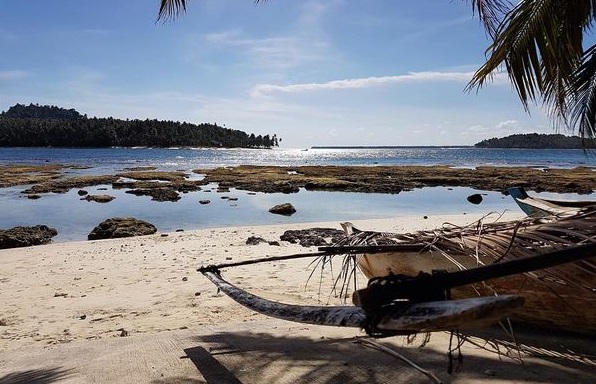 Nicknamed as "Hidden Paradise", the beach in this small island has an amazing panorama. This beach is considered as a virgin beach as it is still natural, but you won't surely regret visiting this beach.
Telo Beach is famous for having the white sand and clear water along with the beautiful waves. Besides, this beach is also known as one of the exotic snorkeling spots. You can enjoy the beauty of undersea world here.
Many surfers love surfing here as they said that the waves here is as great as the waves in Dewata Island, Bali. Get the complete list of the beaches in Bali in 5 Best and Breathtaking White Sand Beaches in Bali, Indonesia.