Having a wonderful holidays this month, many people in Indonesia would consider to spend their times in a special place located on the southern part of Indonesia called Bali island. The name of this island is very familiar now, remembering it's an island that mostly visited by foreign tourists. Thanks to the beautiful attractions that can be found within, like things to do in Pandawa beach Bali Indonesia.
People can do almost everything they want in here. They can surf, doing horse riding, taking a trip to the beautiful rice field terrace, hiking a mountain, or doing so much options of water sports available that they can find in one area in Bali, like things to do in Seminyak Bali. But beside that, Bali also having another area which has varieties of attractions called Canggu. In Canggu, you can find any other type of attractions beside the beaches. So, without further do, here's the list of the things to do in Canggu :
1. Echo Beach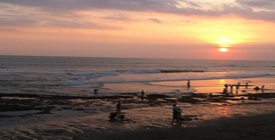 The first one that we're gonna talk about is the famous Echo beach. With all its plus, no wonder that it's a primadona of Canggu tourism now. The beach was named Batu Mejan at first, but after the development of a restaurant that putted on the cliff there, the beach also changed names to Echo beach. Reason is, because the tourists are more familiar with that name.
Beside a restaurant and also some resorts that located on the cliff, the main point of Echo beach is of course the beach. The calming situation is really suit all newly married couples. Many people doing surfing, swimming, or just laying their body on the sand waiting for the sunset. To enjoy all these benefits, you only need to pay the parking ticket only because it has free entrance fee. And the parking ticket is also very affordable
Location : Banjar Padang Linjong, Canggu Village
Tips : Coming to Echo beach in evening is recommended, because the view of sunset is unbeatable
2. Yoga Art Village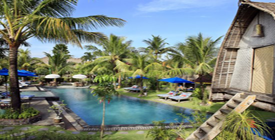 The next thing which also looks very good as things to do in Lake Batur Bali is Yoga Art village. So what is this? Is this some kind of residental village inhabited by locals? No, it is a resort for tourists which has two main dedications, for health and spirit. It has the architecture like one special building on the Central Java, which is Joglo house.
The houses in here look so different and contrast with local houses that located around it. The thing is, Yoga Art Village is a really perfect place to rest. Beside its calming atmosphere that brought up by those wonderful gardens, people can also use the place to do some kinds of exercise, like Yoga or just working out. The Price is vary though, based on the resort you'll order.
Location : Subak Sari street number 13, Berawa Beach, Canggu Village
Tips : Better book the places first on your way to Canggu.
3. Berawa Beach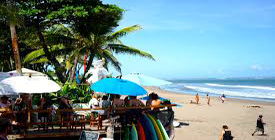 The next attrations is also a beach type tourism. Named Berawa beach, it's located in line with the other beaches you can find near it like Petingetet Beach, Batu Belig beach, and also Canggu beach. Berawas beach became a favorite one after people found out that this beach has a very good waves to do some activity like surfing.
No wonder that many tourists would use this Berawa beach instead of the known beach like Sanur or Padang-padang. Maybe because it's a bit calmer in here where there's not so many people filling the place. So, for the people who want to surf in peace, then Barawa beach can be a perfect choice to do that. And also, it has no entrance ticket.
Location : Berawa street, Tibubeneng, North Kuta
Tips : Better bring your own stuff in here to minimize expense
4. Batu Bolong Beach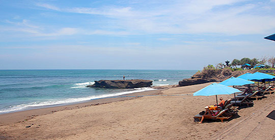 Another good beach aside from things to do in Hanging Gardens of Bali is Batu Bolong beach. There's another beach that has the same name though, but it's located way from Bali island. This Balinese version of Batu Bolong is rather different from that particular beach. Some times during a year, there's a ceremony that held inside the Batu Bolong temple.
The name of that temple is Ida Pedanda Sakti Wawu. It's considered as a sacred place, so if you want to enter just for tourism purpose, you better at least have a permission first from corresponsing people. In several occasions, you can see the ceremony of Melasti, which held by the people who live around Badung, Denpasar,Tabanan, and other areas.
Location : Pantai Batu Bolong street, Canggu
Tips : Don't act silly when you visiting a sacred place
5. Dolphin Eco Serenuty Restaurant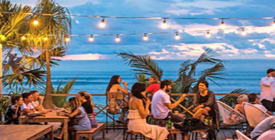 Next one is a place to rest and fill your stomach with the best Balinese foods you can get, called Dolphin Eco Serenuty Restaurant. Beside Balinese, the restaurants also serves many Indonesian foods, and also European.
The meals here don't have MSG in it, so don't worry about your health when eating in this very unique restaurant. Place is also very cozy and fun, suitable for the tired tourists as a place for some relaxation.
Location : Nelayan street, Canggu Village
Tips : The place has parking ticket thoguh, better prepare your money.
6. Bali Equestrian Center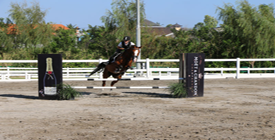 Next place is called Bali Equestrian Center, which is a place to do horse riding. It's actually a center of that particular sport in Bali. It has a five star facilities, and international sertificate. The Bali Equestrian Center also having 40 horsing schools.
For the people who interested in horse riding, they can come to this place and try one themself. It's a really good place for either newbiew or pro. For the fee, it's aboutRp400.000,- for adults, Rp375.000,- for kids. For the whole family, the charge will be Rp1.500.000,- per family. 
Location : Canggu Asri residents, Karang Suwung Brawa street, Canggu
Tips : Follow the guide thouroughly
7. Kayu Putih Beach
And for number seven in things to do in Canggu, we have Kayu Putih beach, which also looks as beautiful as things to do in Bali Horse Riding. Upon entering the beach, you'll be greeted by a uniquely made "gate". This gate then became an icon of this beach, many people take selfies with it.
The place is always used for so many entertainment purposes like TV program, and even movies. It's considered as one of many romantic beaches for anyone who has their loved one with them during their trip in Bali.
Location : South Denpasar, Tibubeneng, North Kuta
Tips : You can enjoy the cafe and restaurant that available in there too, for a price of course
Other Things to Do in Canggu
Like usual, we prepared some options for you to be able to feel the perfect experience of tourism in the area of Canggu. So we made another options for you, which mostly filled with beach and surfing schools. So, if you're interested in that particular water sport, you can check one of these surfing schools available on the other list of things to do in Canggu below :
Canggu Beach
Seseh Beach
Nelayan Beach
Mengening Beach
Baruna Surf Culture
Nengah Private Surf
Bali Mermaid Surfing School
Bali Outdoor Adventures
Goldust Beauty Lounge
That's our article about the things to do in Canggu, with all the places that you can enjoy in here. Canggu is one of wonderful areas in Bali that you should visit during your trip. It has many kinds of attractions with amazing services, which is good for everybody.
A view at Echo Beach