Located on the plateau area of West Java, Bogor is popular among the locals with Puncak Bogor as its most favorite tourist attraction. There are many romantic things to do in Puncak Bogor. And that might be the reason why many adults and teenagers come to visit it.
But, as a tourist, you might want to enjoy something different. For instance, walking through the street and get a taste of the street foods. Well, having a taste of the local culinary sold as street foods can be one of the interesting things to do in Bogor. Moreover, it can also be one of the cheap things to do in Bogor.
It's always nice to go walking a way full of street food vendors on your left and right, isn't it? It's even better when everything is so cheap that you can get a taste of almost everything with less than $20. You can find the street foods in many hangout places in Bogor.
But since there are many selections of street foods when you get there and you might be confused as of what to eat first, we get everything ready for you. Here's a list of 7 must eat street foods in Bogor, West Java.
1. Roasted Corn Pickles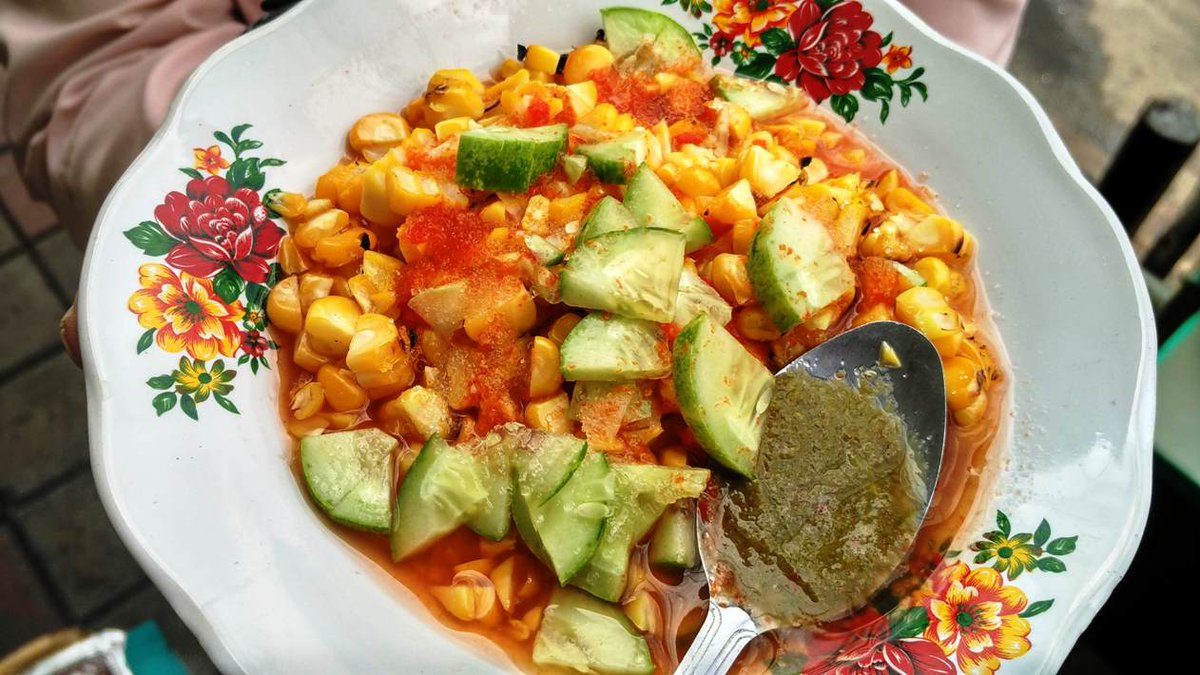 To open up, we have roasted corn pickles. It tastes spicy, sour and sweet at the same time. The sweetness comes from the flaked of roasted corn while the spicy and sour taste comes from its special spices that are used to accompany the corn. This food will surely make your day fresher! Plus, it's only around IDR15,000!
Actually, as you walk the street, you'll notice there are many street food vendors have the word "asinan" on their banner. The word itself means pickles. And, beside this roasted corn pickles, you can find other kinds of pickles that are super popular in Bogor. One of them is fruit pickles.
2. Bakso Kikil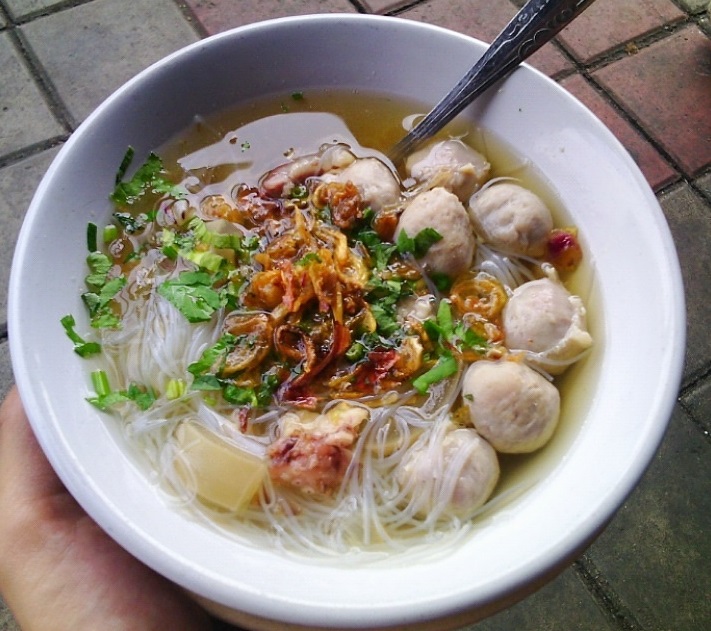 At one glance, you might find this street food similar to other meatballs or bakso sold in every corner of Indonesia. Well, you're not entirely wrong though. But, this meatballs is rather special as it has special ingredient within it. Yes, it's within the name, kikil. Kikil is the meat of the cow's trotters that's soft.
This street food can be easily spotted being sold by vendors in simple carts. You might not have a proper table where you can place your bowl of bakso kikil, so you'll need to hold it with your hand while sitting on the provided bench. But, that's the true experience of Indonesian's street foods. So, get your money and go down the street to discover the street foods of Bogor!
3. Cungkring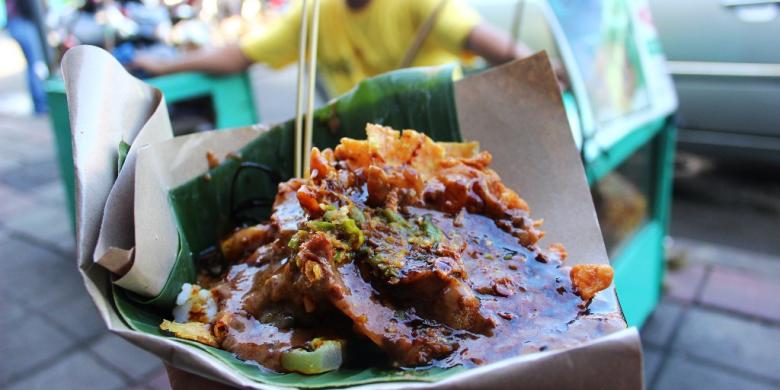 This street food is rather popular as a breakfast menu for the locals. You can easily find people gathering around the street with this food vendor beside them around 7 AM. Similar to bakso kikil, this food also takes the special kikil as its ingredient. But besides kikil, you also get fried tempeh and rice cake that are topped with sweet and savory peanut sauce.
The kikil is super tender and you also get a doze of protein and carbohydrat to start your day. Instead of commersialized plate, you'll get a cone-shaped banana leaf as your plate for this cungkring. Just remember to be early if you don't want to miss the chance of eating this affordable, delicious street food.
4. Lumpia Basah Bogor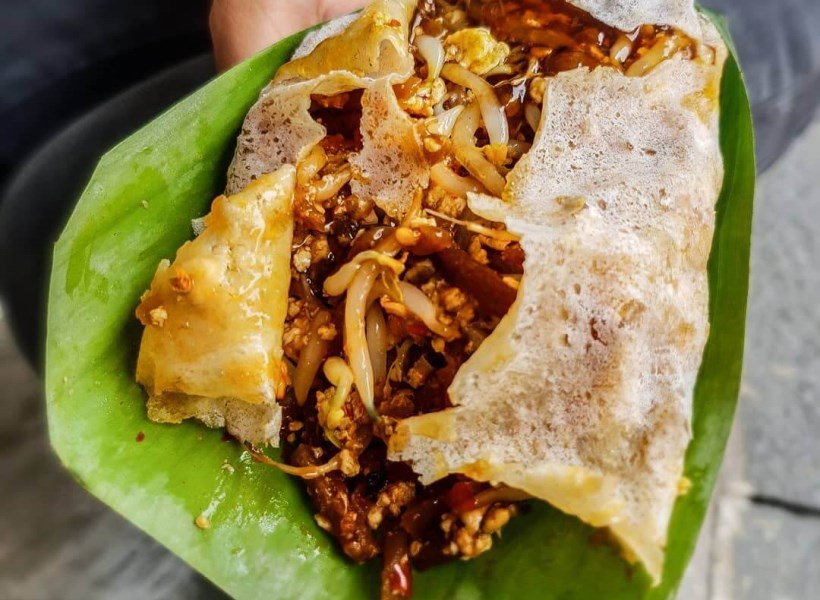 Lumpia means spring rolls. And if you've seen or tasted the spring rolls in Indonesia, you might find this similar. But, the fillings are different. The main uniqueness of Lumpia Basah Bogor is the use of chopped jicama as the ingredient. More, it has bean sprouts, tofu, ground dried shrimp and eggs that are wrapped in a skin dough.
The ingredients are seasoned with onions and spices that make it tastes wonderful. But, instead of rolled with the skin dough, it's folded like a pillow. Then, it's typically served on a banana leaf.
One of the most legendary lumpia basah Bogor that you must eat is located on Suryakencana street. Well, basically, the street is the home to many street foods in Bogor. So, make sure to visit it!
5. Soto Kuning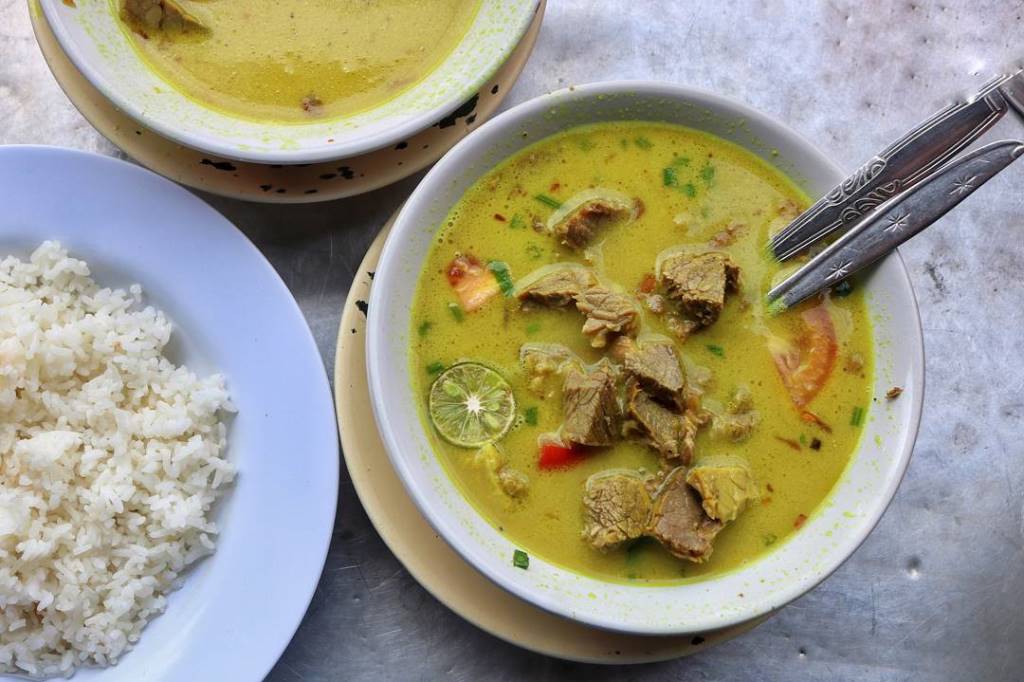 Next, we have something savory to please your taste buds — soto kuning. This street food is best eaten with a plate of warm rice and a drop of sambal that levels up its flavor. You can also find the most legendary soto kuning on Suryakencana street. The yellow soup is where the food gets its name since kuning means yellow.
The soup is made of coconut milk, ground turmeric and other spices that make the food tastes delightful. It's often topped with a sprinkle of fried onions, slice of tomato, chopped celery, and a slice of lime. In the soup, you'll find slices of meats and cow's organs that taste super delicious and tender.
6. Sumsum Satay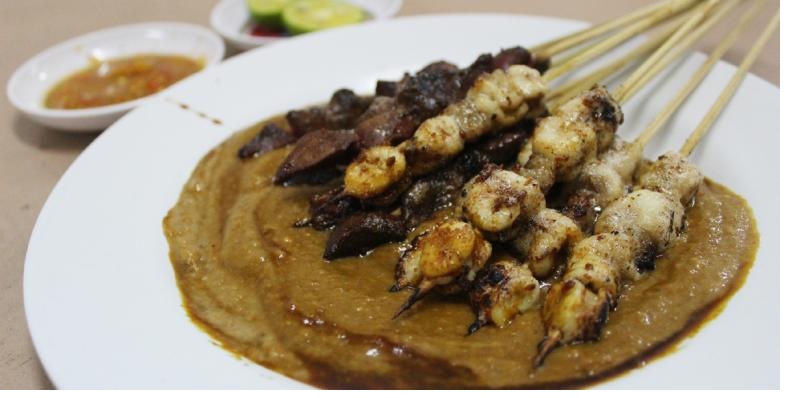 Chicken satay, lamb satay, meat satay. Sounds regular, right? Different from the typical satay that you find on the street of Indonesia, this sumsum satay from Bogor will immediately melts in your mouth, giving you a pleasant sensation. It's because this satay is made of beef marrow.
The satay is also topped with spicy and sweet peanut sauce. You can either eat it alone or with a plate of warm rice or slices of rice cakes. Another unique satay that's usually sold in the same vendor where this sumsum satay is sold is satay that's made of cow's kidney. So, if you're interested, you can try it too.
7. Es Pala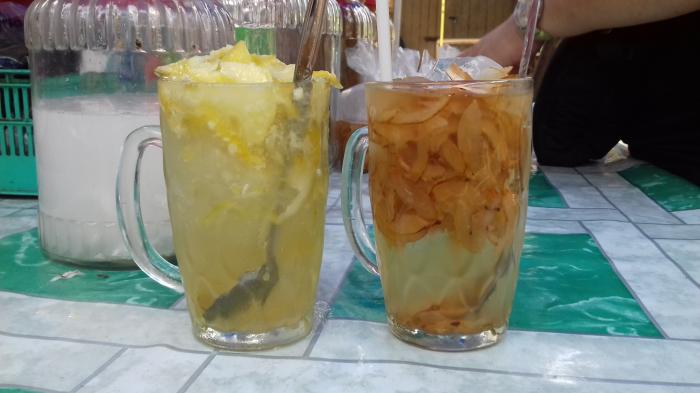 Thirsty enough? Here's a glass of refreshing and healthy ice to swallow down the street foods you've seen so far. Pala is nutmeg fruit. It tastes sour and fresh.
When made into this ice, the fruit is sliced thinly and then combined with simple syrup and ice cubes. Sometimes, you can also have it with some slices of coconut meat, mango or soursop. Just personalize it the way you want it to be!
Spending your money on these street foods can be the best shopping in Bogor. But, if you're somehow looking for a proper place to have a dinner with your special one, you can check the romantic restaurants in Bogor. Well, it seems that Bogor can accomodate your every culinary need.