It's a truth that Bali is well-known for its pristine beaches with clean, white sand and turquoise water. There are also beautiful waterfalls in Bali and lakes in Bali that you can visit if you want to have another round of splashing day in Bali.
But, when you travel with your family, you might need to get a touch of recreation and exciting moment into your splashing vacation, especially when you travel around summer. The recreation can includes water sports or games where everyone can have fun and enjoy every moment they have.
It must be super fun and exciting for you family members to slide on a thrilling ride and enjoy endless water recreations. And thus, your destination can be water recreation or waterpark.
Fortunately, Bali has everything you're looking for to level up your vacation mood. And as your guide, we've gathered a list of 5 best waterparks in Bali for your fun summer vacation. Check them out!
1. Waterbom Bali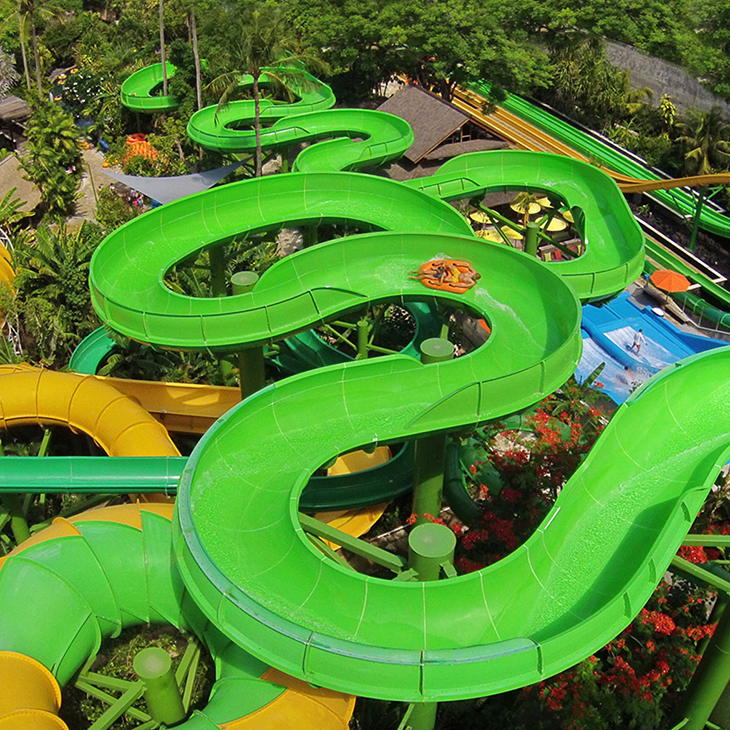 Staying around Kuta? Great! Waterbom Bali is located at Kartika Plaza Tuban, Kuta, Badung that's quite close from the famous Kuta beach.
This waterpark can be considered as the most popular one around the locals and tourists. When you ask the locals for a water recreation recommendation, this waterpark might probably come first.
From the picture, you can see that you can get lots of slides and water games. Those you'll surely enjoy with your family. Plus, you can also get a view of beautiful landscape of Bali when you're having fun there.
It's surrounded by greenery, adding more reason to visit it. There are many food counters that you can visit once you feel like you need fuel for your empty stomach.
The developer also claims that they have followed the international safety standard so you can be less worried to let your loved ones playing on the seemingly dangerous games. It opens from 9 AM to 6 PM and you need to pay starting from around IDR300,000. This can be one of the top things to do in Kuta, Bali.
2. Circus Waterpark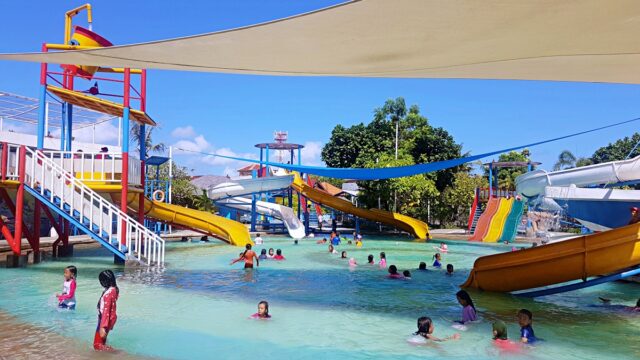 Next, we have a super family friendly waterpark that can be super perfect for your family and kids. Well, the name is circus waterpark and you literally can get a fun, amusing, and exciting experience when you are there.
The attractions vary from adult pool, sliders, mini spiral sliders, toddler sliders, fountains, water cannons and many more.
Located on Kediri Street, Tuban, South Kuta, Badung, this place can be visited from 9 AM to 6 PM. The location is also quite strategic since it's pretty close from Ngurah Rai International Airport. The picture clearly shows you how family friendly it is and how much fun the kids can have when they play around.
3. Splash Waterpark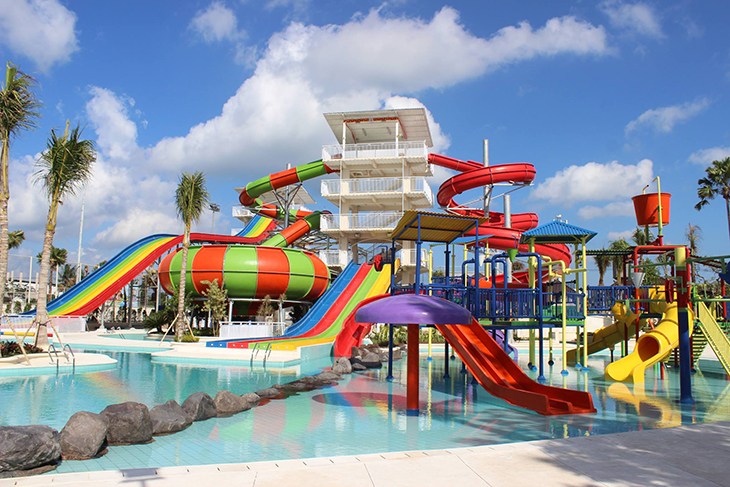 Also known as Canggu Waterpark, Splash waterpark can be said quite new in Bali. But, it offers wide selections of facilities and games that might be not available in other waterparks. The one that stands out the most is its 90 metres long slide that's ready to spice your summer vacation under the bright sun of Bali.
When you're hungry after your exciting slides and games, you can always go to the food stalls in the waterpark. There are wide selections of snacks and even healthy foods and drinks. It's located at Pantai Berawa Street, Tibubeneng Canggu, North Kuta, Badung and opens from 9 AM to 5 PM.
4. Nirmala Waterpark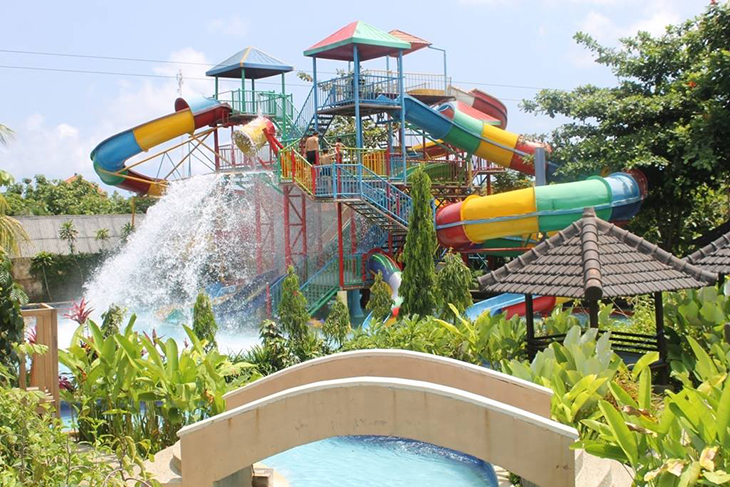 Strategically situated near Uluwatu beach, Nirmala waterpark can be a great escape when your loved ones need more thrill supplies. This place is full of exciting facilities that range from pools to slides. There are also many selections of foods and drinks that can refuel your body.
Located on Pantai Balangan No.1 Street, Ungasan, South Kuta, Badung, this beach opens from 8 AM to 6 PM. Considering that their major customers are kids, the developer of Nirmala waterpark also offers a supportive environment where the kids can have fun while learning about their surroundings. A perfect place to bring your children in.
5. Surf & Turf Beach Beach Club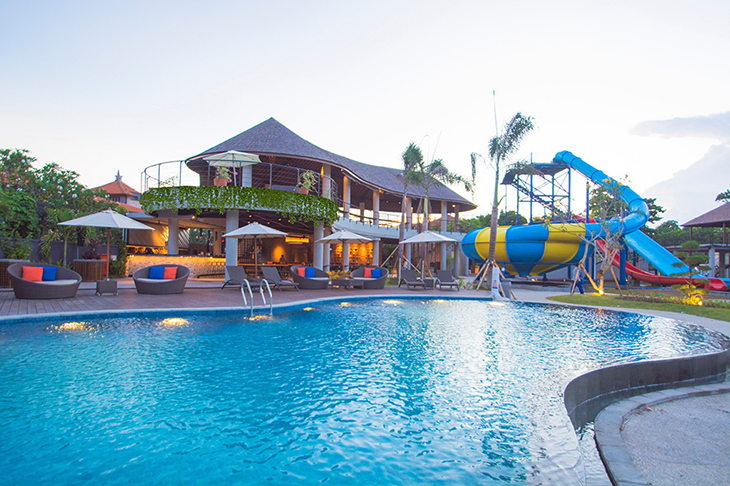 Last but of course not least, we have Surf & Turf Nusa Dua Beach Club. This waterpark is located in a strategic tourist spot in the Bay Lot-C-0, Nusa Dua, South Kuta, Badung.
This beach club offers you a complete experience where you can have a beach club concept while have a bunch of water games and facilities that add more fun and thrill into your vacation.
Since it's a beach club, you can also enjoy some activities on the beach like canoeing or relaxing on the sun lounge. Plus, you can also have a blissful swim in the pool that directly faces the majestic Nusa Dua beach. It's a beautiful view that lies right before your eyes while you're enjoying the most relaxing moment of your life.
You can now set up a date and choose where to go for a fun and exciting summer vacation in Bali. But, if you want to add mre cultural and spiritual drops into your vacation while still related to water recreation, you can try visit Tirta Empul, a holy water spring in Tampaksiring.
That can be one of the things to do in Tampaksiring. Or, if you want something more thrilling, you can definitely try list of extreme sport activities in Bali.