Bali, who doesn't know the name of this small yet really popular island. People want to visit Bali, even including this place inside their life goals. Even it can be one of the ideal places visitable for bachelors. You know, the beautiful tropical paradise with interesting night life would be a complete package for the bachelors.
However, the island is also suitable for honeymoon, since it also has a lot of interesting locations to visit. You and your partner would have the best day in your life by enjoying the sunset at Sanur Beach.
Staying around the natural tropical villas may be a great idea as well, since spending time alone together is also good for the new honeymooners.
You may plan the best honeymoon trips in Bali. It's possible, since many of them are considered affordable. The trip to Bali itself is one of many budget-friendly things to do. There's so much to do here and it's near impossible to tell all of them inside a small, one page article.
Bali, A Gate to the Paradise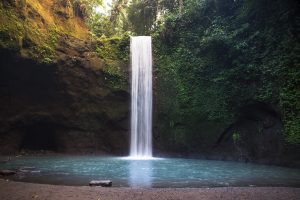 As an island rich in culture, Bali island can offer you other destinations well like the Balinese cultural trip for example. You may have a chance to visit many historical places in Bali, including the legendary and iconic Garuda Wisnu Kencana statue (which looks better than before).
It's a really nice experience to understand the culture of Bali closer via looking at the art forms like dances, singings, or religious activities. As long as you're respecting them, it's okay to see the life of the people closer, in a humble way of course.
However, being a real-life world paradise, Bali can offer you natural destinations like mountains, hills, or lakes. But this time, we're gonna take you to the waterfalls in Bali. Places with peacefulness. So quiet that sometimes people are meditating around them. Let's take a look around.
The Worth-to-Visit Waterfalls in Bali
Aside from enjoying the captivating magical Kecak Dance from Bali, you may as well enjoy more peaceful locations, such as: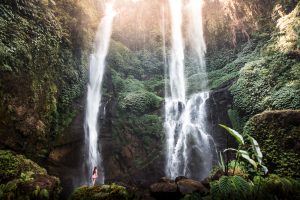 · Location : Sekumpul Village, Sawan, Buleleng
· Ticket Fee : Rp2.000,-
One of the affordable natural tourist attractions in Bali is Sekumpul Waterfall. Located in a village with the same name on Buleleng regency, you can expect to see several different waterfalls on one spot.
You can see seven waterfalls around the Sekumpul area. That's why, international tourists tend to give the "Seven Points Waterfall" name to this attraction.
However, the entrance fee you need to pay is only Rp2.000,-. It's incredibly cheap for such an amazing location. But, you need to face the fact that in order to reach the spot, you need to take a long way down about 300 m using the simple stone stairs. It's quite tiring, but really worth the hard work.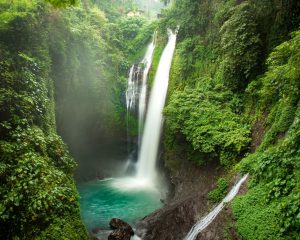 · Location : Sambangan, Buleleng
· Ticket Fee : Free (donations only)
If you want to look for a place to visit for a party of people, other than enjoying the loud and fun reggae party on Bali, Aling-aling waterfall is the one to pick. It's considered one of the famous natural attractions that you can find around the island, especially with its stunning looks.
Aling-aling waterfall is located on the same regency as Seven Points Waterfall, in Buleleng. This area alone is considered to be a spot rich in attractions. That's why, along the way to Aling-aling, you may notice the other tourist spots as well like Kroya, Cemara, or Pucuk waterfall.
The road to the waterfall is better with asphalt and a decent wide parking lot. You still need to go down the stairs to reach the waterfall though. The beautiful scenery is the thing that is expected, with two branches of water flow, and a small natural jacuzzi under it.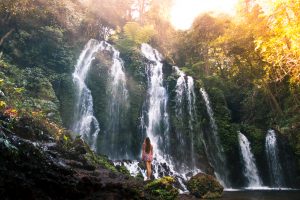 · Location : Wanagiri, Buleleng
· Ticket Fee : Rp10.000,-
Another good place to visit in Buleleng. Banyu Wana Amerta is not a normal one. The unique characteristic it has is completely stunning. Unlike the usual waterfalls, Banyu Wana Amerta is a short waterfall and has several waterfalls. It's more like stone walls covered in flowing water. Despite it's climbing popularity, this attraction was found recently.
The attraction is also located strategically near coffee gardens. Along the way you could see and smell the delicacy of coffee beans as well, which should work as a mood booster. The area is also well prepared for the tourists, with the additional parking ticket. Coming in here wouldn't be a problem as well.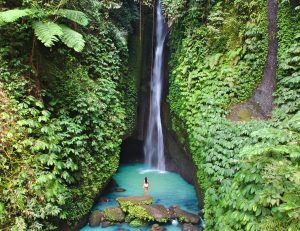 · Location : Baturiti, Tambanan
· Ticket Fee : Rp20.000,-
Want to explore a jungle-like environment? Then this waterfall is the one for you. Despite its location near the crowded public area, this waterfall is hidden beneath the dense woods.
Leke-leke waterfall was once named Kipuan Kebo or Buffalo's place to drink. This due to the small size of it, and the small pand that was made naturally right in the middle.
It's really quiet and calm here. A really good place for mind relaxing or meditating. However, you need to go through the woods in order to reach the waterfall. But don't worry, the guidance is clear enough to see and follow.
Just follow them about 500 meters, and you'll reach the waterfall in no time. In order to enjoy this wonderful experience, each person should pay about Rp20.000,-