Almost everyone around the world has known the name of Bali island. The name definitely rings a bell, since it's known as the best tropical vacation place, especially in the South East Asia region. But, even though the name of the island itself shines, some people don't know about the country it lives in, Indonesia.
However, most tourists would always have a plan of what things to enjoy in Bali island. From the exotic yet crowded beaches to the calm and quiet beautiful rice terraces in Bali. Speaking of rice terrace, here all the things you need to know Tegalalang rice terrace.
There's a lot of choices to pick, and it seems to be near impossible to pick which one is the best of them because of how rich the island actually is.
However, other than seeing the wonderful attractions and introducing yourself to the religiously tolerant Balinese people, you may as well enjoy the historical places.
Some possibly still not known by some, and the others even included as iconic landmarks in Bali. As an island with histories, Bali is also worth visiting, since it has a strong connection with the Colonials History and Kingdom Era as well.
Bali as a Historical City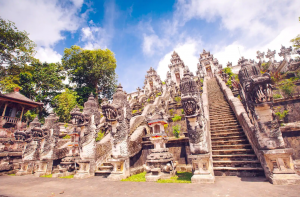 Many people would love to spend their time doing something fun in Bali, including trying the extreme sport activities in Bali maybe. Yes it's fun, and really doable in such a great location.
However, if you want to take a closer look at the other faces of Bali, you may also do a little trip to enjoy the old histories in Bali.
Aside from respecting their religion a lot, they also do the same kind of approach to the historical places as well. No wonder that you can see them in such a fit condition, despite their old ages.
In Bali island, you could see directly the remains of Balinese Kingdom Era with old tales about Bali and Gelgel Kingdom, and the Puputan War between them.
Bali was also known as a deadly maritimal location for colonial ships, since the Bali Kingdom had an impactful warning to all ships that sailed around Bali. The first contact with European fleet happened in 1596 when Cornelious De Houtman, an explorer from Dutch came to the island.
They didn't have the same purpose as colonials. They were basically there to explore new things unexplored before, like the existence of this very island. 
The new life here was totally new for them. The people, religion, cultural appreciation, and their way of life were interesting objects to them.
That's why some of Cornelius' crew didn't want to leave the island. They wanted to live there, and be together with Balinese people. And that didn't bother Cornelious at all as an explorer.
However, things were different when Dutch came to the country with an idea of exploitation in mind. Things were bad for both the Colonials and the Kingdoms due to the continuous wars.
There was also a civil war between two kingdoms as well, creating a great opportunity for Dutch to take action after all is done.
That's only a part of a big pie. You can see the remaining stories by visiting the historical places on the island that still exist even to this very day. We're gonna mention some for you, on the information below
Historical Places in Bali
Puputan Margarana Renon Park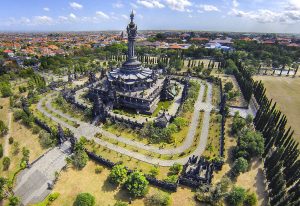 • Location : Renon, South Denpasar
• Ticket Fee : Free (except for parking ticket)
• Opening Hours : Almost all day long
One of the greatest wars in the country is Puputan Margarana. The war happened between Badung Kingdom and Ducth army. The Badung Kingdom was ashamed of their devastating lost during the Dutch invasion back in 1906. The Kingdom was quickly either because of the modern weaponry the Dutch had.
In order to bring peace to the people. The Badung Kingdom once again stood against the Dutch. The war clashed in 1946, with Colonel I Gusti Ngurah Rai as the commander for the Bali side.
The meaning of this battle is "to fight until the last drop of blood". Despite its skillful commander, Bali still lost to the Dutch.
However, as a memorium, you can see the Puputan Margarana Renon Park, which was inaugurated back in 2003. It can be included as one of the National Parks worth visiting in Bali too. 
Working as a plaza as well, the park is the place to bring people together. During the day, you can spend your time jogging, or other light sport activities. 
Tirta Gangga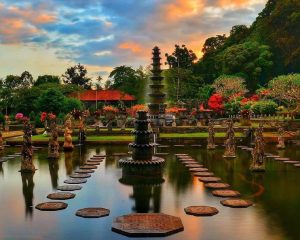 • Location : Ababi, Abang, Karangasem
• Ticket Fee : Rp 25.000,- plus the additional Rp10.000,- for swimming
• Opening Hours : Start to open from 8 am, closed at dusk (or 6pm)
This place is not the remaining of war. Instead, it was built in order to bring peace, especially to the members of the Karangasem Royal Family.
Tirta Gangga, is a park consists of pools, ponds, and small monuments placed around strategically.  The building of this site was done by the last Karangasem King who wanted to make a place for his family to rest.
You can see that it actually works as a beautiful quiet place. The water locations are suited really well with the natural green environment around the area.
Today, the place is visited by tourists who want to look for a place with a quiet and calming situation.  Yes, even we common people are allowed to be inside too.
Ujung Water Palace Park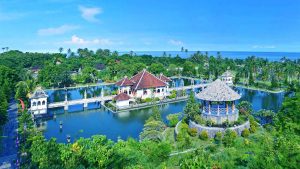 • Location : Taman Ujung, Tumbu, Karangasem
• Ticket Fee : Rp15.000,- for domestic, Rp 50.000,- for international
• Opening Hours : Start to open from 7 am, closed at 7 pm
The last King of Karangasem Kingdom was a very creative and innovative person. You can see by his creation of Tirta Gangga with a thick Balinese culture.
He was also a skillful person, especially with the Ujung Water Park he built. Yes, Tirta Gangga is not the only one. You may as well find another park that was built specifically for the people, Ujung Water.
The park is a wide one compared to the resting location of Tirta Gangga. It has a combined characteristics from Balinese and European aspects. With this wide location, it seems pretty clear that the King wanted a place for his people.
It is a great place if you want to look for a place that is a bit crowded, almost the same visitor level as unpopular yet virgin beach in Bali, with an aesthetic look that is good for your social media.