Bali has been widely known as the Mecca for surfers due to its beautiful beaches and great waves that could attract many surfers from all levels to come. However, your visit to Bali will never be complete if you haven't visited the island's magnificent rice terrace.
As you ride your rented motorbike around the island, you will see the rice terrace on every corner of the island. One of the rice terrace that stands out the most out of the others is Tegalalang Rice Terrace. It is located in Tegalalang Sub-District, Gianyar Regency, which is quite close from Ubud.
It is a popular tourism destination and you might have probably seen some photos of people standing with lush green terraced rice fields as their surrounding. Well, that might best be this Tegalalang Rice Terrace.
Even though it is usually filled by tourists, you can always find yourself in peace whenever you come visiting this rice terrace. If you want to know more about it, well, keep scrolling!
What Makes Tegalalang Rice Terrace special?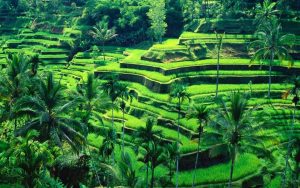 Tegalalang Rice Terrace is positioned in a valley with terraced layout facing a high road side, offering a scenic view of rice fiields with surrounding green landscapes. The view of the terraced rice field is no joke that you can only find this beauty in three locations in Bali which includes this Tegalalang Rice Terrace.
It is a representation of Balinese traditional water system or irrigation system known as Subak which is said to be passed down by a holy Balinese ancestor in the 8th century. Subak is an innovative irrigation system that works as a result of cooperation between Balinese farmers.
Subak reflects the Balinese Hindus concept called Tri Hita Karana which tries to create a balance in the world by balancing the relations between human to the God, human to human, and human to nature. This is why in every rice field area in Bali, you will find a holy temple used by farmers to pray, including in this Tegalalang Rice Terrace.
The deep philosophical principle suggested in Subak system in the natural landscapes of Bali made it avowed as World Heritage Site by UNESCO in 2012.
How to Get There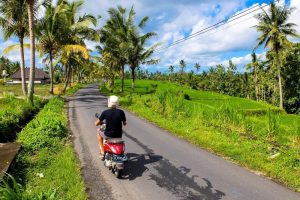 Since it is situated near Ubud area, you can just drive north Ubud for 20 minutes in order to arrive at this beautiful site. The road is pretty easy to reach since it is mostly just straight. If you are heading from Seminyak or Canggu area, it mostly takes 1 to 1.5-hour ride in order to arrive there.
You can rent a motorbike for a day by paying approximately $5, or if you feel like you cannot ride the road, you can order a taxi to get there with a more expensive price. But make sure to have a deal price with the driver beforehand.
If you bring a rented vehicle, you can park on a big parking area close to the site and pay a small fee around IDR10,000. If you have a taxi with you, you can just be fine and immediately enjoy yourself with the beautiful scenery since the driver will handle it for you and will wait for you there.
Check out theis article for mor information related to taxi and online transportations: should you take a taxi, Uber, or grab in Bali, Indonesia?
Best time to visit Tegalalang Rice Terrace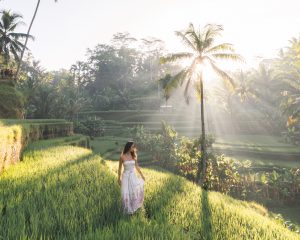 It is best to visit the site in the morning when the sun is just rising. Well, getting up early in the morning especially on your holiday might feel burdening. But trust me, you will be glad to visit this rice terrace in the morning if you want a quieter atmospehere and cooler breeze.
If you want to take some photos, early morning is also a great choice. You won't have to try claiming a spot for a photo with other visitors and the lighting is really even in this period.
Visiting Tegalalang Rice Terrace in the morning will also make a great tour itinerary for the day as you have built a good mood right from the start. Later after visiting this site, you can explore more places around Ubud like its Water palace in Tampaksiring and beautiful waterfall in Kemenuh.
Well, you might like the sun in Bali that shining brightly throughout the year but the sun in this rice field in the afternoon is no joke. The rice terrace are exposed to the sun with very little shade for you to hide from the burning sun. SO, it will be best to visit it in the morning when it is much cooler.
In the late afternoon, you will find many people crowding this site. If you are fine with that then that's just fine. You can visit it at any time you want.
You can also read: things to do in Ubud, Bali
The Facilities, Tickets, and Open Hours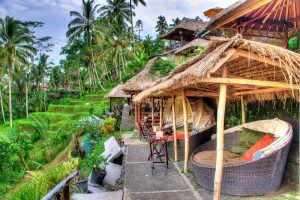 Tegalalang Rice Terrace is a well-managed tourist site that has been equipped with proper facilities. You can find some cafes on the high road and enjoy having some foods or beverages there while enjoying the view of the gorgeous rice terrace right before your eyes.
There are also some souvenirs shops selling local handy crafts from Bali that you can typically find in Ubud Traditional Art Market or Sukawati Art Market. The price is pretty reasonable but you might want to have a bargaining skill when you want to buy some.
On the other side of the road, you will find a ticket post where you purchase the entrace ticket. It costs IDR10,000. Well, no one is actually checking if you got the ticket with you or not when entering the site.
But it is best to pay and think of it as a donation, considering the small amount of money and the good impact it could bring to the management of the site.
Since it really is a rice field with Balinese farmers working on it, the place is open for more than 12 hours from 6AM-6PM.
Tips for Visiting Tegalalang Rice Terrace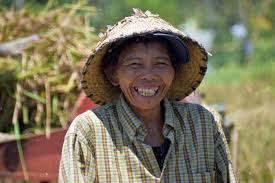 There are some handy tips that you can follow to make your trip to this beautiful rice terrace becomes the best one in your days in Bali. First, you need to bring small change for donation and photograph fee.
Well, you have paid the donation when you just enter the site. Now, you can take some photos with the working farmers and they might ask you to give them some donations. Well, it doesn't sound like a big problem since you can consider it as a way to support them in preserving their land.
Second, bring water and snacks when you want to walk down the terrace. There are plenty of small cafes on the high road, but there is nothing once you are in the rice field. Since it can be tiring, it is best to keep yourself hydrated by bringing waters and snacks.
Lastly, be friendly with the local people or the working farmers passing by the terrace. Following these handy tips will prepare you for your great trip in this beautiful site.
As we visiting a working area for the farmer, you better not ask them too much but still, you need to be friendly with them. You also may take some pictures with them and don't forget to give them some money.
What can be Done There
Rice Terrace Trekking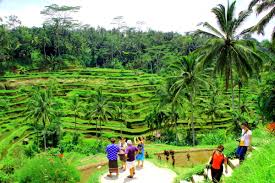 It is a must to track down the terrace and see how beautiful it is. Make sure to prepare your energy, water, and snacks with you.
Taking Rice Terrace Swings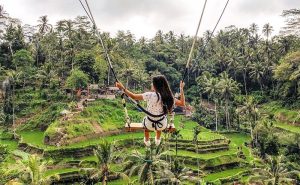 There are some epic swings in the rice terrace area. You can sit there, swing for some times, take some photos, and then immerse yourself with the beauty that surrounding you.
Posing in Love Bali Sign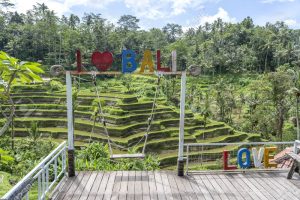 A Bali Love sign is situated in Tegalalang Rice Terrace area and it is a must to take some photos here as a reminder later that you have visited this wonderful place.
Witnessing the Traditional Life of Balinese Farmers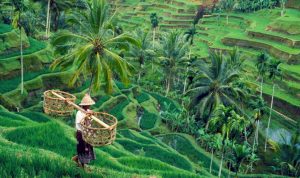 As you track down the terrace, you will always see local farmers passing by with two baskets adjoint on a long bamboo stick held on their shoulders, or farmers managing their water system. You can only observe it or taking picture with them.
Well, Tegalalang Rice Terrace really is something special offered by the island of Bali where you can witness a wonderful system created long ago and still well-preserved up to this day.
After you finish visiting this site, you can continue your journey by visiting Tegenungan waterfall, Ubud, Bali. You can also add some things on your bucket list in Ubud through these things to do in downtown Ubud and things to do in Ubud at night.
Also, if you want another round of Tegalalang Rice Terrace guide, you can check this Tegalalang Rice Terrace in Ubud, Bali, Indonesia guide. Happy holiday!