If we talk about marine tourism in Indonesia, it is just like limitless since Indonesia has too many marine tourism objects. Moreover, those are very recommended to visit and the beauty is also recognized by the world.
One of them is Raja Ampat, but actually there are many more marine tourism in Indonesia you should visit, such as in Southeast Sulawesi. These are 6 recommendations for you!
1. Wakatobi National Park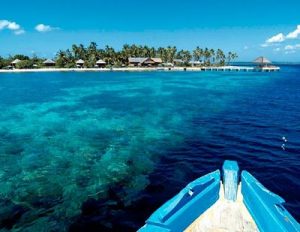 People might have been familiar with Wakatobi National Park, one of favorite marine national parks in Indonesia. The name Wakatobi itself is the acronym of 4 main islands, Wangi-wangi, Kalidupa, Tomia, and Binongko. It was appointed as national park in 1996.
Wakatobi National Park covers 1,39 million hectars area. This is the highest priority for marine conservation in Indonesia. There are 750 species out of 850 species of coral all over the world in Wakatobi island Indonesia.
The facilities in Wakatobi National Park has been complete enough. There are also some lodgings starting from Rp 100.000 to Rp 500.000 per night.
The activities you can do here are diving, snorkeling, enjoy the beauty of Hoga Island Beach, until taking photograph on Kahyangan Top in Tomia Island.
Another interesting activity is that you can meet blacksmith and see directly how to make iron. There are also some culinary recommendations around Wakatobi National Park, such as kusami, parende, and laluta.
Every year, there will some festivals such as Wakatobi Wave Festival, Sail Indonesia, and Bara Kahedupa Festival.
2. Labengki Island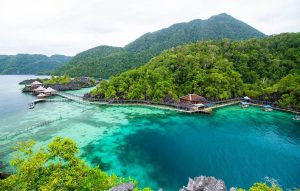 Do you know an island which is said the twin of Raja Ampat in Southeast Sulawesi? That is Labengki Island! You can go to Toli-toli from Kendari to reach Labengki Island. It is precisely located in North Konawe Regency.
It is called the twin of Raja Ampat in Southeast Sulawesi because the coral looks like in Raja Ampat. This is one of the reasons why you should visit Sulawesi.
Labengki Island consists of two kinds of islands, the big one and the small one. Some favorite spots in Labengki Island are Pasir Panjang Beach and Love Bay. In Pasir Panjang Beach, you will sea the beauty of its white sand and the neat coconut trees there.
This beach is a good choice for outbonding and snorkeling. Love Bay is also favorite because of its unique shape, from height it looks like heart. In Labengki Island, you can also see some cute dolphins and get acquainted with Bajo Tribe.
3. Moramo Waterfall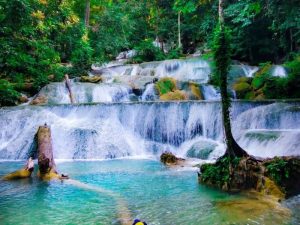 In Sumber Sari Village, Moramo Sub-district, Konawe Regency, there is an attractive waterfall named Moramo Waterfall. It is located in Tanjung Peropa Nature Reserve Forest Area which covers 38.937 hectares area.
This waterfalls has some levels with the heights 100 metres. There are 7 main levels and 127 cascades. You can find some wild animals such as anoa, deer, Sulawesi black monkey, cuscus, etc. In this waterfall area, you will get quite complete facilities such as parking lot and toilet. For motorbike, the parking fee is Rp 5.000 and Rp 4.000 for car.
4. Nirwana Beach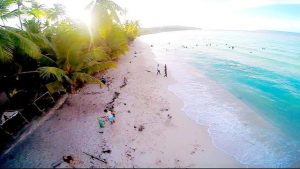 If you are seeking for calmness, it is recommended for you to get vacation in Nirwana Beach. It is located in Sula Village, Botambari, Buton.  Its white sand and blue sea are so calming.
Tourists can feel free to do any activities, such as swimming and sunbathing there. You can also do diving to see the beautiful coral reef in Nirwana Beach, one of best beaches in Sulawesi.
Local people often utilize Nirwana Beach for therapy to cure some diseases such as asthma, respiratory disorders, etc. The way to therapy is to soak body in the sea water of Nirwana Beach.
If you want to do swimming or diving, you can rent the equipments needed. If you just want to enjoy the beach, you can just relax in gode-gode, a kind of hut to get relaxed.
There is also seaweed cultivation that you can see. It is managed by local fisherman. Not far from the beach, there are cave and bathing place around 50 metres which is well-known as Moko Cave.
The facilities here are quite complete. You can easily find any restaurants. There are also many lodgings near the beach. The ticket price is only Rp 2.000 per person.
5. Katembe Beach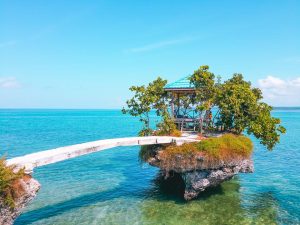 Do you ever see a beach with white-pinkish sand? You can find this kind of beach in Madongka Village, Lakudo Sub-district, Central Buton Regency. It is Katembe Beach.
Its sand is dominantly white but somehow you can see pink color in the sand. This is one of white sand beaches in Indonesia. Behind the beach, there is a terrain that is usually used by local people for any occations.
Katembe Beach still looks natural and clean. Its coastline is quite wide. The wave in this beach is calm enough. There is no ticket price but you have to prepare parking fee, Rp 5.000 for motorbike and Rp 10.000 for car.
6. Toronipa Beach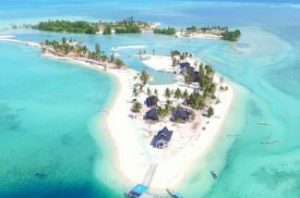 The last recommendation is located in Konawe Regency. It is Toronipa Beach. This beach is also calming with its white sand and many coconut trees around the beach. At the north there is the sea, at the east there is a small island called Bokori Island.
Along the beach, you can find any food stalls easily. Unfortunately, sometimes there are still some thrashes around Toronipa Beach. Actually this beach is so beautiful but tourists hope that the management of this beach can be better regarding to its big potential.
There is no detail information about ticket price. But the parking fee for car is Rp 30.000.
There are 6 recommendations of marine tourisms in Southeast Sulawesi. Which one is your favorite?