16 Wakatobi Island Indonesia Attractions – Diving Spots – Beaches – Sunset Hunting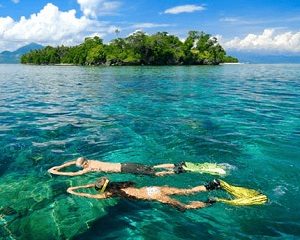 Wakatobi island is is one of the 50 national parks in Indonesia. The name Wakatobi itself is stands for the name of the Islands around the archipelago such as: Wangi-Wangi island, Kaledupa, Tomea, and Binongko island (WA = Wangi-wangi, KA = Kaledupa, TO = Tomia, BI = Binongko.)
Wakatobi island is located in Wakatobi district, the region of Southeast Sulawesi. The national park of Wakatobi island is officially opened in 1996 with the extensive of area 1.39 million ha total.
You may also want to read:
The main charm of Wakatobi island is their more than 112 types of coral reefs from 13 families located at 25 points along the 600 km coastline. Wakatobi island is piratically one of the heaven for divers all over the world. Almost in every island that is part of Wakatobi island, the richness of the ocean can be seen. These beauty can also be enjoy while staying at most of their well-known beautiful resort.
Wangi-Wangi Island, Wakatobi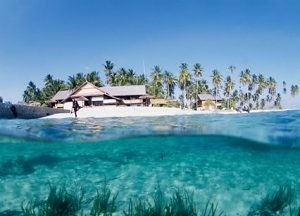 Wangi-Wangi is usually the first island to visit before the other three, locally known as Wanci island. This island has an area of only 23 359 km. Geographically, Wangi-Wangi island has 14 villages and 6 districts. According to census done in 2011, the amount of people in Wangi-Wangi island is up to 23.869 people with 11.647 men and the rest of 12.222 are women.
Wangi-Wangi island in Southeast Sulawesi is surround by small islands such as Kapota, Kampenaua, Timu, Sumangga, and Ottoue. Yet, Kapota island is the only island with people on it. Also, Wangi – Wangi Island pleases you with a very beautiful scenes you have ever seen in your entire life. Thus, it has places that are virgin, natural, and super beautiful. Meanwhile, here are the best places to visit in Wangi-Wangi Island Southeast Sulawesi Indonesia.
How to Get to Wangi-Wangi Island, Wakatobi
There are two routes you can choose to reach Wangi-Wangi island. The first one is by using fast boat from Kendari to Bau-Bau for about 3 hours, then after that, from Bau-Bau to Wanci Island by motor boat about a 9 hour journey before it finally reached the Wanci island. The second route is by using motor boat directly from Kendari  to Wanci island but the trip takes approximately 12 hours. And the frequency of the motor boat for this route is only twice in one week.
You may also want to read:
Kaledupa Island, Southeast Sulawesi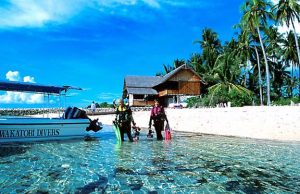 Kaledupa island is located in the south of the Wangi-Wangi island, in the north of the Tomia island and to the west of the Hoga island, Southeast Sulawesi Indonesia. Just like any other island around Wakatobi island Indonesia, Kaledupa is famous for its beautiful ocean.
Meanwhile, Kaledupa Island is still untouchable, virgin, it's so perfectly beautiful. Indeed, Kaledupa Island is another place Indonesia which is the best for diving with the phenomenal underwater view, the divers' heaven. Meanwhile, if you plan to visit Wakatobi Island Indonesia, here are the best places to visit in Kaledupa Island that you must visit someday:
1. Ollo Fort and Old Mosque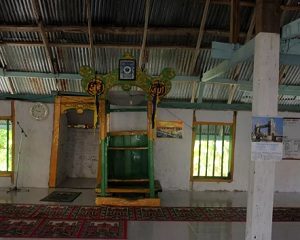 Benteng Ollo is a fort and a cultural heritage of the community historical sites in Kaledupa which until now still maintained and preserved by the local community. Benteng Ollo is located Buranga village, Kaledupa district. Benteng Ollo has nine lawa or cross beam, that supposedly, each is guarded by soldiers and the people in charge of the community to pray at lawa.
Inside this fort, there is a mosque called Masjid Tua. This mosque is believed to be the embodiment of a mother's body, which is why no women allowed to use this mosque. Masjid Tua has a measurement of 6.5 x 7 meters.
The distance of Benteng Ollo from the capital of district Kaledupa more or less 4 km, can be reached by using two or four-wheeled vehicles and for more less 15 minutes. This cultural heritage is a perfect tourist attraction for those who love history.
2. La Donda Fort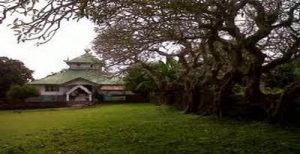 Benteng La Donda or La Donda fort is one of the historical sites belong to Kaledupa society. The fort is located in Kasawari village, the district of South Kaledupa.
Back in the day, Benteng La Donda is never been used as a bastion but simply as a settlements. The layout of the fort is located on the beach, more or less 1.5 km away from the seafront.
From the top of Benteng La Donda, tourists can witness the natural scenery of the south part of Kaledupa.
3. Kamali Fort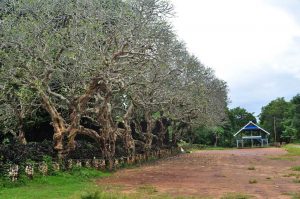 Benteng Kamali is an old fort with natural stone architecture with old cemeteries around it. Benteng Kamali was believed to be constructed in the era of  the Maluku Tobelo kingdom. The fort is located in Palea, Pajam village. To reach this fort, you can use two-wheeled vehicle about 9 km from Ambeua. The fort is a square-shaped area with a size of 20 x 50 meters wide.
How to Get to Kaledupa Island, Southeast Sulawesi 
The are two route to reach Kaledupa island. First option, will be from Wanci island using a motorboat with a journey time of approximately 2 hours to Kaledupa island, whereas the other option is using a speed boat will only take 1 hour.
Tomia Island, Indonesia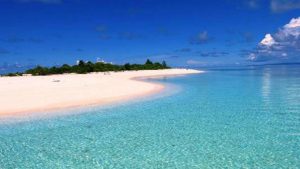 Tomia island is located in the southern of Kaledupa and the northern of Binongko island. Tomia Island Indonesia is a beautiful island with its own nature. Thus, Tomia Island is the best spot for diving, scuba diving, and snorkeling.
Also, it's a beautiful view ever. You can enjoy the nature, feel the breeze, or just walking on the shore bare foot. Meanwhile, the best places to visit in Tomia island are:
Route to Tomia Island
The route to Tomia island is the same as the route to Kaledupa which use a speedboat from the Wanci island, but it take a longer time, about 2 hours away. You also can use a motor boat directly from Bau-Bau which transport from Bau-Bau to Tomia only 2-3 times in a week.
Binongko Island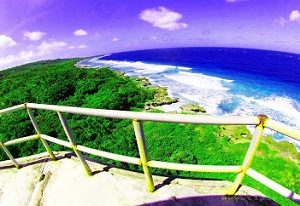 Binongko island is an island in Wakatobi that locally known as "Kepulauan Toekang Besi" or the archipelago of blacksmith. The name "Kepulauan Tokeang Besi" is given because the average of Binongko people is a blacksmith in the Taipabu, Makoro, Popalia and Sowa village. The name also reflects the character of the Binongko people; strong, brave and skilled in warfare.
For tourists, Binongko Island not only offers culture and yet natural panorama and a place where one of the main species in the earth's oldest living unmolested; hawksbill and green turtles.
Best place to visit in Binongko Island:
1. Palahidu Fort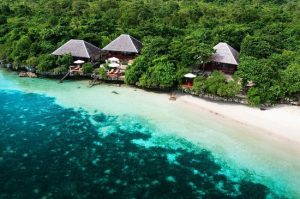 Benteng Palahidu is a fort located on a cliff top of the northern part of the coast of Binongko Island. Benteng Palahidu is one of the historical heritage of the Binongko community, which is located precisely in the Palahidu village, Binongko district.
The construction of Benteng Palahidu was made from rectangular shape stones. There is an ancient mosque which the only trace left is masts and the old cemetery that is considered sacred by the local community.
The location of Benteng Palahidu within more or less 2.5 km from the district capital  of Rukuwa and can be reached with two-wheeled or four-wheels vehicles. Not far from Benteng Palahidu, there is the infamous Palahidu beach with its beautiful panorama. From the top of the fort, tourists can watch the beautiful wide scenery.
2. Benteng Wali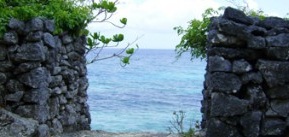 Benteng Wali is one of the historical heritage sites of Binongko Togo people.
Benteng Wali has a length of 70 fathoms with a rectangular shape and includes Kamali. Kamali itself is still inhabited by the heirs of the royal family. Inside of Benteng Wali, there is also an old cemetery. There are also another old cemetery called the city cemetery, not far from Benteng Wali.
The location of the fort is in the Wali village, Togo Binongko district. With a distance only more or less 9 Km, Benteng Wali can be reached by using two-wheeled or four-wheels vehicles because it is located in residential areas.
Route to Binongko Island
The routes to the island Binongko is more difficult than to the three other islands in Wakatobi. The access to the island can be reached from Bau-Bau by motor boat for only every once a week and it takes approximately 16 hours. The other option is byusing body vessel (pompong) from Tomia, it has many frequency than the first option, three times in one week.
Other Attractions in Wakatobi Island Indonesia
Thus, Wakatobi Island Indonesia is another heaven in Indonesia. It has the best places for diving, scuba diving, snorkeling, sunset hunting, and more breeze attractions.
Wakatobi Island Local Food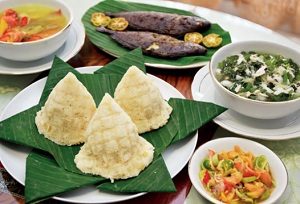 You can also enjoy the culinary tour of Wakatobi island Indonesia. Wakatobi island has many kind of food that you cannot find in other places. There are five food that quite popular among tourists, such as Kasuami a special food of Wakatobi with cassava as the basic ingredient. There is also Laluta with the scent of coconut and banana leaves, Kambalu with tubers as the basic ingredients, Kapusu with corn and red beans as an addition as the base ingredients, and last, Parende which is the basic ingredient is made of spiced fish tengkulela (starfruit).
There are total four islands in Wakatobi island, namely, Binongko, Kaleduoa, Tomea and Wangi-Wangi. It will only right  for you to visit these four islands when you visit Wakatobi island, otherwise, it will be a waste of time.
You may also want to read:
Indonesia, Tourist Attraction, Wakatobi island