33 Spots in Bunaken Island Indonesia – Diving – Biodiversity Attractions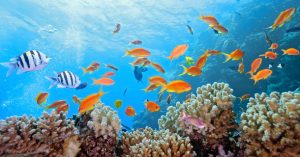 You must have known that Indonesia is a country rich with biodiversity. Indonesia's biodiversity is especially astonishing for the marine life in its seas. Strategically located between 2 oceans, the Indian Ocean to the west and south and the Southern Pacific Ocean to the west making Indonesia is a center of tidal activity. This, in turn, brings many nutrients from deep sea to the Indonesian waters.
As a result, the seas in Indonesian waters are inhabited by various kinds of sea creatures, great and small. Indonesia is named as one of the coral triangles. It is estimated that 70% of the coral species in the world can be found in Indonesia, making the archipelago nation a heaven for divers, novice, and professionals alike.
Bunaken Island Indonesia is the name of an island with a land area of 8 square kilometers. This island is located in the Bay of Manado, at the Indonesian province of North Sulawesi. Administratively, this island is part of Manado, the provincial capital city of Nort Sulawesi province.
The island can be reached by about 30 minutes ride on speed boat from Manado city harbor. Around the island of Bunaken you can find the Bunaken National Marine Park. This marine park is internationally renowned for having one of the highest marine life biodiversity in the world.
Bunaken National Park was established in 1991 with 97% of the national park is sea habitat while the rest of it is 3% land area are made up of the 5 islands mentioned above. Bunaken Marine Park has 20 diving spots with varying depths of up to 1,344 meters. Among these 20 diving spots, 12 of them are located on the island of Bunaken. These are the dive spots which are frequented by diving enthusiasts who wants to enjoy the underwater beauty of Indonesia.
The majority of these 12 diving spots can be found stretched along the south-east to northeastern part of Bunaken Island. Here you will also find the underwater great walls or also known as hanging walls. These are giant sized vertical walls which slightly curved upward. This wall is formed by hard corals and also serves a feeding ground for fish that inhabit the area around Bunaken Island.
Bunaken National Marine Park is located close to the center of what is called the Coral Triangle and is a habitat for 390 species of corals as well as various kind of fish, mollusks, reptiles and sea mammals. This marine park is a representation of Indonesia marine ecosystem which consisted of seagrass beds, coral reefs, and beach ecosystems. So, if you are diving in Indonesia, Bunaken Island North Sulawesi is your number one option.
You may also search:
Bunaken Island Indonesia Sea Breeze
Thus, Bunaken Island Indonesia has been known as the most beautiful diving spot all over the world. Indeed, Bunaken Island North Sulawesi has the great underwater view with vary biodiversity. The fish and sea animal are pure, natural, magic masterpieces. Indeed, here are the best spots of Bunaken Island diving that you may visit one day.
The Bunaken Marin Park is established because of various reasons. Firstly, the park has a wide range of biodiversity, which makes it very special. Second is because the marine park is a temporary haven for protected animals on their annual migration. Third, is because of the marine park's high economic value for both fisheries and tourism sector. Last but not least, Bunaken Island Indonesia is also a habitat for many rare and endangered animals like turtles, coelacanths, and sea mammals such as dugongs, whales, dolphins. Bunaken Marine Park is a heaven for divers because it has a unique contour. At the northern part of Sulawesi Island, you will not find a continental shelf. As a result, the coastal area here will have a sudden drop directly to the sea floor.
Around the island of Bunaken Island North Sulawesi, especially in front of the many resorts, you will find world class snorkeling sites right at your door step. You should remember not to use any fins as you snorkel as the currents can be strong and rapidly change. Meanwhile, here is all the best spots in Bunaken Island North Sulawesi that you must visit.
It is obvious that in Bunaken the main attraction is diving. You should keep note that the steep walls and the occasional change in currents and the strong underwater currents make most of Bunaken dive spots are more suitable for intermediate and advanced divers. However, there are also spots that are suitable for beginners. Let us have a look at some of these diving spots.
Bunaken Island, indonesia place, North Sulawesi