As one of the biggest islands in Indonesia, Sulawesi has lots of wonderful tourist attractions that can be visited. From its historical sites in South Sulawesi, beaches in North Sulawesi, to local cuisines of South Sulawesi. Every province on the island offers its own gems that attract many to come.
And if you like exploring the island from a height, you can definitely try hiking list of the mountains on the island. And the province where you can begin you're hiking exploration is North Sulawesi. North Sulawesi is known to be a province in Sulawesi that's not so wide. However, there are lists of breathtaking mountains that you can explore.
The mountains are actually not so high when being compared to other mountains in Indonesia. But, the view that you can enjoy once you arrive at the top is truly amazing. It's breathtaking. If you're interested to know more, here's a list of 7 breathtaking mountains to hike in North Sulawesi.
1. Mount Klabat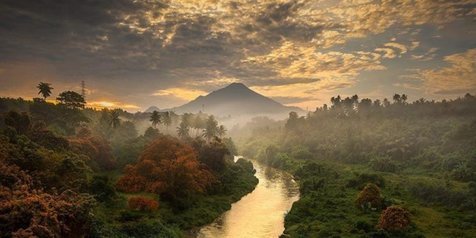 With the height of 2.100 metres above sea level, Mount Klabat is the highest mountain in North Sulawesi. The name Klabat itself comes from Minahasa languange which means local animals. This mountain is also often called as Mount Tamporok by the locals.
This is the perfect mountain if you want to have both the thirll of adventure and the calmness of the nature. It's because the track is quite challenging, so you'll get the thrill of adventure that you're looking for. At the same time, the green and beautiful scenery surrounding of the mountain will reconnect you to the calmness of the mother nature.
Mount Klabat is located in the east of Manado city. No wonder you can clearly see the view of Manado city and the beaches that surround it.
2. Mount Lokon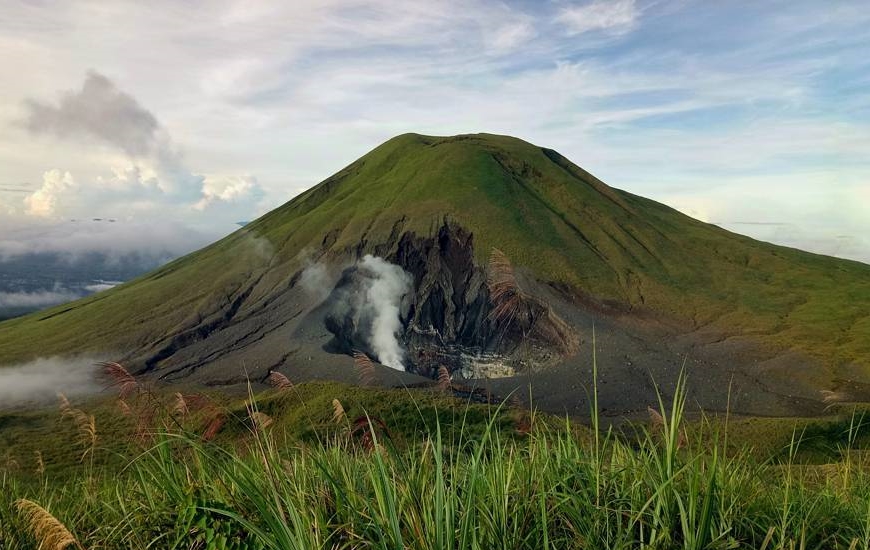 The height of Mount Lokon is about 1.580 metres above sea level. It's considered as one of the most active volcanoes in the province. And even though it's not so high, Mount Lokon is often recommended for those who like challenges in hiking. It's because the track is quite steep, slippery and hard as it's covered with grass with the height of 8 feet.
The surrounding of Mount Lokon is also wonderful. At the top of the mountain, you won't find tall trees that surround you, rather, you'll see many big stones and balck sand that show the activities of the volcano. But still, you can stare to the beauty that stretches far away before your eyes.
3. Mount Mahawu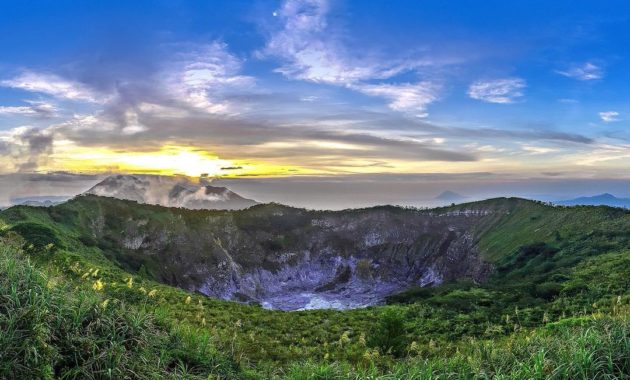 Mount Mahawu is a stratovolcano that's located on the east side of Mount Lokon. Its height is only about 1.311 metres above sea level. This makes this mountain becomes quite easy to hike. You can even bring your kids of younger family members to have a fun hiking time.
It's said that you can even arrive at the top of the mountain within 10 minutes only! The slope is also not steep, so it's even easier. Once you arrive at the top, your eyes will be super pleased with the breathtaking view.
You have greeneries surrounding you. The city of Manado far away with the sea surrounding it. And, you'll also see a beautiful 140 m deep crater with green water. It'll be a remarkable time to enjoy the magical moment with you loved ones.
4. Mount Ambang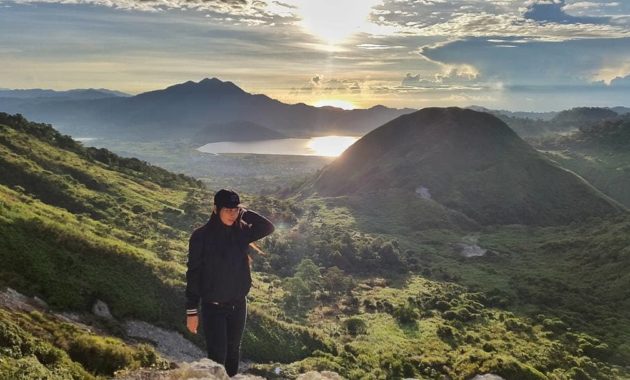 Located in East Bolaang Mongondow Regency with the height of 1.795 metres above sea level, Mount Ambang offers a rare opportunity where you can meet endemic species while hiking.
If you're lucky enough, you can see anoa, endemic birds, hog deer, snakes, and many other animals. It's because the area of this mountain is a part of a sanctuary.
And because it's still included in the area of the sanctuary, you'll need to pay an entrance fee in order to enter the area. And with the same reason, you'll also be able to enjoy endless greenery and breathtaking view as your surroundings. At an elevation of 750 metres, you'll also see two lakes that are side to side called lake Mo'oat and lake Tondok.
5. Mount Karangetang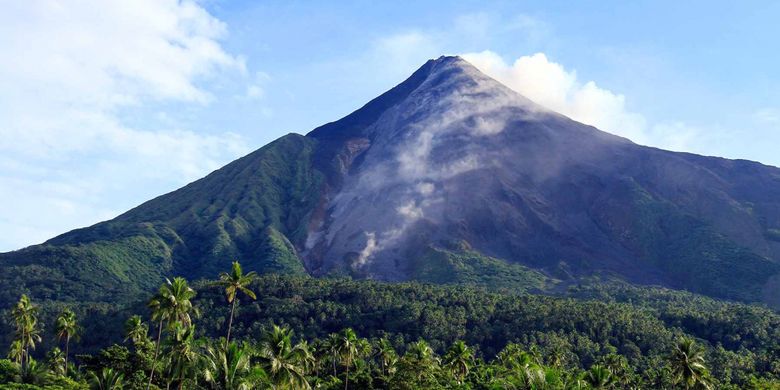 Mount Karangetang is also known as Mount Siau. It's located in Siau Tagulandang Biaro Regency, the northern side of North Sulawesi. This mountain is also considered as one of the most favorite hiking spot in North Sulawesi. However, this mountain is also considered very active.
SInce 1675, Mount Karangetang has erupted 40 times and the last one happend in 2011. The track to the top is also rocky, full of the big rocks that indicate the active rate of the mountain in the past. But, as of today, it's totaly safe to hike this mountain. So, if you like challenges, make sure to include Mount Karangetang onto your list.
6. Mount Masarang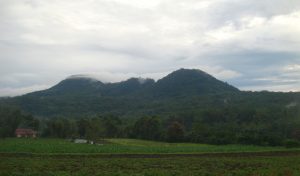 Located in Minahasa Regency, Mount Masarang is a popular hiking spot in North Sulawesi.The access to the mountain is quite easy. However, just like other mountains on the list, the facilities that can accomodate your hiking experience are not so well-developed. However, you can still have a pleasant experience when you already prepare everything you need.
The track is quite easy and the height is just so so. It's only about 560 metres above sea level. Therefore, Mount Masarang can be a choice if you want to have a pleasant hiking experience.
7. Mount Kasuratan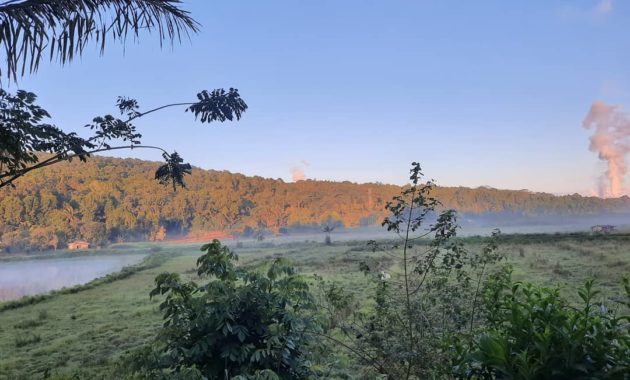 Last but not least, we have Mount Kasuratan on our list. This mountain is about 1.059 metres above sea level. It's located near another mountain in North Sulawesi called Mount Tampusu.
You can see something that's quite unique when you hike this mountain. It's because the mountain has an area of ​​hot mud that streams through the area of the Village area.
After you've explored all the mountains in this list, you definitely need to further your exploration to other regions in Indonesia. Our recommendation are mountains to hike in Aceh and mountains to hike in Papua. Have a fun hiking exploration!