There's a saying by Soekarno which translates to "Never forget history". A great nation is built upon her glorious, centuries-long history; and so is this nation, Indonesia, which comprises diverse local tribes, each having the culture and history of its own. That's the reason why you should visit Indonesia.
Today we're going to visit South Sulawesi. There are indeed many interesting things to do in South Sulawesi, and one of them is exploring some of its best historical sites. Besides offering you priceless information on cultural features of this region, these places serve as a time-machine that will take you back to the distant past.
Somba Opu Fortress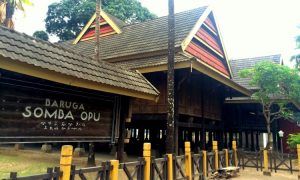 We begin our journey at this magnificent site located in Barombong sub-district in Gowa regency. This fortress was built by the 9th monarch of Gowa. Originally, besides being the spot where the ruling king settled, it was also an active trade center, where merchants from neighboring and remote countries met and did business.
Then it became a silent witness to the heroism of Prince Hasanuddin and the people of Gowa. In 1699, they bravely defended the fortress (and hence the independence of Gowa itself) against Dutch aggresion for two months. Unfortunately, in 24th June of that year Gowa lost the fight, and also the fortress, to the Dutch.
Today, it serves as a museum. Various historical artifacts from Gowa monarchy periods are kept here, including old ceramics, big cannon bullets, and old photographs of Gowa monarchs and royal families. Among the most interesting objects here are some typical, traditional houses of South Sulawesi, and a 9-meter long old cannon that weighs more than 9 tons.
It is open for public from 8 a.m. to 7 p.m., with no entrance fee required. You may have interest to also explore the National Museum of Indonesia and other museums in the capital city Jakarta.
Makasar Town Museum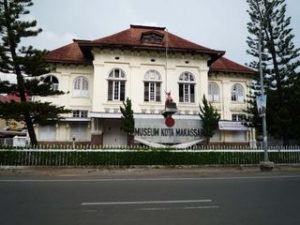 Built in 1916 by Dutch colonials, this building was once used as a governmental building. It was officially turned into a museum in June 7, 2000, following suggestions by the ruling governor Drs. H.B. Amiruddin, who wanted a special place to provide information for the public concerning the city's history.
This museum gives you a glance of Makasar's gradual development as a city through its collection of old photographs, coins of colonial times and other kinds of antiques.
It is located at Jalan Balai Kota no. 11. Paying no more than Rp 5,000 for entrance gives you the freedom to explore this museum anytime between 8 a.m. and 3.30 p.m., any day except Monday. Beside this museum, you may want to know also about other interesting museums in Banten and museums in Semarang.
Mandala Monument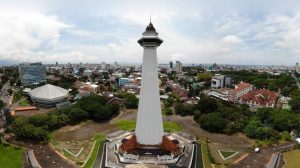 This 75-m high monument, which is actually a 4-story tower building, serves to commemorate Indonesian people's struggle in 1962 to retake West Papua from the Dutch. Its construction began in 1994 and completed 2 years later. It is officially inaugurated in 1996 by the former president Soeharto, who was then Commander-in-Chief strategically in charge of Mandala Operation.
Each floor of this building is dedicated to certain features of history it contains. Replica's and bas-relieves in the 1st floor tell you how people of South Sulawesi fought their way to freedom in the 18th century. Up to the 2nd floor, another set of diorama's and bas-relieves will bring you back the memory of how West Papua's freedom were being fought for.
Stepping into a replica of the Mandala Operation Commander's workroom on the 3rd floor, you'll relive the memory and atmosphere of how the Operation was being prepared. And finally, standing on the uppermost or 4th floor and feeding your eyes with the beautiful round-view of Makassar seen from above, will be the ultimate refreshment for your mind and soul.
This monument is located in Jalan Jendral Sudirman Baru. You are welcome to visit here any day from Monday to Friday, 11 a.m. to 6 p.m., by paying Rp 10,000 only for entrance fee.
4. Balla Lompoa Museum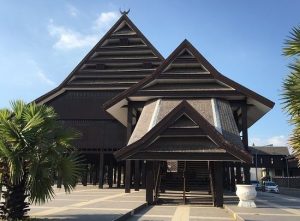 This museum is built to replicate the Gowa Monarchy's royal palace. The original palace was built in 1936 under the 31st monarch of Gowa. The term "Balla Lompoa" stands for "the great house" or "the house of greatness".
It preserves wide varieties of antiques, mostly relics of the Gowa Monarchy. Around 140 historical artifacts are kept here, consisting of, among others: jewelries, spears, two old hand-written Korans from 1848, and other stuffs.
Each item is placed in every room according to the room's supposed "function". In the main hall, you'll find the royal family tree on display. It begins with the 1st monarch of Gowa, who ruled in the 13th century, up to the last one, who died in 1957. In the same hall, a royal throne is specially placed at the center spot.
You can visit here free of charge, 7 days a week, anytime between 8 a.m. and 4 p.m.
Fort Rotterdam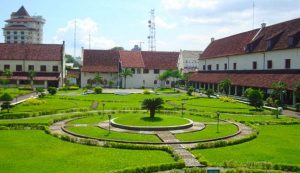 This is another site once belonged to the Gowa Monarchy, one of total 17 forts surrounding the kingdom's area. This fort happened to be the most grandiose among the others.
Built in 1545 by her 9th monarch, originally bearing the name Benteng Ujung Pandang (or Ujung Pandang Fort), it was taken over by the Dutch forces which then used it to store spices, renaming it Fort Rotterdam.
La Galigo Museum, located inside the fort building, preserves a collection of about 5000 historical items. Alongside it, you can find another interesting spot: a small enclosure, once used as a custody of Prince Diponegoro. He was captured by the Dutch after being entrapped into a fake peace negotiation.
You may visit this place any time, free of charge. You might expect to see the typical gloomy scenes in most old buildings of colonial periods, but you won't find such things here.
Since this place is also being run by the local government to serve as Makassar Cultural Center as well as office building, the interior is always kept clean and tidy.
There are still many more historical spots in this region to explore, and these 5 places are among the most popular so far. May you will have time to enjoy some of them. Happy exploring!