Not only amazing natural scenery, Indonesia also has places with extraordinary history that can expand your knowledge. Besides visiting Sultan Palace of Yogyakarta or historical destination in Aceh for travelers, visiting Banten is also a great choice as it has majestic historical background.
Banten is a province that decided to break apart from West Java province in 2000 due to its glorious historical background. The glorious history lasts from the sultanate period and the colonialism period to the present.
Historically, the Sultanate of Banten was having the peak of their glory during the reign of Sultan Ageng Tirtayasa (1631-1692) and became the center of Islam with its port used as the center of international trade.
During the Dutch colonialism, Banten was also marked as an important area with a naval fleet base in Anyer and Ujung Kulon and the construction of the Trans Java highway to Panarukan, East Java.
The glorius history of Banten can be seen nowadays in some museums in Banten itself. Visiting the museums will enrich your cultural knowledge about both Banten and Indonesia.
Then, without further do, here is a list of top 3 museums in Banten that could help enriching your historical knowledge.
1. Old Banten Archaeological Museum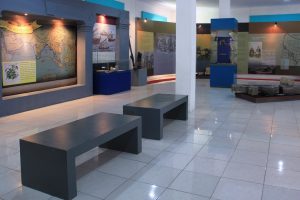 Old Banten Archaeological Museum is located in Kasemen subdistrict, Serang regency. It was built to preserve various types of artefacts that were originated from the reign of Sultanate of Banten. Old Banten Archaeological museum has approximately 1000 collections that are exhibited both indoor and outdoor.
Even though the main reason of building this museum is to preserve the artefacts from the Sultanate of Banten, this museum also has colletions that come from the pre-historic time, Hindu and Buddhist period, the Islamic period, and the colonial period.
The collections vary from ancient statue, roof decoration, currency, ceramics and pottery. There are also foreign ceramics that were originated from China, Japan, Middle East, and Europe, which prove that Banten really was the center for international trade.
Visiting this museum will be a great experience to learn how Indonesian's ancestors lived back then and how the international trade was doing even with language boundaries.
This museum opens Monday-Friday from 8 AM-4 PM. You only need to pay Rp. 20,000 for the entrance fee.
2. Multatuli Museum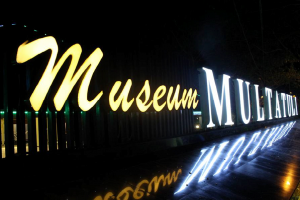 Multatuli museum is located in Rangkasbitung, Lebak regency. It was built in regards to Multatuli,the pen name of Eduard Douwes Dekker, Lebak's assistant resident who lived in Rangkasbitung in 1856.
Multatuli wrote his experience living in Rangkasbitung in a novel called Max Havelaar that was firstly published in 1860.
Through the novel, he protested against the colonialism of the Dutch in the former area of Indonesia, and exposed the rottenness of the colonialism.
Considering his vital role, no wonder that this museum was established to respect all of his works. Another Multatuli museum was firstly established in Amsterdam. However, the ownership of Multatuli museum in Rangkasbitung has nothing to do with the one in Amsterdam.
There are 7 rooms with 4 segments in this museum. In the first segment, you can learn about how colonialism entered Indonesia while in the second segment you can learn more about Multatuli and his great work; Max Havelaar.
The third segment tells about the history of Banten and Lebak while the last segment shows the history of Rangkasbitung. Visiting this museum will certainly broaden and enrich your historical knowledge while at the same time build humanism in yourself.
Going here is also a great choice for family trip with children, as they can learn many things here.
You do not need to pay to enter this museum as it is free and you only need to fill in guestbook. It opens Tuesday-Thursday from 8 AM-16 PM, Friday at 8 AM-11.30 AM and 2 PM-4 PM, and Saturday-Sunday at 9 AM-4 PM.
3. Benteng Heritage Museum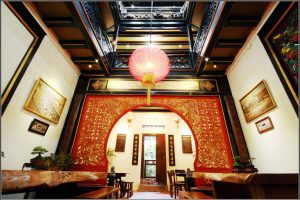 Benteng Heritage Museum is located in tangerang citi, Banten. It was opened on November 11, 2011 and is owned by a native of Chinese-Tangerang.
This museum was built to introduce the history and culture of Chinese-Tangerang whose ancestors were estimated came to Tangerang in 1407. The ancestors are suspected to be the group of Cheng Ho, a Chinese admiral who believed in Islam.
The name "benteng" itself refers to how people usually call Chinese-Tangerang people as "Chinese Benteng." It is because back to the colonial era, there was a Dutch fortress and around the fort lived the Chinese-Tangerang.
The collections of the museum include ceramic fragments, Chinese gambling equipments, statues of gods, wedding equipment, and many more. However, you are not allowed to take photograph or video of the collections when you are inside the museum.
Visiting this museum will give you further insight of how Indonesia becomes so diverse in ethnicity, language, and beliefs which is very essential in building tolerance.
Benteng heritage museum opens from 1 PM-6 PM. The amount of entrance fee for each visitor is different. General public is charged IDR 20,000, students are IDR 10,000, and foreign tourists are IDR 50,000.
Those are the top 3 museums in Banten that could enrich your historical knowledge. Visiting these museums will be great with children as they can learn many things in a fun way.
Besides these museums, there are also other museums in other provinces that you can visit. You can try visiting museums in Aceh, museums in East Java, museums in Bandung, and museums in Jakarta that could complete your historical knowledge journey.