Tangerang is one of the cities that is part of the Banten Province. The city itself can now be said to be a city that is experiencing rapid development. As one of the tourist attractions in Banten, this city does have a lot of exciting tourist destinations.
The development of the city of Tangerang itself is mostly located in areas around BSD. In the area we can find many tourist attractions such as horse riding. But this time, we will discuss about some of the best malls in Tangerang that you can visit.
Also read:  Things to Do near Summarecon Mall Serpong Tangerang
AEON Mall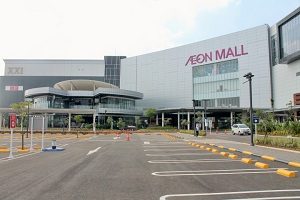 The first Mall we will talk about is AEON Mall. This mall is one of the most famous malls in the Tangerang area. The mall itself has a full address at Jalan BSD Raya Utama, Sampora, Cisauk, South Tangerang, Banten.
AEON Mall Co., Ltd. Alone is an international standard developer based in Japan. Some of the buildings have become tourist attractions in several countries. The existence of AEON Mall itself has entered into tourist attractions in Vietnam, Cambodia and in China.
Because of the developers are from Japan, it is not surprising if the concept of the building is very dominant with Japanese touch. Here we can find various kinds of food and beverage products from Japan, such as various kind of sushi and other Japanese cuisine you won't find it in any other shopping Mall.
Also read:  Best Places to Visit in South Tangerang for Your Best Cozy Holiday
Living World Alam Sutera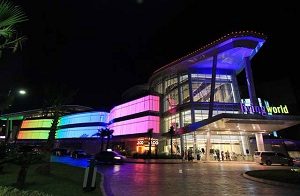 Another shopping center in the Tangerang area is Living World Alam Sutera. This place is a shopping place that can be said to be quite interesting and unique. As the only shopping place in Tangerang that carries the theme Home Living and Eat-tertainment Center.
Living World Alam Sutera itself is in the Serpong area and has become a part of one of the most famous tourist attractions in Serpong. Standing on an area of 140,000 m2 makes it one of the biggest shopping centers in Tangerang.
In addition, this location is also unique in terms of the interior and design it carries. If we go into this mall, we will feel a dynamic aura but it still seems elegant and comfortable. 
You might want to read:  A List of The Best Beaches in Tangerang
The Breeze BSD City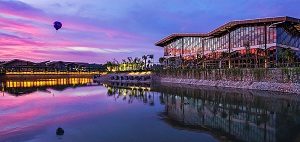 The next Mall you must visit is The Breeze BSD. This place is one of the tourist attractions in Tangerang that you should not miss. This is because there are so many unique things that this place has. The uniqueness makes it one of the most famous shopping places in the Tangerang area.
The first unique thing is in the building wall. The walls are mostly covered by glass, which will make the construction looks super grand, massive, futuristic, and modern. The existence of this glass wall is also allows visitors to be able to enjoy the scenery around The Breeze. This can indeed be said that the Breeze is a place that brings a natural-themed atmosphere into a shopping center.
You will not feel bored when you visit this place because there is so many things to see and there are so many good spot to take some picture and post it to your social media.
You can shop everything you need from clothes, cosmetics, gadget, food& beverage, everything you name it, you can find it in this place In addition, there are some fish ponds that are intentionally provided by the developer. The most fun thing is we can sit relax around the fish pond after you go for a long walk shopping in the mall. What a perfect place to shop and relax!
Also read:  Tanjung Pasir Beach in Tangerang – Price – Itinerary – Accommodation 
IKEA Alam Sutera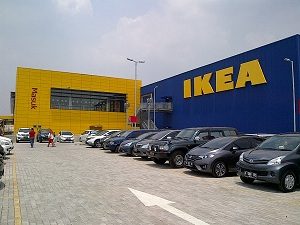 Shopping for household needs in the Tangerang area is not difficult anymore. This is because there has been a place that offers a variety of household needs that we can get.
The place is IKEA Alam Sutera, this place itself is a one stop solution to our problems and needs for various kinds of household appliances. We can find a variety of furniture in this place ranging from light furniture to quite complex furniture.
Besides that, there are not only finished goods here, various items that are still in the form of semi-finished materials are also available. This means that for those who like to be creative with their imagination, this location is the place to gather various materials that we need. In addition, this location has ready-made items and we just have to re-assemble. We can find various types of items at this location.
Also read:  16 Delight Things to Do in South Tangerang
Not only those who work in the furniture sector are here, but sometimes artists or those who work in the arts also come here. Usually they come to collect certain materials. The address of IKEA Alam Sutera itself is Alan Sutera Boulevard Kav.45, Kunciran, Pinang, Kota Tangerang, Banten 15320.
That was some of the best Malls in Tangerang that you can visit. Besides the mall mentioned above, there are still a number of other malls that you can go to such as:
BSD Junction
Mall WTC Matahari
ITC BSD
Teras Kota Mall
Plaza Bintaro Jaya
Lottemart Wholesale Ciputat
Ciputat Mega Mall
Tangerang City
Summarecon Mall Serpong
Supermall Karawaci
Those are some of the best malls in Tangerang that you can visit. Visiting a shopping center doesn't have to be related to shopping,  you can just go sight-seeing and even relaxing around the shopping mall area.
Other articles: