Malang is a popular city in East Java that is often visited by tourists. The city which is also known as students city does indeed have a wealth of charming natural attractions. One of them is in the South Malang area where there are many interesting beaches to visit.
One of the beaches in South Malang that is famous for being beautiful and now easily accessible is called Goa Cina beach. For more details about this attraction, here is some information for you.
Also read:  Things to Do in Bangil East Java
The Beauty of Chinese Cave in Java – Goa Cina Beach Review Indonesia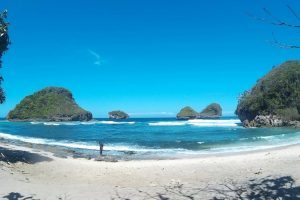 Goa Cina Beach is one of the beaches of the South Malang coastline that can be considered as a tourist attraction. This beach is one lane with Bajul Mati Beach which is also very interesting.
The uniqueness of Goa Cina Tourism is a clean beach with big waves. This beach also has several coral islands around the shoreline. Coral islands include Goa Cina, Nyonya Island, and Banteng Island.
This beach is very beautiful. Not only has white sand beaches, Goa China also has various types of trees and plants spread along the coastline. These trees can be used as a real location from the heat of the sun, especially if you visit during the day.
The waves that collide with each other also sometimes create fascinating waves. But because the waves are indeed quite large, it is better for visitors not to play too far on the water. It's better to just enjoy the atmosphere on the shore while playing sand or take pictures on the shore because this beach is also one of the interesting Spot Photos in Malang.
Also read:  Madakaripura Waterfall East Java Indonesia 
History of Goa China
Goa Cina beach was once known as Rowo Indah Beach. But then this beach was renamed Goa Cina Beach. This renaming was due to a Chinese farmer who died inside the cave around the beach.
This cave is on the right side, about 50 meters from the beach. The death of this Chinese ascetic is believed to have occurred decades ago. And since then this beach is more familiarly called Goa Cina Beach.
Also read:  The Full Information About Bromo Tengger Semeru National Park Guide
Location of Goa China
The location of Goa Cina Beach is in the South Malang area, precisely in Tumpak Awu Hamlet, Sitiarjo Village, Sumbermanjing Wetan, Malang Regency. This tourist spot in East Java can be accessed from the center of Malang by going to the southern region of Malang with 2 alternative routes. Here's the explanation.
Also read:  Spend Your Marvelous Holiday in These Things to Do in Sragen!
Turen Route
This route can be started from Malang city by heading to Turen. From the Turen area, you can go to Sumbermanjing Wetan. From there, pay attention to the guide that leads to Sendang Biru Beach. After that there will be a fork. Take the right to arrive at Goa China Beach. This path is a paved highway with winding and up and down lanes.
Kepanjen Route
The second route is through the Kepanjen area. You can drive from Malang city to the Kepanjen area, then head towards Pagak. Continue the journey until you reach the Bantur area. From there, take the route to Balekambang Beach. When you reach the intersection, take the left direction to arrive at Goa Cina Beach.
Price of Admission
This South Malang Goa Cina Tourism Object is quite affordable. The price of admission per person is only IDR 10,000. While the price of two-wheeled parking is Rp. 5,000. Parking for 4-wheeled vehicles is Rp. 7,000.
With a cheap price, the facilities there are also quite complete. You can enjoy beautiful views of the beach while enjoying food in several food stalls. In addition there are also prayer rooms and toilets that can accommodate worship activities and to change clothes.
Also read: The Remarkable Things to Do Near Gunung Kawi
What to Do in Goa China Beach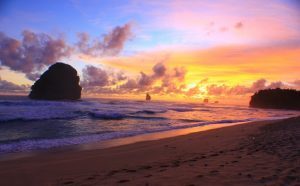 There are many things that can be done with friends or family at this beach. Some of them are as follows:
Enjoy the view
The first thing that can be done at Goa Cina is to enjoy the scenery. You can sit on the beach or you can walk along the shore while enjoying the interesting phenomenon of the waves. Always remember, because the location of this beach is classified as the southern coast of Java, the waves are very large and you should not swim in the sea. 
Play and or relax on the sand
Sand beach in Goa China is classified as white sand that is not so fine. But still fun activities to play sand can still be done. You can carry sand game equipment or just write sand with your fingers, and so on.
Camping
Another exciting activity that can be done on this beach is camping or camping. The location of this beach can be used as a Camping Place in recommended South Malang Beach. At night, the stars will look brighter there because indeed the ocean is directly adjacent to the Indian Ocean. You can also hunt for star photos at night in this place while camping.
Also read:  All You Need to Know Before You Hike Semeru – The Definitive Guide
Enjoy the sunrise
If you are camping, then don't forget to wake up at dawn. Then, enjoy the atmosphere of the sunrise on this beach. Reportedly, the view of the sun rises on Goa China Beach is fairly beautiful and certainly will fascinate tourists.
Enjoy the sunset
If you do not plan to camp or stay around Goa China, then come in the afternoon, because this beach is also one of the beaches that also offers the most beautiful view of Sunset in Indonesia that is captivating.
Thus some explanations about Goa Cina Tourism are interesting to visit while in the area of South Malang Beach. Hopefully, the above explanation is helpful and useful.
Other articles: