Madura Island is well known for having satay, karapan sapi and celurit. Those are the cultures of Madura Island. Madura Island, which is located in East Java, is also famous for having lots of interesting tourist attractions.
It has complete tourist attractions, ranging from beaches, mountains, cultural and religious tour and even culinary and find it more in things to do in Madura, Indonesia.
One of the most interesting tourist attractions in Madura Island is the beach. Madura Island is also heaven for beach lovers.
If you love sunbathing and laying on the sand under the sun, then you should put these 7 famous beaches for beach lovers in Madura Island.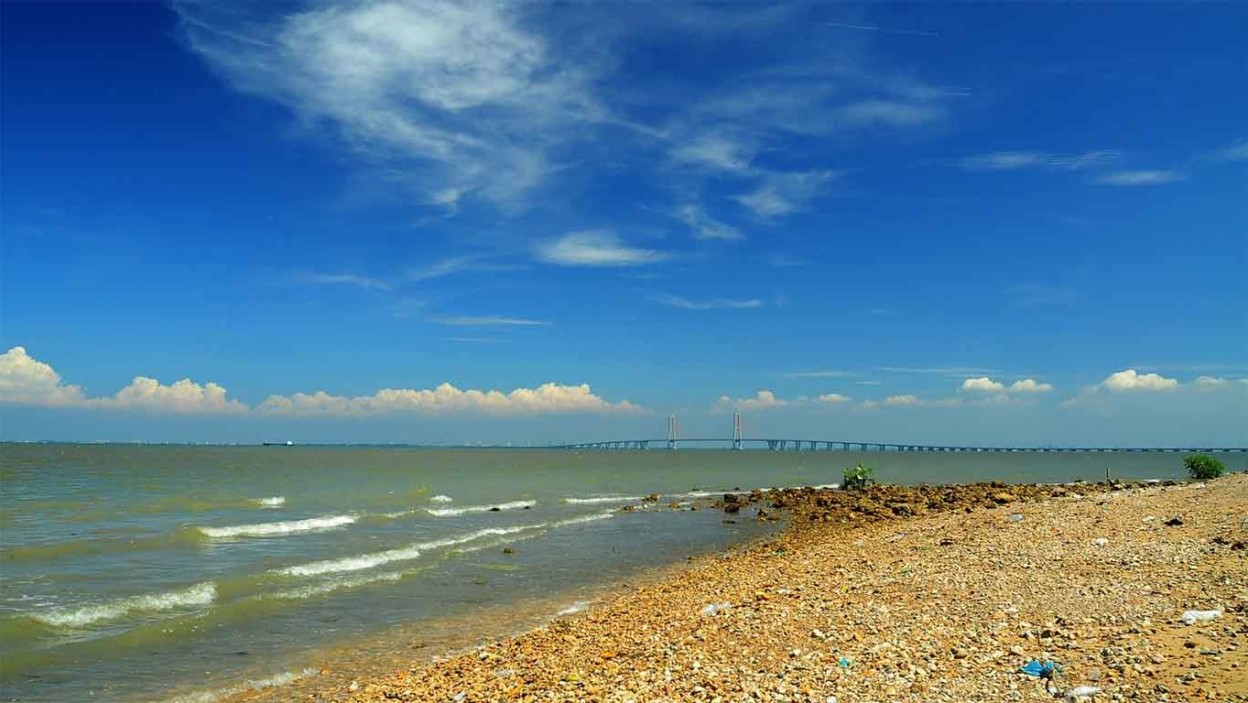 While most beaches are well known for having beautiful white sand, Rongkang Beach is quite different. Along Rongkang Beach, you will see rocks instead of sand. The word "Rongkang" comes from the word "ngrongkang" that means "perforated". Visiting Rongkang Beach is listed in best things to do in Bangkalan, Madura.
Rongkang Beach is located in Kwanyar Village, Bangkalan. Though it does not have white sand, this beach still serves you natural and exotic panoramic you cannot miss!
You will be able to enjoy the combination of shady trees and sloping hills that serve you the best view of Java Sea Coast and Madura Strait. Rongkang Beach is also located near Suramadu National Bridge, so you can also enjoy the twilight and night view of colorful lamps and boats at the bay.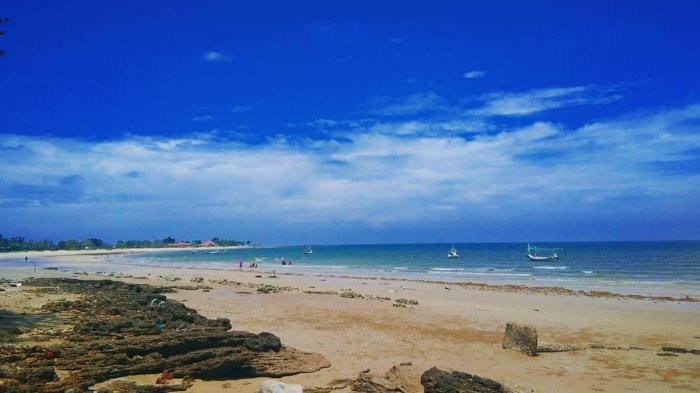 Siring Kemuning Beach is considered as one of the most beautiful beaches in the north of Bangkalan. It is located in Macajah Village, Tanjung Bumi, Bangkalan. This beach is well known for its waves and cool breezes.
You can enjoy the relaxing nuances on your mind while you're here. Just like common beaches, Siring Kemuning Beach also has white sand. However, this beach also has immense waves, so you need to be careful.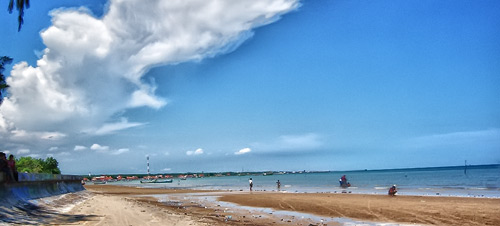 Camplong Beach is located in the village of Dharma Camplong. Camplong Beach is very popular among many tourists. You can enjoy the panoramic view of the white sand, calm waves and soothing breeze.
Besides being popular for its calming atmosphere, it is also a spot for some folk festivals and cultural activities of the local community. You can watch karapan sapi festivals, cultural tour of rokat tase and some folk-art performances.
Regarding to the facilities, you don't have to worry. This beach is well managed so some supporting facilities are provided, such as hotels, toilets, restaurants, playgrounds and worship places.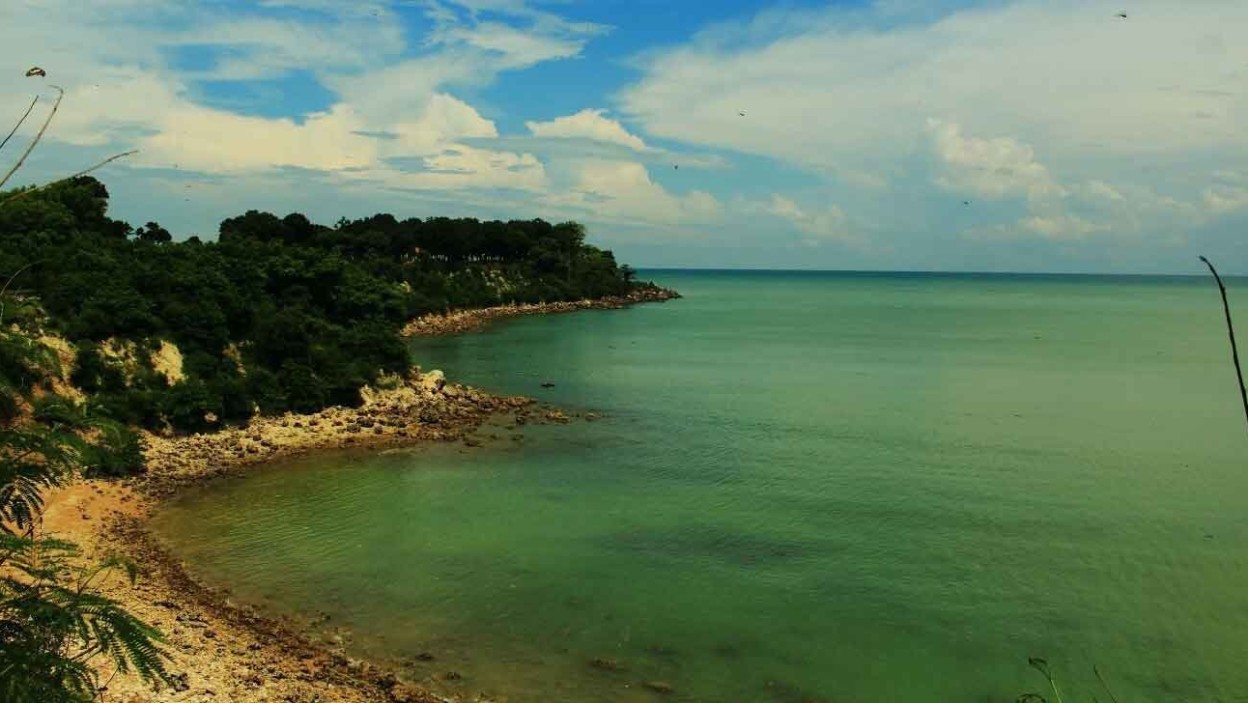 If you wish to relax at a quiet beach which is far away from the bustling city, then you can consider Jumiang Beach. Jumiang Beach is located in the Village of Tanjung, Pademawu, Pamekasan. The contour of the beach is quite unique as the lower part has sloping shores while the upper one has steep cliffs and solid corals.
In the lower part, you can enjoy some beach activities, such as playing in the water, riding the banana boat and others. In the upper area, you can enjoy the calm atmosphere by laying under the shady trees as well as seeing the sea from the top. You can also enjoy the sunset.
Lombang Beach is located in Sumenep Regency. It has been popular since the 2000s. This beach is very popular among tourists for having the white sand and cemara udang trees.
You can also enjoy some water activities in this beach, such as snorkeling and swimming. Don't worry about the facilities, as this beach has complete facilities from toilets, restaurants, worship places and others.
You can also read What to Eat in Madura? Most Tasty Local Food and enjoy the food!
As its name, Mamburit Beach is located in Mamburit Island, Sumenep, Madura Island. The island is not that big, but it surely provides comfortable place for you. You can enjoy several activities in this beach, such as touring the island by riding on a boat or enjoying the view of undersea life by snorkeling.
Don't forget to go to this place for enjoying the sunset view. The panorama of sunset in this beach is incredibly breathtaking.
Still in East Java, there are 7 Stunning Sunset Viewing Spots in Banyuwangi you can visit one day. They are worth visiting with your loved ones.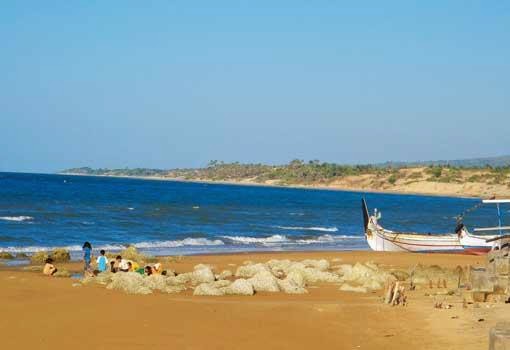 Sambilangan Beach is popular among tourists for its beauty and the lighthouse to enjoy the amazing view of the sea. The lighthouse in this beach was built in 1879.
Besides enjoying the view of the sea from this lighthouse, you can also observe the Dutch historical relics inside the lighthouse.
If you love beaches, make sure to visit the beaches at the other cities too, such as 5 Stunning Beaches in Bulukumba, South Sulawesi and Visit these 4 Magnificent Beaches in Pacitan: Heaven for Surfers!.