Indonesia is full of amazing beaches, including these white sand beaches in Indonesia. Not only Bali that is famous for having some well-known beaches, Bulukumba in Makassar, South Sulawesi is full of interesting tourist attractions.
The tourist attractions range from the cultural one, such as Pasangnga Ri Kajang where you can learn the traditions of the local society to the natural ones, such as Tanjung Bira Beach with its white sand carpet. This place has not been touched a lot by tourism management, so you still can enjoy the pure beauty of it.
Bulukumba is also heaven for beach lovers but you can also do these things to do in Bulukumba. This southernmost tip of Sulawesi is a place filled by many exotic beaches. If you are longing to visit beaches, then consider these 5 stunning beaches in Bulukumba on your list!
Tanjung Bira beach is located in Bonto Bahari Sub-District, Bulukumba District, South Sulawesi. This beach is very clean with a very good arrangement. The texture of the sand in this beach is very soft, just like flour.
The light blue seawater is another attraction of this beach. The seawater is very clear and it is combined with the captivating panorama. No wonder, Tanjung Bira is listed in best beaches in Sulawesi. It's a must-visit spot!
The coastal area is divided into two sides of the coast, the west and the east side. Most travelers prefer to enjoy the west side more than the east side. There're many things you can do here, such as snorkeling and diving. You can also visit Liukang Loe Island, a small island located on the west side of this beach.
Another lovely beach in Bulukumba is Kaluku Beach, which is located in Bonto Bahari, Bulukumba. Kaluku Beach is quite close to Tanjung Bira.
Kaluku Beach will allow you to enjoy the white sand soil along with the vast coconut orchard. This what makes Kaluku Beach become a great place for chilling. The beach serves a mesmerizing view, especially during sunrise.
Besides enjoying the sunrise, there are some activities you can do here, such as fishing, hiking and swimming too. Make sure to prepare your own snacks when you get here as there are no restaurants yet.
Pusahely beach is still "virgin" as it is not touched yet by any tourism management. Pusahelu Beach has a small white sandy part for you to enjoy the scenery and relax. This beach is located in Darubiah Village, specifically behind Bara Beach.
As this beach is still "virgin", there aren't many travelers know this beach yet. So, it won't be too crowded and you will be able to enjoy the pure beauty of this beach. Still in Sulawesi Islands, you can also visit these beaches in Makassar.
Bara Beach is another tropical beach. Its long stretch of white sand, turquoise shallow water and lovely palm trees are the main attractions of this beach. If you enjoy water activities, then Bara Beach is perfect for you.
You can explore the beauty of underwater world by snorkeling among the amazing corals around the resort or nearby islands. You can also explore the place for making the traditional ship, Bira Phinisi along the beach not far from the port.
This beach is located in Tanjung Bira, Bulukumba District, South Sulawesi and is considered as one of the "virgin" and hidden beaches in Bulukumba. If you're looking for tranquility and peaceful place to go, then this beach is perfect for you!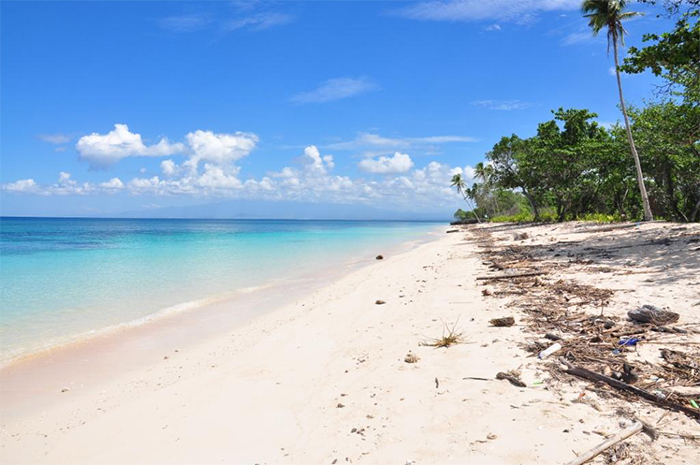 Bulukumba is truly rich in amazing and beautiful beaches. The next beach to explore in Bulukumba is Lemo Beach. Lemo Beach is known to have white sand and crystal clear water. The seawater is really calm. This beach also provides a comfortable shade as there are many formation of trees and bushes.
The best location of this beach is the pier. You can simply take selfies and pictures here. Some brave tourists dare themselves to jump from the pier into the water freely.
If you dare, then you should try. Don't worry as the water is calm and safe too. You can also swim at the sea and it is also suitable and safe for kids.
If you don't feel like swimming, then you can rent a boat from some fishermen and explore the seawater. You can also explore the beach by walking. The white sand is soft so it will be comfortable to walk on it.
The sound of the wave is mesmerizing and it is so peaceful to enjoy it. If you're looking for a peaceful place to eradicate stress, then come to Lemo Beach!
Getting hungry? Don't worry! You will find some groups of local sellers selling local food and snacks, drinks and even souvenirs. While you're still in South Sulawesi, spend time trying these local cuisines of South Sulawesi.