When you read the title of this article, your forehead might be frowned as you might not know where Pinrang is. Pinrang is a small city in South Sulawesi. That's probably the main reason why you never or rarely heard it. However, even though it's just a small city in South Sulawesi, it has many things to offer.
It has many tourist attractions that are as exciting as other tourist attractions in Palopo, South Sulawesi. The attractions range from beautiful beaches, outstanding waterfalls, to cultural and religious sites.
They are all exciting, making them the must-visit tourist attractions when you're on the island of Sulawesi. To give you a brief tour, here is a list of 10 must-visit tourist attractions in Pinrang.
1. Lowita Beach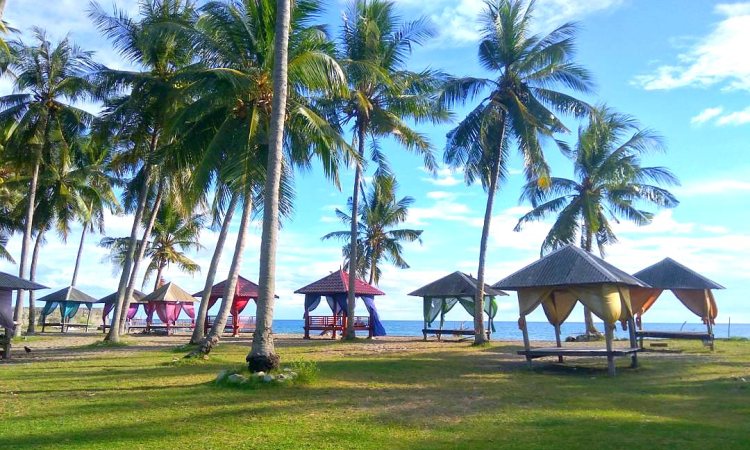 Lowita beach might not be as popular as other best beaches in Sulawesi. However, it holds its own charms that makes it stands out on its own way. Located in Tasiwalie, Suppa Regency, Pinrang, Lowita beach is a popular destination in the city. It has blue, clean water with dozens of coconut trees and gazebos on the seaside.
The location is quite strategic. Therefore, it can be easily accessed by either motorcycles or cars. It's a must-visit destination when you're in Pinrang. Moreover, the entrance fee is also affordable. You can enjoy the view of the ocean by sitting on the gazebo and enjoy the wind that gently blows.
2. Kalijodoh Waterfall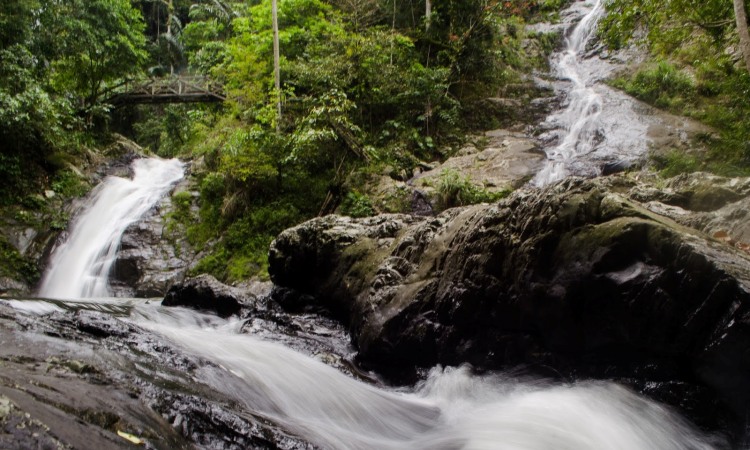 Kalijodoh waterfall is one of the beautiful waterfalls in South Sulawesi. This waterfall becomes more interesting as it has myth that is believed by the locals and has spreaded among visitors. As the name, Kalijodoh, it's believed that you'll meet you're soulmate when you visit this waterfall. The word jodoh in its name means soulmate in Bahasa Indonesia.
However, besides the myth, the waterfall's beauty is the one that attracts many to visit. Located in Benteng Village, Lembang Regency, Pinrang, this waterfall is decorated with many natural, big stones that make it looks stunning and beautiful. The water is also clear and refreshing. It's a must-visit destination if you want to refresh your mind and body.
3. Ujung Tape Beach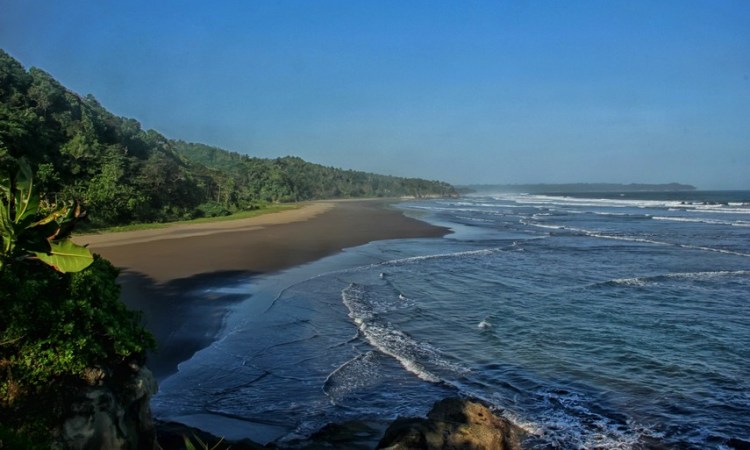 The next tourist attraction is Ujung Tape beach. Instead of clean white sand, Ujung tape beach has sparkling, black sand that makes it looks astonishing.
The seaside is decorated with big coral reefs that are perfect for your photo spots. Shady trees and greenery filled the seaside. The best time to visit this beach will be around the sunset time as the view is truly astonishing.
4. Karawa Waterfall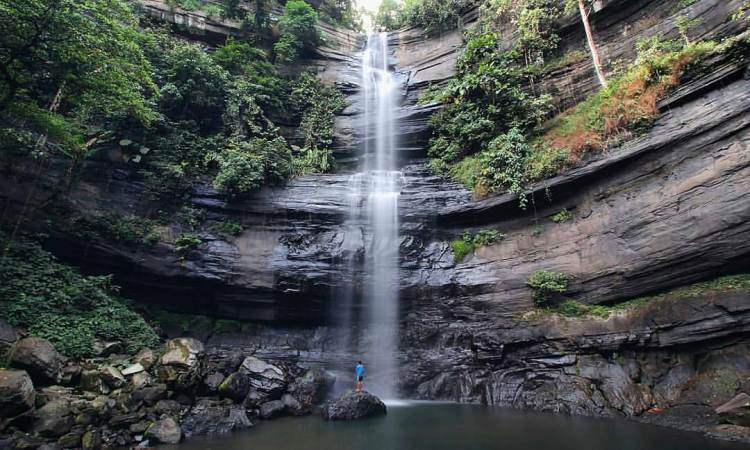 The magnificent view of Karawa waterfall will please your eyes as soon as you see it. The waterfall stands high with the water that directly streams to the pool beneath it. The water is clean and clear and the air is refreshing. It's also surrounded by greenery, creating an inevitable scenery.
It's located in Betteng, Lembang Regency, quite far from the crowd. That's why the ambience is also calm and relaxing. Adding more point to visit it. The locals call this waterfall as Batu Korang waterfall. It's a destination that will make you want to stay as long as possible.
5. Mount Tirasa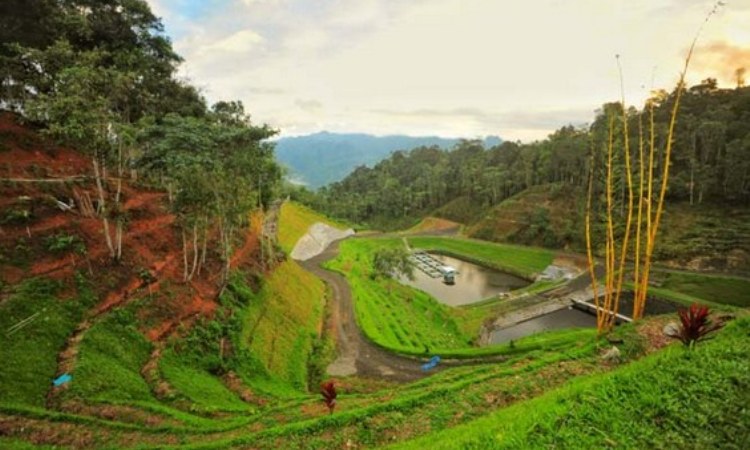 There are lists of mountains in South Sulawesi that you can visit or hike. But Mount Tirasa is the must-visit one when you're in Pinrang. It's located in Tapporang.
The view of this mountain is so precious that you'll immediately want to take your camera and capture it on many photos. You'll want to make sure that you can remember the moment forever and recall it whenever you need a dose of vitamin.
The green landscape that lies before your eyes immediately welcome you when you arrive at this mountain. A figure of another mountain lies far away from the picturesque green lush.
The air is also fresh, supplying the unpoluted oxygen that your body misses. Visitors from many places come to this mountain in order to recharge their energy while staring at the wonderful view.
6. Saoraja Traditional House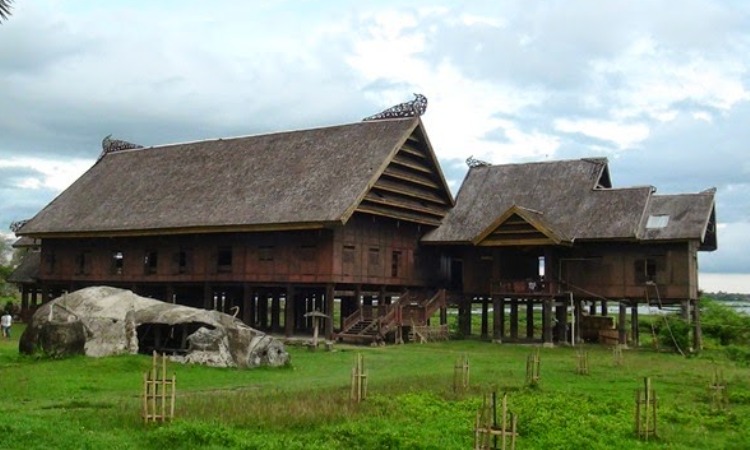 It's always nice to have a cultural introduction about the place that you visit, right? In Pinrang, you can both enjoy the beautiful natural scenery while observing and learning about their cultural life. To have them, you can visit the traditional house of Pinrang, called Saoraja.
This house is built with 101 wooden poles as its base. The house is also fully made from natural materials like woods and reeds. The house is surrounded by rice fields as the place where the locals farm their needs.
This makes the ambience of the house becomes really calm. Even though it looks so traditional, the access to this house is quite easy as road-access is available.
7. Sulili Hot Water Spring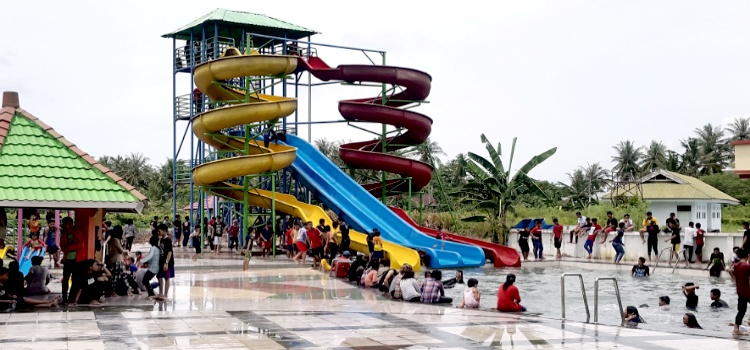 The next must-visit tourist attraction on our list is Sulili Hot Water Spring. If you wish to have a traditional hot spring, you won't get it here. But, if you wish to have fun in the spring, this place is the right option.
It's because this spring takes waterboom as its concept. There are many recreational facilities that will make your day here becomes amazing.
The hot water is natural hot water that is taken from the natural hot spring of Mount Paleteang. This attraction is located in Mamminasae Village, Palleteang Regency, Pinrang. It's usually crowded bythe locals. So, besides having fun swimming or playing at the spring, you can also interact with the locals.
8. Grand Mosque of Pinrang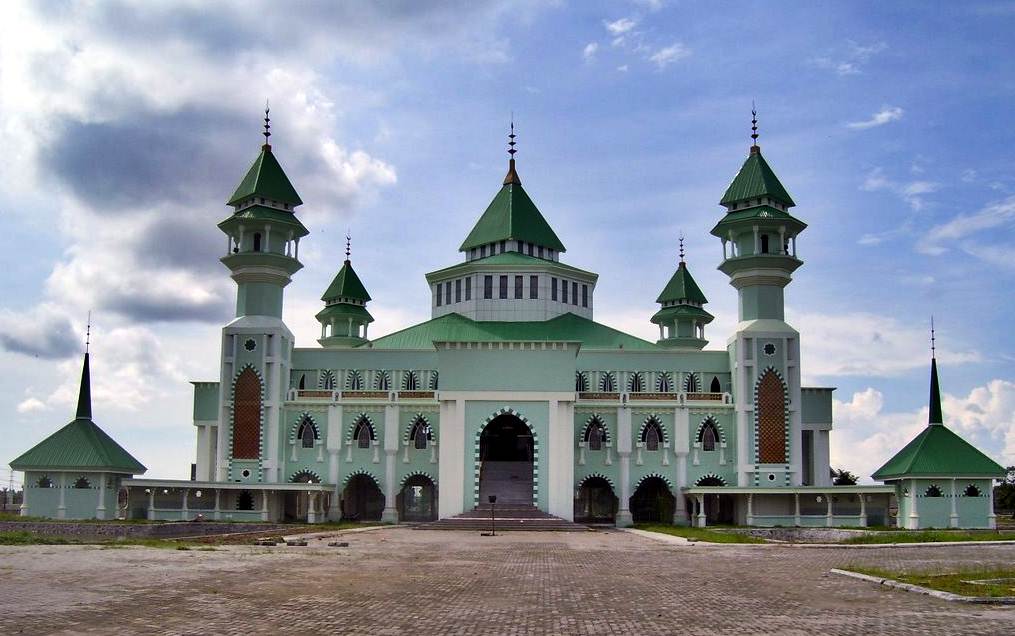 Indonesia is known as one of the countries that has the most population of moslems in the world. And the major population of Pinrang is also moslems. And as a result, there are many mosques around the city.
The architecture of the mosques in Indonesia is always great to explore. And in Pinrang, you can find a majestic mosque which is the Grand Mosque of Pinrang.
This mosque stand firmly is painted in soft green color. It stands firmly in open area, showcasing how grand it is. Observing the architecture of this mosque will be a fun activity to do.
Besides, you can also observe how the moslems are worshiping. Of course you're not allowed to interefered. But it's surely will be a fun thing to do even if you're just observing.
9. Puncak Karomba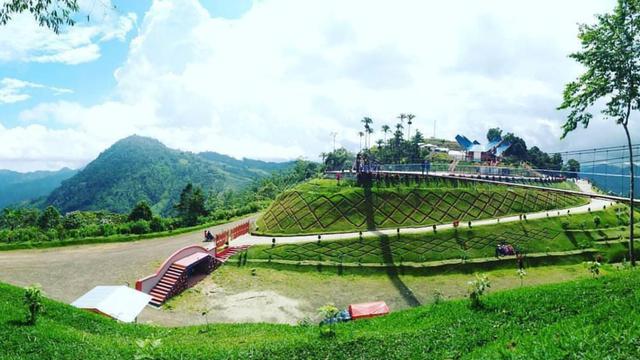 Puncak Karomba is located in plateau area of Suppirang Village, Lembang Regency, Pinrang, about 1200 metres above sea level. The scenery at this place is truly enchanting.
The refreshing, green view will surely please your eyes. But, besides just standing there enjoying the beautiful view, you can also try some interesting facilities there. The suspension bridge, for instance.
10. Sarambu Waterfall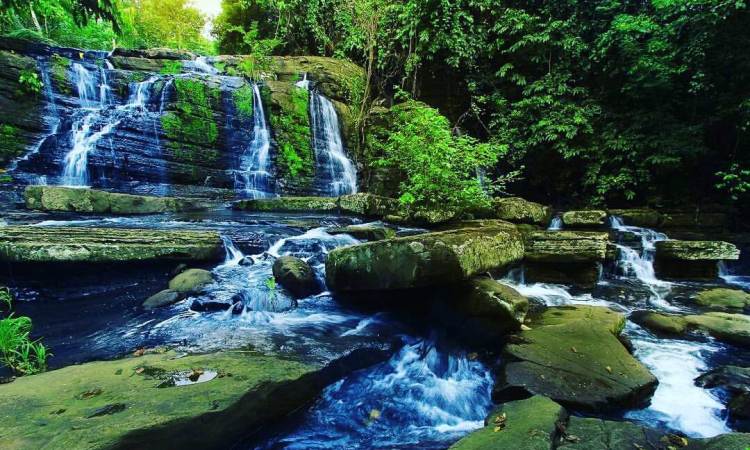 Last but not least, you must visit Sarambu waterfall. You'll be surely stunned when you see this beautiful waterfall. It has clean water taht streams in between big rocks. The view itself just looks amazing. It's also surrounded by trees and greenery, which makes it becomes refreshing.
However, you'll need to put more effort in order to arrive here as the field to the waterfall is a bit extreme. But, of course all your effort will be paid of once you arrive at this magnificent waterfall.
This list of exciting tourist attractions in Pinrang is one of the reasons why you should visit Sulawesi, especially Pinrang. So, after reading, have you planned to visit Pinrang?