With the characteristics of the island, no wonder if one can find so many things on an island named Sulawesi. An island located just by the bigger Boreno, is known for its maritime attractions. The beaches like Losari for example, are always filled with so many visitors, especially during the free days.
What most people don't know, Sulawesi is also actually filled with many other types of attractions. And they are uniquely interesting, like the historical sites in Medan for example.
Almost all of them are engaging, and actually worth visiting. Despite their unknown names, they can still deliver the experience of a perfect tourist spot.
You know, for the natural attractions, aside from finding the beaches in North Sulawesi or mountains, you may as well have a chance to witness the beauty of waterfalls that are mostly found in South Sulawesi.
Want to see closer?
Waterfalls in South Sulawesi
1. Ketemu Jodoh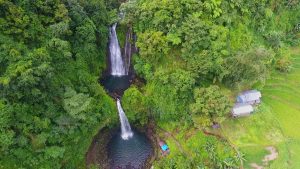 · Location : Majanna village, Parigi, Gowa
· Ticket Fee : Rp2.000,-
One of the most beautiful waterfalls in South Sulawesi that could satisfy you is the Ketemu Jodoh. Waterfalls with this unique name, can attract the attention of many tourists.
Why is it named "Ketemu Jodoh" though?, it means soulmate in Indonesian.  The legendary story mentioned that: "Anyone who bathes in this waterfall will meet their soul mates".
Well, if the legend told us that behind-the-scenes story, it must be a suitable place for the singles out there.
2. Bulan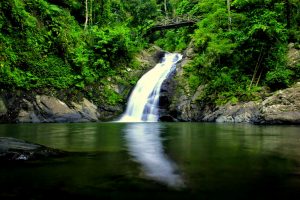 · Location : Malino, Tinggimoncong
· Ticket Fee : Rp5.000,-
From the name alone, this play sounds unique and interesting.
The Bulan Waterfall is indeed a short waterfall but its beauty cannot be doubted.Its very tight location is accompanied by the green vegetations, making this place even more beautiful.
This waterfall with a pretty low in height, has a pool that is big enough and wide. This place is perfect for those of you who like to bathe or swim.
3. Parangloe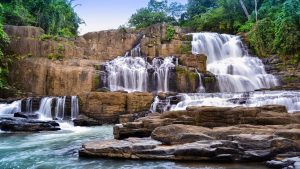 · Location : Parangloe, Parangloe, Makassar
· Ticket Fee : Rp10.000,-
Parangloe Waterfall can be your choice of waterfall tourism. You can enjoy this exquisite charm in the area of ​​Parangloe Village, Parangloe District, which is located approximately about 50 KM from downtown Makassar.
It took about 90 minutes to reach this waterfall. Parangloe Waterfall is a three-leveled waterfall. The most beautiful one you can see is the last level.
At this level, there are two streams of water which are water with a large and strong flow and a small stream of water that is enchanting.
4. Takapala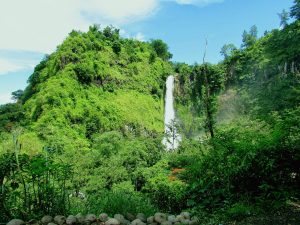 · Location : Majanang, Parigi
·   Ticket Fee : Rp2.000,-
Arriving at South Sulawesi, you may have a chance to explore everything. From the things to do in Tomohon, to a lone hidden area around Makassar that holds an outstanding beauty.
The name is Takapala, a high gem located in the mist of Majanang village, Parigi. The water mist itself is actually created by the waterfall. It's not thick, and  enhances the magical atmosphere this waterfall already had instead.
5. Lembanna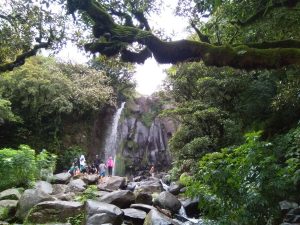 · Location : Lembanna village
· Ticket Fee : Free
Usually, people tend to build their camp near something calming or relaxing, like by the lake, or at the foot of the mountains. In Lembanna, you can do pretty much the same thing. It has an area that is quite enough for building no more than five camps.
It's totally free to enjoy this magnificent beauty. The waterfall itself is really cool and relaxing. Small streams of water would make anyone want to feel it.
It's not that big of a flow. Instead, it's calm and flows in line alongside the big stones that scattered along the area.
These are the mountain's natural stones, which look pretty and extremely slippery as well. Make sure that you wear suitable footwear when exploring the waterfall nearer.
6. Lembang Saukang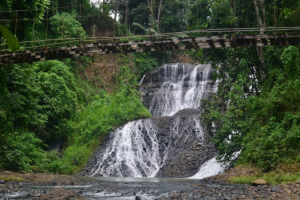 · Location : Tellu Limpoe, Sinjai
· Ticket Fee : Free
After enjoying the things to do in Bulukumba, you can do the next trip to a waterfall named Lembang Saukang. For those of you who want to get rid of fatigue from work routines, this waterfall is really recommended for you. It can refresh your mind and eyes.
You will feel the coolness, because the variety of plants and trees adorn the waterfall. In addition, you can also enjoy the enchanting beauty of the Lembang Saukang waterfall on a suspension bridge, 7 meters above the river.
This waterfall is also known as the Seven-Leveled waterfall, because based on its history, the waterfall has seven levels. It's just the structure of the waterfall that changed during a flood that was also accompanied by landslides in 2006.
Now, only three levels remain and it's better known as the Lembang Saukang waterfall.
7. Maddenge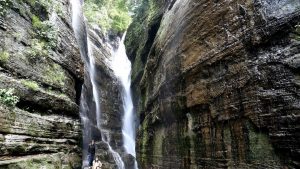 · Location : Maddenge, Camba
· Ticket Fee : Rp2.000,-
The next waterfall that has a mesmerizing charm is Maddenge waterfall. For some people, it sounds very unfamiliar. But, for the lovers of nature tourism, this waterfall is visited in their spare times.
In fact, it is currently rumored that this waterfall has become one of the possible targets of photographers. It is because this waterfall will make your photo shots look good and beautiful.
8. Biroro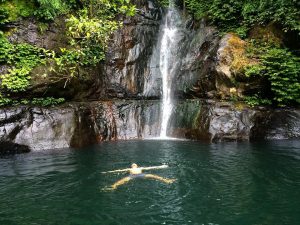 · Location : Bonrolurang, Gowa
· Ticket Fee : Rp10.000,-
If you think that reaching the peak of mountains in South Sulawesi, then maybe you can do the alternative by visiting Biroro. Biroro is the name of a waterfall, a hidden one, nearly untouchable by human populations.
It's far hidden area makes it nearly impossible to reach with vehicles, so the tourists should walk. They need to use their legs for about 200 meters up and down. No need to worry, along the way you'll be served with wonderful panorama.
The fatigue will be released right away after sipping fresh water from Biroro waterfall. It's highly calming and relaxing, and highly suitable a location for stress relieving.