A province located on the northern Sulawesi holds a lot of beauties you can probably imagine. North Sulawesi has some things to offer for the coming tourists, such as the best national parks in North Sulawesi for example.
A lot of areas inside the province are also blessed with interesting tourist spots, including the one named Tomohon.
Tomohon is a city in North Sulawesi. Before the year 2003, it was still a district that included in the area of Minahasa.
Aside from the growing economy via meat business, Tomohon city is often recommended as a place for holiday, especially with the beautiful best beaches of North Sulawesi there as well.
If you have a plan to go for Tomohon, here's some places you should visit :
1. Mount Lokon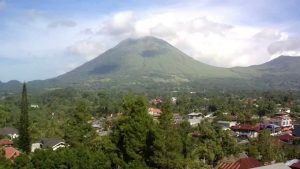 · Location : Kayawu, North Tomohon
· Ticket Fee : Rp20.000,-
The destination that you must visit in Tomohon City is none other than Mount Lokon. Especially for some of you who like to hike, this place should be included in your bucket list.
Lokon is a mountain with an altitude of 1580 masl and actually a volcano that is still active even today.
It's a great mountain to hike other than the mountains in South Sulawesi. Lokon is also said to be the heaven on Earth, at least by some people who have been visited the mountain before.
For the hikers, the peak at Mount Lokon is an actual natural paradise because of the beautiful scenery.
Also, the place is quite close to the city center, only 3.5 KM away.
2. Kai' Santi Peak'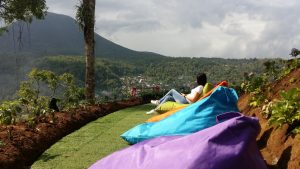 · Location : Woloan Dua, West Tomohon
· Ticket Fee : Rp25.000,-
The next tourist attraction in Tomohon is Kai 'Santi. This time, the tourist attraction is in the cool and beautiful hilly areas.
There are places that are still far from pollution, and they're very suitable to be used as vacation spots.
Located in the Woloan Dua area of ​​West Tomohon sub-district, this place is popular with tourists because of the beauty of its natural panorama.
The place is also preserved well with the addition of a wooden platform and some bean bag chairs for sitting.
3. Jendela Dunia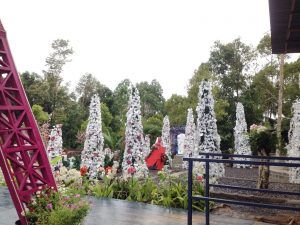 · Location : Pinaras Tara-tara st., Tara-tara village, West Monohon
· Ticket Fee : Rp35.000,- for adults and Rp20.000,- for kids above 5 years old
This place that is called Jendela Dunia or the Window to the World brings an interesting concept that is specially designed for young people.
No wonder this place is very popular among teenagers in Tomohon City.
There are many cool spots for selfies that are provided specifically for visitors who stop by.
The spots carry different themes, such as the miniature of Dutch windmills, Paris Eiffel Tower, Hollywood, and so forth.
4. Linow Lake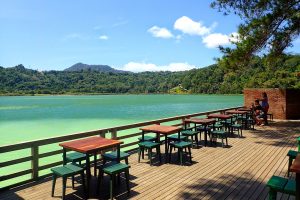 · Location : Lahendong, South Monohon
· Ticket Fee : Rp25.000,-
Other than visiting the crowded and popular marine tourism of Southeast sulawesi, you may as well visit the calmer attraction like the Linow Lake.
This lake is a beautiful tourist spot that is often used for Pre-wedding photo backgrounds.
Located in the Kakaskasen Tiga of North Tomohon sub-district, this place is actually one of the religious tourist destinations in Tomohon City.
5. The View Tinoor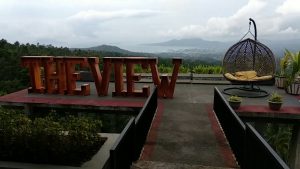 · Location : Tinoor Satu, North Tomohon
· Ticket Fee : Rp2.000,- for parking ticket
The concept of a place called The View Tinoor is actually interesting. You'll be given not only a plate of tasty dish, but also a greatly-looking panorama.
This place is a great place for you culinary lovers. Offering a variety of menus, and being a place that perfect as a family culinary spot.
If you want to eat a variety of culinary with super beautiful scenery, you can visit this place at any time.
6. Gardenia Country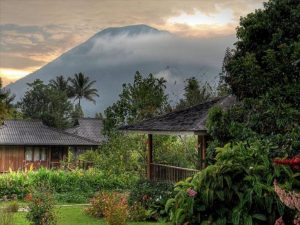 · Location : Kawiley st., Kakaskasen Dua, North Tomohon
· Ticket Fee : Because it's actually an Inn, the price varies
Once again, there's also another place that combines the elements of culinary and natural scenery. The name is Gardenia Country.
In this place, your eyes will be spoiled by the beauty of various kinds of flowers and plants that are well cared.
You will be satisfied by walking around while enjoying the expanse of flowers and other plantations surrounding you.
Once you are finally satisfied, you can sit back and relax in the restaurant that has been provided. While eating food, you will be presented with views of Mount Lakon and its beautiful lake.
7. Valentine Hills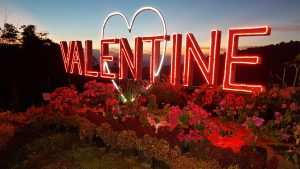 · Location : Woloan Kayawu st., Woloan Dua, West Tomohon
· Ticket Fee : Rp15.000,-
The best diving spots in Sulawesi islands are not the only romantic locations you can find around Sulawesi for two.
In Tomohon, there's a place called Valentine Hills. This relatively new attraction offers a charming view from above.
This place is located in Woloan Dua Village of West Tomohon sub-district.
The visitors can enjoy some of the fun rides that have been provided such as swings, gazebos, and so forth.
Not only that, there are also spots that are specifically designed for taking selfies.
8. We'lu Cafe and Resto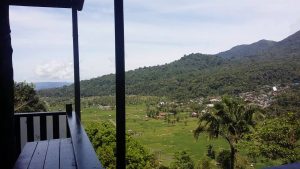 · Location : Woloan Satu Utara, West Tomohon
· Ticket Fee : Rp2.000,- to Rp5.000,- for parking
People of Tomohon do like combining places to eat with the surrounding panoramas that are blessed to them. We'lu Cafe and Resto is one of them.
This cafe and restaurant has a very beautiful concept of natural scenery for you to enjoy while eating dishes that are ordered.
The vast expanse of green hills will always be a refresher to your eyes wherever you look. Creating a relaxed atmosphere and it is perfect for you to visit with your family.