After exploring the area of North Sulawesi, looking for the famous beaches in Manado, this time we want to go to an area smaller right on the South side.
The name is Minahasa, known as a cultural area with the friendly Minahasan people. The area has a thousand square kilometers wide, with the city, Tondano, as the capital.
Minahasa is considered as one of the top places to visit in Sulawesi in Indonesia not only for the culture, but also for the other things.
The attractions, the memorable top locations that will spoil you with a lot of interesting things waiting to be experienced. Without further ado, let's start the trip with the first one on the list, Bangka island.
Tourist Attractions in Minahasa
1. Bangka Island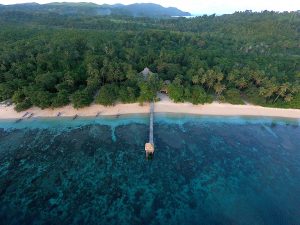 · Location : Bangka island, North Minahasa
· Ticket Fee : Rp1.000.000,- (for plane ticket from Jakarta)
If previously Bangka Island that is located in North Minahasa was a mining area, now it has been transformed into a very enchanting tourist spot that is not inferior to the tour of Kampung China Manado. This is a small island in the northeastern part of Sulawesi island, which stores beautiful underwater panoramas.
The beauty of the island of Bangka presents rich marine ecosystems with various coral reefs and a variety of colorful fish. This is the reason why Bangka Island is one of the spots for diving that many divers look for.
The location of this island is in the triangle epicenter which makes the diving even more interesting with 25 dive spots and unique underwater topography.
2. Raewaya Hills Airmadidi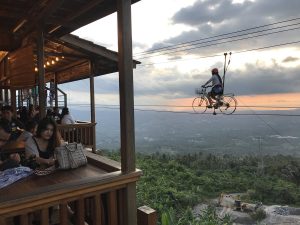 · Location : Airmadidi, North Minahasa
· Ticket Fee : Rp20.000,-
The second tourist spot in Minahasa that is included as one of the things to do around Manado you must visit is Raewaya Hills Airmadidi that is located in a district with the same name .
This entertainment-themed attraction was opened several years ago and has been visited by thousands of tourists, especially on holidays. Here, there are cafes and restaurants that you can enjoy for dining and resting.
Not only that, this attraction is also equipped with various interesting game rides that you can try, such as sky bikes, the more-extreme flying fox.
All of them are very suitable for you sports fans to drive adrenaline at high altitudes with costs around 20 thousand for each visitor.
3. Manterawu Island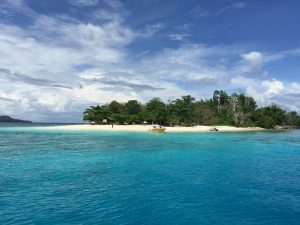 · Location : Miangas Island, North Sulawesi
· Ticket Fee : Rp1.000.000,- (for plane ticket)
Manterawu Island is the outermost region of Indonesia and is a border between the country and the Philippines. The island name has now been verified as MiangasIsland.
You can go to Manterawu Island that also functions as an ecotourism location from Bunaken Island. It's a 1.5 hours ride, and you'll be treated with wonderful panoramas on the way. It was and still is one of the cheapest tours in Manado.
4. Mount Klabat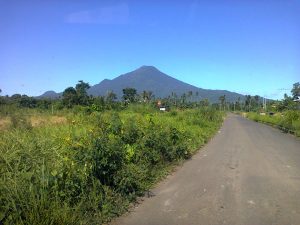 · Location : Tonsea, North Minahasa
· Ticket Fee : Rp85.000,-
One of the things to do in Bitung, is a mountain called Mount Klabat. Mount Klabat is one of the attractions in North Minahasa that can be reached easily by using two-wheeled or four-wheeled vehicles. This is the highest mountain in North Sulawesi Province with a peak reaching 2000 meters.
For the people of Tonsea, North Minahasa, they would call the mountain by its nickname, Mount Tamporok. This mountain is a natural crater attraction and can be traced easily from the City of Airmadidi. It is an inactive volcano now, so it's a fairly safe place to visit.
At the top of the mountain, you can see a small lake with very clear water while enjoying the beauty of the City of Bitung.
5. Likupang Beach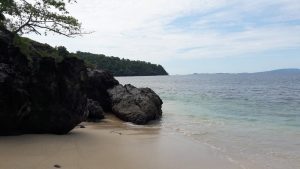 · Location : Likupang, Minahasa
· Ticket Fee : Rp10.000,- per vehicle
Likupang Beach is one of the most popular beaches in Minahasa. It's even more popular with news of the discovery of green turtles or chelonia mydas which are very rare now.
While the view of the beach is clean, the white sand certainly adds to the beauty of this beach.
You can also do some activities here such as diving and snorkeling to enjoy the underwater beauty of Likupang Beach which is very extraordinary. Clearly not inferior to tourist attractions in Tondano.
This beach is located 48 km from Manado, more precisely in the northernmost district named Likupang.
6. The Waruga Stones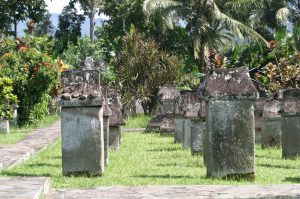 · Location : Waruga, Minahasa
· Ticket Fee : Rp3.000,-
In Waruga, North Minahasa, there is a Megalitig relic named Waruga or Tomb of Minahasa Ancestors that existed and developed 400 years before Christ until the 20th century AD.
In North Minahasa, there are around 1,000 Waruga Stones that were found in various places in North Minahasa.
Whereas in Sawangan Village, there are 144 Warugas in Airmadidi Bawah Village and 149 Waruga have been collected in the museum houses. Their existences are actually interesting, and making any curious tourist look closer to their prehistoric stories.
7. Paal Beach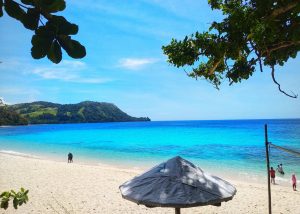 · Location : East Likupang, North Minahasa
· Ticket Fee : Rp10.000,-
Another one of the best beaches in Sulawesi, is a beach named Paal. This beach is located in Marinsow Village and is still included inside the district of East Likupang. You can visit Paal Beach not only on holidays, but also on weekdays.
There are some preserved facilities for visitors, which is the big house or as they call it "Rumah Panggung " that is used as a place to rest and pray.
Paal Beach has also provided various other facilities such as toilets, bathrooms and adequate parking areas as well as other supporting facilities at tourist attractions in Tomohon.