When you're visiting East Java, then it is a must to visit Nganjuk. Nganjuk is a neighboring city of Ponorogo, Kediri, Jombang and Bojonegoro.
In the past, the name of Nganjuk was Anjuk Ladang, which means the land of victory. You should consider visiting Nganjuk if you want to explore the beauty of the nature and learn history as well. Many tourists call this city as the City of the Wind.
If you wish to explore more about East Java, you could consider Visiting 4 Historical Places in East Java to Arouse Your Curiosity.
When it comes to tourist attractions, then this city is mostly known for its waterfalls and natural attractions, though some attractions also consist of historical and mysterious sites. If you plan to visit Nganjuk, then don't forget to visit these 6 marvelous tourist attractions in Nganjuk.
As stated before, most tourist attractions in Nganjuk are waterfalls. One of which is Niagara Roro Kuning or Roro Kuning waterfall. This waterfall is located in Bajulan village, Loceret district, Nganjuk.
The water that falls from the top flows propagating through rocks, so that's why this waterfall is called Roro Yellow. While you're here, you can enjoy waterfall climbing and swimming in the pool.
If you like waterfalls, then you can explore these Refreshing and Relaxing Spots, 4 Waterfalls in Mojokerto after visiting Nganjuk.
You won't only be able to enjoy the beauty of the waterfall, but you will also be able to enjoy some other outdoor activities, such as outbound, camping, swimming and even trying some local food there.
If you like history, then you can visit one of the oldest temples in Java, called Kerta Bhuwana temple. This temple is located in Bajulan village, Loceret, Nganjuk. The atmosphere around this temple is cool due to its location on the slopes of Mount Wilis.
You will also be able to feel the clean air. You can also have some relaxation moments here to relieve your stress too! Indonesia has lots of temples, just like listed down in Find Your Eternal Peace at These 4 Temples in Mojokerto.
Kerta Bhuwana temple also accommodates the local Hindus to pray and perform some sacred events. Due to the increasing popularity, this temple has also become an interesting spot for tourists to spend their vacation.
The locals built the temple up in the mountain because they believe that the mountain is sacred, it suits Hindus and it provides a perfect place for praying.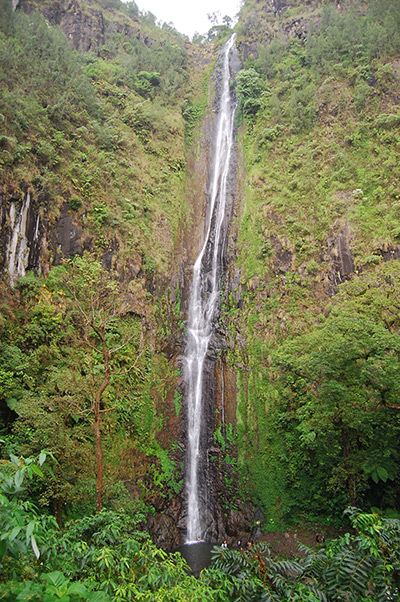 Another waterfall located in Nganjuk is Sedudo waterfall. This waterfall is located in Ngliman village, Sawahan, Nganjuk. This waterfall is very stunning as the water falls from a height of 105 meters.
It is also easy to access this waterfall, both by using public transportation or private vehicles. Make sure you put Sedudo waterfall on your list once you visit Nganjuk.
You will be charged IDR 10,000 per person to enter the area of the waterfall. This waterfall is managed and built well by the management. So, the facilities in this area are also complete.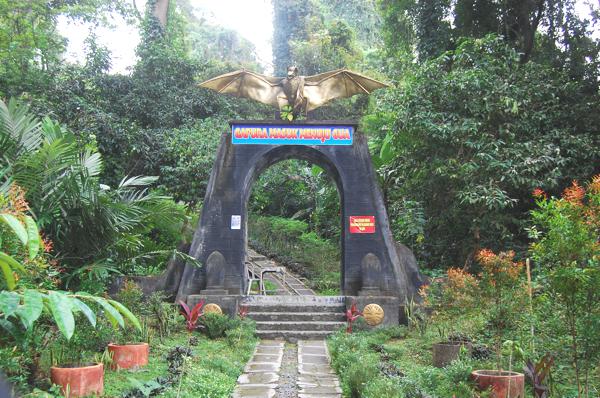 This cave is surrounded by dense teak forests in the Kendeng Mountains. Regarding to where it locates, this cave is located in Sugih Waras village, Ngluyu, Nganjuk. The interesting thing about this cave is there is a pond of clean and fresh water in front of the cave. You ca
n spend your time swimming in the pool there to release your stress and fatigue.
The nuance of this cave is quite mystical and sacred. Never ever do careless things while exploring the cave. Despite the small size of the mouth of the cave, people can get into the cave easily.
Inside the cave, there are lots of bats living there. If you still have time, you can also have some time exploring 7 Beautiful Caves in East Java.
While visiting this cave, you can do some activities, such as trekking. There's an interesting belief of the locals that if a couple conducting a ritual both in the cave and natural spring, they would get a long-lasting relationship. So, if you wish to have a long-lasting relationship with your love, then this place is a must to visit!
Candi Lor is another temple located in Candirejo Lor, District Loceret, Nganjuk. This temple was built long time ago in 937 AD by using red bricks. Candi Lor or Lor Temple has become a symbol of the founding of the city. You can also explore some historical information by taking a tour around this temple.
The area around the temple is very beautiful and wonderful so don't miss to take a lot of photos while you're here. Explore these 8 Historical Sites in East Java to Learn Indonesian History while you're in Java and satisfy your historical curiosity there.
Another waterfall you can enjoy while you're in Nganjuk is Niagara Ngebleng. This waterfall is located on the border of Jombang and Nganjuk, exactly in Hamlet Tondowesi Lor, Pule village, Jatikalen district, Nganjuk. This is a very natural waterall as it doesn't have lots of people visiting this place and this is not managed by the locals too.