Hindu temples are always interesting to be explored. Hindu temples in Indonesia are widely spread in most of the provinces in Indonesia. Two of the provinces with Hindu temples are East Java and Central Java.
You might know Prambanan temple in Central Java as the biggest Hindu temples. However, there are some other marvelous Hindu temples in Central Java that are fun to be explored. Not far from Central Java, you can also Visit These 4 Temples in Yogyakarta to Gain Cultural Knowledge.
Hindu temples in Central Java are known as unique temples because of their location and the shape of the building. The high relief sculpture also makes them unique.
Visitors visiting Hindu temples in Central Java will be able to explore about the history and take lots of photos as well. Let's see the 4 marvelous Hindu temples in Central Java.
The most famous Hindu temple in Central Java is Prambanan temple. Prambanan temple is also known as the biggest and the most beautiful Hindu temple in Indonesia. Prambanan temple is located around 15 km from Yogyakarta.
Prambanan is the masterpiece of Hindu culture of the tenth century. Prambanan temple is also called as the Roro Jonggrang temple or the Temple of the "Slender Virgin". While visiting Prambanan temple, you can also enjoy the green fields and villages.
Prambanan temple consists of three main shrines, each of them is dedicated to Shiva, Vishnu and Brahma. You can enjoy the sunrise behind the glory view of Prambanan temple.
If you would like to enjoy the view of the sunrise, then you should be at the location at 5 o'clock in the morning. Many people are attracted each year to visit this temple so it may also be one of the majestic temples in the South East Asia.
Also put these 16 Things to Do in Prambanan Temple Yogyakarta on your list when you are here!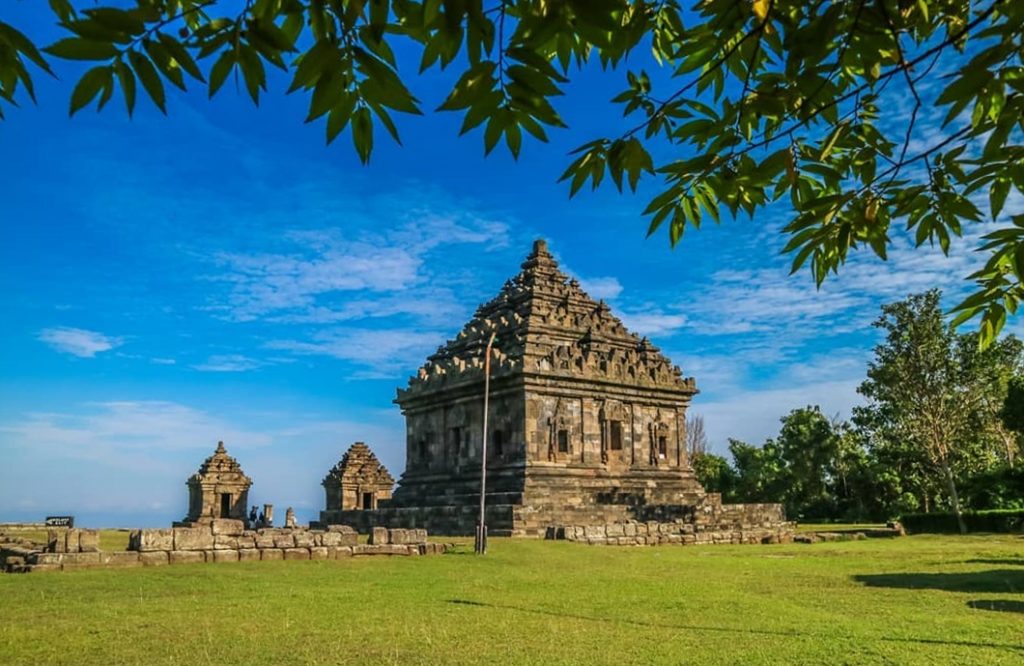 Ijo temple is located at the top of the hill called Gumuk Ijo. Gumuk Ijo is the highest hill in Prambanan. It was built in the 9th century on Gumuk Ijo which is 410 meter above the sea level. If you stand on the temple and take a look at the south, then you will be able to enjoy a magnificent panorama.
When you enter the area of the temple, you will find a statue of two-headed giant which acts as a guardian of the temple.
Despite the fact that Prambanan temple is a Hindu temple, you will find some Buddhist ornaments too in this temple. It shows us that there was an acculturation between religions at the time the temple was built.
Ijo temple is located near Prambanan temple and Ratu Boko Palace. If you plan to visit Ratu Boko, make sure you know What to Do in Ratu Boko Yogyakarta – Cultural Spots and enjoy some cultural spots there.
As it is located at the top of the hill, this temple has very attractive natural view. This place is really famous as a spot for enjoying sunset view. So, if you wish to have a spectacular photo of sunset, you may visit this temple.
This temple is located near the border of Yogyakarta and Central Java. It is located administratively in Sambirejo village, Prambanan district, Sleman regency.
Located in Prambanan Sub-district of Sleman Regency, tourists can find many attractive temples, such as Prambanan and Ijo temples. There's another interesting Hindu temple you can find in the same area, which is called as Barong temple.
This temple is located in Sambirejo village, specifically on Batur Agug hill. You can enjoy the rejuvenating air and beautiful panorama. If you have a visit to Central Java, consider visiting these 9 Most Interesting Tourist Attractions in Pemalang, Central Java too!
To be able to reach this temple, you will be required to do short trekking. The temple has 3 levels of terraces and 2 temples. There are two temples that are similar in size, and they don't have any doors or windows.
There are some things you can do in Barong temple. Barong temple has its own mascot, the Barong carving. If you go there, it is a must to take some photos of it and even take selfies with it! Then, you can also explore the temple.
There're some sites to explore, and each of the level will amaze you with its distinctive beauty. If you wish to learn the history, then it is a good choice to visit this temple. You can require a local guide as well to tell you about the history of this temple.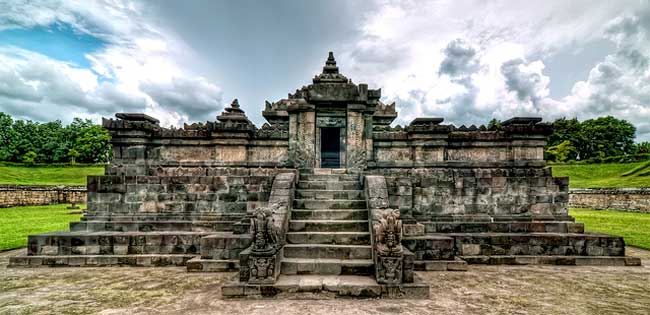 Prambanan temple is not the only temple in Sleman regency, but there are some other alternative temples to visit. One of which is Sambisari temple. It is located in Purwomartani village, Kalasan sub-district. Interestingly, this temple was buried underground for centuries in the past time.
However, it was found by local farmer and become another tourist attraction in Sleman these days. This temple is worth visiting!
At a glance, Sambisari temple seems to look like a small castle. However, the location makes it a bit different with the others.
The one stands below the ground level, so people must go downstairs in order to reach the temple. The temple is surrounded by grassy land and it is extremely beautiful! The temple has also lots of beautiful carvings. One of which is the lion.
There're several things you can do here too. First, you can explore the history by asking the local guides of simply watching the carvings of the temple.
Everyone is allowed to touch the statues, but no one is allowed to litter or spoil the statues. The second activity will be taking pictures or photos. You can simply take photos of the temple or take selfies in front of it.
When you're visiting temples, make sure to Follow These 8 Etiquettes while Visiting Temples in Bali. Not only in Bali, but in every temple you visit.